Bob Huggins Once Potentially Escaped a Terrifying Near-Death Experience Because of John Calipari's Coincidental Connection
For over 30 years, Bob Huggins has been one of the best coaches in college basketball. He has, though, had a couple of health scares. Despite the health problems, Huggins has still been a fiery coach, and his teams are almost always among the best squads in the country. He can actually thank another legendary coach for potentially helping him escape one near-death experience, too. That legendary coach is University of Kentucky head coach John Calipari.
Bob Huggins had a heart attack while coaching the Cincinnati Bearcats in 2002
RELATED: Former UConn Star Tate George Scammed Other Basketball Stars and Went to Prison for Fraud After His Disappointing NBA Career
Bob Huggins' Cincinnati Bearcats squads were some iconic teams. However, he suffered a heart attack while coaching at Cincinnati in 2002, according to Sports Illustrated.
He is now the West Virginia Mountaineers' head coach and, while coaching them, Huggins had another health scare in 2017. He ultimately dropped to his knees while on the court during a game against Texas, and also clutched his chest, per SI. Medical personnel then looked at him, but Huggins said after the game that he was fine and that his defibrillator went off.
"It goes off, and what it does is it shocks your heart back into rhythm," Huggins said, according to Sports Illustrated. "I'm like 99.9% of other guys my age in America—I got AFib [irregular heartbeat]. Jerry [West] has AFib for crying out loud. He does the commercial."
During his 2002 heart attack, though, John Calipari's coincidental connection ended up helping Huggins out.
Coach John Calipari's cousin helped Bob Huggins during his heart attack
RELATED: Former Duke Star Tom Emma Sadly Fell 11 Stories To His Death After Helping Lay the Groundwork for Duke's Dominance
Bob Huggins recently appeared on The Pat McAfee Show, as Pat McAfee played college football at West Virginia. Huggins ended up telling a story about his heart attack in 2002, too.
"I was going from the hotel over to the airport, flying back to Cincinnati," Huggins said on the March 8 episode. "I'm on the sidewalk, and I go down. When I wake up, everybody's around me; they're pretty attentive; scooped me up and put me in the ambulance. I'm going in the ambulance, and I'm in and out of consciousness. Probably out more than I was in, and I kind of come to, and I said to the guy, I said, 'What's going on?' And he said 'Coach, don't worry,' he said, 'I'm John Calipari's cousin, and I can't let you die until he beats you at least once.'"
Well, that's hilarious, especially since Huggins, obviously, survived that night and has continued coaching at a high level. Was the guy actually Calipari's cousin? It's hard to know for sure, but he definitely played a role in helping Huggins continue his coaching career.
So, has Calipari ever defeated him?
Yes, but according to CBS Sports, Calipari still has a losing record against Huggins.
No matter who has the edge, though, they are both legendary coaches.
They are both legendary college basketball coaches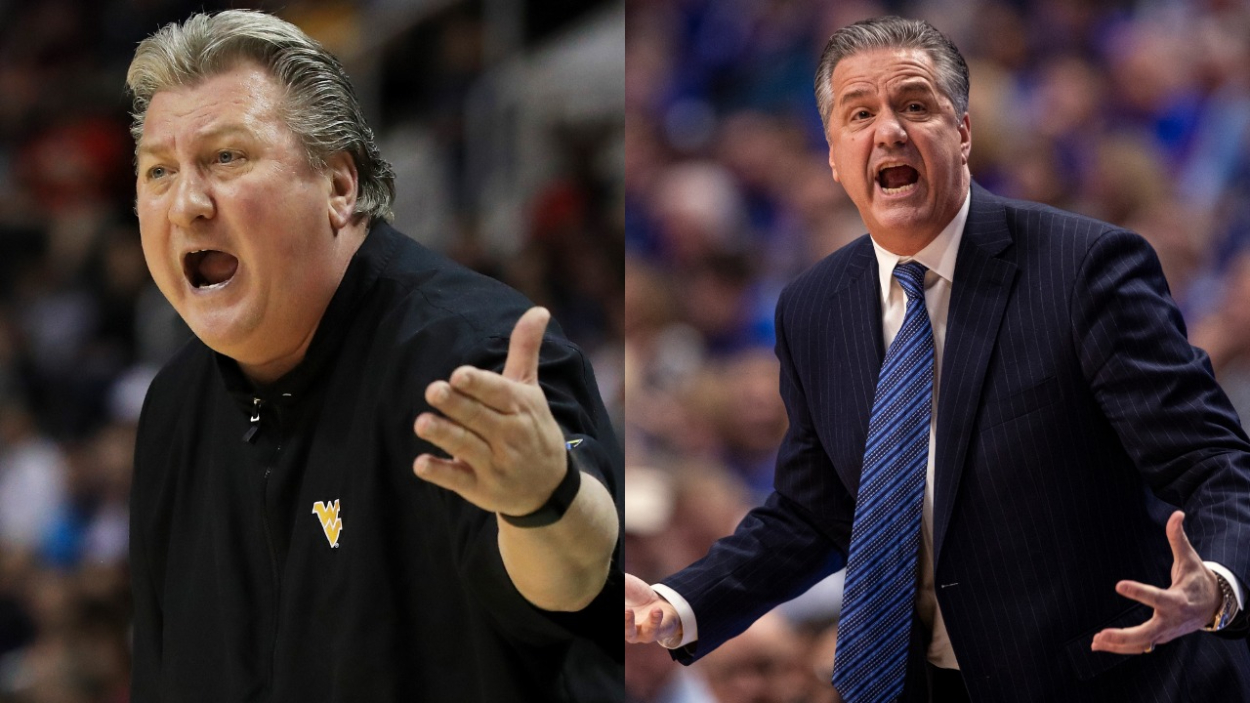 RELATED: How Good Was ESPN's Jay Williams During His Basketball Career?
After coaching at Walsh and Akron, Bob Huggins began coaching at Cincinnati in 1989-90. He had a significant amount of success, too, winning just under 400 games and taking them to 14 consecutive NCAA Tournaments, per his WVU bio. Huggins also took the Bearcats to the Final Four in 1991-92. Then, in 2006-07, Huggins coached at Kansas State before becoming West Virginia's head coach in 2007-08. He has been there ever since, as Huggins has led the Mountaineers to the Final Four and five Sweet 16 appearances. Additionally, Huggins has also won over 800 games overall throughout his career. 
The only blemish on Huggins' record is that he has no championships. His best shot came in 1999-2000 with the Bearcats. Cincinnati went 29-4 and ranked No. 1 in the AP poll in 12 different weeks during that season. The team's best player, Kenyon Martin, though, suffered a season-ending injury in the conference tournament, and the Bearcats then lost in the second round of the NCAA Tournament.
Coach John Calipari, on the other hand, took UMass to the Final Four. Then, after coaching the New Jersey Nets for three seasons, he led Memphis to a ton of success. He even took them to the national championship game in 2007-08. Calipari has coached the Kentucky Wildcats since 2009-10, though, per his UK bio. He has led the Wildcats to four Final Four appearances and won a championship with them in 2011-12.
John Calipari and Bob Huggins are two of the greatest coaches in college basketball history. Calipari's (alleged) cousin is potentially a reason why Huggins is still coaching, too.
Stats courtesy of Sports Reference