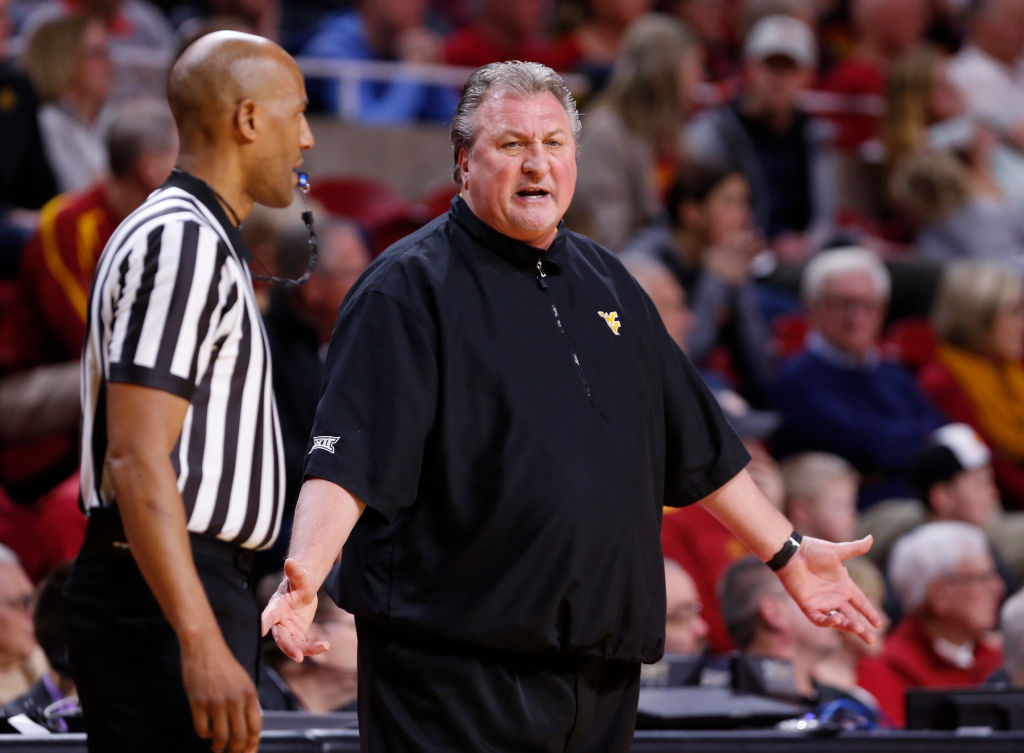 WVU's Bob Huggins Suggests Missed NCAA Tournament to Start 2020-21 Season
With the possible cancellation of the 2020 college football season, West Virginia's Bob Huggins thinks the NCAA should open the 2020-21 basketball season with the NCAA Tournament.
Today should be the conclusion of the 2020 NCAA Basketball Tournament with the national title game and "One Shining Moment," closing out the three weeks of tournament action. Sadly, it didn't happen, and now it appears the college football season might meet a similar fate. West Virginia basketball head coach Bob Huggins has come up with a solution that kills two birds with one stone.
Cancellation of the NCAA Tournament and spring sports
The NCAA's cancellation of the Division I men's and women's 2020 basketball tournaments sent shock waves throughout the sports world. It was the first time in the tournament's 81-year history the NCAA had canceled the event. 
While many were upset by the decision, it sent an early signal on just how concerned officials were about the evolving COVID-19 crisis. The NCAA didn't stop there and canceled all remaining winter and spring championships.
Instead of suspending the spring sports such as college baseball and women's college softball, the NCAA's decision to cancel events scheduled to end months later indicated the organization understood this was a long-term issue and foreshadowed where we are today with football. 
2020 NCAA football season on the brink of cancellation 
In recent weeks college football coaches and other officials have spoken about a real possibility the 2020 college football might be canceled. The season has already been affected with teams missing spring practice and spring games. All players and coaching staff left campuses in March and returned home with no real indication of when they might return.
While college football fans, players, and coaches want to remain optimistic about getting in the 2020 season, each passing day feels like it's one step closer to cancellation than postponement. ESPN's Kirk Herbstreit said as much in an interview with TMZ.
"I'll be shocked if we have NFL football this fall, if we have college football. I'll be so surprised if that happens. Just because from what I understand, people that I listen to, you're 12 to 18 months from a (coronavirus) vaccine. I don't know how you let these guys go into locker rooms and let stadiums be filled up and how you can play ball. I just don't know how you can do it with the optics of it."
Bob Huggins suggests NCAA Tournament start 2020-21 season
During an appearance on The Cook and Joe Show on 93.7 The Fan, West Virginia head coach Bob Huggins offered up his assessment and a potential solution if the NCAA cancels the 2020 college football season. 
"Let's face it; there's a great chance we're not going to have college football. Putting that many people together is going to be rough. I wouldn't want to have to make that decision. So, why don't we start the season off with the NCAA Tournament?"
Bob Huggins said if the NCAA held this year's tournament at the standard start time for the college basketball season in November, it would solve multiple issues. 
"(The NCAA) can get its money and distribute it to the schools. They know who was in it and who was going to play who. They know where we were going to play. What, it's going to take three weekends? Big deal. Really, kids aren't going to miss class that much. You're going to basically play on the weekends."
When asked about whether or not the seniors from last season would be allowed to return, Huggins never hesitated. 
"Let them come back and play. Why can't you make it their choice? We had three seniors. I guarantee you all three would want to play, and it would fill a void that was left when they couldn't play. I don't see what that would hurt to let those guys play."
At this point, we're a starved sports nation. We'll take the NCAA Tournament whenever we can get it.