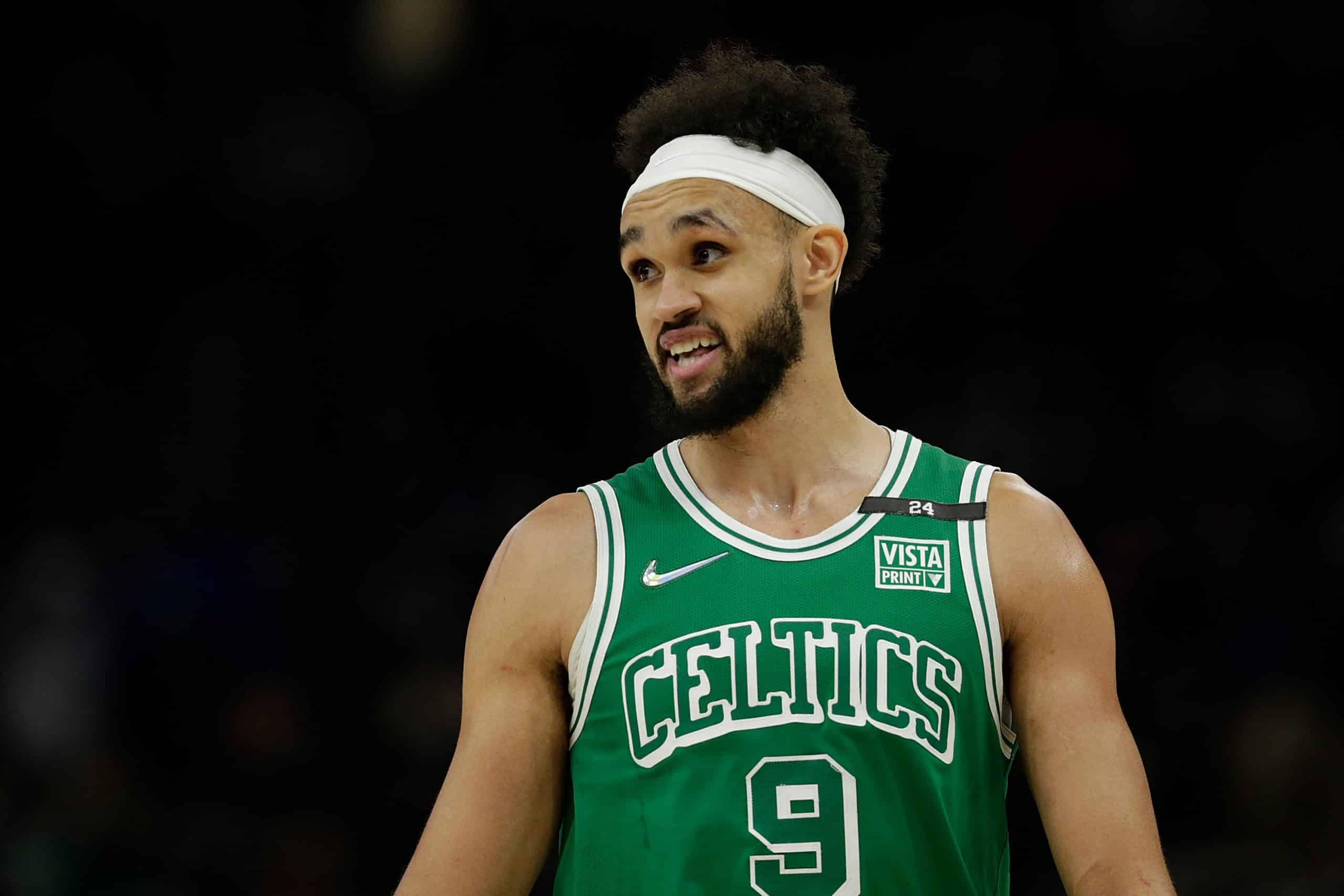 Boston Celtics Get Another Unexpected Scratch for Game 2 vs. Miami Heat
The short-handed Boston Celtics got another late scratch ahead of Game 2 against the Miami Heat.
The hits keep coming for the short-handed Boston Celtics. The team was blindsided before Game 1 of the Eastern Conference Finals against the Miami Heat when it learned Al Horford was unavailable. Horford was placed in health and safety protocols just hours before tipoff.
Horford's status, combined with Marcus Smart's foot injury that kept him out of the series opener, left the Celtics without two key starters. Now, Boston faces another challenge with yet another player out for Thursday's Game 2.
The Boston Celtics will be without Derrick White for Game 2
Reserve guard Derrick White, acquired at the trade deadline, is out for Game 2 for "personal reasons." First-year coach Ime Udoka cleared things up when he announced that White is headed back to Boston for the birth of his child.
"I'm good now, and Derrick is having a baby," said Udoka, who was unavailable with the media Wednesday because of a non-COVID illness. "Came sooner than expected, but we support our guys always in that situation. He had to rush out today."
White got the start in Game 1 with Smart out. He struggled, putting up three points in 29 minutes on 1-for-4 shooting. He had four assists and picked up four fouls.
White has been a key reserve off the bench ever since he came over in a February trade from the San Antonio Spurs. He's been a strong two-way player for Boston, playing lockdown defense while averaging 11.0 points in his 26 games.
The Celtics may get Marcus Smart and Al Horford back
The Celtics hope to have Smart back on the court Thursday. Udoka said he's trending in the right direction but will test out his foot before the game. The Celtics coach wasn't optimistic about having Horford back, calling him "doubtful," this morning. Around 3 p.m. Eastern, the Celtics put out a tweet that had Horford's picture and the word "available" above it.
"Al is still doubtful," Udoka said in the morning press conference. "He'll go through the protocols, and we're unsure about his status until some testing results come back. It's a possibility, but as of right now, he's doubtful.
"Marcus is looking better. He still has to test it out pregame. He's listed as probable. Looked better at the shootaround. We're hopeful and expecting him to play."
Without Horford, Robert Williams got some extra minutes. The athletic center hadn't played much during the Eastern Conference Semifinals against the Milwaukee Bucks because of a bruised knee. He started the opener against the Heat and made a significant impact. Williams finished with 18 points and nine rebounds in 28 minutes. He also provided a defensive presence in the paint with a pair of blocks.
White's absence likely means some additional playing time for Payton Pritchard. Pritchard provided instant scoring off the bench in the opener, hitting four three-pointers en route to 18 points in his 30 minutes of action.
Without Smart and Horford, the Celtics jumped out to an early lead and held a 62-54 advantage at the break. The Heat rallied and broke things open with a third quarter that saw them outscore the Celtics 39-14.
Boston hopes to avoid dropping the first two games of the series and enters the game as a 3.5-point underdog.
Like Sportscasting on Facebook. Follow us on Twitter @sportscasting19 and subscribe to our YouTube channel.