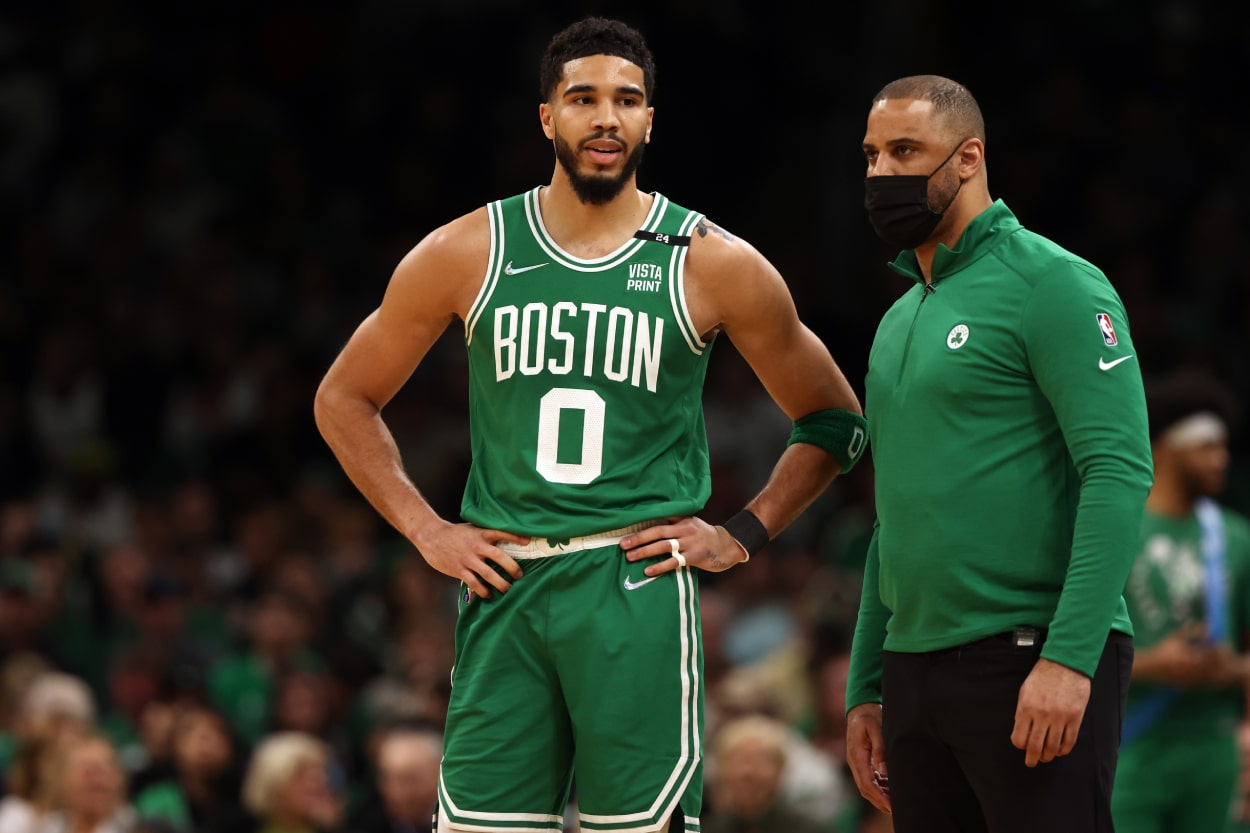 Boston Celtics: Ime Udoka Reveals 1 Bucks Player His Team Targeted in Game 4
Jayson Tatum scored 12 of his 30 points in the fourth quarter on Monday.
The Boston Celtics were in a familiar position, and it wasn't a good one. For the second straight game, they trailed by double digits late in the third quarter against the defending champion Milwaukee Bucks.
In danger of falling behind 3-1 in the series, the Celtics, led by veteran Al Horford, pulled out the Game 4 victory to even the series. First-year coach Ime Udoka said Boston also targeted one specific Milwaukee defender that helped Jayson Tatum to a big fourth-quarter performance.
The Boston Celtics came up big when it counted most in Game 4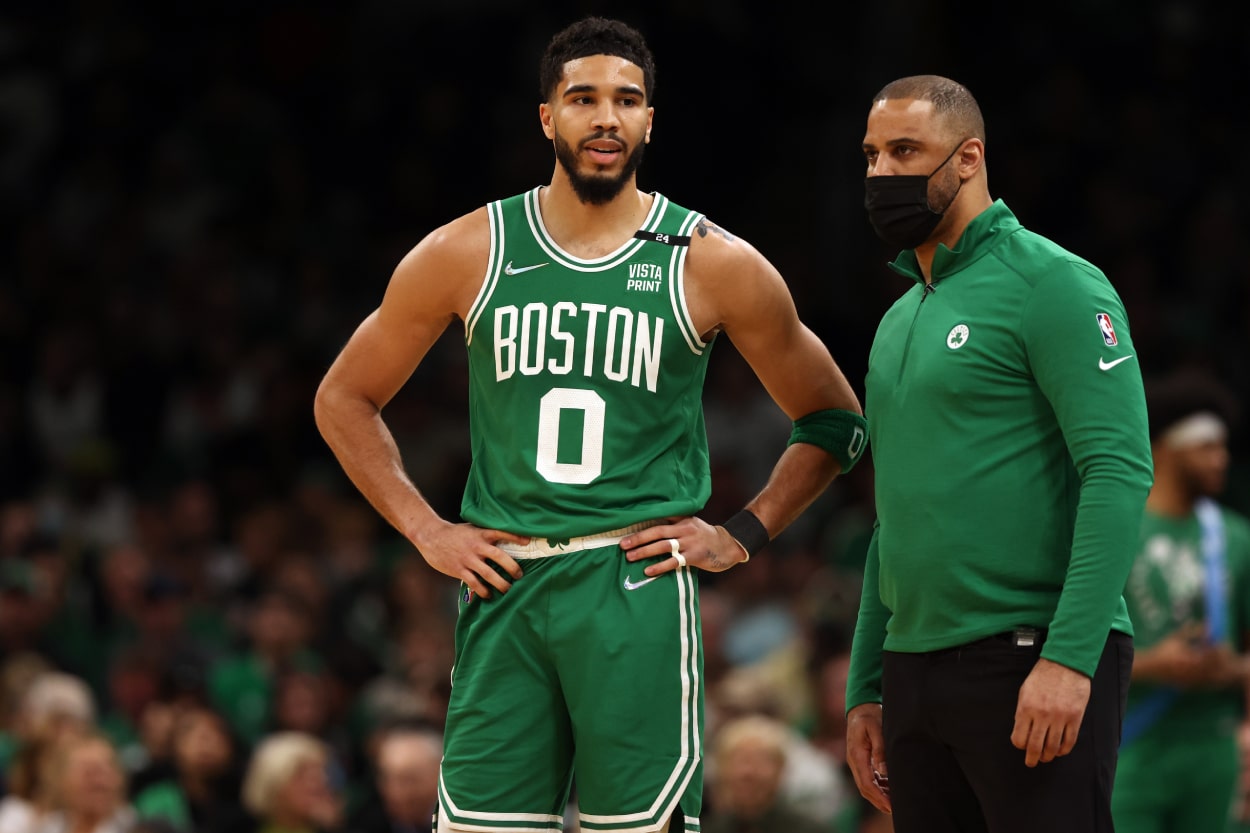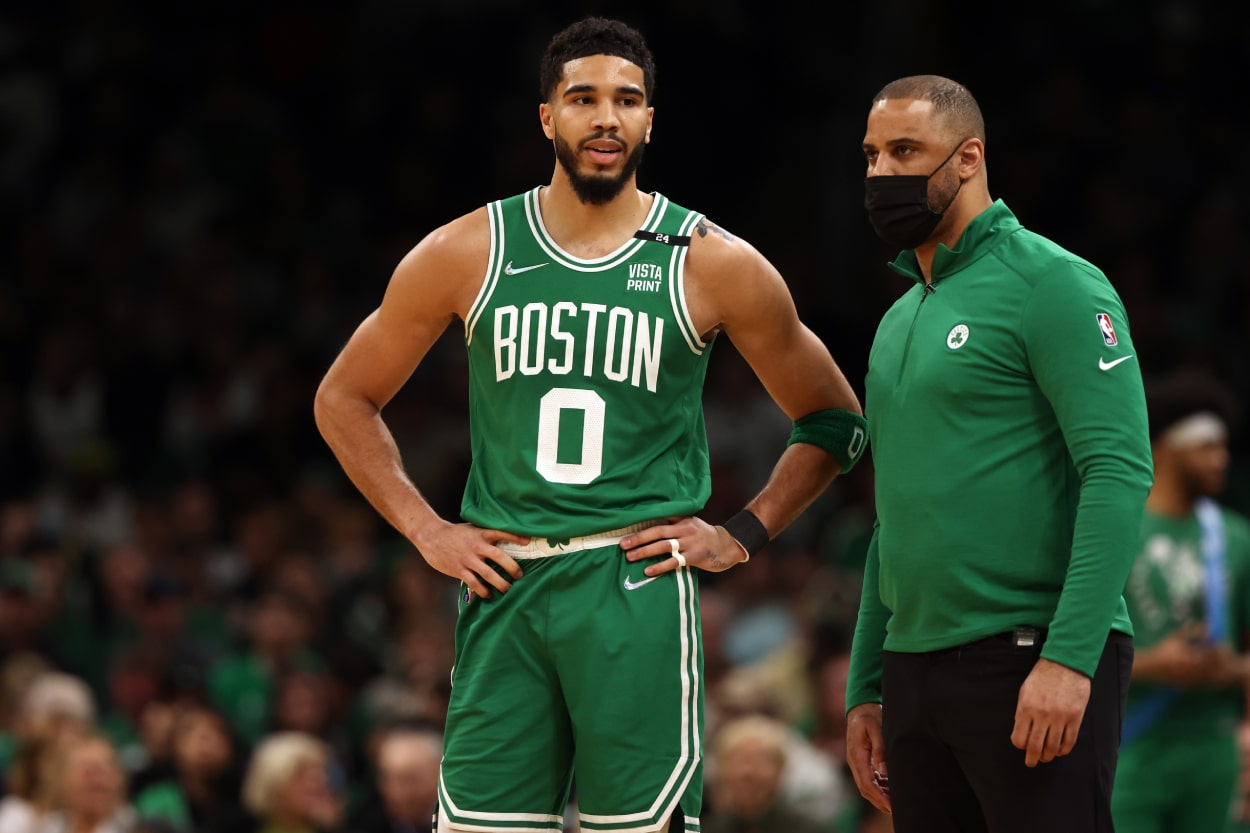 In what has become an intense, physical series, the Celtics outlasted the Bucks in Monday's pivotal Game 4 in Milwaukee. As bodies flew all over the place and fouls mounted, the Celtics took charge. Trailing by as many as 11 points late in the third quarter, Boston surged past the Bucks to post a 116-108 victory.
Horford was the star of the night for the Celtics, finishing with 30 points and eight rebounds. The 35-year-old veteran center made the Bucks pay with his long-range shooting, hitting on five of his seven three-pointers. Horford went 11-for-14 from the floor. He scored 16 points in the final quarter.
"We love Al," said Boston's Marcus Smart, per ESPN. "Best vet we've ever had. Best vet I've ever had. He comes in, never changes whether things are going bad or good. He's going to be him, and nine times out of 10, it's going to work out in our favor."
Jayson Tatum, who struggled mightily in Game 3, got off to a rough start in Game 4 but turned it up when his team needed him. Tatum scored 12 of his 30 points in the fourth quarter.
"I played a terrible Game 3 and we almost had a chance to win," Tatum said. "That was really the toughest part, was knowing that. I was really eager to get back and ready to play."
Udoka said the Celtics targeted George Hill late
Udoka used his experience as a player to help the Celtics on Monday. The Celtics coach played seven years in the NBA with five different teams. He was a teammate of Bucks guard George Hill when they played together with the San Antonio Spurs.
He used his familiarity with Hill to his benefit Monday night.
Udoka had Tatum go right at the 14-year veteran, capitalizing on a mismatch. Tatum found his groove in the final quarter, helping the Celtics pull away.
"Yeah, I think Jay had it going in different ways," Udoka said of Tatum, per NESN. "We know the guys that switch for their team. The guys that hedge and they try to keep off and George is a guy that's in the (Wesley) Matthews, (Jrue) Holiday group that they'll switch everything.
"I played with George as a rookie in San Antonio, so I know a little bit about George. Tried to take advantage of that.
"That's my guy, though. My rookie."
The Celtics outscored the Bucks 43-28 in the final quarter, with Horford and Tatum combining for 28 of those points.
"Down the stretch, they made shots," Antetokounmpo said, per ESPN. "They executed well. They were disciplined."