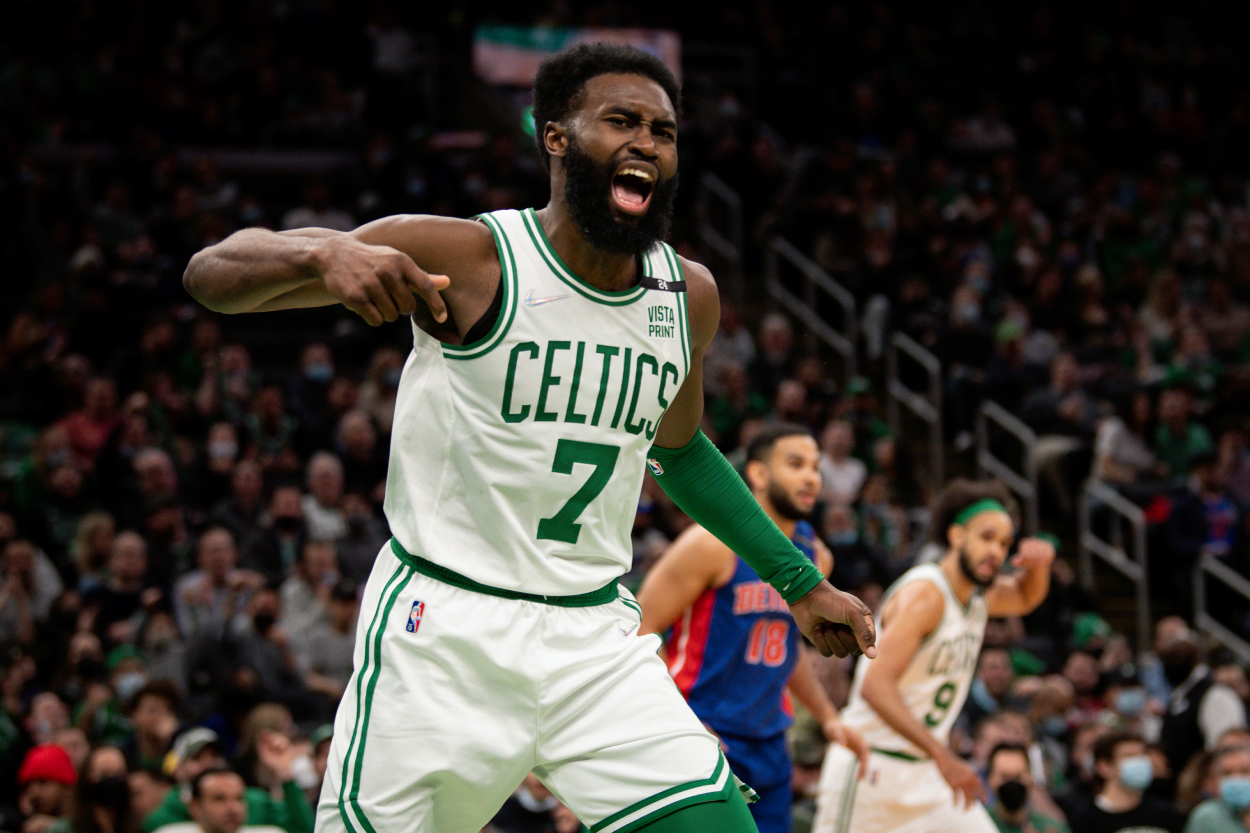 Boston Celtics: Jaylen Brown Uses the Same Simple Phrase During Hot Streak
Jaylen Brown and the Boston Celtics have caught fire the last month.
Nothing changes for Jaylen Brown. The Boston Celtics star has the same approach day in and day out. He's been through the ups and downs too many times to change.
The Celtics won their second straight after the All-Star break and have won 11 of their last 12 games. They're hot now, but they've been ice cold earlier this year. Through it all, Brown remains the same, living by the same motto each night.
The Boston Celtics gave a little payback to the Detroit Pistons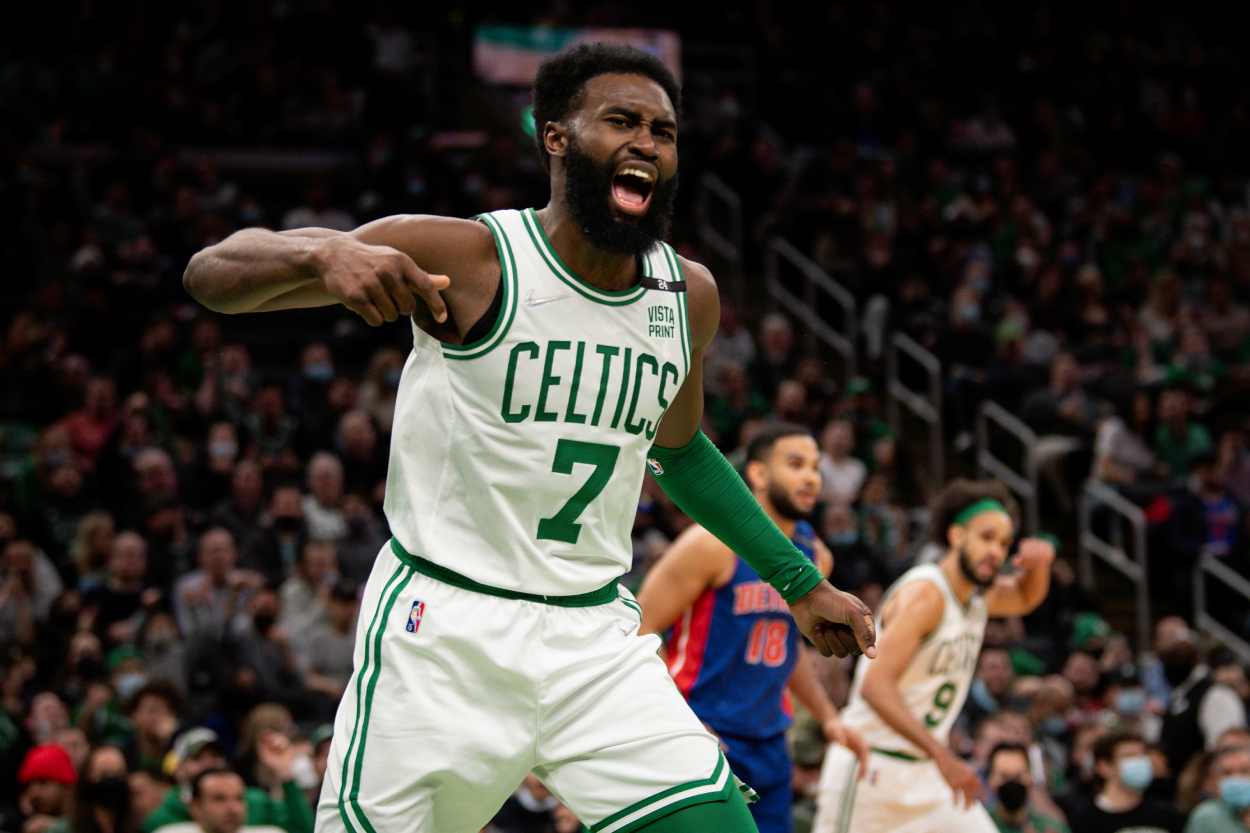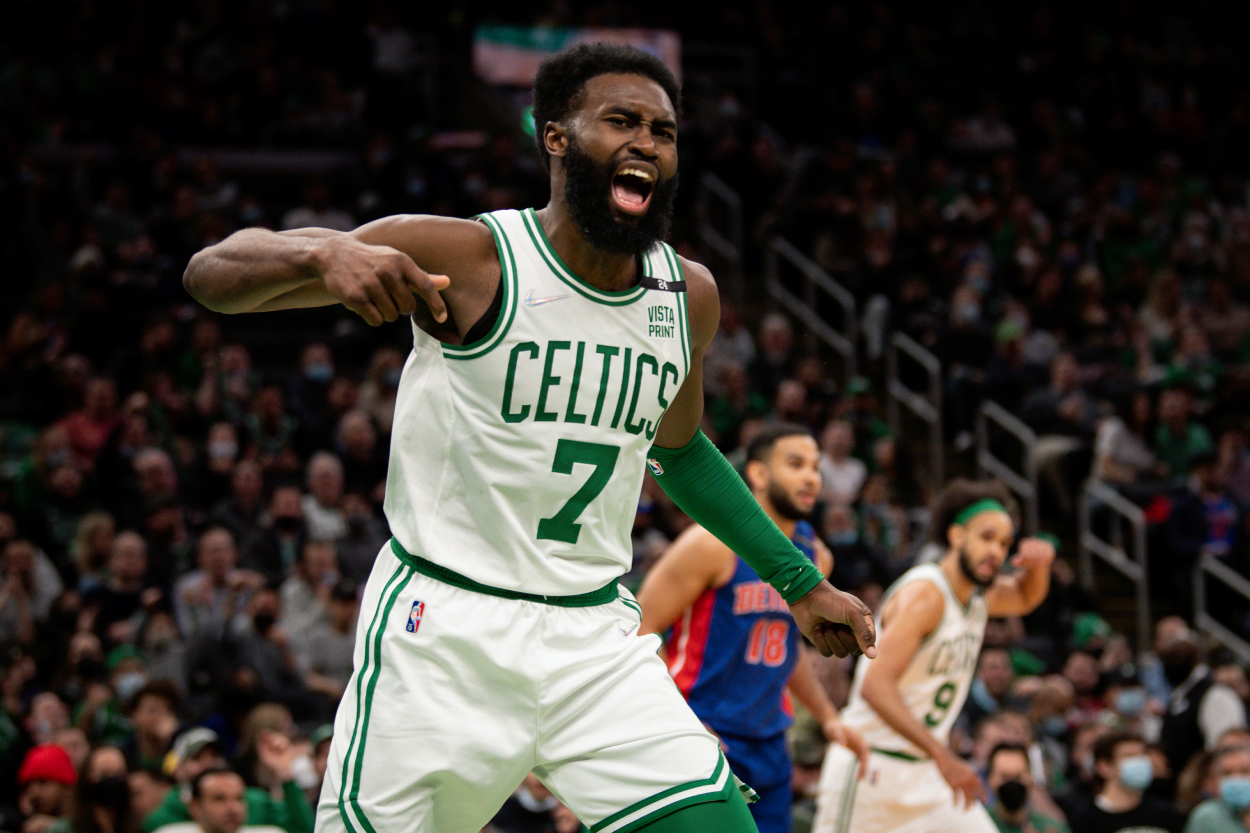 It wasn't a true revenge game, but the Celtics did earn a little payback Saturday. Right before All-Star Weekend, the Celtics saw their nine-game win streak come to an end at home at the hands of the lowly Detroit Pistons. It's Boston's only loss since Jan. 28.
The teams met in a Saturday matinee in Detroit, and the Celtics pulled away for a 113-104 victory. Brown led the way with 27 points.
"Those guys always give us their best shot," Brown said, per ESPN. "We know we have to give them credit, but we felt like we could play better than that, and we did that in the third and fourth quarters tonight."
The Celtics trailed 83-78 after three quarters but outscored the hosts 35-22 in the final quarter to improve to 36-26.
"We knew we hadn't played our best game for the first three quarters, and we knew this team can play well enough to beat us," Celtics coach Ime Udoka said. "We had 12 minutes to suck it up and win the game, and I thought we played one of our best defensive quarters of the season."
Jaylen Brown isn't changing his mentality as the Boston Celtics roll
Yes, the Celtics have won 11 of their last 12 games. As hot as they've been, they're still in sixth place in the Eastern Conference. Brown knows the ups and downs of an NBA season after being in the league since 2016.
After the victory over the Pistons, Brown was happy but has everything in perspective. He used the same phrase he's been using all year and wanted no part of the hot-streak conversation.
"One game at a time, man, that's all y'all gonna get from me," Brown said, per MassLive. "That's it. We're going to take it one game at a time.
"The difference is you kind of go through the course of the season. There's ups, there's downs, there's highs, there's lows. Some people don't stick around or they're not here for the lows but they want to be here for the highs. That's cool, that's fine, we're not paying attention to it. We're just going to take it one game at a time."
Brown scored his 27 points in 36 minutes. He made 10 of 24 shots from the floor.
The Celtics now have a winning record on the road
The win in Detroit pushed the Celtics over the .500 mark on the road. Boston is 16-15 away from home.
Udoka said he thought his team had played well away from TD Garden in spurts but early on let big leads slip away. That hasn't been the case lately.
"Just a mentality going out and we want to protect home of course but kind of playing against crowds, everything against us," Udoka said, according to MassLive. "Felt early in the year, we were playing well and gave up some big leads on the road and had some tough losses on the road.
"So we weren't far off, like I've mentioned, but that's my mentality in general — always wanted to play against a hostile crowd on the road, kind of builds your character as a team. And so that was what we talked about early in the year. And like I said, we have played OK, and we're back to over.500 on the road now, especially with some tough losses there earlier."
The Celtics have caught fire with 20 games remaining. For Brown, there's no reason to get excited. It's still one game at a time.