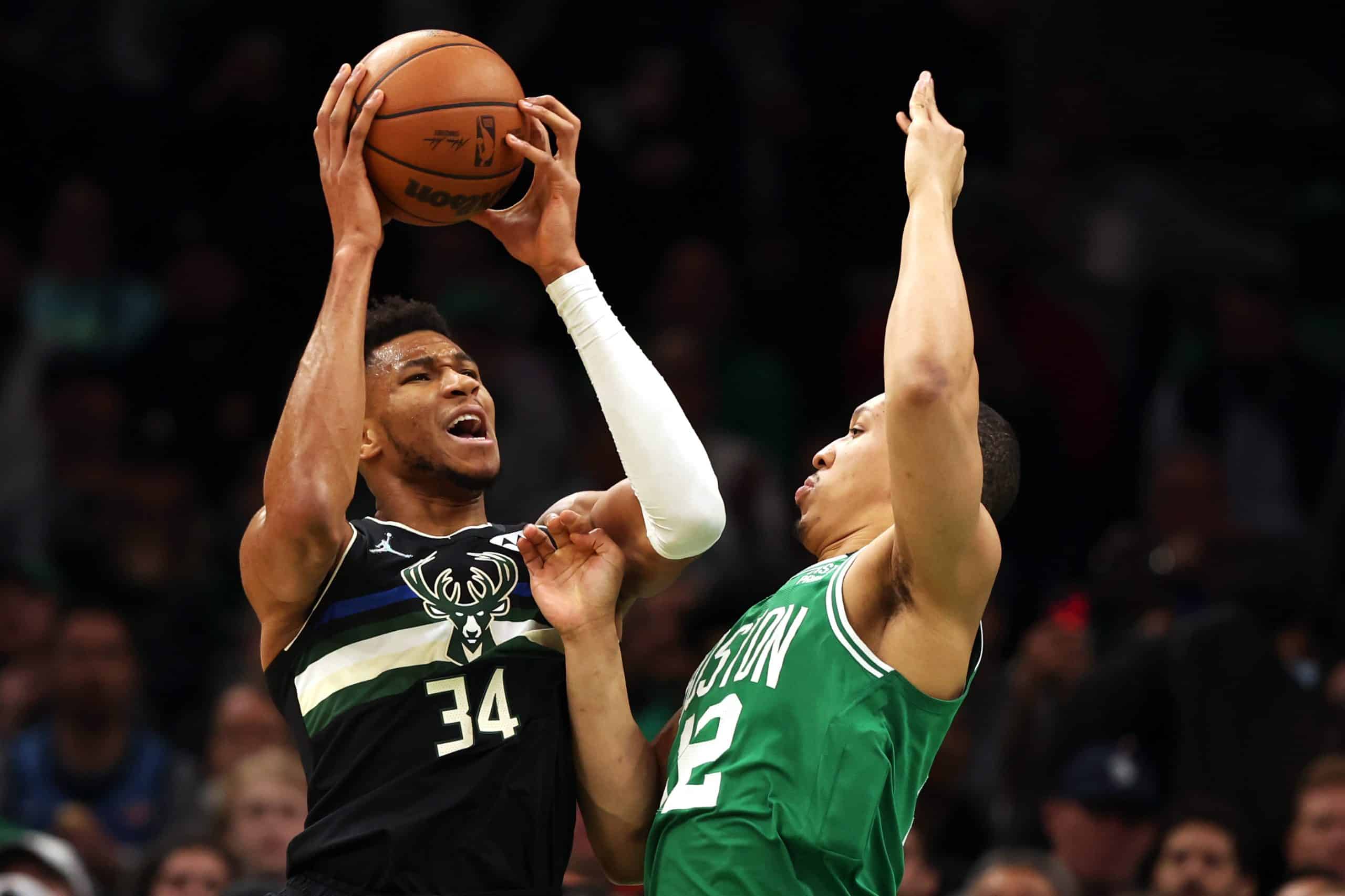 Boston Celtics News: 'Mini Al' Won the Battle With Giannis Antetokounmpo on Their Own Island
Grant Williams has given the Boston Celtics a big lift in the playoffs.
Boston Celtics coach Ime Udoka referred to reserve forward Grant Williams as 'Mini Al." Williams is a shorter version of Boston's veteran center Al Horford. After Tuesday's Game 2 victory over the Milwaukee Bucks that evened their series at a game apiece, Udoka might want to call Horford "Big Grant."
Williams played a strong two-way game Tuesday. Offensively, he connected on six three-pointers and finished with 21 points in Boston's 109-86 win. Defensively, he focused on Bucks star Giannis Antetokounmpo, who missed 17 of his 28 shots and committed a game-high six turnovers. Williams admitted he played the Greek Freak as if the two were on their own island.
The Boston Celtics bounced back with dominant performance against Giannis Antetokounmpo and the Bucks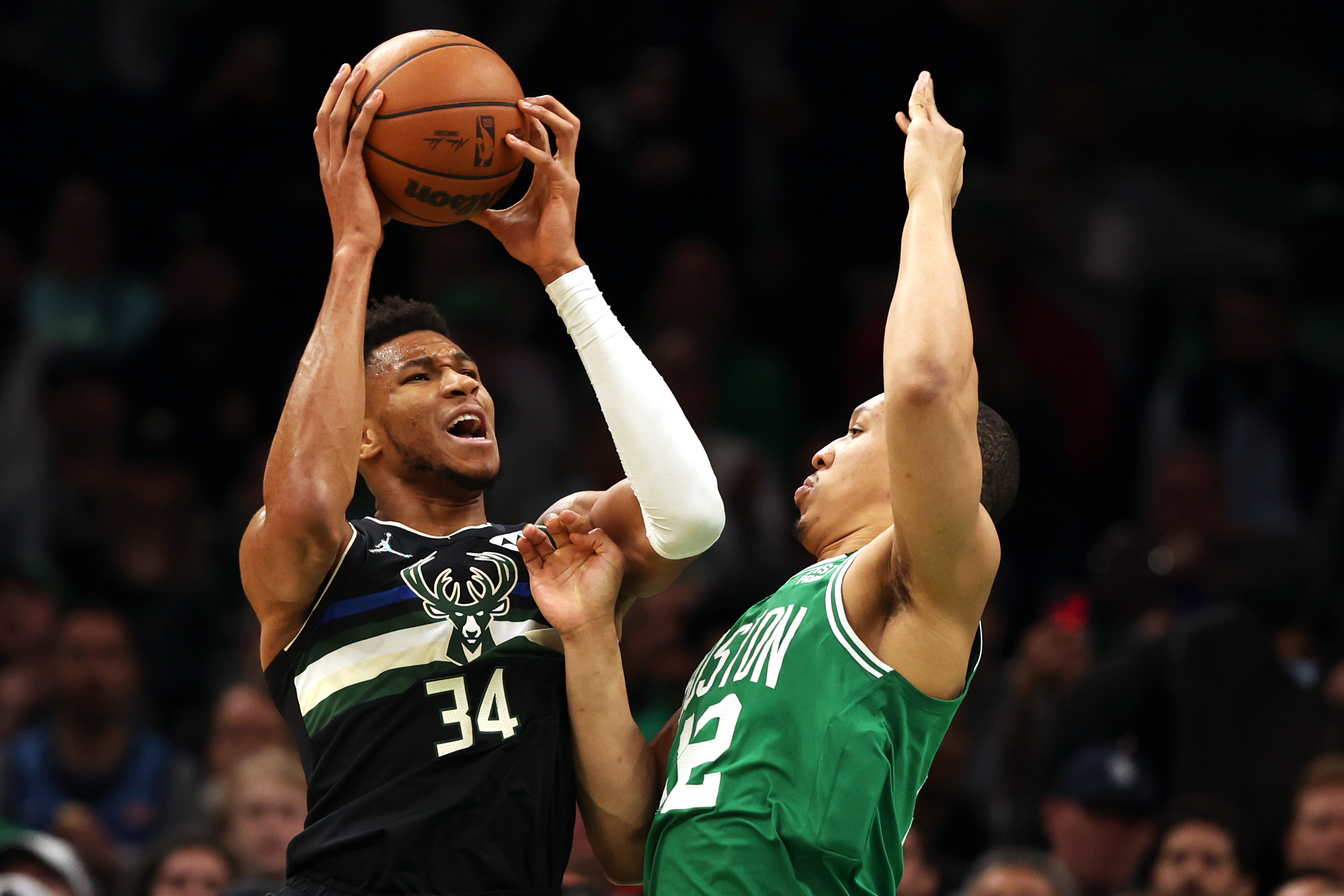 A game after getting embarrassed at home in Game 1 of the Eastern Conference Semifinals, the Celtics came out swinging Tuesday night. Udoka said the plan was to send the Bucks a message.
"We wanted to match their physicality and punch back tonight," Udoka said after Game 2, per ESPN. "A big message was show them who we are."
They did just that.
The Celtics never trailed, jumping out to quick leads of 7-0 and 18-3. Never in the game did it feel like their lead was in danger. Celtics guard Jaylen Brown set the tone early with 25 first-half points. He finished with a game-high 30.
"It's the playoffs. That's it," Brown said. "We can't let one game kind of dictate how this series goes, and we wanted to be aggressive from the gate.
"We wanted to come and play like our season was on the line, and we did."
The Boston Celtics got a huge lift from Grant Williams
Williams definitely got the memo about the Celtics playing like their season was on the line. He played 35 minutes off the bench, and they were 35 tough minutes.
His main objective was to make things difficult for Antetokounmpo. Mission accomplished. The 6-foot-6 Williams gave up five inches to the Bucks star but managed to get physical with and frustrate him all night long.
Williams said the Greek Freak was his priority, and he tuned everything else out.
"I view it as guarding him on an island," Williams said after the game. "It's just you and him, and you have to do your job. For us, that's kind of how we viewed it for this game.
"He started being a lot more aggressive in the second half, getting downhill and creating for himself. It's just one of those things where you just have to kind of hunker down and trust the work that you've done and do your best to contain one of the best players in the world."
Not only did Williams shine on defense, but he went 6-for-9 from 3-point land. He made seven of his 14 shots for the game for his 21 points. He also pulled down five rebounds.
Williams knew the Celtics would respond in Game 2
Since the end of January, the Celtics have turned into another team. After 50 games, they sat at 25-25. They finished the regular season with a 26-6 record before sweeping the Brooklyn Nets in the first round of the playoffs. Their turnaround can be attributed to their stifling defense.
Williams said the defense wasn't the problem in the Game 1 loss.
"We knew that our defense, we had done a solid job in Game 1," he said. "Our offense was the number one thing we came into the game discussing. That was where the flow came in. We didn't give up as many fast-break points, transition opportunities. That's where they excel."
Williams said there was no tension in the locker room after the series opener. They never lost confidence.
"We all knew that we were going to respond well," Williams said. "We trust one another. Even if we ended up down 0-2, we knew we were going to fight back and compete in the series."