Boston Celtics Reportedly Have Interest in a Reunion With Isaiah Thomas
It's amazing it took this long for the Isaiah Thomas talk to heat up again with the Boston Celtics. As NBA free agency kicks off, the rumor mill is in full swing. One of those hot rumors kicking around in Boston has the Celtics showing an interest in bringing back their All-Star point guard.
Isaiah Thomas was an instant star with the Boston Celtics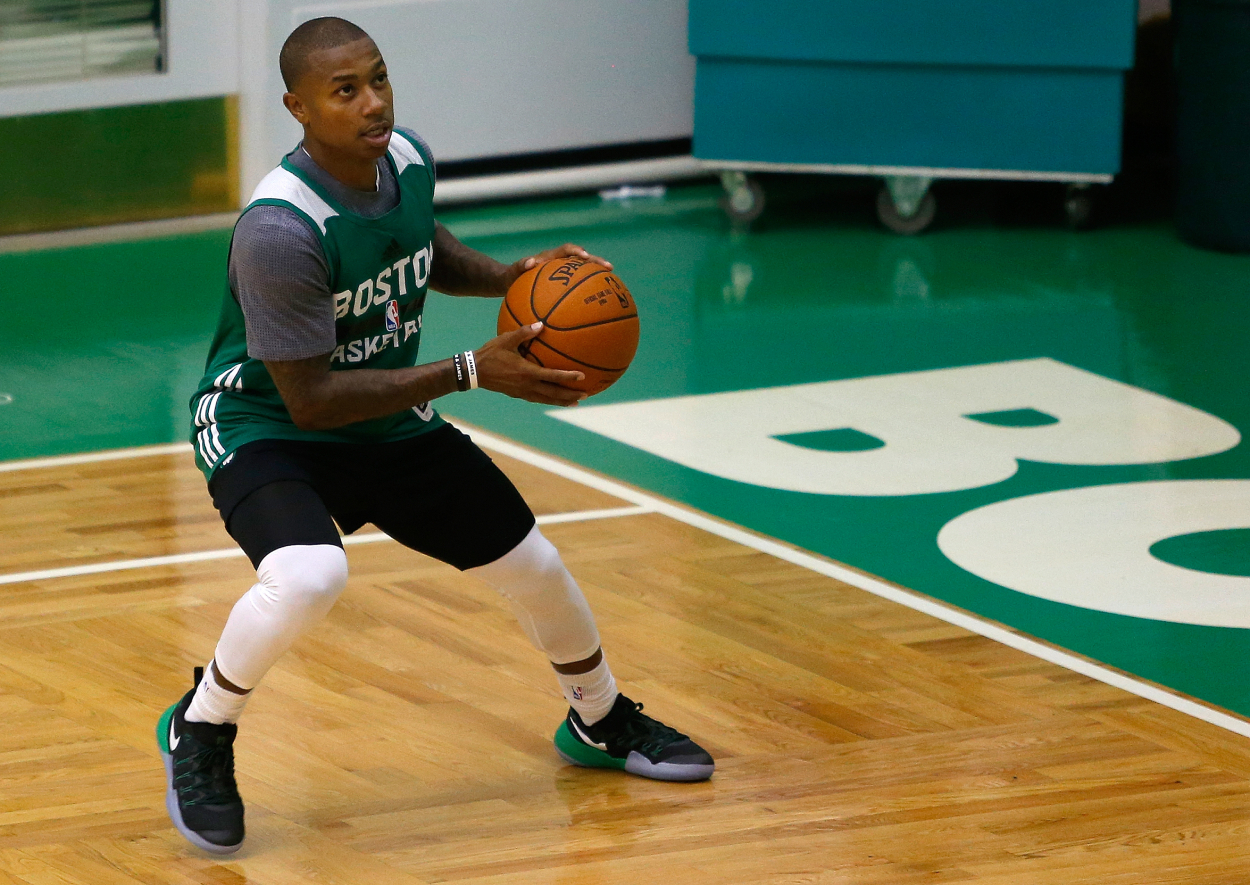 Although he's listed at 5-foot-9, Thomas played big during his two-plus seasons in Boston. Thomas has played 10 seasons in the NBA with eight different teams. It was in his two full seasons with the Celtics where he made his only two NBA All-Star appearances.
Thomas has always been the underdog. Still is. He was the last pick in the 2011 NBA Draft after being selected by the Sacramento Kings, where he spent the first three years of his career, averaging 15.3 points per game.
The Kings traded Thomas to the Phoenix Suns during the summer in 2014, but he played just 46 games before being shipped off again. This time, the Celtics acquired him for Marcus Thornton and a first-round pick. He became an immediate star in Boston.
In all 21 games he played in Boston, Thomas came off the bench and provided instant offense, putting up 19.0 points and 5.4 assists per game.
He became the team's starting guard the next two seasons, making a name for himself to the tune of 22.2 points per game in the first year and a career-high 28.9 the following season.
The Boston Celtics rumored to have interest in bringing Isaiah Thomas back
NBA free agency officially kicked off Monday night as players can begin the process of negotiating deals with teams. Players can't officially sign a contract until Aug. 6.
With the beginning of free agency come the rumors. NBA Insider Marc Stein reported the Celtics are showing interest in a reunion with their former point guard.
"Boston, I'm told, has interest in an Isaiah Thomas reunion, with new Celtics president of basketball operations Brad Stevens known to be one of Thomas' biggest fans," he wrote.
During his time in Boston, Thomas was the star. He won't have to be should he return as the Celtics sports one of the best young tandems in the league in Jayson Tatum and Jaylen Brown. Both were named NBA All-Stars this season. Thomas would likely go back to the role he had in the first 21 games he played with the team, coming off the bench to provide an offensive spark.
Thomas endeared himself to Celtics fans
Celtics fans loved Thomas then and would more than likely welcome him back with open arms. Thomas gave everything he had during his time in Boston. He showed his toughness and dedication by playing immediately after the unexpected death of his sister, Chyna, on April 15, 2017.
One day after he was notified of her death, Thomas played in the Celtics' playoff game against the Chicago Bulls. He finished with 33 points in a 106-102 loss.
"He was incredible," Celtics coach Brad Stevens said after the game, according to USA Today. "He's an amazing player, amazing person. And days won't get any easier for him, but he somehow plays like that."
The Celtics rallied to defeat the Bulls in the series. Thomas flew cross country to be with his family and attend his sister's funeral. He rushed back to play in Game 1 against the Washington Wizards. In Game 2, he put up 53 points in an overtime win. It also happened to be Chyna's birthday.
Thomas gave everything to the Celtics, and it's time for them to give him another shot.