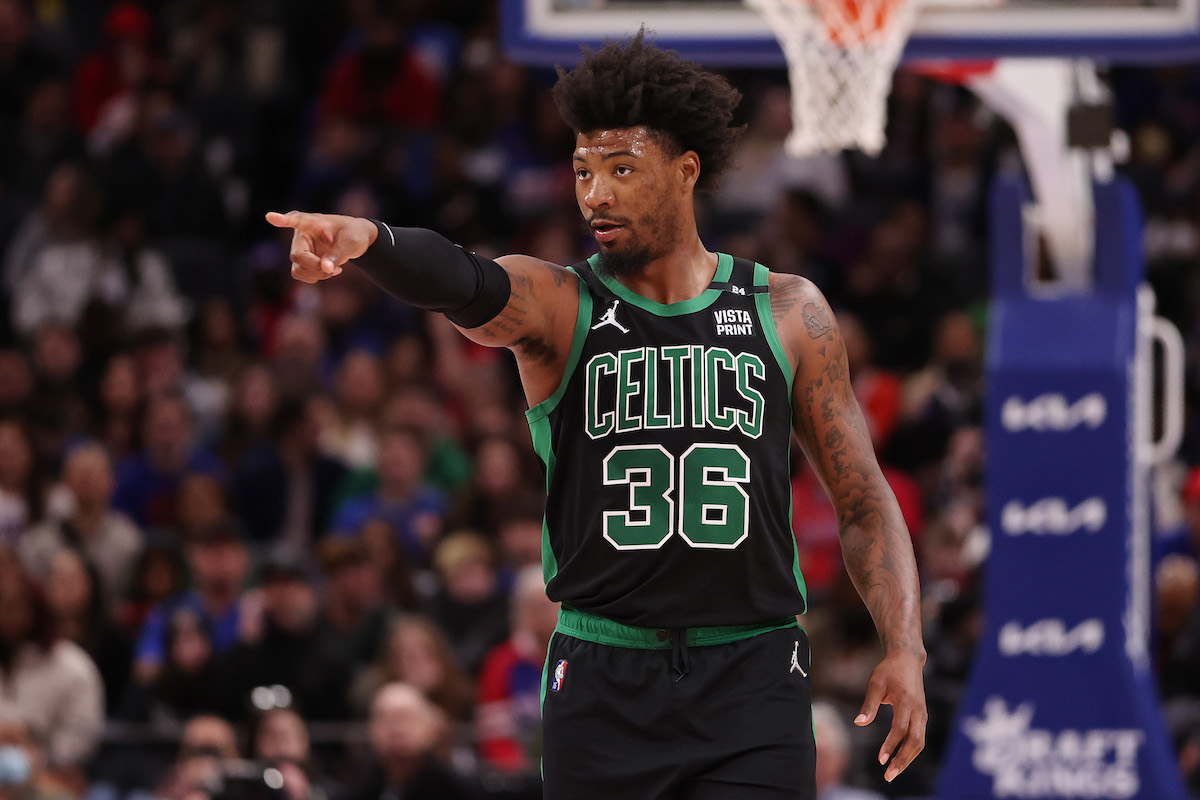 Boston Celtics Duo of Robert Williams III and Marcus Smart Needs More Defensive Player of the Year Respect
The Boston Celtics have the NBA's defense, but their best defenders, Robert Williams III and Marcus Smart, aren't getting nearly enough respect in the Defensive Player of the Year race.
If an opposing ball-handler manages to navigate his way past Marcus Smart's switchable, stifling defense on the perimeter, overcoming both the tenacity and the physicality of the Oklahoma State product, he still has to figure out a way to score through, above, or around the Pterodactylian wingspan belonging to the 6-foot-9 human pogo stick known as Robert Williams III.
Is it any wonder precious few NBA teams have been able to put up gaudy point totals against the Boston Celtics?
The C's are allowing just 105.5 points per 100 possessions, which rather easily outpaces the second-place Phoenix Suns (106.0) and third-place Golden State Warriors (106.1), who they held to just 88 points in a marquee matchup Wednesday night.
Under the supervision of first-year head coach Ime Udoka, they've become the best defensive team in the Association. And in doing so, they should have not one, but two prominent candidates for Defensive Player of the Year.
The NBA's Defensive Player of the Year conversation is all over the place
Most seasons, a clear front-runner emerges for this particular award. Either an interior stopper racks up enough blocks to leave no doubt that he's going to add some hardware to his mantle or a versatile defender shuts down enough primary scorers to become the obvious favorite.
In fact, each of the last six iterations of the voting process has yielded a runaway winner who earned at least 80% of the first-place votes, sometimes in spite of strong secondary options:
| | | | |
| --- | --- | --- | --- |
| Season | Winner | First-Place Votes | Award Shares |
| 2015-16 | Kawhi Leonard | 84/130 | 0.842 |
| 2016-17 | Draymond Green | 73/100 | 0.868 |
| 2017-18 | Rudy Gobert | 89/100 | 0.923 |
| 2018-19 | Rudy Gobert | 65/100 | 0.822 |
| 2019-20 | Giannis Antetokounmpo | 75/100 | 0.864 |
| 2020-21 | Rudy Gobert | 84/100 | 0.928 |
Award shares are the percentage of possible voting points earned.
You have to go back to 2014-15 to break the trend.
That year, Kawhi Leonard won the award despite not claiming the highest number of first-place votes. His 37 beat DeAndre Jordan's 32, Anthony Davis' 11, and Rudy Gobert's two, as well as lone votes for Tony Allen and Tim Duncan, but they couldn't top the 45 times Draymond Green headed a ballot. Still, he got to hold up the trophy with 333 voting points (0.516 award shares), which outpaced Green's 317 (0.491).
If anything, it seems like this year's race might be even more closely contested.
With voter fatigue and slightly diminishing performance — from both a team and individual perspective — holding back Gobert and injuries plaguing other leading candidates such as Green and Bam Adebayo, no clear front-runner has emerged. The betting odds reflect as much, per DraftKings:
Rudy Gobert: +140
Bam Adebayo: +140
Giannis Antetokounmpo: +550
Jaren Jackson Jr.: +1200
Robert Williams III: +1400
Mikal Bridges: +2000
Draymond Green: +2500
Joel Embiid: +4000
Evan Mobley: +5000
Matisse Thybulle: +10000
Marcus Smart: +10000
Jimmy Butler: +20000
Jarrett Allen: +30000
Jrue Holiday: +30000
Deandre Ayton: +30000
Quite literally, no clear favorite exists since the big men representing the Utah Jazz and Miami Heat are tied for the most favorable odds.
You'll also notice the lack of minus signs that typically designate the front-runner. Even in a tightly contested MVP race, for example, Joel Embiid (-150) and Nikola Jokic (+130) both have better odds to hoist the Maurice Podoloff Trophy than anyone does to claim DPOY.
This isn't to say that either Robert Williams III or Marcus Smart should be leading the pack. But it's nothing shy of baffling that they come in at Nos. 5 and 11, respectively.
Robert Williams III needs more respect
Objectively evaluating defense in basketball is next to impossible. So much of the point-preventing game happens in the margins and in ways that don't necessarily show up in a box score.
Blocking a shot is one thing. But what about altering a shot?
Better yet, what about playing such good defense that a star player is forced to pass the rock instead of attempting a shot in the first place? And that's saying nothing of passing-lane jumps that deter entry feeds rather than intercept them, the wherewithal to go over a blindside screen and stick with a ball-handler, the intimidation factor on the interior, frustration through flopping (a Smart specialty), and so much more.
Williams is blocking 2.2 shots per game and recording 0.9 steals per contest, but that undersells the impact he's made as a stifling presence at the center of Boston's schemes. He's quite adept at rejecting shots around the rim, but plenty of his swats come when he's chased a player out to the perimeter or stepped out to deter a floater.
As Stephen Noh highlighted in a fantastic breakdown for Sporting News, Williams has also thrived because Udoka has altered Boston's schemes in a way that maximizes his talents. By stationing him on a lesser offensive threat instead of a heavily involved big, he can spend more time roaming as a help defender and rim-protecting stalwart.
Even the switching utilized by the C's is designed to promote more defensive impact from the aptly nicknamed Timelord:
The Celtics are unique in some of the switching that they do to keep Williams near the rim. If his man comes up to set a ball screen, they will often execute three-way switches to keep him low on the floor. He and Marcus Smart have developed a sort of Vulcan mind-meld to make sure that they never screw up these assignments. 

Stephen Noh on Robert Williams III
Speaking of Smart, he's suffering from voter tendencies and outdated analysis that minimizes the defensive impact of perimeter players in today's game.
Marcus Smart needs more respect too
A guard hasn't won Defensive Player of the Year since Gary Payton in 1995-96. However, the modern NBA features so much three-point shooting and such switch-happy offenses that having a physical backcourt player impervious to matchup-altering switches is immensely valuable, especially if he can also take the best guards and wings out of the primary action.
Smart is at his best terrorizing opposing ball-handlers, but Boston's defense doesn't suffer one iota when he's asked to rotate onto a bigger forward or center. He has the lower-body strength to bang against them on the interior, and that frees up the rest of his teammates to take on more advantageous assignments.
His running mates stick up for him for a reason, after all.
"I think Smart deserves it, to be honest," Williams said after a shootaround on March 11, per Justin Quinn of Celtics Wire. "A lot of my defense of grit and my will to fight out there I get from just watching him.
"Even in practice, him being vocal, and on the court, he's a great defensive anchor first, but he's a better leader. And he doesn't even know that. He's always talking, putting guys where they need to be. So just me, I feel like Smart should be the No. 1 runner for that. But, we try to help each other when we're out there. I try to learn from him, like I just said, as much as possible.
"So, I feel like if anybody deserves it, it's him for sure."
Jayson Tatum seems to agree.
Are he and Williams cannibalizing some of the support they might otherwise receive if the team only had one DPOY candidate in the running? Sure. It's harder to make a case that a player is the most valuable defender in the league while simultaneously making a similar argument for a teammate.
Except … Boston's defense has been that good. Golden State found that out the hard way on March 16, and more opponents are sure to follow in the near and not-so-near future alike.
Especially during a year in which no obvious front-runner has emerged, this Boston duo should be a far larger part of the overall discussion, not just treated as a footnote or a pair of back-of-the-ballot options.
All stats, unless otherwise indicated, courtesy of NBA.com.