Marcus Smart Loves Frustrating Opponents With His Flopping: 'It's One of the Best Feelings in the World'
Marcus Smart may not be the best shooter but he always finds a way to get it done.
Marcus Smart does the little things to help his team win. He'll dig down deep on defense, take the charge, or even try to flop his way into getting a call. The Boston Celtics' veteran point guard has mastered the art of the flop.
While he might not officially refer to them as flops, Smart discussed the topic with former NBA sharpshooter JJ Redick during a recent interview. Redick put together a video compilation of Smart's best flopping performances, and the Celtics guard had some fun with it.
Marcus Smart brings the energy to the Boston Celtics every night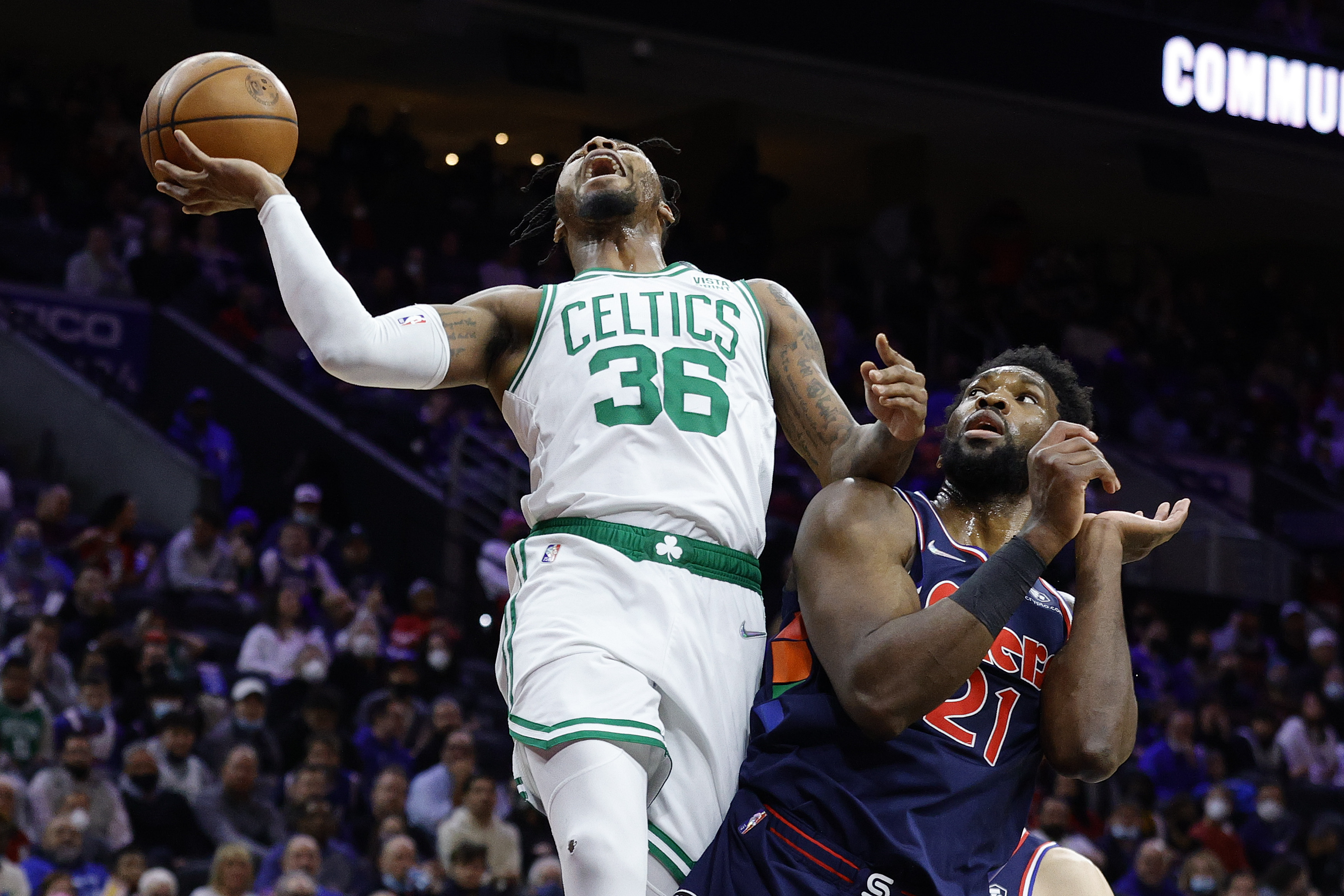 Smart doesn't get the credit he deserves. All the talk about the Celtics has revolved around their two young players in Jayson Tatum and Jaylen Brown. Those guys carry the load offensively, and offense is what gets you noticed in basketball. Smart brings the energy. His defense and intensity set the tone for the night. It often goes unnoticed.
During a live taping of The Old Man & The Three podcast, hosted by Redick, Smart talked about everything from his oft-criticized shooting to what it's like hearing his name thrown around at the trade deadline. As always, Smart was open and honest. He said he's much more than what his stats say.
"I'm probably not the best shooter in the world," he said. "But let's not forget I still hold the record for most threes in a game in a Celtics uniform. But, it's a popularity contest. People have guys that they like more than others, so no matter what those guys do, they're always going to be right, and no matter what those guys do, they're always going to be wrong.
"I play the game to win, and the individual stats will come with it, but for me, it's just about winning. Those individual people who count the stats, that just tells you about their knowledge of basketball."
As far as the trade talk goes, Smart said he always hears his name come up but is never affected by it.
"You know, I don't lose sleep," he said. "Some of my teammates do. Each and every year, they're looking at me like, 'How do you do it and you're still here?' And I'm like, 'I told you: I let my game do the talking.'"
Marcus Smart talks about his mental game on the court
During the interview, Redick asked if they could dim the lights so the audience could watch a "highlight video of Marcus." The clip didn't focus on his shooting or passing skills. It revolved around his hustle plays, focusing on his flopping. Smart got a kick out of the video, and he and Redick spoke about it when it was over.
Redick spoke about how tough it was having Smart and Brown chase him all night during a playoff game, but it was the "extra" stuff that Redick wanted to know more about.
"When do you make that decision: 'You know what, I'm gonna flop here. I'm going to run into Pascal Siakam and jump seven feet that way?'" he asked Smart, who laughed at the question.
"Well, that play, it was actually strategical with that one," Smart said. "They just put in a new challenge rule. That's a playoff game. In my mind, I'm thinking if I can get the ref to call it in my favor, what is Toronto going to do? They're going to challenge it, which means they're going to use that challenge that they're not going to have in the fourth quarter when we still have ours.
"It actually worked that game because there was a big play where it could have went their way if they had their challenge. It actually worked out perfect."
The little things have always been a part of Smart's game.
"There's no better feeling to get a guy, you bait him into a trap, get him thrown out of a game, get a foul called on him, and he just goes ballistic," Smart said. "It's one of the best feelings in the world."
Smart said the flopping goes both ways in the NBA
During a 2018 game when Smart and Redick squared off against each other, Redick took a Smart elbow to the face and needed eight stitches above his eye. He also sprained his big toe with Smart guarding him.
"I drew three offensive fouls that game, two against you because you were trying to post me up," Redick said to Smart. "One of the plays, again, you kicked your leg out, and you landed on my toe, and I sprained my big toe, and I couldn't walk right for like a month. So that's two injuries because of Marcus."
Redick then went back to the eight stitches.
"So you're telling me that's a foul on me?" he asked. "I'm going to contest a shot. You shot-faked. I leaned forward and got out of your shooting space, and then you launched yourself into me, and your elbow caught my eye."
Smart had the perfect response.
"You're a shooter. You understand it," he said. "We got it from you guys. You guys flop a lot when it's time to get the call, but you hate when guys flop against you."
The response drew applause from the audience, and Redick had no comeback.
"Well said," Redick said. "I see no lies."