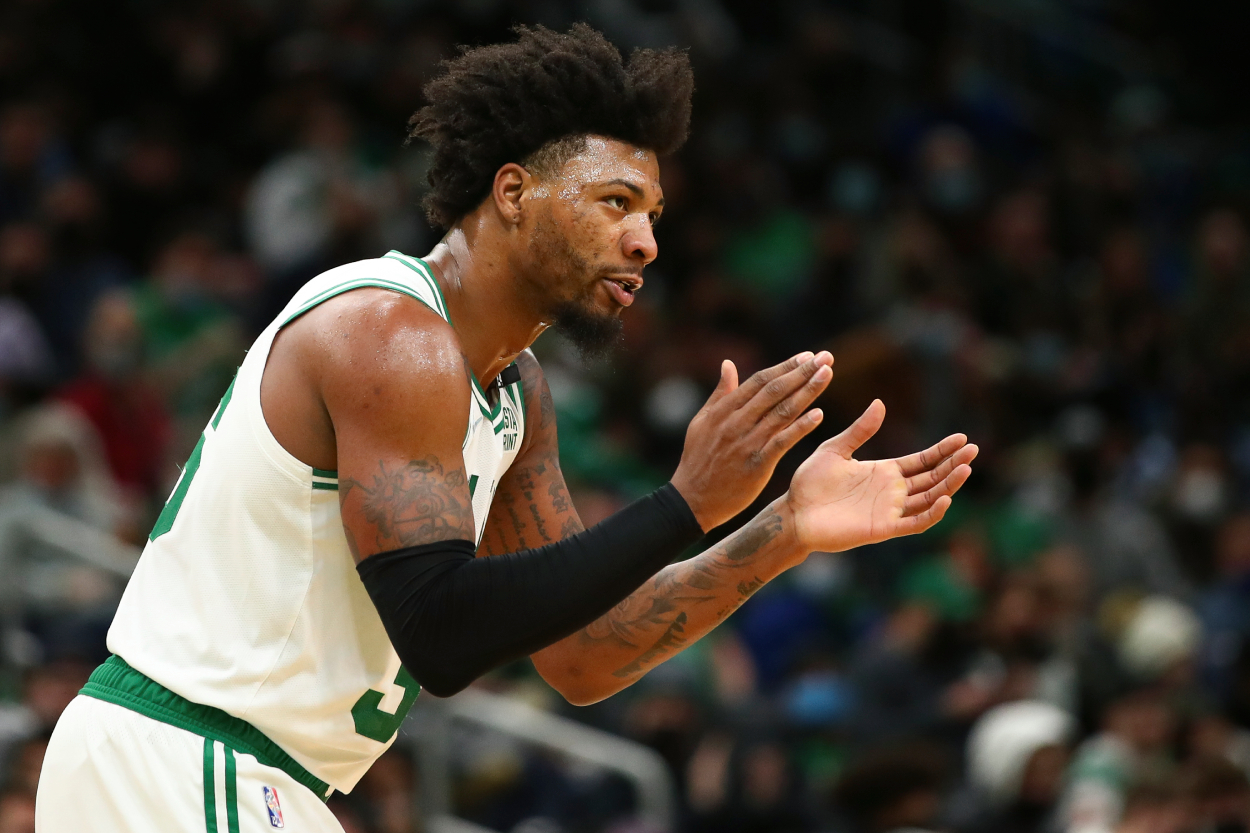 NBA Trade Deadline: Dealing Marcus Smart Doesn't Make Sense for the Boston Celtics
Dealing Marcus Smart would be a mistake for the Boston Celtics as the NBA trading deadline approaches.
After signing a four-year extension worth $77 million, veteran point guard Marcus Smart wasn't able to be traded until Jan. 25. That day is here, and the Boston Celtics guard is already hearing his name tossed around in potential deals. Like many on the team, Smart has his shortcomings, but here's why trading Smart doesn't make a whole lot of sense for the struggling Celtics.
Marcus Smart and the Boston Celtics have had a rough season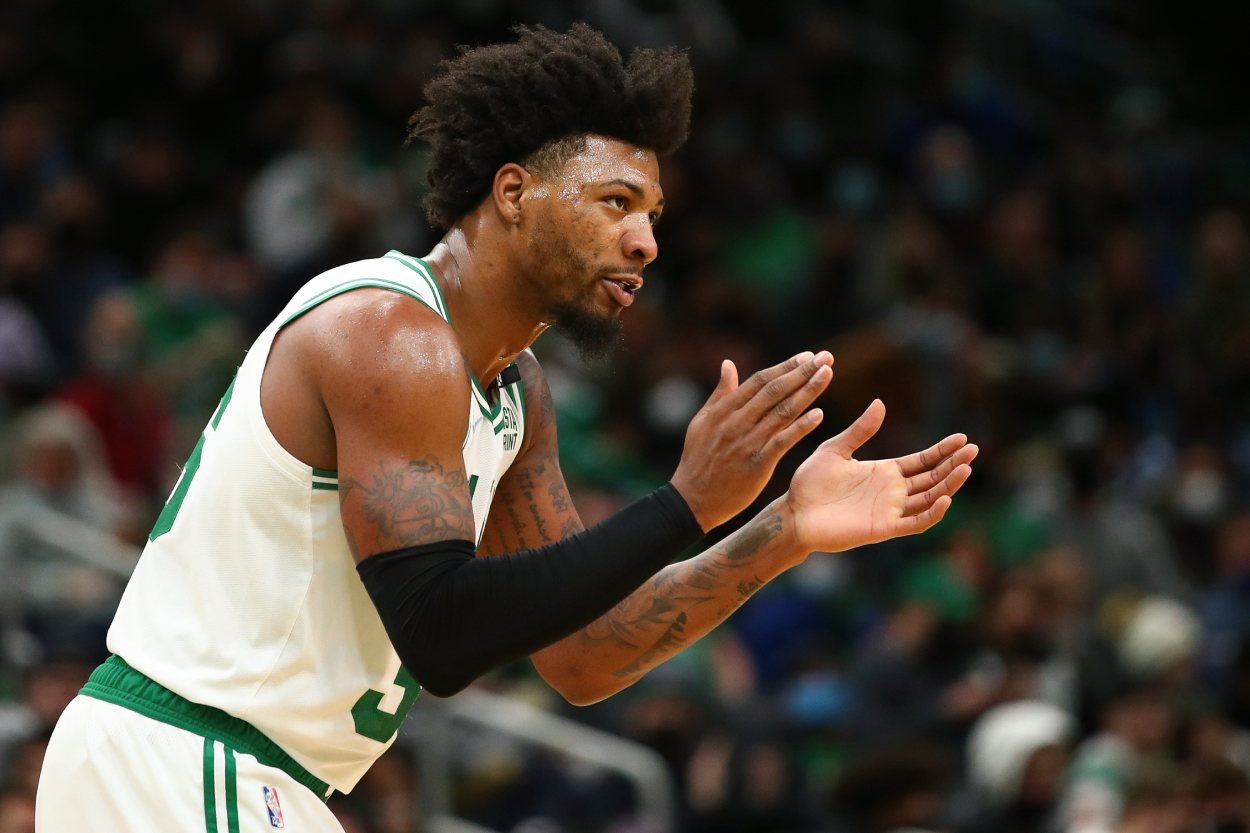 It's been a tough go for the Celtics this season. Just when you think they finally have found themselves, they find another painful way to lose. Through 48 games this year, the team is right where they were at the end of last season — the .500 mark.
With a pair of All-Stars in Jayson Tatum and Jaylen Brown, the Celtics should be better than mediocre for the last two seasons. Tatum has been inconsistent, if not awful, with his 3-point shooting. He and Brown haven't shown they can be leaders.
Smart has battled through a thigh injury and recently returned after being in the NBA's COVID-19 protocols. He made some noise earlier this season when he called out Tatum and Brown for not passing the ball.
"Every team knows we're trying to go to Jayson and Jaylen," he said postgame, per NESN. "Every team is programmed and studied to stop Jayson and Jaylen. I think everybody's scouting report is to make those guys pass the ball. They don't want to pass the ball.
"That's something that they're going to learn. They're still learning. We're proud of the progress they're making, but they're going to have to make another step and find ways to not only create for themselves but create for others on this team to open up the court for them later down in the game."
Trading Marcus Smart would be a mistake for the Boston Celtics
The NBA trading deadline is roughly two weeks away. What do the Celtics do? Are they buyers or sellers?
They are in a tough spot. With two young All-Stars, they should be much better than what they have been. They are 60-60 in their last 120 games. Brad Stevens, in his first year as president of basketball operations, has made it clear he does not want to break up the two stars. He'd rather add some pieces around them.
In order to do so, he has to let some pieces go, and Smart's name is always coming up. That would be a bad move for Boston.
Smart is the one guy on the team that brings it every night. Effort has been questioned multiple times in Boston, but the finger is never pointed at Smart. He brings a toughness the Celtics can't find in anyone else. While his subpar shooting gets most of the attention, Smart brings those intangibles that nobody else on the team has.
He's also a top-notch defender who can guard any position. In Sunday's win over the Washington Wizards, Dan Greenberg of Barstool Sports pointed out Smart's value. Matching up against the high-scoring Bradley Beal, Smart held him to four points on 17 possessions. He also guarded Spencer Dinwiddie on 13 possessions and held him scoreless.
Smart will take the charge, lead the defense, dive for those loose balls. There isn't another player on the Celtics who brings it like he does.
The Celtics should move either Tatum or Brown if they're looking to get beyond mediocrity
It seems fair that 120 games over two seasons is a pretty good benchmark for where a team stands. The Celtics are an inconsistent group that struggles to play well together. Tatum and Brown have not been able to get the Celtics over the hump since they helped lead the team to the Eastern Conference Finals in 2020.
Trading Smart isn't getting the Celtics a star in return. As talented as they are, Tatum and Brown have shown they can't consistently play well together. Boston hasn't strung together more than three wins this year. The Celtics were bounced in the first round of the playoffs last year season after going 36-36.
Trading Al Horford and his big contract won't do a whole lot other than free up some money, which just might be the team's biggest goal. Trading Dennis Schroder and Josh Richardson will return role players and/or draft picks. Brown or Tatum would bring back a star and more while improving the lack of chemistry.
Without dealing Tatum or Brown (likely Brown), there's not much that's going to move the needle. For a team that was in the ECF in 2020, it appears that win-now mentality is long gone. That could change if one of those two stars gets moved instead of Smart.