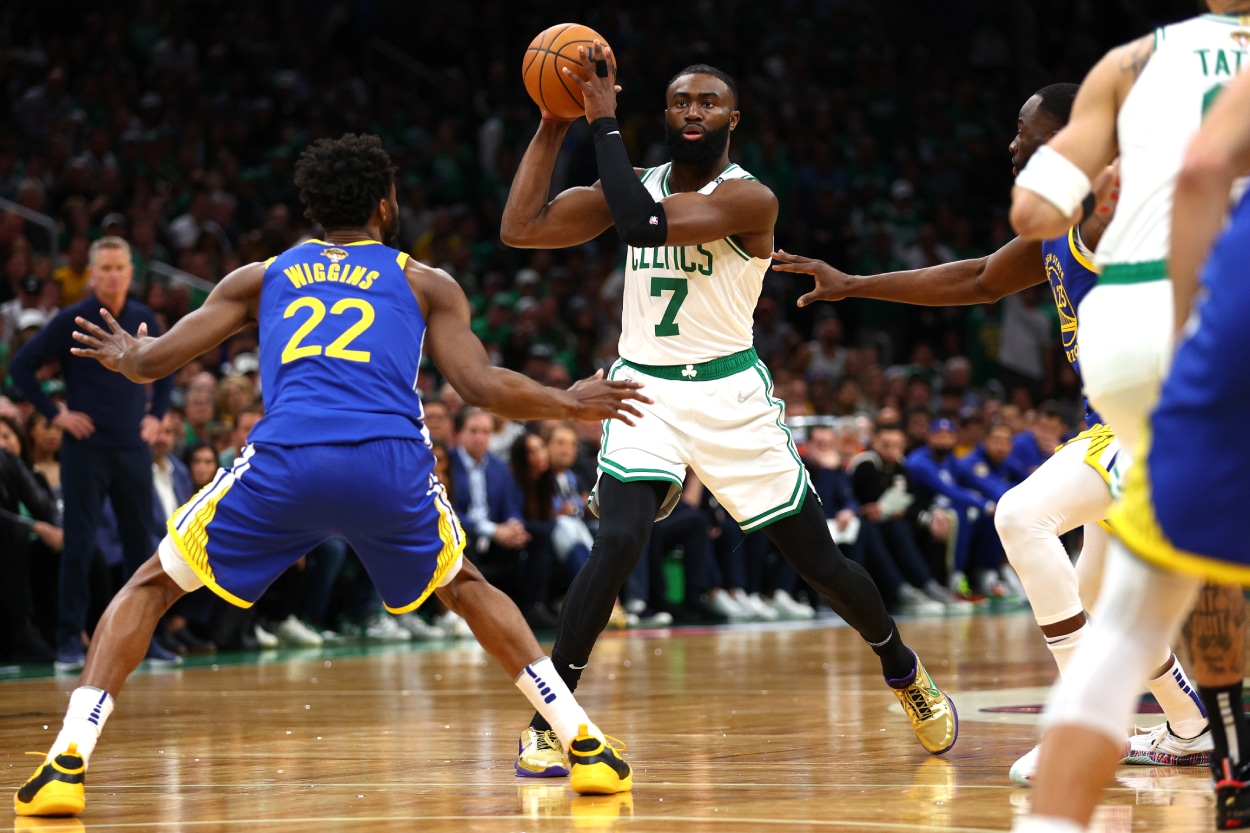 Boston Celtics Rumors: Jaylen Brown's Desire to Stay in Town Has to Be Questioned After Latest Report
The Boston Celtics reportedly offered Jaylen Brown in a deal for Brooklyn Nets star Kevin Durant.
The Boston Celtics made the news Monday when ESPN's Adrian Wojnarowski reported that they have been in "regular contact" with the Brooklyn Nets regarding Kevin Durant. Brad Stevens wouldn't be doing his job if he wasn't speaking to teams about anyone on his roster. It's the "regular contact" part that should have Celtics fans wondering what's really going on with Jaylen Brown.
Brown has always been in the spotlight when it comes to any trade rumors involving the Celtics. The Celtics aren't likely to deal Jayson Tatum. Brown is the team's second-biggest star, so he's the player most want to discuss during trade talks. But is there more to it than just Brown's talent and the return he'd bring to Boston? His commitment to being with the Celtics long term has to be questioned.
The Boston Celtics reportedly offered Jaylen Brown for Kevin Durant
Wojnarowski reported Monday that the Celtics offered Brown to the Nets for Durant. While Woj put out the report today, fellow ESPN NBA reporter Brian Windhorst said those talks have been going on for some time. He made those comments on 98.7 FM in Arizona.
"I don't think the Nets are involved in active talks right now," Windhorst told 98.7 Arizona Sports."I know it came out today so it's front of mind, but those are not fresh talks."
Whether fresh or not, talks happened. Reports have the Nets also asking for veteran point guard Marcus Smart and picks in the deal.
Windhorst added the he believes if the Nets don't get their asking price for Durant, they'll head into the 2022-23 season with him on the roster.
Durant asked for a trade at the end of the 2021-22 season and gave a list of his desired teams, headed by the Phoenix Suns and the Miami Heat. It's hard to believe the Nets would get anything better than a player like Brown in return.
The Celtics offering Brown makes you wonder of his desire to be in Boston long term
Brown has two years left on his contract. The Celtics came within two games of winning the NBA Finals this season, so throwing Brown's name in trade talks seems a bit strange. Basketball, however, is a business, and if the Celtics have any hint that Brown doesn't want to be in Boston beyond those two years, the smart move is to shop him around.
The Celtics' season turned around with a second-half surge after Boston went 25-25 through the first 50 games of the season. The previous year, they finished 36-36. Questions were asked if Brown and Tatum were capable of playing together. Steve Bulpett of Heavy.com reported Brown might seek a trade this summer if he deems that "the mix isn't right."
From February on, the Celtics turned things up several notches, finishing the season 26-6 and making their way to the NBA Finals. Still, there was talk about Brown's future. One Boston radio host said he was "chopping it up" with Brown and came to the conclusion that Brown wants his own identity.
Trading Brown for the 34-year-old Durant might not be the most popular move in Boston after a Finals trip, especially if Smart and picks are involved. It might be the best move for the team, however, if Brown chooses to test free agency in two years and doesn't show signs of committing long term. He may love Boston, but could still bolt in two years if another team makes an offer he can't refuse.
There have been subtle signs of Brown's frustration, as he "liked" a post that said Brown is disrespected in Boston. As soon as Wojnarowski's report came out, Brown took to Twitter and simply wrote "SMH."
Was Brown frustrated at the trade talk once again? Or was he shaking his head because the Celtics tried to trade him? If the Celtics have spoken to him about a long-term deal and haven't made any progress, putting Brown's name out there is a good move.