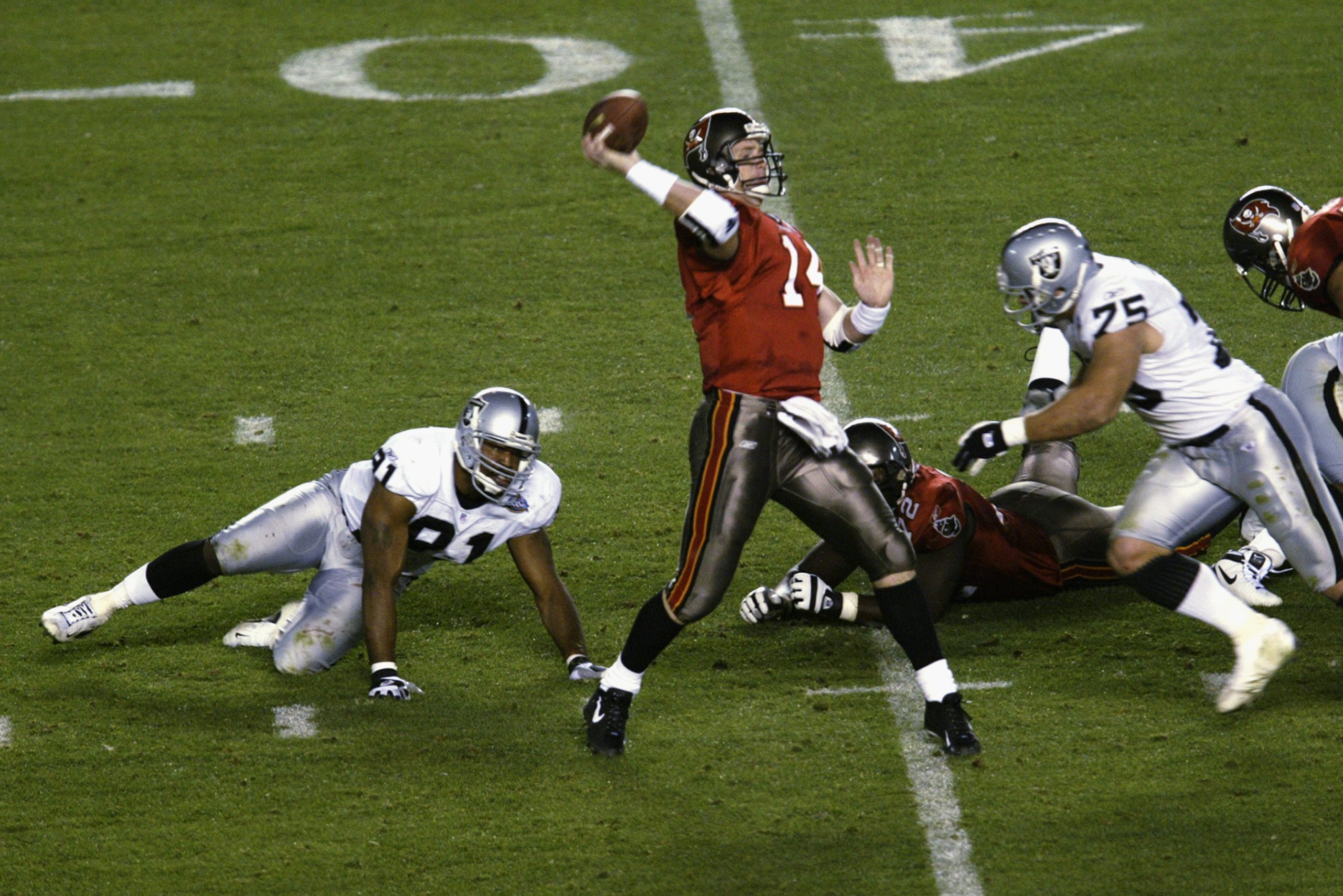 Brad Johnson, Super Bowl-winning QB, Admits Basketball Is His True Love and He's Now Showing Why
Brad Johnson enjoyed a 15-year career in the NFL even though basketball was his first love.
Although it was a difficult decision, Brad Johnson made the right one. Flip-flopping between basketball and football at Florida State couldn't go on throughout his career. He had to make a choice. Basketball was his first love, but football was his ticket to a professional career. Johnson wound up with a 15-year NFL career, playing for four teams, and earned a Super Bowl ring as the starting quarterback for the Tampa Bay Buccaneers. Now, Big Bad Brad is making a name for himself on the basketball court.
Brad Johnson was a two-sport athlete at Florida State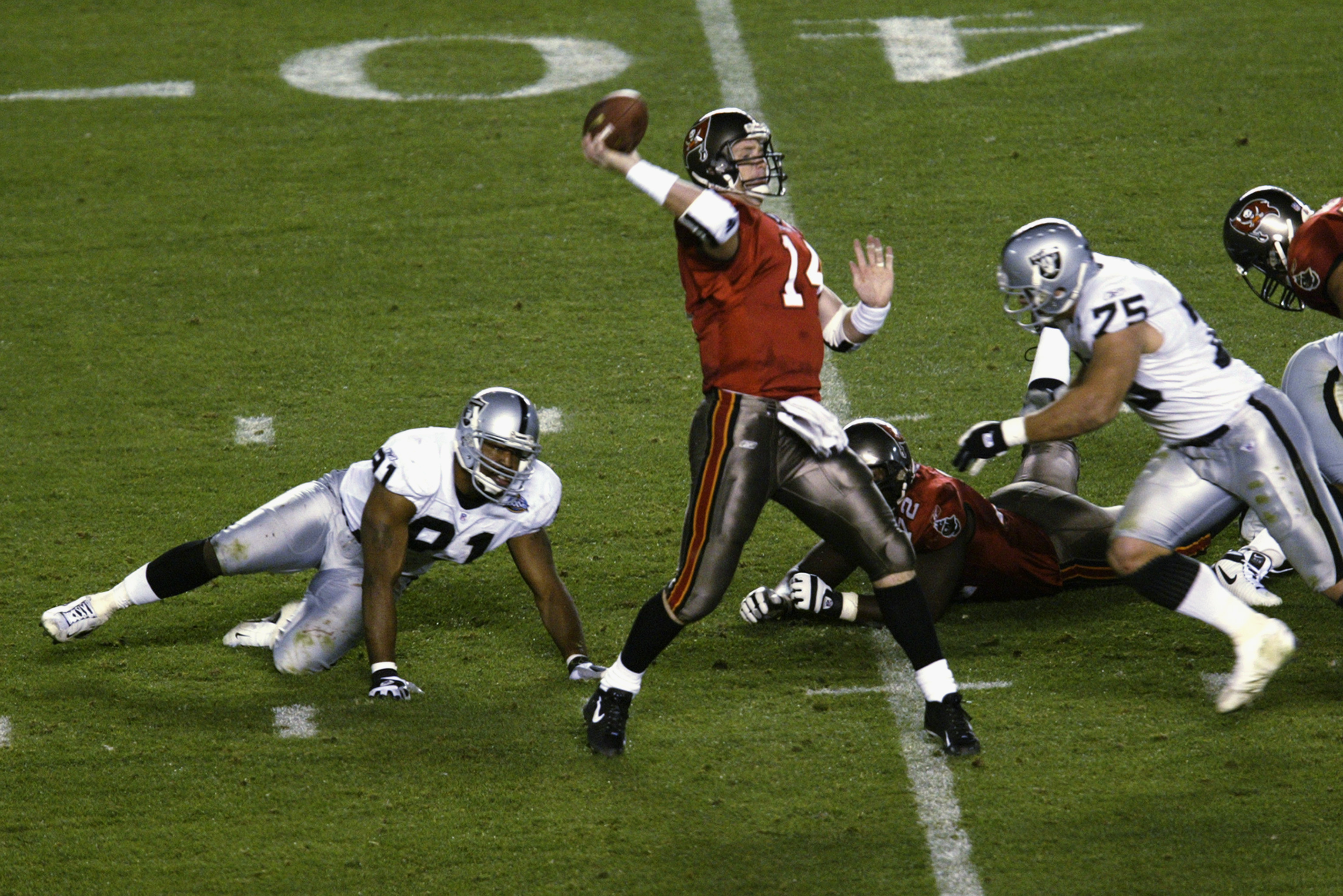 Johnson played both football and basketball at Florida State after graduating from Owen High School in Black Mountain, North Carolina. His goal after high school was to play college basketball at Georgia Tech. "I wanted to play for Bobby Cremins," Johnson told Sportscasting. "I was told I would be behind Dennis Scott. That's not too bad. He went on to play 11 years in the NBA."
Instead, Johnson went to Florida State and played two years of each sport before making a decision to turn to football full time.
"Basketball is my first love," he said, "but I made my decision based on potential." He could have hung on and played both sports throughout his career like Charlie Ward did a couple of years later at Florida State, but he knew a move had to be made.
"Charlie Ward did it, but it was his job," Johnson said. "I was competing (with Casey Weldon). I was missing spring football. Charlie could miss all of spring football every year, and it would still be his job. I was competing."
Brad Johnson showing off his basketball skills on social media
Johnson played for the Buccaneers, Minnesota Vikings, Dallas Cowboys and spent two years in Washington in the NFL. He still loves basketball, and he's getting out there on the courts daily. He's busy coaching high school football, but he gets out there on the basketball court and shows off his array of trick shots. He hasn't been doing it very long, but his social media following is growing on TikTok, Instagram, and Twitter.
Getting out there on the court and bouncing basketballs through his legs and into the hoop with his back to the basket is peaceful to him. "I can be myself," he said. "I just have fun doing this stuff."
His videos are legit. There is no editing. "Some take longer to make than others," he said.
He'll stand behind the backboard and throw the ball over it with serious backspin that it bounces back into the hoop. Johnson does it to humor himself and others. He'll usually end a video by taking off his Big Bad Brad hat and showing it off to the camera. He'll soon be selling those hats and donating the money to charity. In any case, he's enjoying the social media life with his trick-shot videos.
"It's exercise for me and humor for others," he said.
Johnson had one heck of an NFL career
For a guy drafted in the ninth round of the 1992 NFL Draft, Johnson didn't do too bad for himself. He spent 15 years in the NFL, playing for four different teams. He was a two-time Pro Bowler and was the winning quarterback for the Buccaneers in Super Bowl 37.
Johnson also completed better than 60% of his passes for 13 straight seasons, becoming the first quarterback to do so. That was rare during his playing days when quarterbacks weren't nearly as protected as they are today.
"I think only one starter didn't hit 60 percent last year," Johnson said. "I do think today that systems and quarterbacks are better as a whole."
Today, he might not be hitting 60% of his trick shots, but he's having a whole lot of fun while making people smile.
All stats courtesy of Pro Football Reference.