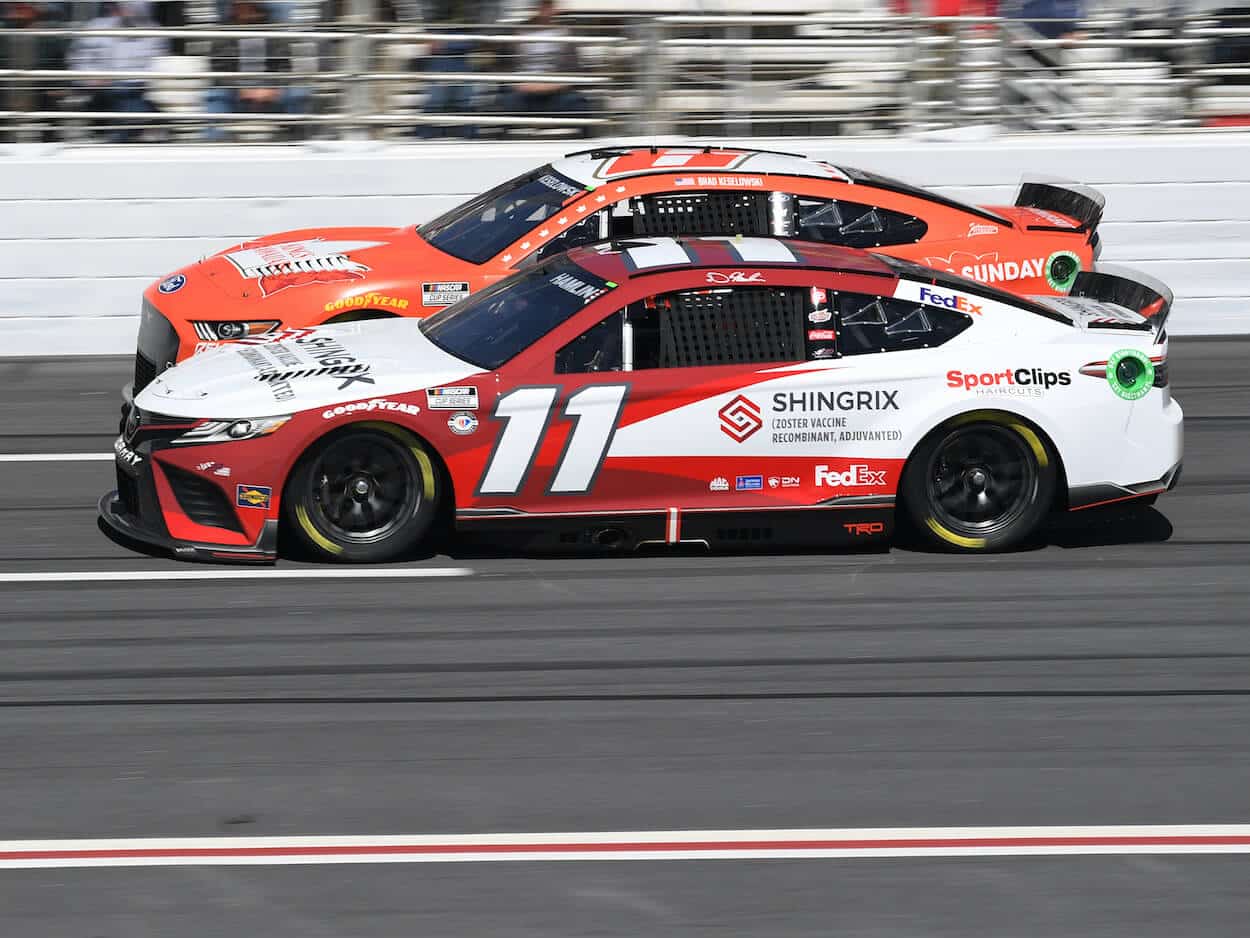 Brad Keselowski and Denny Hamlin Have Uncomfortable Encounter Moments After Race at Atlanta
Brad Keselowski finished second while Denny Hamlin finished sixth at Atlanta. But it's the uncomfortable moment between the pair after the race that everyone is talking about.
Brad Keselowski is off to a much better start in his second season with Roush Fenway Keselowski Racing. His runner-up performance on Sunday at Atlanta Motor Speedway was his best result since the fall race at Talladega in 2021 with Team Penske.
Moments after taking the checkered flag, the 2012 Cup Series champion was in another race to the nearby porta potties. Unfortunately, in his haste, he forgot to lock the door behind him. Enter Denny Hamlin. 
Brad Keselowski off to a great start in 2023
It's understandable that Brad Keselowski would have some doubts last season. After a successful run at Penske, including his 2012 title, he up and left to become co-owner at RFK and start driving for a completely different organization that had struggled for years.
The 2022 season was a challenge, managing just six top-10 finishes and a lone top-five. He went winless for the first time since 2010. 
This year has been a complete 180. Keselowski has been running up near the front in multiple races and already secured a couple of top 10s, including Sunday at Atlanta, where he appeared to be in line for the win, but former teammate Joey Logano made a last-lap pass to cross the finish line first. Despite finishing second, the driver-owner acknowledged after the race how far his team has come. 
"Yeah, night and day from where we were a year ago. 100%," he said in the post-race interview. "Keep running like this; the good finishes and the wins will happen.
Awkward encounter with Denny Hamlin in race to bathroom
Before that interview, Keselowski was involved in another race. Moments after shutting off his car and Joey Logano's burnout still audible in the background, the veteran driver hurriedly exited his car and made a beeline for the porta potty nearby.  
With his helmet still on, he entered the middle unit, quickly shut the door behind him, but forgot to lock it. We know this because Denny Hamlin approached a few seconds later, saw that the door was unlocked, and opened it. 
Much to his surprise, Keselowski was already answering nature's call. Hamlin promptly shut the door before backing away. 
Keselowski wasn't going to lose another race to restroom
Fans who saw the Keselowski-Hamlin bathroom incident at Atlanta couldn't help but have flashbacks to another race to the restroom back in 2012 at the Daytona 500 that oddly enough involved Keselowski. That was when Juan Pablo Montoya's car crashed into a jet dryer and caused a lengthy red-flag delay. During the break, nature called and both Keselowski and Dale Earnhardt Jr. answered.
Video shows both drivers on foot racing each other up the track to the cheering of fans, with Earnhardt in the lead before Keselowski passes him as they exit the track. Once the porta potty is located, there's a mad dash to the finish where the Penske driver pulls ahead, only for Earnhardt to give him a good shove just as they reach the restroom, sending him past the door, allowing Junior to get inside first.
Keselowski had to be thinking about that on Sunday. He wasn't going to lose this time. He didn't. Hamlin did in more ways than one because he can't unsee what he saw.
For the latest breaking news and information about NASCAR's three national series, check out @kdsportswriter on Twitter.