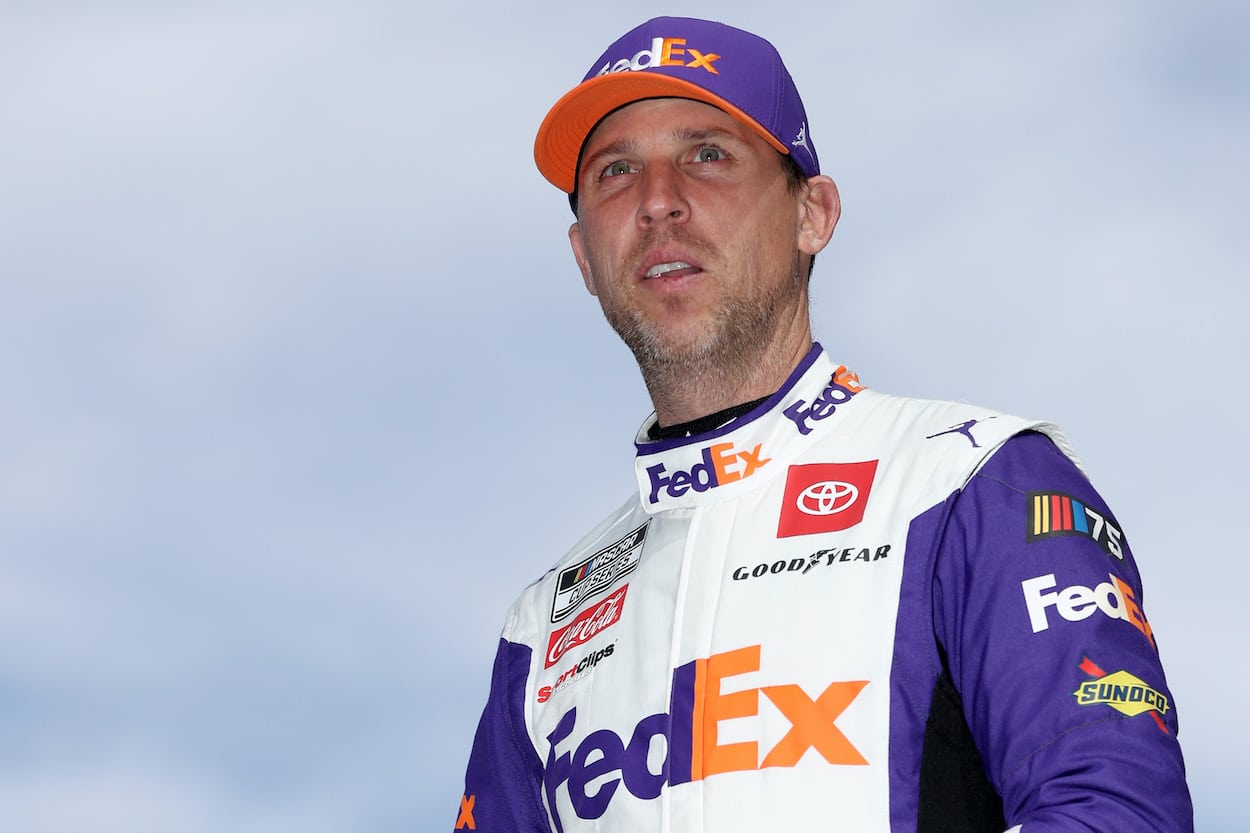 Denny Hamlin Channels His Inner-Kyle Busch When Repeating Same Answer During Interview With Reporters at Atlanta
Denny Hamlin was in no mood this weekend at Atlanta to answer questions about NASCAR's penalty, and instead channeled Kyle Busch from 2017 at Phoenix, providing the same answer to different questions over and over again.
Denny Hamlin and Kyle Busch were teammates at Joe Gibbs Racing for 15 years. The two-time champion left for Richard Childress Racing this offseason and is in the first year with his new team.
Last weekend the three-time Daytona 500 winner intentionally wrecked Ross Chastain at Phoenix in the final laps. He only got into trouble after admitting to his actions on his podcast, which drew him a fine and a points deduction from NASCAR. On Saturday before the race at Atlanta, the 42-year-old addressed the penalty with reporters and, in the process, channeled his inner-Kyle Busch as he pulled off a move his former teammate did years earlier. 
Denny Hamlin admits to wrecking Ross Chastain and gets penalized
Denny Hamlin felt wronged by Ross Chastain, not for anything last year, but for what had happened earlier this year in the Clash at the Coliseum. In overtime at Phoenix, with his No. 11 car on older tires, the driver knew he was dropping back in the field for a mid-teen finish. He figured it was a good time for payback, opted to take his Trackhouse nemesis with him, and drove him into the wall.
That should have been the end of it. Except a day later on his Actions Detrimental podcast, Hamlin admitted what he had done in the desert to Chastain. NASCAR officials were listening. 
A couple of days later, the sanctioning body issued a $50,000 fine and docked him 25 driver points. The JGR driver initially said he was declining to appeal but later changed his mind.   
Hamlin channels inner-Kyle Busch during interview
On Saturday, Hamlin met with the media for the first time since the penalty announcement. Naturally, everyone was curious about his thoughts on the punishment. But the driver had a plan coming in and didn't stray from it.
"I think you should get your Shingrix shingles vaccination, is what I think," Hamlin said, promoting his sponsor when initially asked why he changed his mind and decided to appeal NASCAR's decision.
"I think you should get your Shingrix shingles vaccination," he said again, when asked by Fox's Bob Pockrass why he changed his mind. 
"Is that going to be your response to every question today so you don't get in trouble?" Pockrass asked.
"Can't wait for Atlanta," Hamlin said. 
Moments later, when the reporter asked if the driver was surprised that something he said got him penalized, he tersely responded: "I have nothing to say." 
Kyle Busch offers same answer over and over
Fans watching Hamlin in Atlanta couldn't help but have flashbacks to 2017 and his former teammate Kyle Busch. After the race at Las Vegas, Busch was upset with Joey Logano, confronted him, punches were exchanged, and left with a bloodied face. 
A week later at Phoenix, both drivers met with NASCAR about the incident. Moments after that meeting, Busch visited with reporters and delivered a memorable interview. 
"Everything's great. Looking forward to getting back to the race track and getting into my race car," Busch said when asked about the incident. 
"Are you OK with Joey moving forward?" a reporter asked.
"Everything's great," the driver began again. "Really looking forward to getting in my race car and getting back here at Phoenix."
Busch repeated that same opening line several times before leaving the session.
Hamlin saw that interview, and he did a good job replicating it on Saturday. While he may not have answered all the questions, there's no doubt his sponsor was happy with the responses.
For the latest breaking news and information about NASCAR's three national series, check out @kdsportswriter on Twitter.