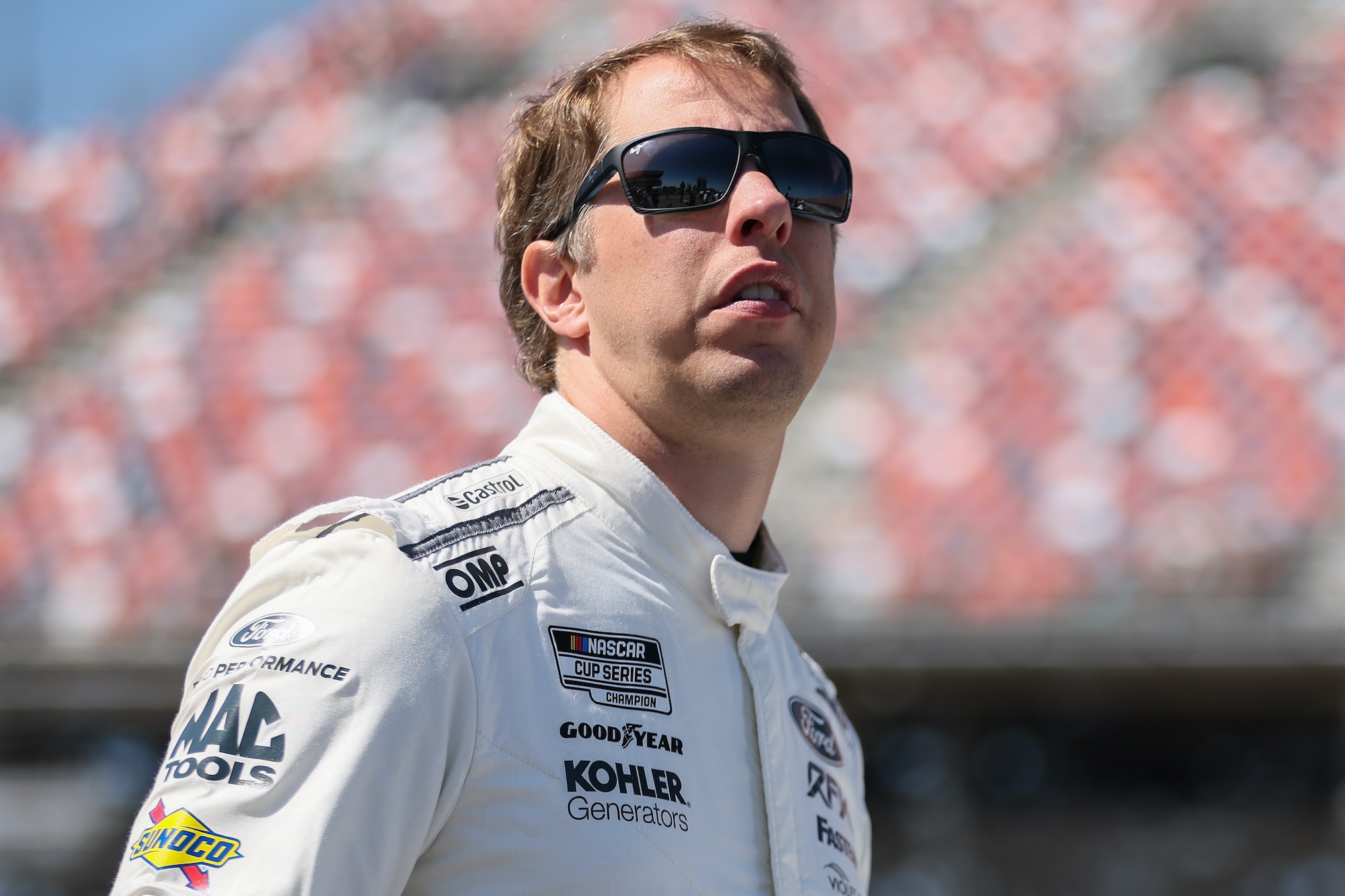 Brad Keselowski Admits He Received Blowback From Some in Industry After His Comment Suggesting NASCAR Should Hand Out Penalties 'Like Candy'
Brad Keselowski appeared on SiriusXM NASCAR Radio this week and bluntly admitted he had received blowback from some in the industry after suggesting NASCAR needed to hand out penalties "like candy."
Brad Keselowski felt the pain earlier this season when NASCAR officials discovered an infraction and levied huge penalties on his No. 6 team, including docking of 100 points, plus a four-race suspension and a $100,000 fine for crew chief Matt McCall. After the RFK punishment, the governing body went quiet on those types of hard-hitting infractions for months.  
That all changed in late July when the sanctioning body handed out a double dose of penalties, including the disqualification of Denny Hamlin and Kyle Busch at Pocono, followed several days later by a harsh punishment of Michael McDowell's team, which was similar to Keselowski's. 
Last week, the 2012 Cup Series champion admitted he was relieved to see NASCAR dispense a big punishment to another team besides his own, and boldly suggested he hoped more were coming for those breaking the rules. Unsurprisingly, Keselowski received negative feedback for his remarks from some in the industry, and he admitted as much during an appearance this week on SiriusXM NASCAR Radio.  
Brad Keselowski suggests NASCAR should be handing out penalties 'like candy'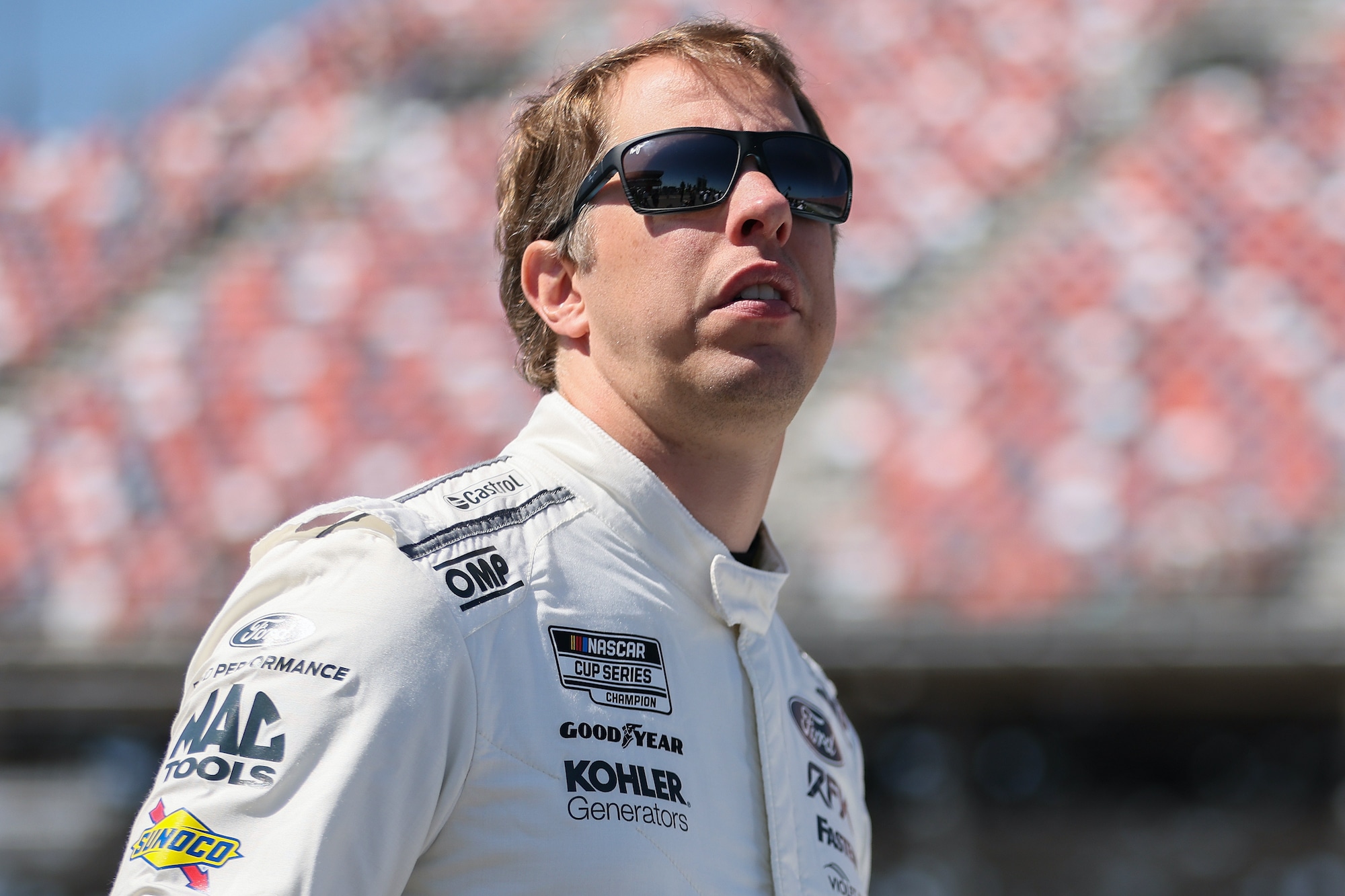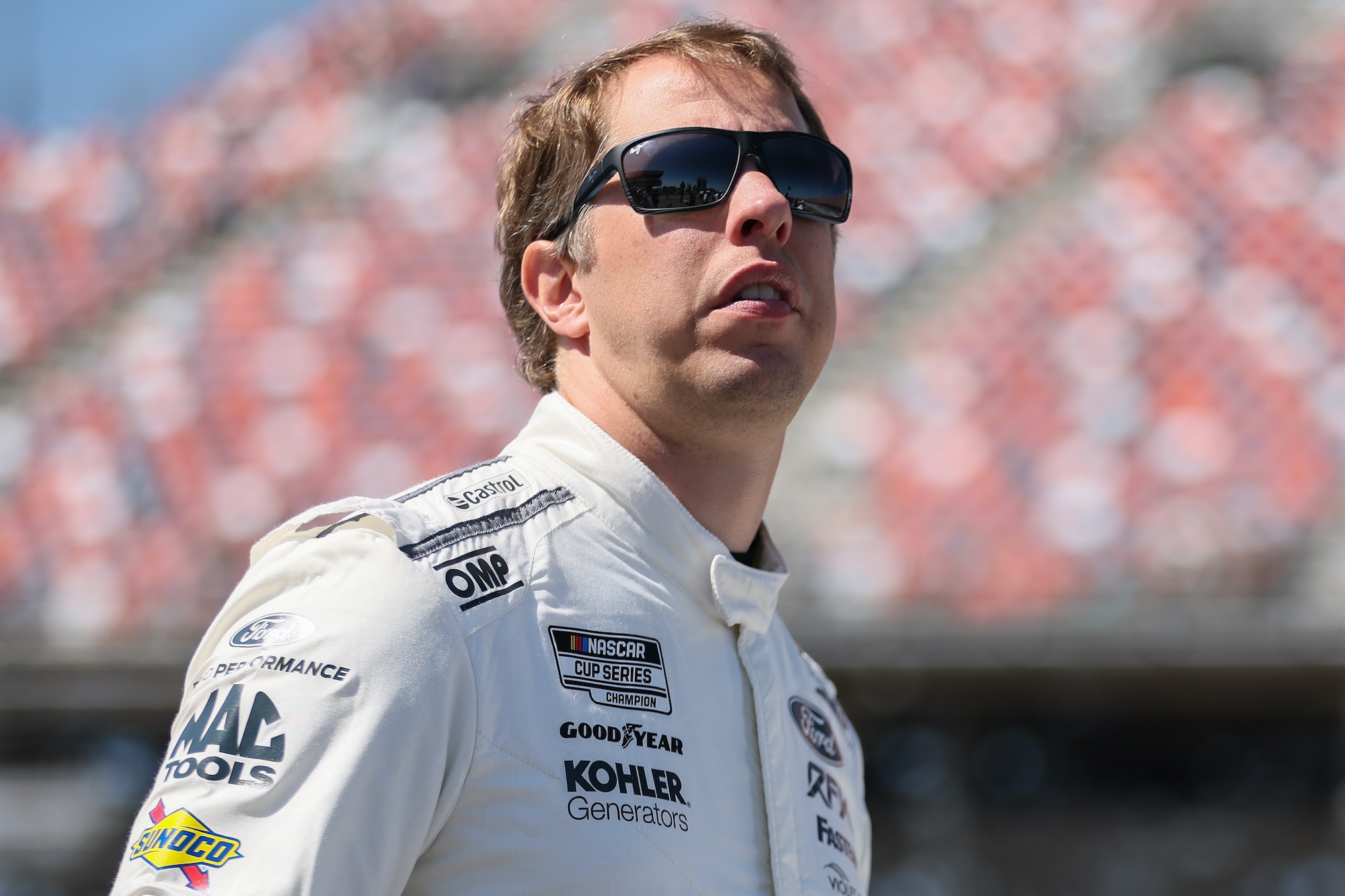 Brad Keselowski and his team received an L2 penalty in April after the Atlanta race when NASCAR returned the RFK car to its R&D Center and discovered an illegally modified vendor-supplied part. Fast forward to last month. The same thing happened to Michael McDowell's team — R&D visit, infraction, L2 penalty. 
That latest sanction came on the heels and just days after the governing body made a shocking move and disqualified Pocono race winner Denny Hamlin and his teammate Kyle Busch, who finished second. Those three rulings confirmed that NASCAR remains hyper-focused on ensuring all teams are playing within the rules and not "getting creative" with vendor-sourced parts.  
"I feel a little bit a sense of relief from the fact that the penalty that was handed out to us at Atlanta was in some form replicated to more than us," Keselowski said of the recent spate of penalties. "I feel like you could probably make arguments that some teams' penalty could have been adjusted higher or maybe even lower, for sure. But the reality is the garage is going through a reset with respect to cutting out the games, and that's a good thing for us as a sport.
"I personally think the sport needs more penalties and that NASCAR needs to be handing them out like candy right now to get control of the garage, because we've been playing a lot of games for a lot of years. The games have to stop. The games cost a lot of money… and those games come directly at the expense of being able to afford to do things that we'd like to be able to do, or just to be able to afford to race. So, looking at that, the easiest way for NASCAR to stop those expenses is to stop the games."
Keselowski acknowledged that a stern message was delivered to the RFK teams following NASCAR's punishment in April.
"I know after our issues at Atlanta, we went through our entire company and said no more games. Nothing goes on with these cars. Period," he said. "And that's a rapid culture shift, and there's a lot of people inside our own company that didn't like it. But the reality is NASCAR is setting precedent that needed to be set that we support being set, that are important to the future of our industry and its viability. I support NASCAR."
Keselowski admits he received blowback for his remarks
This week during an appearance on SiriusXM NASCAR Radio, Claire B. Lang asked Keselowski if he had received any feedback from his comments a week earlier. He didn't hesitate in his response.
"There's always going to be pushback when you make a comment like that. And that's OK," he admitted. "But there's other people, too, that are like, 'Yeah, we do. We got to figure this out.' You know, generally, like anything in life, you hear more from people that don't agree with you than you hear from people that do agree with you, and that's OK. 
"I think as a whole, the NASCAR garage and really the ownership model is all saying the same thing. We've got to get away from any model that requires us or allows us to cheat the cars to win. That's a challenge. It's not easy I know for NASCAR to enforce all the rules. There's lots of rules and lots of things to measure on these cars. Always somebody coming up with a new trick to try and get around them. 
"I fully understand that challenge but the reality is it costs a lot of money to run one of these race cars. And you spend significantly more money trying to work around the rules than probably most people would realize. That kind of keeps this sport from being something that has some sustainability from the team side. So we've got to find ways to reel that in and the Next Gen is that opportunity. I'm encouraged and hopeful that NASCAR will continue to really step into that role of being a heavy enforcer to make the model sustainable for everybody." 
Denny Hamlin agrees
Denny Hamlin understands where Keselowski is coming from. As the other driver-team owner in the Cup Series and one of the other teams on the receiving end of NASCAR's strict enforcement of the rules, the three-time Daytona 500 winner recently appeared on the Door Bumper Clear podcast, where he bluntly admitted his team deserved its punishment and expects to see more of it in the future, similar to what Keselowski suggested. 
"I think that they've set a precedent," Hamlin said. "Hopefully others get DQ'ed this year. I believe that that will be the case. I think that they're really laying down the law here and saying, 'We're done with it. We've told you what the rule is.'"
There's a culture shift in NASCAR. Keselowski and Hamlin have a very unique perspective on it. On one hand, they want fast cars as much as the next driver through whatever means possible. On the other, they know that the mindset of altering parts must change to maintain a level playing field, and, ultimately, bring down the costs. It's a tricky dilemma but one that both drivers/co-owners are trying to navigate and lead the way in the garage. The hope is that everyone else will follow. 
Like Sportscasting on Facebook. Follow us on Twitter @sportscasting19 and subscribe to our YouTube channel.