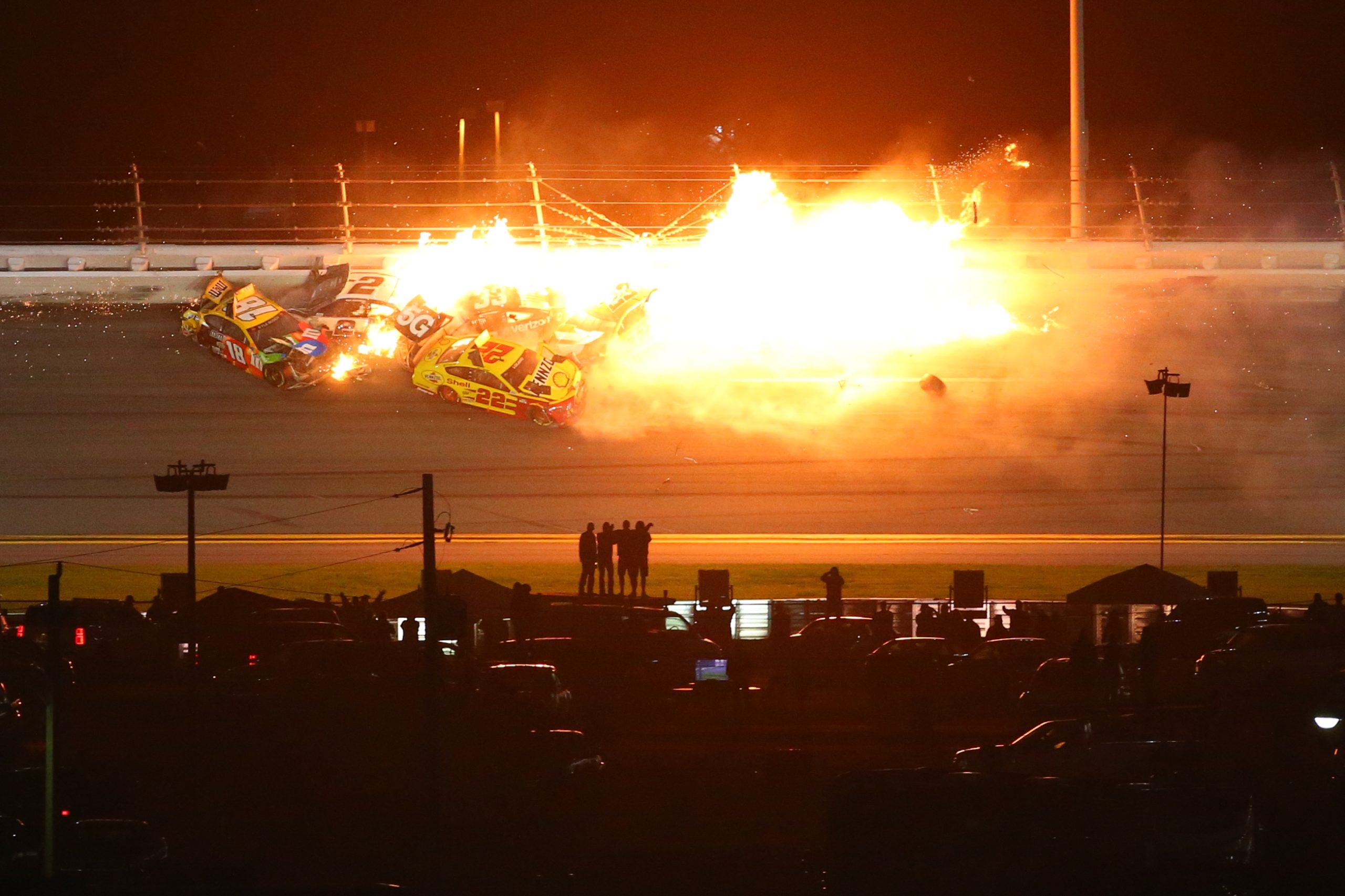 A Year After Fiery Daytona 500 Crash, Brad Keselowski Talks About Dealing With Fear as a Race Car Driver
Brad Keselowski talks about the fear of being a race car driver and how he handles it before each race like the Daytona 500.
Brad Keselowski was involved in a fiery last-lap crash at the Daytona 500 a year ago. He walked away unscathed. That's not always the case. NASCAR drivers know the inherent risks of their profession and accept that the next time they strap behind a wheel might also be their last time. But they don't think about that.
The 2012 Cup Series champion recently revealed on a podcast how fear might be a part of life, but it can't be a part of racing. He candidly addressed how he deals with the emotion each time he gets inside a car and races around a track at speeds nearing 200 miles per hour.
Brad Keselowski part of fiery final-lap crash in 2021 Daytona 500
A year ago, Brad Keselowski took the white flag of the Daytona 500 on the rear bumper of the race leader and Penske teammate Joey Logano. After almost completing the final lap around the 2.5-mile superspeedway, the two teammates jockeyed for final positioning and a run at the checkered flag when disaster struck.
Keselowski made one last attempt to pass Logano when the two cars made contact. The No. 22 car shot down to the left, and the No. 2 car made a hard right turn into the fence, igniting a fireball that enveloped multiple cars, including Kyle Busch. 
It was a scary moment and a reminder of Ryan Newman's terrifying accident a year earlier when he got airborne on the last lap, landed on his roof, got slammed by another car, and slid down the track in a shower of sparks. Many wondered how he could survive such a scary impact. That crash was also a dark flashback to Dale Earnhardt's fatal accident 19 years earlier on the same track, in the same race, on the same lap. 
Earnhardt was the last driver killed in a NASCAR Cup race. 
Keselowski 'turns off fear' before each race
Brad Keselowski's crash at the 2021 Daytona 500 was just one of several hard hits he's endured since he started his NASCAR career with the Truck Series in 2004.
Now, 38 and part-owner of Roush Fenway Keselowski, the veteran driver mentioned on the Daily Stoic Podcast that with age, he's become better equipped to manage his emotions, most notably, dealing with fear. 
"I've gotten to a spot where I'm kind of able to 'turn the fear off' like a light switch," Keselowski admitted. "Look, I'm in the car. I know something can happen to me. But you know what? I'm OK with that. I'm not afraid of getting hurt. If it happens, it happens. If it doesn't, it doesn't. I'm more afraid of just not performing."
Other drivers have talked about fear
Brad Keselowski's method of simply turning off the fear is a common practice drivers employ. Interestingly, in an 2011 interview, Ryan Newman addressed how he copes with fear when racing on superspeedway like Daytona or Talladega.
"I don't think racing drivers think about the danger at these race tracks, we're just thinking what we have to do to win," Newman said. "It's no different today than the last 40 years. The first person that pulled in there said this is going to be fast and dangerous. But he still raced."
That's it. Drivers are paid to race at high speeds, understanding the dangers and how a single mistake could have deadly consequences. But it's also their profession, which pays well, and has been something they've trained for most of their lives. And the stark reality is they know if they decide to walk away, there are plenty other drivers more than ready to fill the seat for them.
Like Sportscasting on Facebook. Follow us on Twitter @sportscasting19.