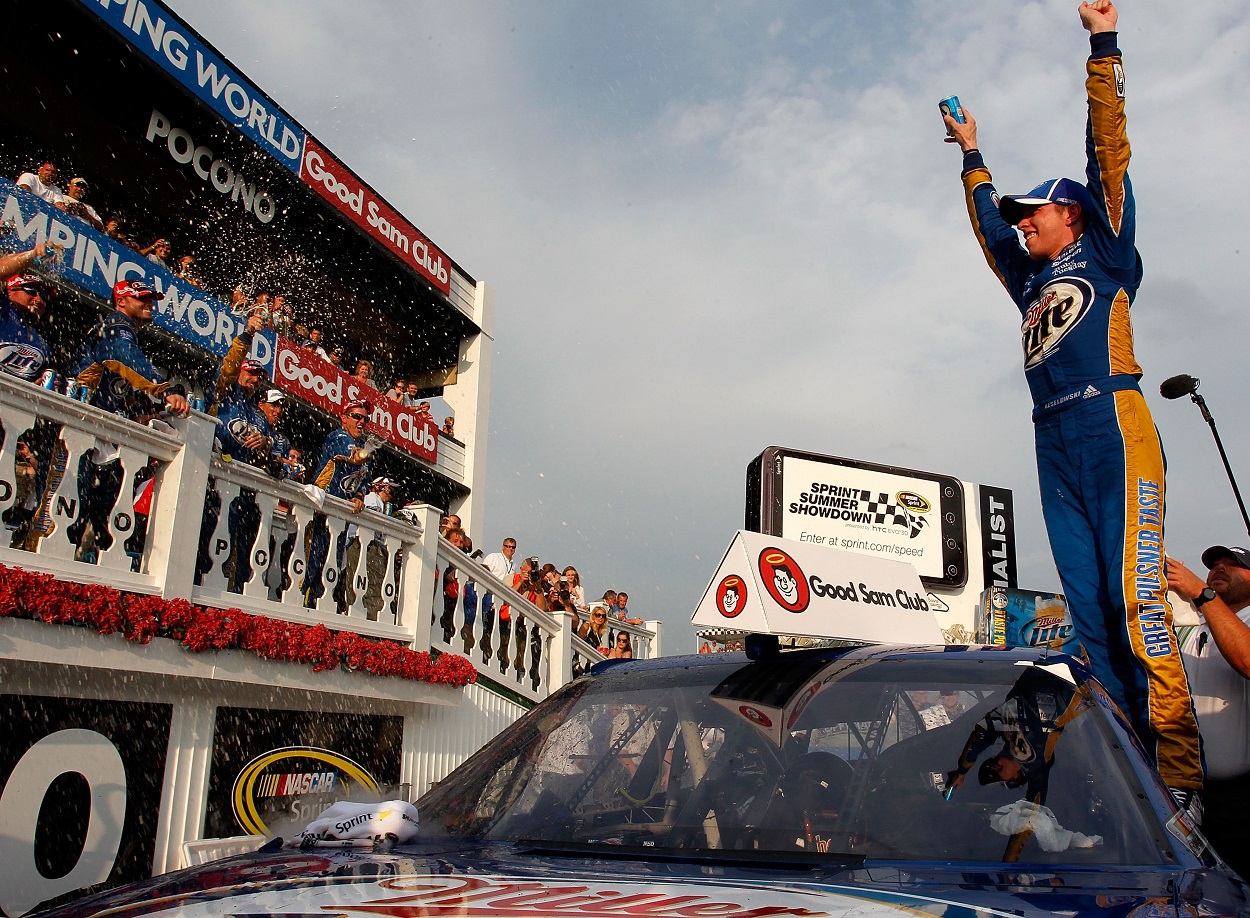 Brad Keselowski Won the Final 500-Mile Race at Pocono Raceway Just 4 Days After Being Airlifted to a Hospital Following a Violent Crash During a Test Run
Brad Keselowski won the 2011 Good Sam RV Insurance 500 at Pocono Raceway just four days after a violent crash during a test run at Road Atlanta.
Over the course of his NASCAR career, Brad Keselowski has recorded some impressive victories, including six Cup Series wins at famed Talladega Superspeedway and an overtime win at the always-grueling Coca-Cola 600 in Charlotte. But of his 30-plus wins in NASCAR's premier series, none were as impressive as what he pulled off in 2011 in the final 500-mile race at Pocono Raceway, where he took the checkered flag just four days after being airlifted to the hospital following a violent crash during a test run at Road Atlanta.
Brad Keselowski was in a violent crash at Road Atlanta four days ahead of the final 500-mile NASCAR race at Pocono Raceway
On August 3, 2011, four days before the final 500-mile NASCAR race at Pocono Raceway (the races were shortened to 400 miles the following year), Keselowski was at Road Atlanta for a test run.
He'd earned the second Cup Series victory of his career earlier in the season at Kansas Speedway but had recorded just one other top-five finish in 20 races for the year, coming in third at Darlington. He had, however, finished ninth or better in two of his previous three starts and, as Keselowski himself once put it, was in Atlanta "searching for that extra little bit to push us over the edge, the difference between winning and losing."
But midway through his run, the brakes on his No. 2 "Blue Deuce" went out just as he was heading into the first turn, considered one of the fastest parts of the track. Traveling well above 100 miles per hour, Keselowski flew off the track and hit a concrete Jersey barrier, causing him to ricochet back toward the track before his car came to a stop.
He was airlifted to a nearby medical facility and ended up with a pinched nerve in his back and a broken ankle
While he was able to pull himself out of the No. 2, Keselowski immediately fell down and hit the deck a second time after the crew chief of Jimmie Johnson, who was also at the track that day, tried to help him up. Medical personnel quickly arrived on the scene and immediately strapped him to a backboard, fearing he had a neck injury, and he was then airlifted to a nearby medical facility.
Once arriving at the hospital, Keselowski nearly stopped breathing when he was transferred from one backboard to another and says he couldn't even talk for five to 10 minutes because of how much pain he was feeling in his back. At this point, nobody, not even Keselowski himself, realized what was going on with his left ankle. But that became pretty clear when the staff removed his socks and found they were full of blood.
Following a CT scan and an MRI, it was revealed that he had a pinched nerve in his back (thankfully it wasn't anything worse as originally feared) and a broken ankle. As he was still in the hunt to make the NASCAR playoffs (then known more as "the Chase"), Keselowski didn't want to miss out on the Sunday race at Pocono Raceway and made the tough decision to suit up.
And it turned out to be the right choice.
Keselowski won the 2011 Good Sam RV Insurance 500 at Pocono Raceway with a broken ankle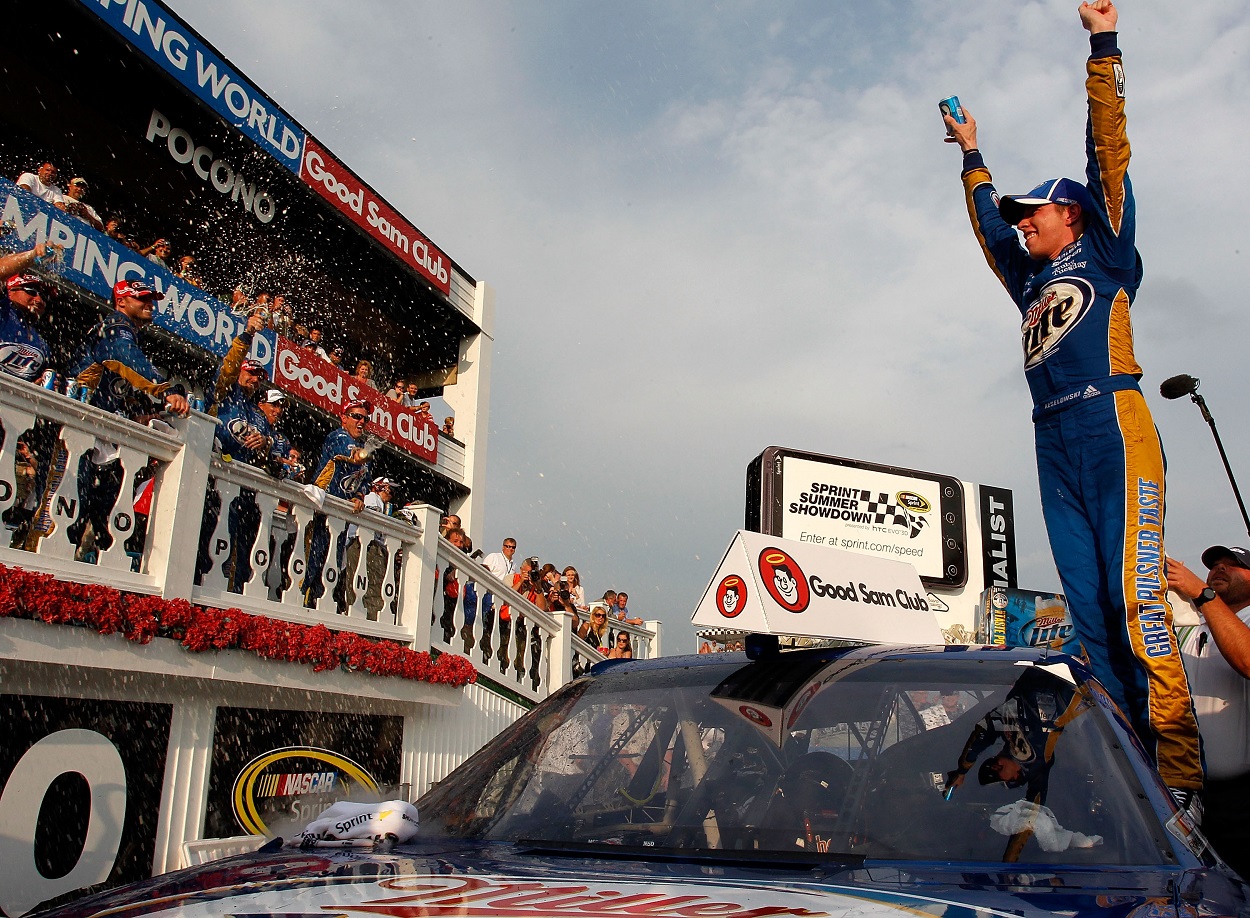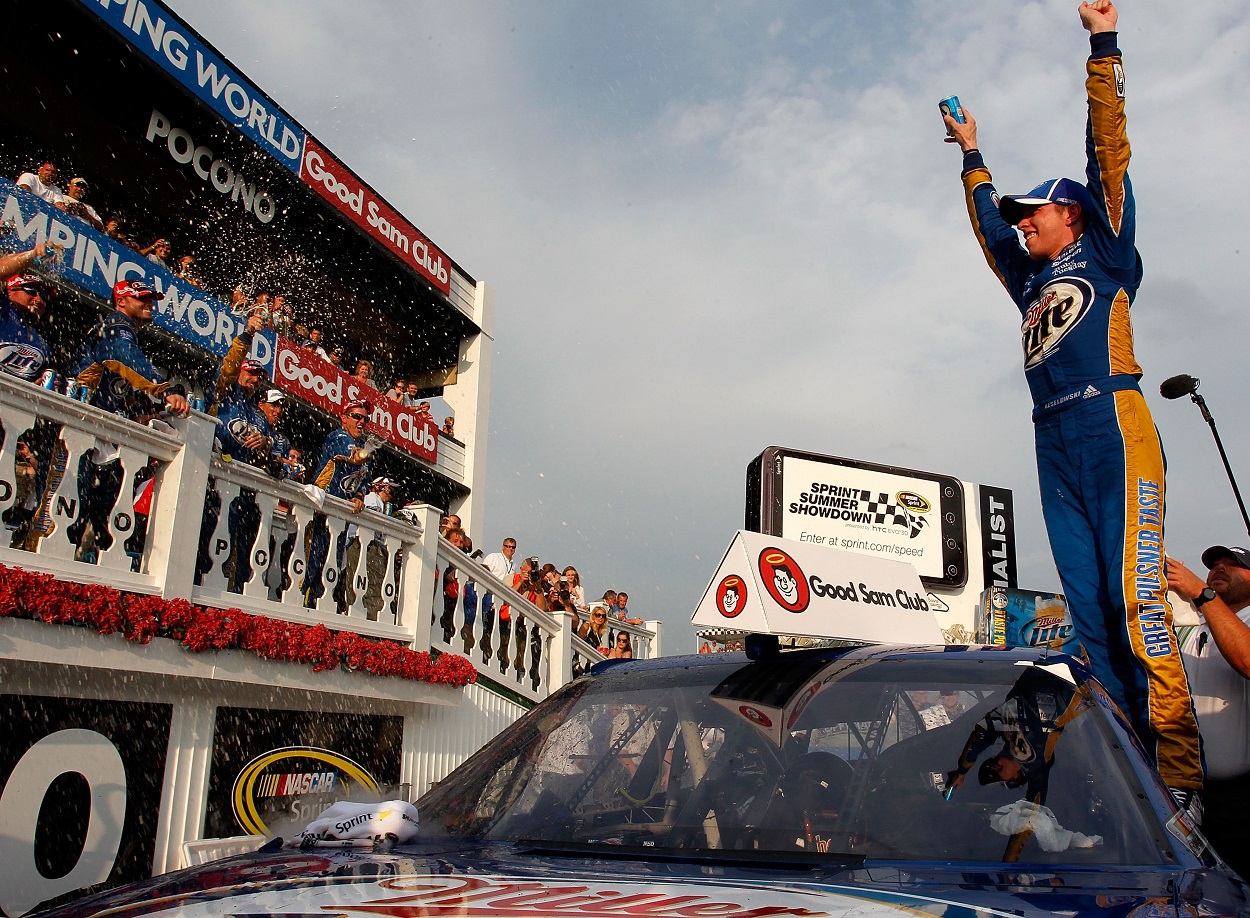 With his ankle braced up, Keselowski started the 2011 Good Sam RV Insurance 500 at Pocono Raceway in 13th position but gradually worked his way toward the front of the field as the 200-lap race went on. And he was also lucky enough to get a little break from the pain he was feeling, which not only included his ankle and back but an open blister on his shifting hand as well, with a one-hour, 40-minute rain delay.
But despite all of the pain, Keselowski was able to beat Kyle Busch on the final restart of the day with 15 laps remaining and came away with a 0.791-second victory, the third of his Cup Series career. Afterward, he spoke of the 30 American service members who'd been killed the day before in Afghanistan when their helicopter was shot down and dedicated his victory to all the troops stationed in the Middle East (h/t ESPN).
"I might not be feeling great, but those are the guys that are really making sacrifices. Whenever I got in the car and felt like, man, this really hurts, it was good inspiration as to what it takes to 'man up' and make it happen."

Brad Keselowski
One week later, he finished second at Glen Watkins and then finished third the following week in Michigan. Another week later, Keselowski took the checkered flag in Bristol and went on to finish fifth in the points standings, at the time the highest finish of his young career.
Stats courtesy of Racing Reference