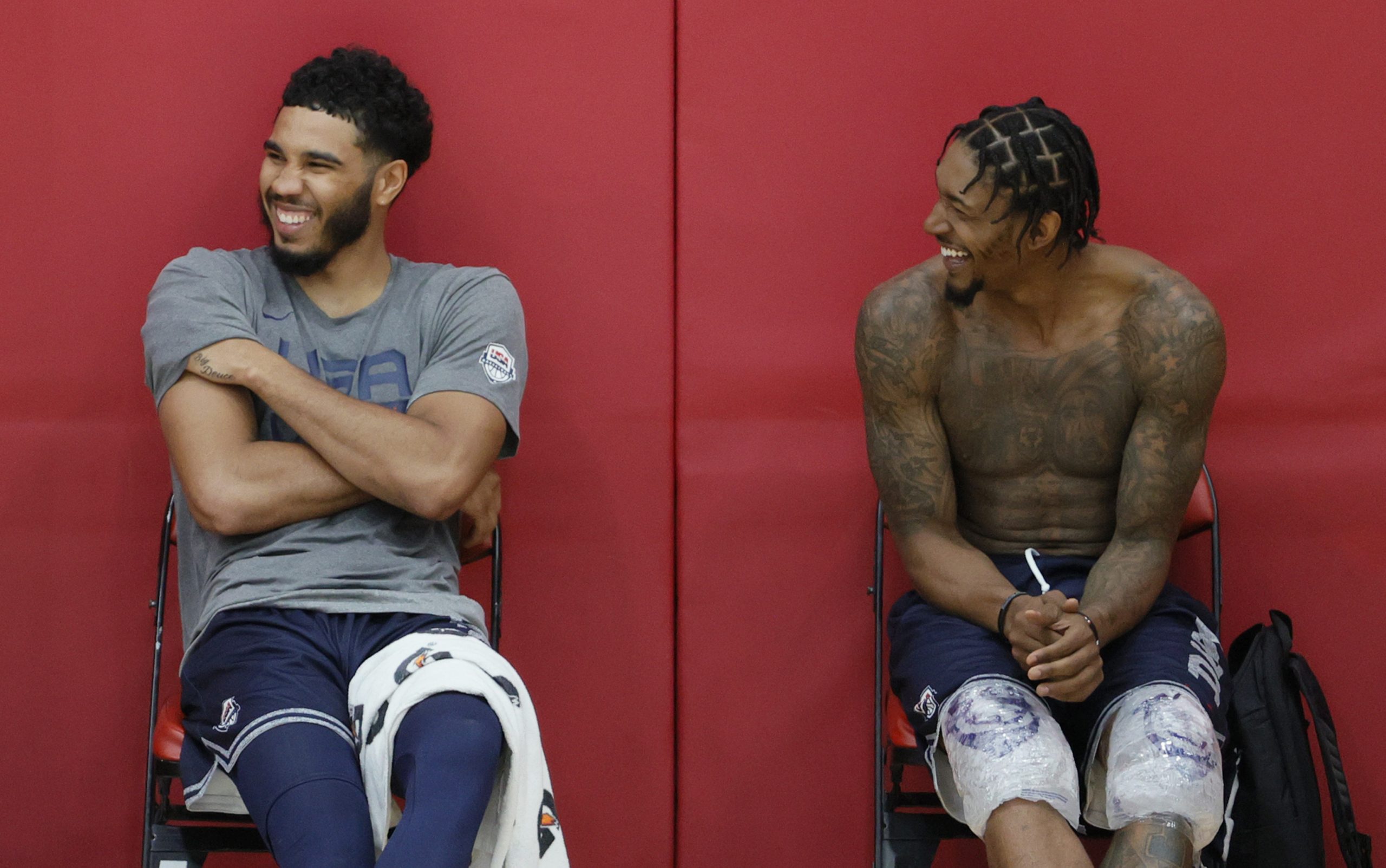 Bradley Beal and Jayson Tatum are Olympic Teammates, but Is That Just the Beginning of a Long-Term Relationship?
Could Jayson Tatum and Bradley Beal become NBA teammates?
Bradley Beal and Jayson Tatum already have the foundation of a strong relationship. They are both from St. Louis and attended the same school, although they were five years apart. Now they are in the NBA together – Beal with the Washington Wizards and Tatum on the Boston Celtics. For the first time in their career, they will be teammates at the upcoming Olympic Games, but will it be their last time together?
Bradley Beal and Jayson Tatum are excited to play with each other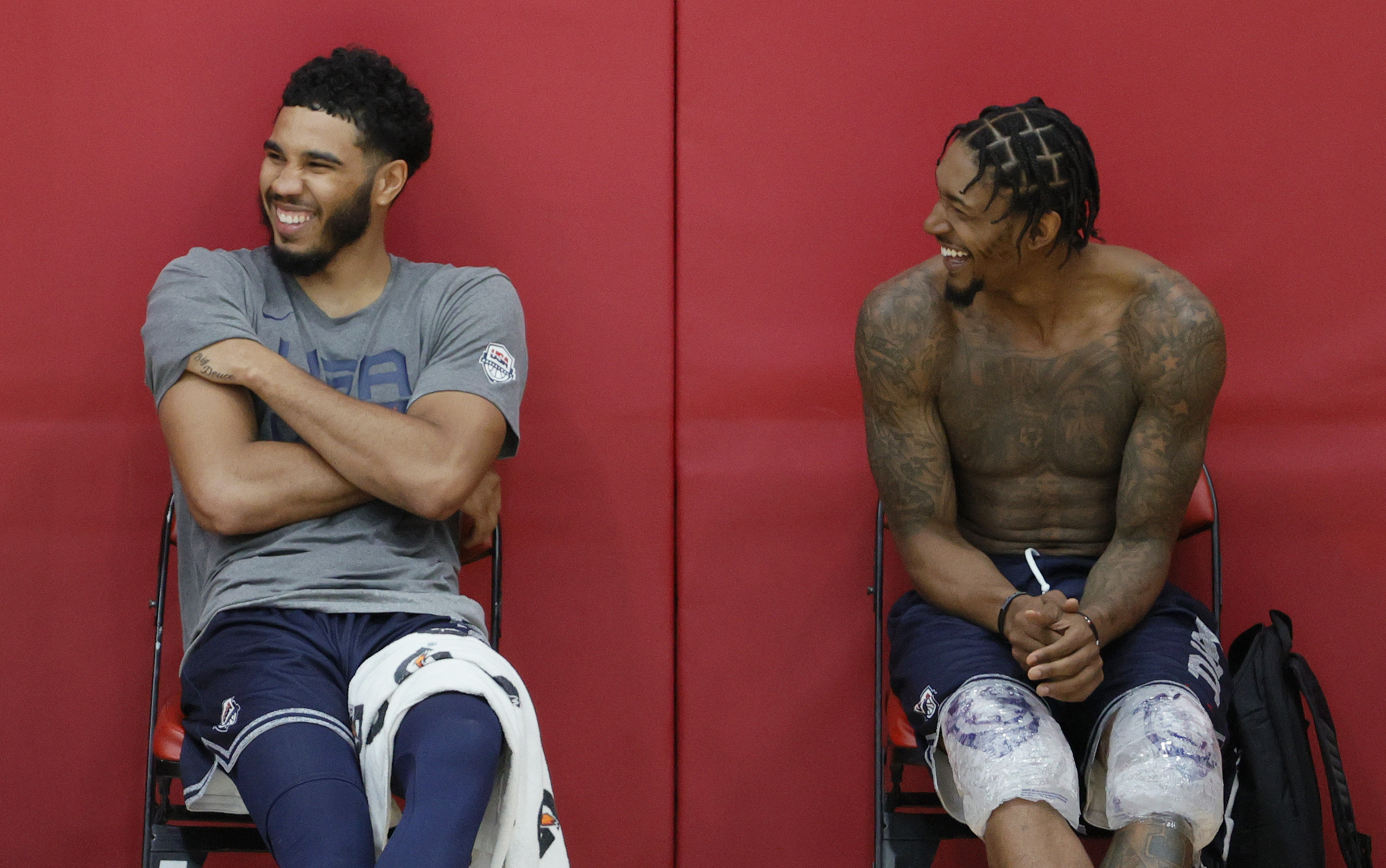 Beal and Tatum both attended Chaminade High School but never played with each other. Beal made his way to the NBA via the University of Florida and was the third overall pick in the 2012 NBA Draft. Five years later, Tatum was the third overall pick after playing collegiately at Duke. The two are excited to finally be teammates when the Games begin in Tokyo on July 23, 2021.
"We're both excited. For one, we grew up five minutes from each other," Beal said, according to NBC Sports. "To have two of the guys from the same high school on the same team, I don't know if that's ever happened for USA Basketball. We're excited about it."
Beal and Tatum were together in the NBA All-Star Game, but have never been teammates in a game that meant anything. They were never even teammates in pickup games. Now, it's time for two St. Louis guys to shine in Tokyo.
"Two guys from the same neighborhood, the same high school going to the Olympics from St. Louis, that's like a dream. That is amazing," Tatum said.
Bradley Beal said there likely will be some recruiting by players when they are together
A reporter asked Beal how much conversation there might be with guys trying to get others to join certain teams and play with each other. "I don't know. I mean, probably a lot, " Beal said before shifting the focus to the task at hand.
"Depends on who's a free agent or not but for the most part, we don't, we can't mix that in right now," he continued. "We're focused on one goal at hand and that's bringing back the gold medal. And, you know, granted, we all have our respective individual goals and talents once this is done. We can address those issues then. For the most part, we keep it USA basketball and our main focus is getting the gold."
Beal and Tatum have remained close despite playing on rival teams in the Eastern Conference. The friendship was tested when the Celtics selected Tatum with the third pick in the 2017 NBA Draft. Beal took to Twitter and said he couldn't like him anymore.
"Congrats to my bro @jaytatum!," he wrote. "But I will say this Jay, it's nothing personal, I just can't like you now lol."
Will Tatum try to talk Beal into playing for the Celtics?
Tatum will never publicly admit to trying to recruit Beal to Boston, but it's definitely a possibility. Beat has one year left on his deal. If the Celtics were to try and made a move for Beal, they would need a guarantee from the Wizards guard that he would sign an extension to remain in Boston if he was traded.
If a move was to be made, the Celtics would likely have to move Jaylen Brown, a much younger and less-expensive player. Beal is the more prolific scorer, averaging 31.4 points last year to Brown's 24.7. It's an interesting topic, but one that's reserved for a later date. For now, all the focus is on Tokyo.
"We're excited about it," Beal said of the Olympics. "Even from growing up, we've never been on the same team. Ever. In pick up, we're never on the same team, you know, so this is, this is definitely exciting for both of us. I'm happy about his growth. I'm excited to see him on a global stage just as well as myself and everybody. We have a really good team but you know Jayson and I have a special relationship, and I'm looking forward to it."