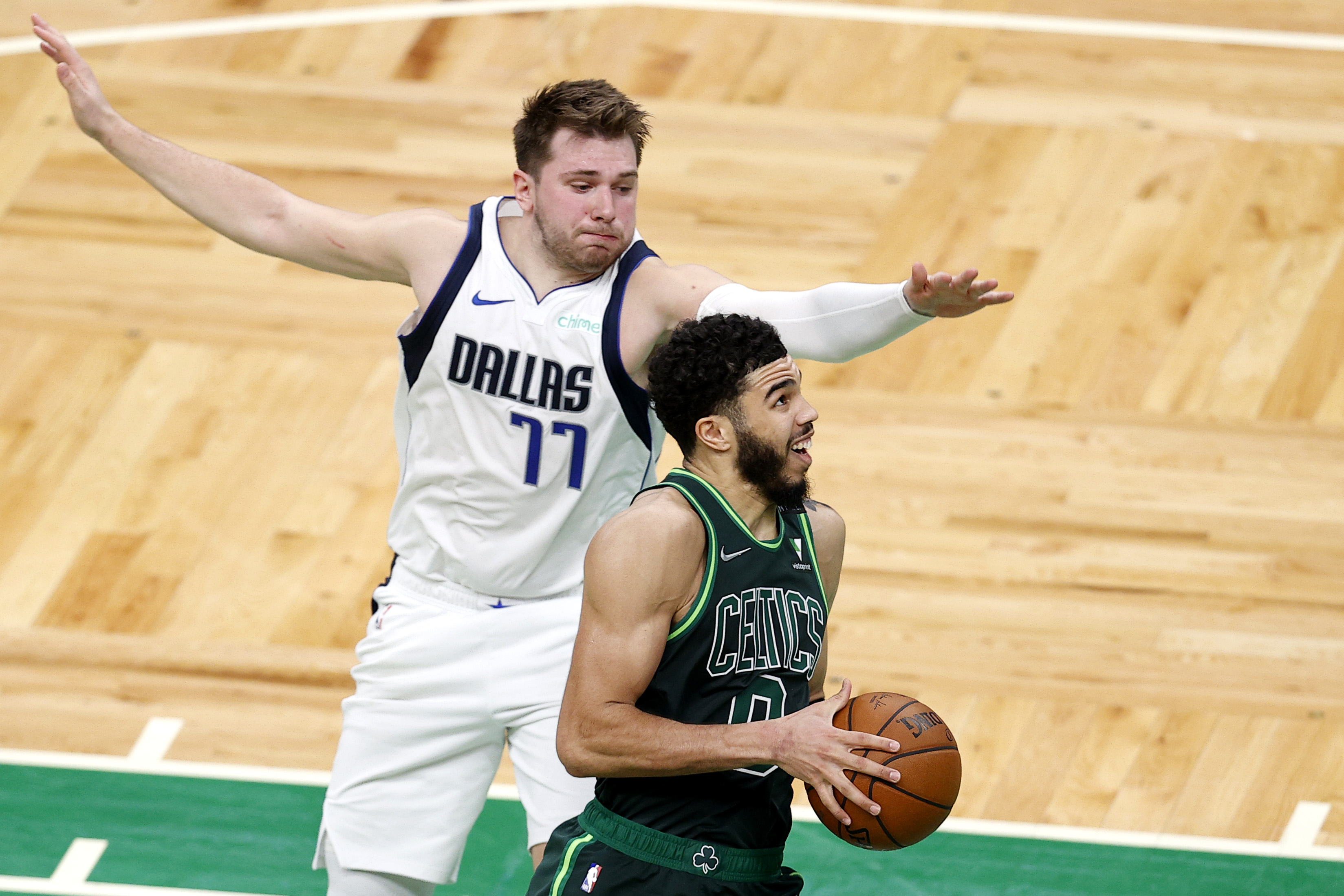 Is Jayson Tatum Becoming the Luka Doncic of Complainers?
Celtics star Jayson Tatum is rivaling Dallas phenom Luka Doncic in the complaining department.
Although the Boston Celtics trail the Brooklyn Nets 3-1 in their best-of-seven playoff series, it's no fault of Jayson Tatum. Tatum has helped the short-handed Celtics stay afloat as he's taken his game to the next level. Since April, he's hit the 50-point total four times. He went for 40 in Sunday's loss. He's becoming one of the NBA's young superstars, and he's also rivaling Dallas phenom, Luka Doncic, in the complaining department.
Jayson Tatum has become the leader of the Boston Celtics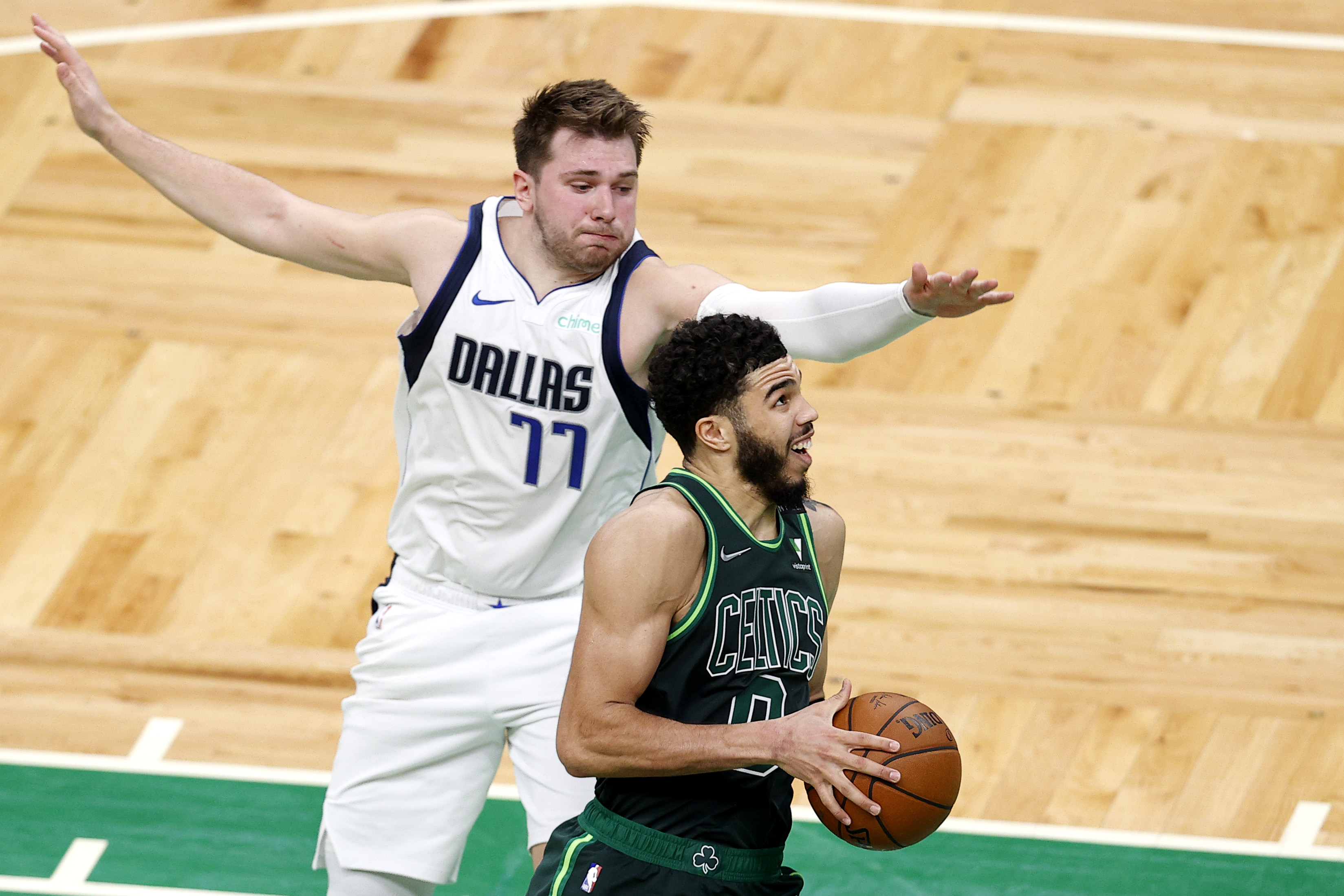 He's only 23 years old, but Tatum has cemented himself as the young leader of the Celtics in his fourth NBA season. The two-time NBA All-Star has carried the team as its other All-Star, Jaylen Brown, is sidelined for the season with a wrist injury.
Tatum was the third overall pick in the 2017 NBA draft. The Celtics actually had the No. 1 pick that year but swung a deal with the Philadelphia 76ers, getting the third pick and a future first-rounder in return. Tatum has proven to be a much better player than Markelle Fultz, the top player taken in the draft.
Tatum's numbers have drastically improved in his four professional years. As a rookie, he put up 13.9 points per game. His scoring improved to 15.7 in his sophomore season. The last two seasons, both All-Star years, he put up 23.4 and 26.4 points, respectively.
With stardom, comes ego
Tatum is considered a very quiet leader. He does his talking on the floor – and to the officials. Whether it's an ego trip or not, Tatum's complaining has turned up a notch lately.
Many stars have that ego. Most of them are known for complaining about non-calls as they drive to the basket. Luka Doncic is a young gun, like Tatum, who also has a habit of throwing his arms up in the air after driving to the hoop. LeBron James might be the biggest complainer of all, but he's at established-star level, where both Doncic and Tatum appear headed.
Tatum's frustration with non-calls hasn't gone unnoticed. During The Athletic's playoff preview last year, writer Joe Vardon said it was happening during the 2020 season. "Jayson Tatum is tired of not getting star treatment from officials, and has been complaining about it on the bench and in the makeshift locker room," Vardon wrote. Tatum isn't your typical drive-to-the-hoop guy, but when he does, look for him to be in the ear of an official as he heads back down the court.
Jayson Tatum is on par with Luka Doncic's complaints
During last year's playoffs, Doncic's complaining skills were put on full blast. It carried over to this year and even got to where the Dallas Mavericks star said he needed to tone things down. He addressed his situation early last month.
"This season has been long, with the officials I wasn't myself this season," Doncic said, according to CBS Sports. "I'm complaining way too much, and I've gotta work on that. I just have to stay calm and not talk to them. I have to learn from that."
Like Tatum, Doncic is one of the game's young stars. He knows he has a bright future in the league and realizes being a whiner or complainer won't help his cause. Tatum needs to take a page out of Doncic's book and start controlling himself before he gets slapped with the constant-complainer label.