The 76ers Passed on Jayson Tatum, and It's Been Nothing but Playoff Frustration Since
It's been nothing but postseason frustration since the 76ers passed on Jayson Tatum in the 2017 draft.
If only the Philadelphia 76ers could hit the rewind button. They'd probably use it multiple times, but they'd likely begin in 2017. That's when the Boston Celtics had the first pick in the NBA draft and swung a deal with their Eastern Conference rivals. They also swung and missed. Philadelphia sent a first-round pick to Boston and moved up two spots, only to take Markelle Fultz. They passed on Jayson Tatum, selected third overall by the Celtics, and it's been all postseason disappointment since in Philly.
The 76ers would love to have 2017 back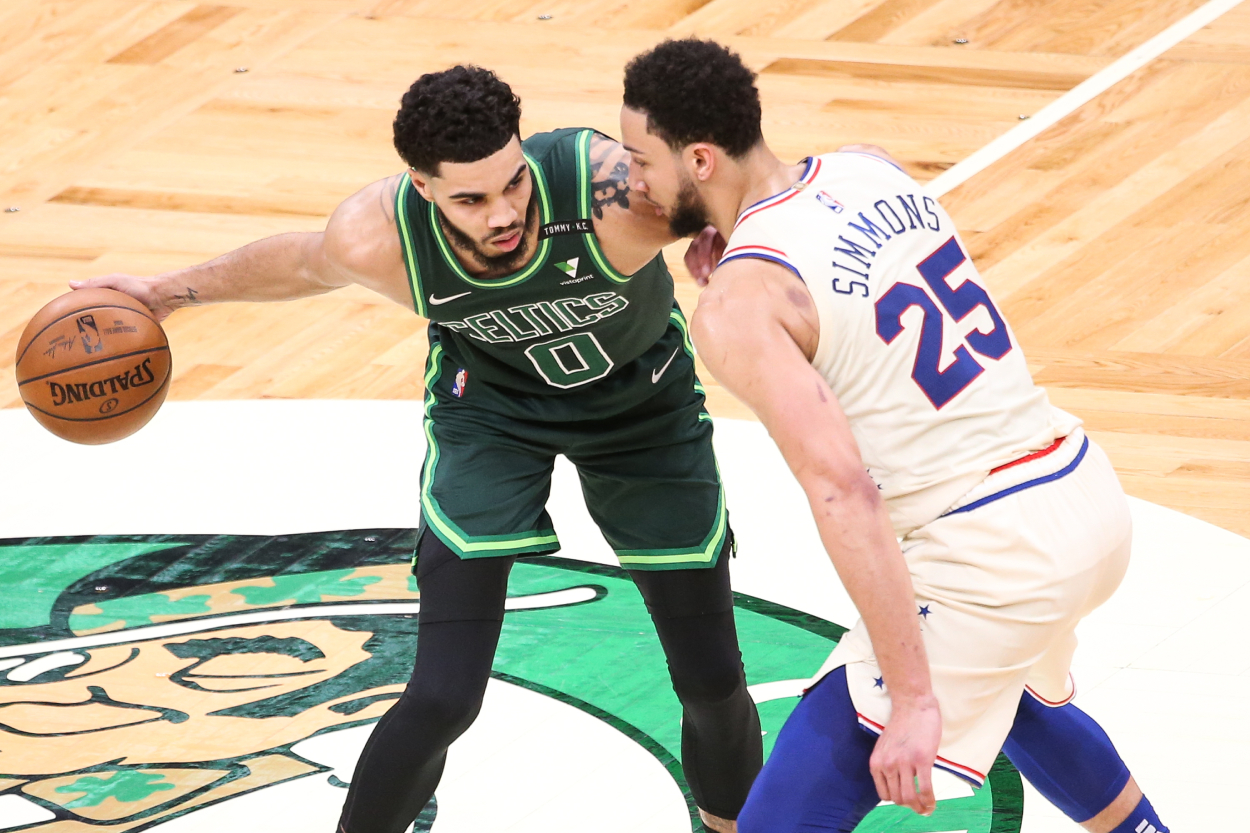 The 2017 NBA Draft didn't have a clear-cut No. 1 pick. Two guards – Fultz and Lonzo Ball – were ranked the highest and ultimately were the first two players selected. Danny Ainge, then Boston's president of basketball operations, went against the grain and was enamored with Tatum. Ainge and the Celtics had the coveted top pick and wound up swinging the deal with the 76ers.
Tatum, along with Donovan Mitchell, who was picked 13th overall, is a superstar from that four-year-old draft. Fultz's career has been a disaster plagued by injuries. He played 14 games as a rookie, limited by a shoulder injury. He lasted two seasons with the Sixers before hooking on with the Orlando Magic. A torn ACL this year kept him out of all but eight games.
Meanwhile, Tatum has torn things up in the NBA. He's a two-time NBA All-Star who has gotten better each year. This year, Tatum averaged 26.4 points and 7.4 rebounds per game. Although the Sixers were the No. 1 seed in the Eastern Conference, they were bounced in the conference semifinals by the Atlanta Hawks. It's tough to imagine a Sixers team of Joel Embiid, Ben Simmons, and Jayson Tatum getting sent home that early.
The 76ers have consistently been a postseason flop
Embiid and Simmons have been a dominant duo – in the regular season. In the last four years with those two, they've had success during the season but never made it to the Eastern Conference Finals. This year, they were the top seed in the East, but the Atlanta Hawks ended their season in seven games in Round 2.
Embiid has been solid. Simmons hasn't lived up to being the top player selected in the 2016 NBA Draft. Frustration has clearly gotten the best of Embiid, who seemingly gets paid by the complaint. After another earlier-than-expected postseason exit, he brought up the officiating.
"I told (the referees) they had to call it both ways," Embiid said after Game 6, according to Sports Illustrated. "We had a bunch of guys; whether it's Ben or Tobias, in foul trouble, I just felt like he wasn't calling it both ways. And when it comes to us, we don't get the same thing. I just want it called both ways. If you're gonna call like nothing on their point guard, it should be the same way (for us)."
Embiid contined the trend after his team was eliminated in Game 7.
"There's a lot of stuff that went wrong," Embiid said. "Whether it's they can foul me all they want, whether it is the officiating tonight. You got guys fouling, putting the hands up, me going for a dunk, and they don't call anything. The last three games, it's been the same way over and over. Then, I get fined last game for having my arms out while I'm getting pushed in the freaking back. I got fined just because, I guess, I don't know why. There's a lot of stuff that went wrong."
What's next for Philadelphia?
Simmons just isn't that good. He hasn't lived up to expectations, and he's not the same guy who used to be labeled a superstar. He is, however, their likeliest player to go if they want to shake things up with a significant move. Embiid is their building block, and Tobias Harris won't be moved with three years left on a max deal.
Simmons still has value, but it's quickly dwindling. He's now a guy that would need other pieces to move with him in order to bring back a player like Bradley Beal or Damian Lillard. That never used to be the case.
Doc Rivers is getting the reputation of not being able to win the big one. He had an embarrassing elimination last year as head coach of the Los Angeles Clippers. Now, he lost at home in Game 7 in the second round as the top seed. If the Sixers plan a shakeup, Simmons is the guy to go. There would be no shakeup needed if the Sixers just made one slight change in 2017 and selected Tatum instead of Fultz.