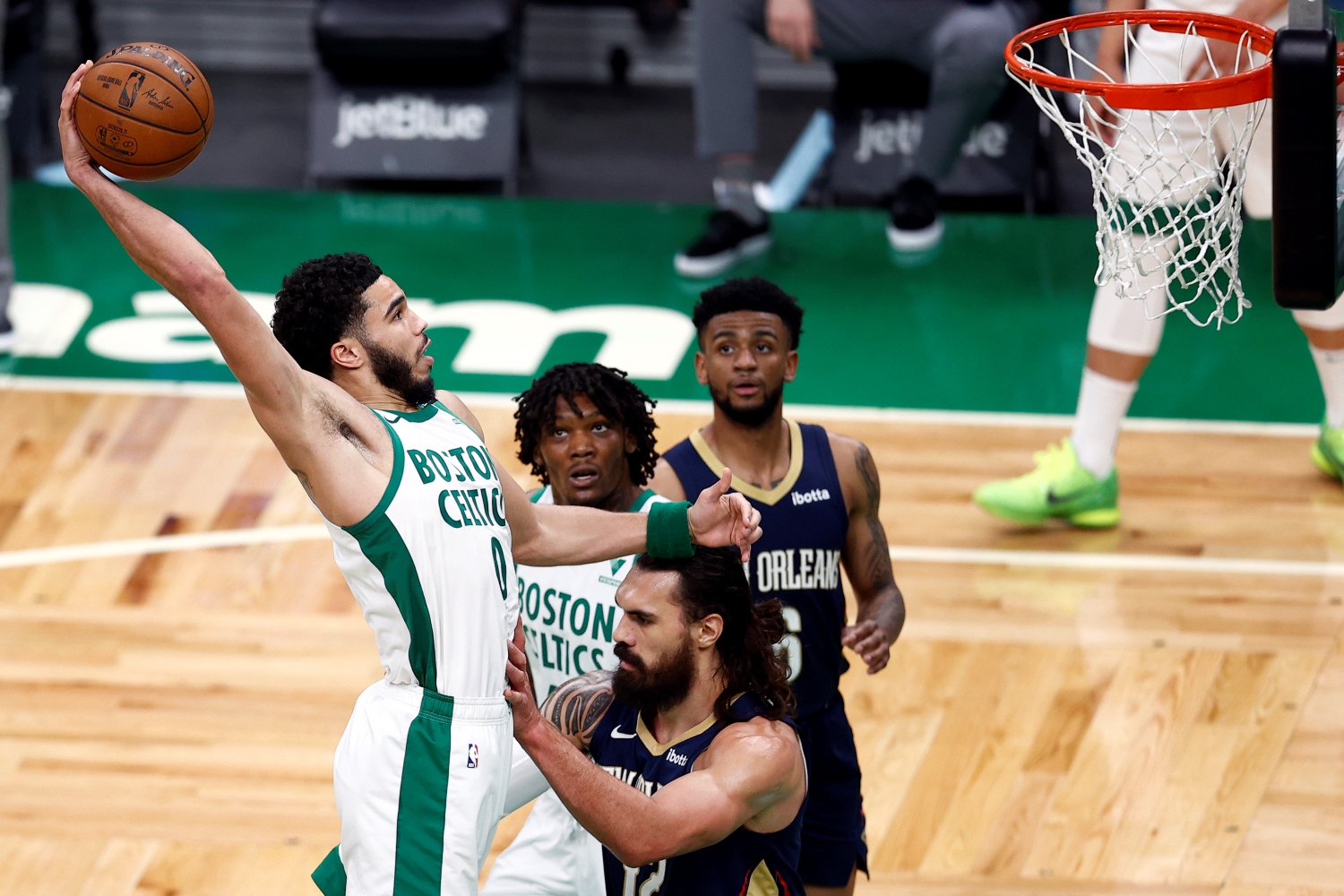 Celtics Star Jayson Tatum Left a Surprising Name Off His List of Top 5 NBA Players
Celtics superstar Jayson Tatum recently named his list of top five NBA players. However, one recognizable star did not make the cut.
He may not be a top-five NBA player at the moment, but Jayson Tatum has a solid chance of making it to that level someday. After all, he's wasted no time showcasing why the Boston Celtics happily traded down in the 2017 NBA draft to take him No. 3 overall.
Already one of the league's most impressive offensive players at the age of 23, Tatum recently got asked to name his top five NBA players right now. However, his list surprisingly didn't feature one of the biggest names in basketball.
Boston landed a franchise-altering talent by drafting Jayson Tatum
Boston bet big on Tatum's upside. And boy did general manager Danny Ainge get it right by putting his faith in the former Duke standout.
As a 19-year-old rookie, he flashed All-Star ability while playing alongside veterans Kyrie Irving and Al Horford. In particular, Tatum's shooting skills (43.4% from 3-point territory) and craftiness stood out. And when the playoffs arrived, the first-year pro stepped up in a big way for a team that didn't have Irving available because of a knee issue.
In his second season in Boston, the 6-foot-8 forward increased his scoring average from 13.9 points per game to 15.7. However, Tatum experienced a much bigger leap in his third year with the Celtics.
During the 2019-20 season, the St. Louis native took on a more prominent role. And to little surprise, Tatum's numbers skyrocketed. He finished his age-21 campaign with impressive averages of 23.4 points, 7.0 rebounds, and 1.4 steals per game.
Although the Celtics struggled this season (they posted a 36-36 record), Tatum sure didn't. He recorded career-high averages in points (26.4), rebounds (7.4), and assists (4.3), which helped him earn his second straight All-Star selection and a spot on the All-NBA Third Team.
The Celtics star left a big name off his list of top 5 NBA players
An elite player in his own right, Tatum has spent four seasons going up against some of the NBA's best players. So when it comes to identifying blue-chip talent, he certainly has the experience and first-hand knowledge needed to make an accurate assessment.
During a recent appearance on the Million Dollaz Worth of Game podcast, Tatum revealed his list of the top five NBA players right now. So who made the cut?
In his personal rankings, Anthony Davis checked in at No. 5. Widely viewed as one of the most skilled big men in NBA history, the eight-time All-Star averaged 21.8 points, 7.9 rebounds, 1.3 steals, and 1.6 blocks per game this season.
James Harden earned the No. 4 spot on Tatum's list. The three-time scoring champ has earned All-Star honors for nine straight seasons.
Stephen Curry, who averaged a league-high 32.0 points per game this season, came in next at No. 3. Tatum rounded out his list by putting Kevin Durant at No. 2 and LeBron James at No. 1.
Notice a big name missing?
Surprisingly, despite getting named MVP in 2019 and 2020, Giannis Antetokounmpo didn't make the final cut for Tatum.
Did Tatum make a mistake by passing over Giannis Antetokounmpo?
Did Tatum mess up by not including The Greek Freak on his list of top five NBA players? That's an interesting debate.
Obviously, James and Durant deserved to get named. The two future Hall of Famers continue to make life difficult for defenders every time they touch the ball. So even though they're on the wrong side of 30, they still belong on any list of the league's best players.
Curry's sensational season served as a reminder that he also hasn't fallen off the cliff yet. Given his championship pedigree and status as the greatest shooter of all time, it seems only right for him to make Tatum's list.
On the other hand, choosing Harden over Antetokounmpo looks like a potential mistake. Unlike Harden, the 26-year-old forward actually shows up on both ends of the floor. While Antetokounmpo doesn't possess as well-rounded of an offensive skill set, his work on defense more than makes up for it. After all, there's a reason he won 2020 NBA Defensive Player of the Year honors.
Ultimately, this very debate reflects the reality that the NBA has no shortage of star power. And down the line, don't be surprised if Tatum finds himself on a few top-five lists, too.
All statistics courtesy of Basketball Reference.