Michael Jordan Fired a Final Shot at the Bulls' Biggest Villain During His Spirited Hall of Fame Speech
Michael Jordan has never been one to bite his tongue. From trash-talking Muggsy Bogues to ripping his own teammate, there are countless examples of Jordan using his words in a less-than-friendly manner to drive home a point. Fittingly, his Hall of Fame induction ceremony featured a few verbal shots at some familiar names from the NBA community.
And during his spirited speech, Jordan found a way to fire a final shot at the biggest villain from his days with the Chicago Bulls.
Michael Jordan and his teammates didn't hide their disdain for Jerry Krause
Jerry Krause took over as Bulls general manager the year after Jordan joined the franchise as the third overall pick of the 1984 NBA draft. Across the next few seasons, he assembled an incredibly talented roster that boasted star power at multiple positions. Scottie Pippen and Horace Grant arrived via the '87 draft, and both quickly became top-flight contributors.
However, Jordan didn't always agree with some of the moves Krause made, including a trade that sent Charles Oakley to the New York Knicks. In the end, however, that deal did help the Bulls win their first three titles.
Still, as chronicled in The Last Dance, Krause did not have a good reputation among Chicago's players. He received criticism for taking too much credit for the team's incredible run of success. At one point, he went so far as to say organizations—not players and coaches—win championships. Krause also didn't do himself any favors with how he handled Pippen's contract.
How bad was the situation? Jordan and some of his teammates referred to Krause as "Crumbs" because of his supposed penchant for having donut shavings on his shirt. The dynamic between the GM and the players (and Phil Jackson) didn't stop Chicago from winning titles, but it ultimately played a major role in the breakup of the Bulls.
His Airness fired a final shot at the Bulls' biggest villain during his spirited Hall of Fame speech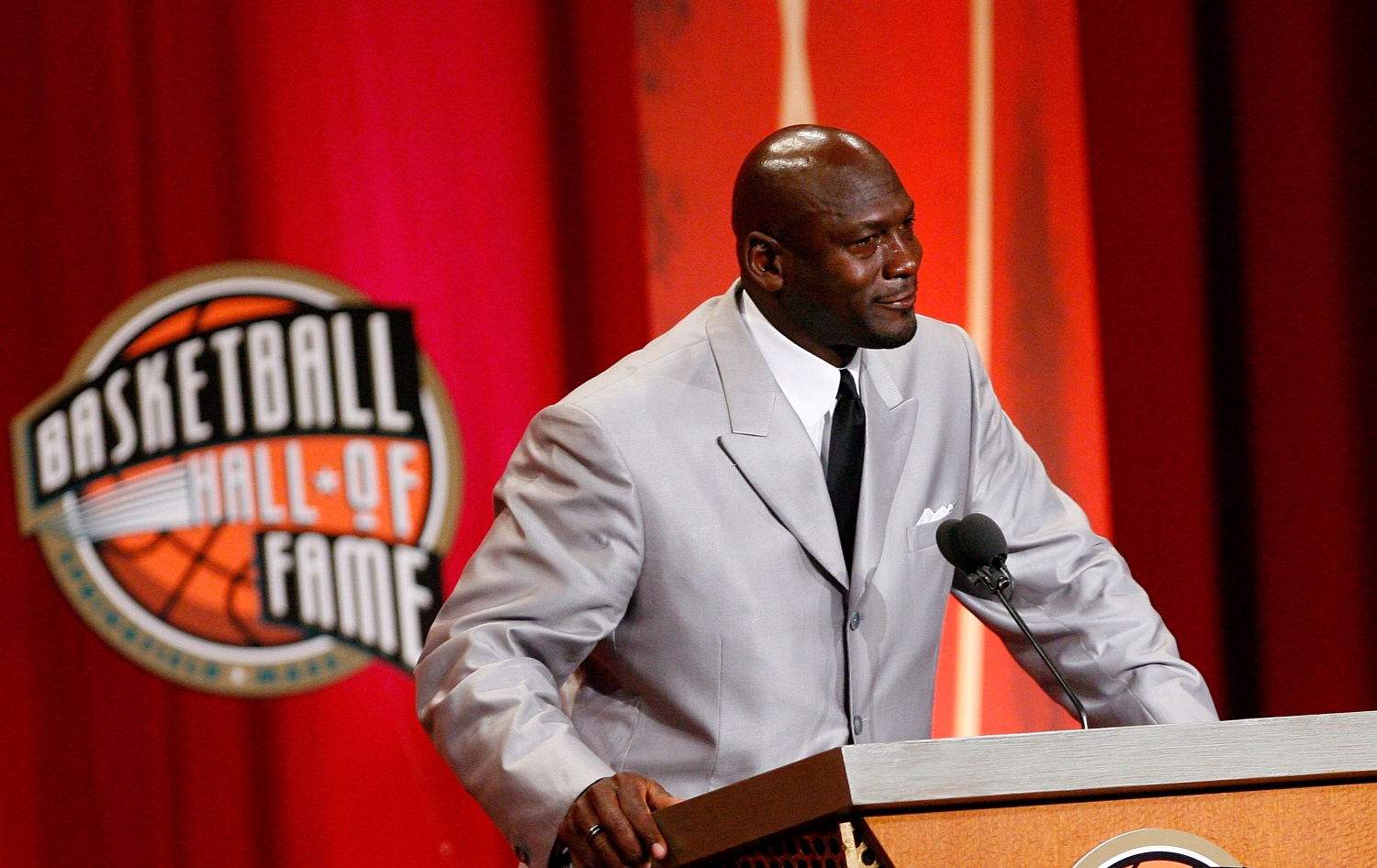 During his Hall of Fame induction ceremony, Jordan stood at the podium and delivered a speech that raised quite a few eyebrows. As one Hall of Famer said privately to Adrian Wojnarowski back in 2009 when he covered the event for Yahoo Sports, "M.J. was introduced as the greatest player ever and he's still standing there trying to settle scores."
His first target? Former high school teammate LeRoy Smith.
"When he made the team and I didn't, I wanted to prove not just to LeRoy Smith and not just myself, but (I wanted) the coach to make sure you understood you made a mistake," Jordan said.
He also called out longtime NBA coach Jeff Van Gundy for saying he "conned players, befriended them, and then attacked them on the basketball court." He ultimately thanked Van Gundy for giving him "the extra motivation" he needed.
Jordan couldn't help himself, though. With the crowd in good spirits, he fired one final shot at another person from his past.
"Jerry's not here," Jordan said of Krause. "I don't know who'd invite him. I didn't. I hope he understands it goes a long way. He's a very competitive person. I was a very competitive person. He said organizations win championships. I said, 'I didn't see organizations playing with the flu in Utah. I didn't see it playing with a bad ankle.'"
Does Krause deserve more credit for Chicago's success?
Although some Bulls players viewed Krause as a villain, it's fair to wonder if Chicago would have won six titles without him. Sure, Jordan and his teammates made magic happen on the court. But His Airness had the right supporting cast around him because of the work Krause did as GM.
The late NBA executive made a number of critical trades, signings, and draft picks that helped the Bulls reach new heights. So even though his way of handling business (particularly from a PR perspective) didn't sit well with players, Krause undoubtedly played a significant role in shaping a dynasty.
At the end of the day, it takes more than an individual star, a smart head coach, or an excellent GM to win a title. Multiple components must come together to form a championship culture. Unfortunately for Bulls fans, since Krause broke up the team after title No. 6, it's never truly been the same.
Like Sportscasting on Facebook. Follow us on Twitter @sportscasting19.