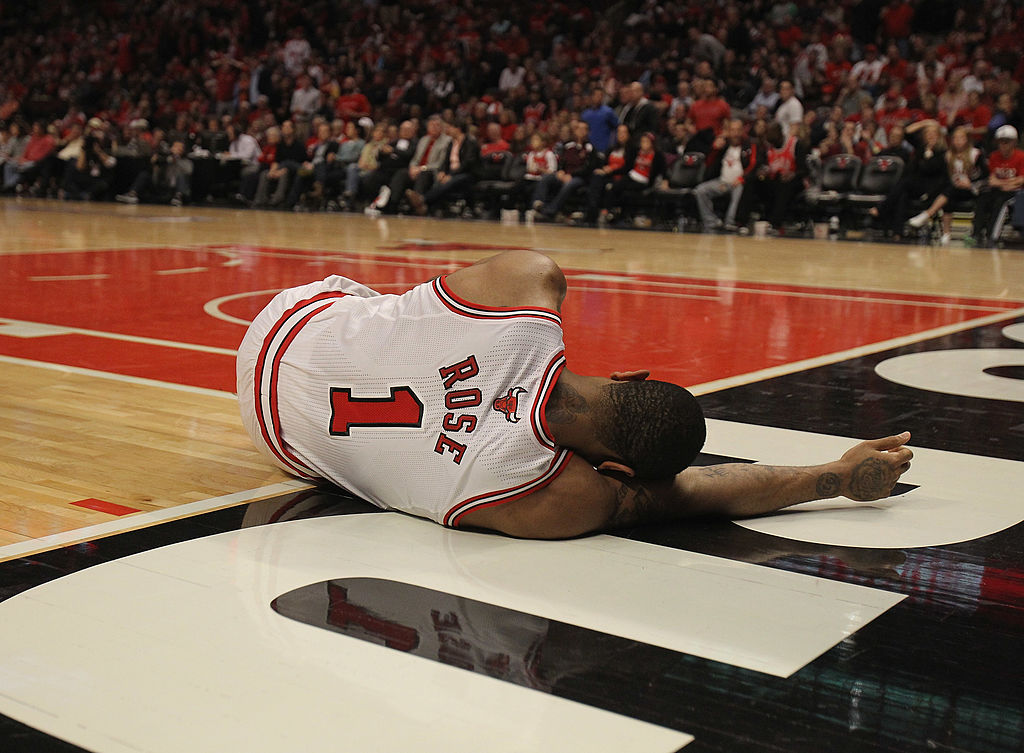 Derrick Rose Got Sued By Bulls Fan For Turning Him Obese
Derrick Rose suffered a career-altering knee injury with the Chicago Bulls. One Bulls fan filed a lawsuit blaming Rose for his obesity.
There may not be a greater "what if" story in the NBA than Derrick Rose. Early on, the Chicago Bulls appeared to have found the league's next superstar. The former No. 1 pick threw down devastating dunks and quickly ascended to elite status. But everything came to a crashing halt on one play in 2012. The Bulls' best player since Michael Jordan suffered a career-altering knee injury that sapped him of his superstardom almost quicker than it began. To add insult to that injury, one Bulls fan even tried to sue Derrick Rose for turning him obese.
Derrick Rose looked like the next NBA superstar
A decade after Michael Jordan won his last championship with the Bulls, Chicago finally found its new franchise centerpiece. With the first pick in the 2008 NBA draft, the Bulls selected Derrick Rose out of Memphis. A dynamic point guard with solid size and strength, the 20-year-old didn't look out of place at all as a rookie. Rose averaged 16.8 points, 6.3 assists and 3.9 rebounds while starting 80 games for a playoff-bound Bulls squad.
In his second season, Rose elevated his game, particularly in the postseason. He played a league-high 42.4 minutes per game and averaged 26.8 points at just 21 years old. Rose already ascended to superstar status by his third season, averaging a career-high 25.8 points per game while leading the Bulls to a 62-20 record. That mark represented the franchise's best finish since Jordan pulled off the same feat in his fateful season covered in The Last Dance.
Rose once again put the team on his back in the playoffs with robust averages of 27.1 points, 7.7 assists and 1.4 steals. That breakout campaign was so impressive that Rose became the youngest player in NBA history to earn MVP honors. Four years into his career, there was no doubt that Derrick Rose had announced his arrival as the Bulls' best player since MJ.
Chicago star suffered a career-altering knee injury
At the height of his powers, few could keep up with Derrick Rose. Unfortunately, his reign as the NBA's most dynamic young talent came to a screeching halt. Facing the Philadelphia 76ers in the first round of the 2012 NBA playoffs, Chicago held a 12-point lead with less than two minutes remaining. Rose had scored 23 points on just 39.1 percent shooting. The crafty playmaker had already dished out nine assists before a promising drive ended in devastating fashion.
Rose split two defenders with a signature pro-hop and passed the ball to Carlos Boozer. But in the midst of that explosive movement, the Bulls' franchise player suffered what turned out to be one of the most impactful injuries in NBA history. It didn't take long for doctors to diagnose the three-time All-Star with a torn ACL. Rose obviously missed the rest of the playoffs and didn't even suit up the following season. More health troubles held him to just 10 games in 2013-14. And just a few years later, the Bulls traded their former young superstar to the New York Knicks.
Bulls fan filed a ridiculous lawsuit blaming Rose for his obesity
Bulls fans sadly watched their best player suffer a career-altering injury. As any loyal fan would know, an incident like that can take an emotional and psychological toll. Some of us handle tragedy in different ways. But for one Bulls fan, Derrick Rose's devastating injury also had a massive physical effect. And he blamed his turmoil on none other than the Bulls' best player.
According to JR Tungol of International Business Times, Matthew Thompson sued Derrick Rose, claiming that his injury resulted in "multiple mental breakdowns and emotional distress" that caused him to gain weight. The 25-year-old Bulls fan became obese and bizarrely stated that Rose displayed negligent behavior by not returning to the court fast enough.
While the lawsuit never seemed to gain steam, it only added insult to injury for Derrick Rose. Instead of delivering an NBA title to Chicago, he watched his Bulls career change on one play. Fortunately, he's persevered and resurrected his career after years of durability issues. Before the coronavirus pandemic put the 2019-20 NBA season on pause, the former Bulls star was averaging 18.1 points for the Detroit Pistons—his highest mark since that unforgettable 2011-12 season in which his superstardom vanished.