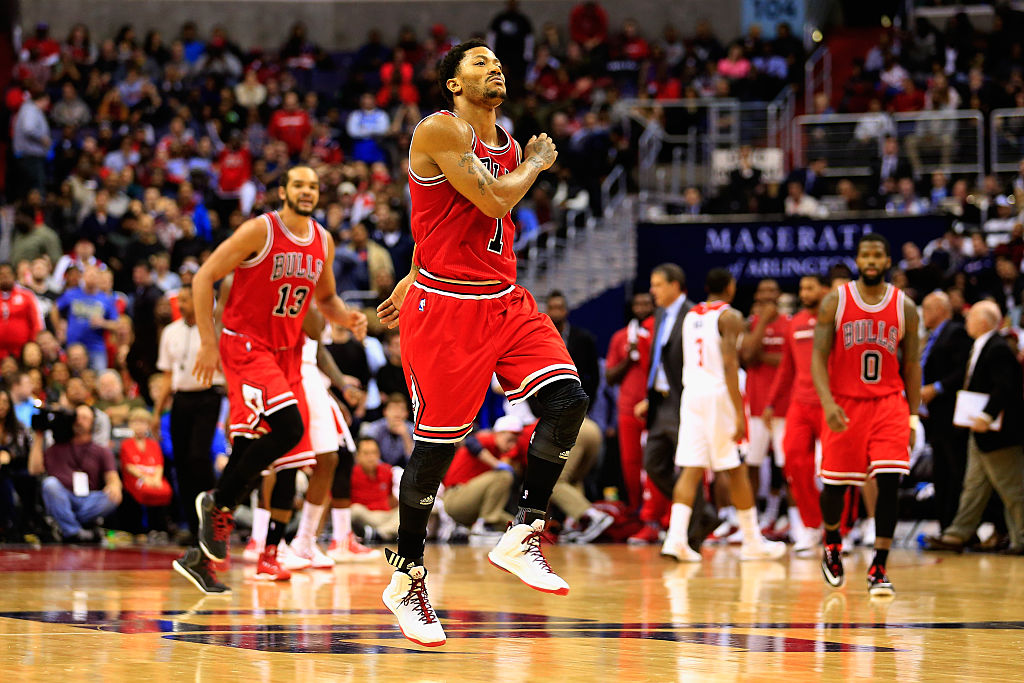 Derrick Rose Reflects on Meeting Michael Jordan as a High Schooler, Talks 'Last Dance'
Growing up in Chicago and being a high school basketball star sure had its perks. Derrick Rose was a high school basketball phenom who caught the eyes of big-time college scouts while he was playing at Simeon Career Academy in Chicago. One of those perks Rose was able to get was the chance to meet …
Growing up in Chicago and being a high school basketball star sure had its perks. Derrick Rose was a high school basketball phenom who caught the eyes of big-time college scouts while he was playing at Simeon Career Academy in Chicago. One of those perks Rose was able to get was the chance to meet Michael Jordan at Jordan's house when Rose was a sophomore at Simeon. Rose recently said that meeting changed his whole outlook on life and from that day on things were never the same for Rose.
Derrick Rose's early years
When Derrick Rose was a freshman at Simeon Career Academy back in 2003, he wasn't allowed to play on the varsity team. Former Simeon head coach Bob Hambric had a rule that no freshmen were allowed to play at the varsity level. When the state tournament rolled around, Hambric softened his stance and allowed Rose to participate, but Rose declined because he didn't want to take away any playing time from those players who had gotten them to the playoffs.
Rose played varsity for three seasons and was ranked the fifth-best player in the nation by Sports Illustrated when he was a senior.  He got a taste of big-time basketball when Simeon played at Madison Square Garden and faced a high school team that was led by Kemba Walker. Walker's Rice High School won by two points. Rose was heavily recruited to play basketball at the next level after being named Mr. Illinois Basketball. He eventually signed on to play at the University of Memphis.
Rose guided Memphis to a 38-2 record as a freshman and helped the Tigers get a top seed in the NCAA tourney. Memphis went to the championship game but fell to Kansas. Rose then said he was giving up his final three seasons of college to enter the NBA. The Chicago Bulls drafted him first overall and he went on to win the MVP in 2010.
Derrick Rose meets Michael Jordan as a high school sophomore
Derrick Rose grew up in Chicago and got an up-close look at Michael Jordan and the Bulls. Rose said because he played basketball, he was able to see the entire city, while most people stay confined to one part. He said the city can be very scary and he always had to be aware of his surroundings, but it made him who he is today.
In a recent video posted by Clutch Points, Rose said while in Chicago, he was able to meet Jordan, his boyhood idol at Jordan's house. He said he was extremely nervous about the meeting and couldn't believe "I remember getting to the gate, you see the 23 on the gate," he said. "The gate opened and you see this big landscape. We kept driving and we saw this speed sign and it blew me away. He had a speed sign in the driveway. We passed by six vehicles and they were six Bentleys. Blew me away." Rose said he didn't think Jordan would be there.
"We entered the door where the gym was and they were in there hoopin'," Rose said. "That whole time, I watched him – every second when I was there. I watched him be a dad, watched him take out garbage." Rose said he always felt jinxed in life, but that feeling went away after meeting Jordan. He thought to himself, "Man, I'm gonna get that lifestyle. My mom's gonna live decent. Whatever I gotta do, I gotta do. I promised myself that night that I was going to be on a mission."
Rose's take on 'The Last Dance'
Like the whole sports nation, Derrick Rose has been watching ESPN's docuseries "The Last Dance" which chronicles the final year in which Michael Jordan and the Chicago Bulls won their final NBA title.
The docu-series gives an in-depth look at an aging Jordan and his teammates who knew it would be their final year together. Rose said he's been enjoying the documentary and appreciates the hard work and dedication showed in his late NBA years to secure another trophy.
"I love the documentary," Rose said in the video. "It shows how determined and how he was a student of the game. I mean, he was chasing greatness so it just shows he dedicated his whole life to his craft. It was great to see."