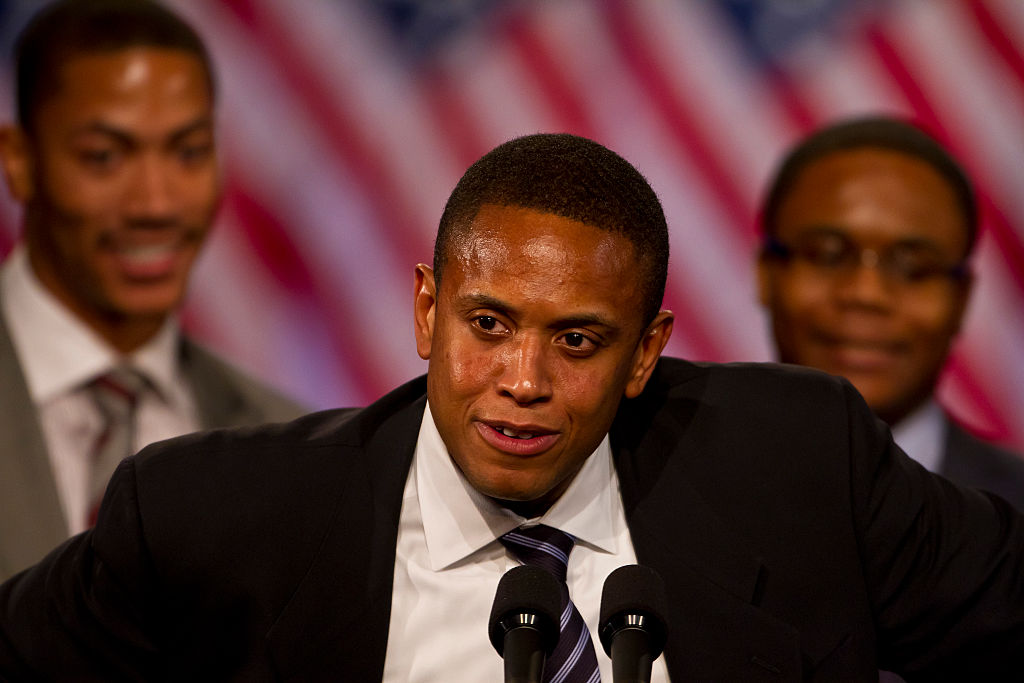 B.J. Armstrong Has a Huge Net Worth After Winning Three Championships on the Bulls With Michael Jordan
B.J. Armstrong had a nice playing career with the Chicago Bulls. He, however, has been really successful since then, which has helped him have a large net worth.
B.J. Armstrong had a pretty successful playing career in the NBA, especially with the Chicago Bulls. Armstrong earned one All-Star appearance during his career and won three NBA championships with Michael Jordan and the Bulls. Of course, Armstrong made a decent amount of money while playing in the NBA, but that, combined with the work he has done in his post-playing career, has made him a rich man. 
Armstrong was a solid player for the Chicago Bulls
B.J. Armstrong played in the NBA from 1989-90 through 1999-2000 after the Chicago Bulls selected him with the 18th overall pick in the 1989 NBA draft. Armstrong played sparingly for the Bulls in his first season, but he soon became a nice role player. He averaged 8.8 points per game in his second season during 1990-91 and then averaged as much as 14.8 points per game during his lone All-Star season in 1993-94. 
Additionally, Armstrong averaged 12 points per game or more for four seasons in a row from 1992-93 through 1995-96. Three of those seasons were with the Bulls, and one was with the Golden State Warriors.
Michael Jordan and the Chicago Bulls won three straight championships from 1990-91 through 1992-93, and Armstrong was an excellent role player on each of those teams. He, however, was very important in their championship run during 1992-93. Armstong played 33.8 minutes per game in the playoffs that season, compared to 19.7 the year before. He also averaged 11.4 points per game in the playoffs that year.
Armstrong last played in 1999-2000 for the Bulls. He averaged 9.8 points per game, and 3.3 assists for his career. 
Having a lot of success after his playing career
After retiring from playing basketball, B.J. Armstrong joined the Chicago Bulls front office as special assistant to the executive vice president of basketball operations, according to Business Insider. He was in that position until 2005 when he then became an analyst on ESPN and a contributor on ESPN.com, according to Business Insider.
Then in 2007, Armstrong joined Wasserman Media Group, Business Insider reported. Wasserman is a sports agency, according to Forbes, and was second to only CAA with more than $200 million in maximum possible commissions in 2019, according to Forbes. Armstong is now the executive vice president and the managing executive at Wasserman, according to his Twitter account.
According to Hoops Hype, Armstong is the agent for Bismack Biyombo, Derrick Rose, Josh Jackson, JaVale McGee, Bruno Caboclo, and Emmanuel Mudiay. He was also previously the agent for Draymond Green, according to Business Insider. Prior to the coronavirus shutting down the sports world, which will possibly force the NBA to trim some salaries, Biyombo was set to make $17 million this year while Rose was set to make over $7.31 million, according to Spotrac.
Armstrong's immense success has made him a wealthy man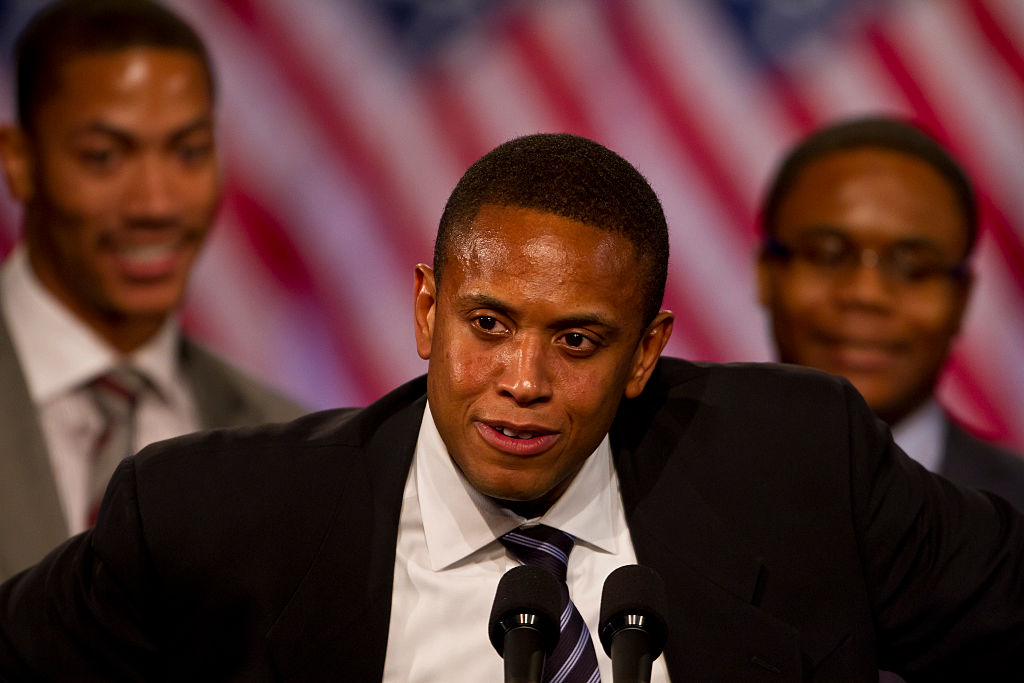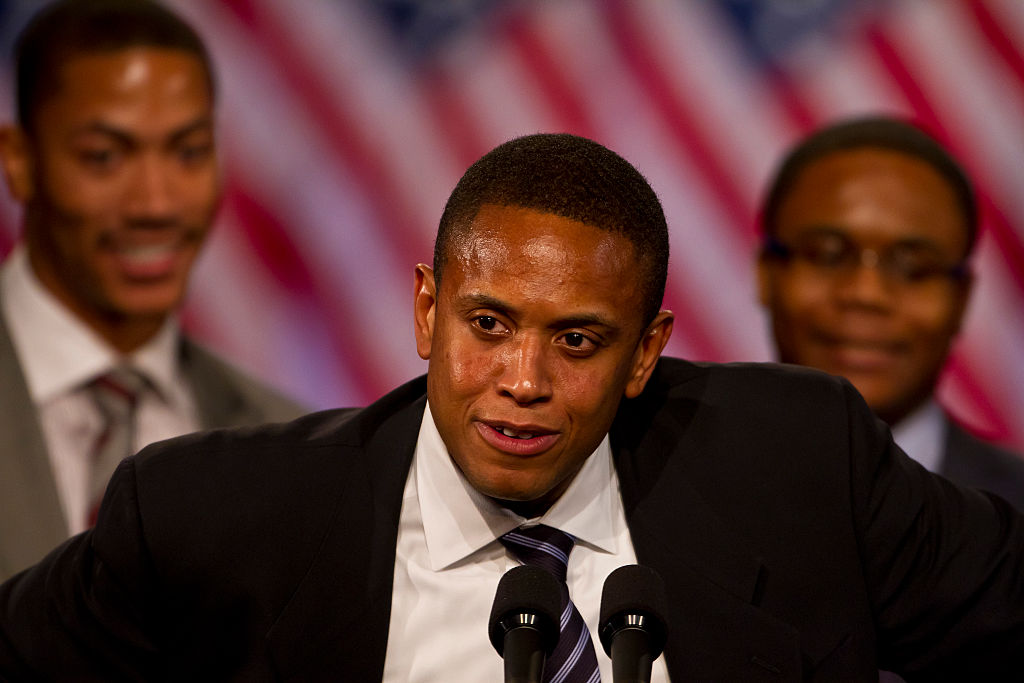 Playing in the NBA for 11 seasons and winning three NBA championships will certainly help someone's net worth. However, the fact that Armstrong has worked in a team's front office, has worked for ESPN, and is now a player agent and a business executive, certainly plays a role in him having a massive net worth.
Celebrity Net Worth reported in 2019 that his net worth is $10 million. That is definitely a lot of money for someone who has not played in the NBA for two decades.
B.J. Armstong had great success as an NBA player. He played a pretty significant role in Michael Jordan winning three of his championships, which also plays a vital role in the entire history of the NBA. He has now had even more success in his post-playing career. As long as he continues to have success, then Armstrong's net worth will only continue to grow in years to come.