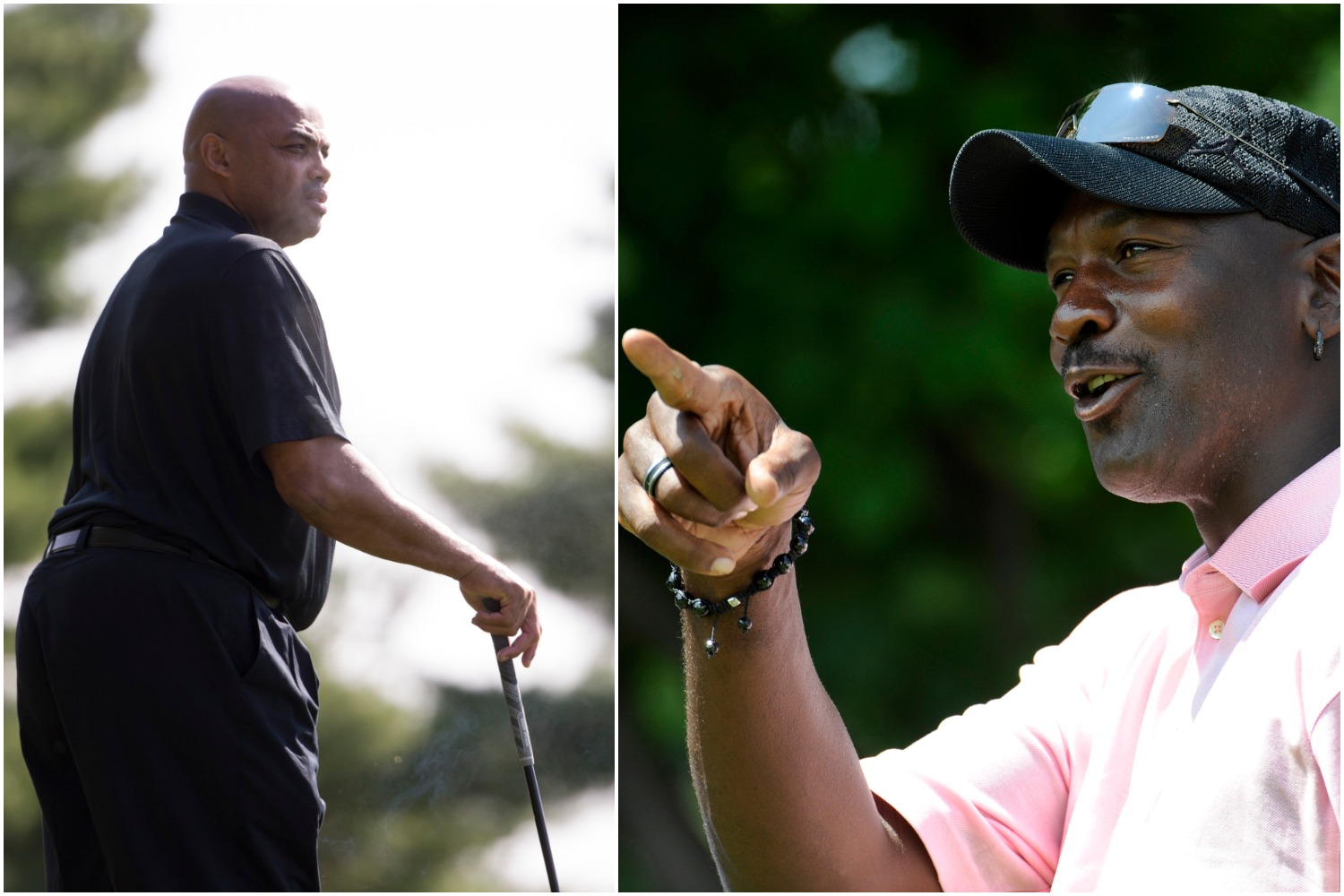 Michael Jordan Demanded Charles Barkley 'Get Out My Way' for Blocking His Path to $300,000
Although he refused to back down to Michael Jordan on the basketball court, Charles Barkley gladly stepped aside during one day on the green.
Michael Jordan squared off against many NBA legends over the years. But few enjoyed a rivalry with His Airness quite like Charles Barkley. While the outspoken power forward spent his career trying to outduel the greatest basketball player of all time, he gladly stepped out of MJ's way on the golf course.
At least, Barkley did so on one occasion. After all, Jordan had quite a bit of money on the line.
Michael Jordan and Charles Barkley enjoyed a fierce rivalry on the court
Michael Jordan and Charles Barkley entered the NBA at the exact same time. Although their skill sets differed, both became all-time greats.
Jordan's athleticism and penchant for throwing down gravity-defying dunks made him the most exciting superstar in sports. Barkley didn't necessarily fit the mold of a traditional power forward, but he utilized his bulky 6-foot-6 frame to box out opposing players and put up prolific rebounding numbers.
NBA fans got a chance to watch the two talented All-Stars square off against each other on 39 occasions. Surprisingly, Barkley's team won 20 of those contests. However, Jordan dominated on an individual level with averages of 34.4 points, 5.7 rebounds, 5.9 assists, and 2.9 steals. His adversary put up 23.1 points, 11.7 rebounds, and 3.6 assists in 37.5 minutes of action per game.
Of course, the story changed in the playoffs. Jordan won 12 of the 16 postseason games he played against Barkley. While Sir Charles put up big-time numbers of his own, he couldn't come close to matching his rival's scoring production. Jordan averaged 39.3 points and shot 35.6% from 3-point territory.
Thanks to the brilliance of their biggest star, the Chicago Bulls won six NBA titles. Meanwhile, Barkley retired from the league without a single championship ring.
His Airness demanded Sir Charles get out of his way on the green
During one outing on the golf course, Charles Barkley got a first-hand lesson on why it's not a good idea to get in Michael Jordan's way. In a 2017 appearance on The Dan Patrick Show, the NBA Hall of Famer relayed a Jordan gambling story that involved a staggering amount of cash.
"We'd be playing golf with certain people, and we'd be playing for a couple of hundred dollars a hole—nothing big. And then he'd be playing some guy for like $100,000," Barkley said of Jordan. "He's like, 'Charles pick that up.' I'm like, 'This putt is for $200.'"
But given the sheer amount of money at stake on his next hole, Jordan demanded his fellow NBA star find a new place to stand.
"Pick that up, Charles! Get out of my way; you're in my line!" Jordan told Barkley.
The 11-time All-Star responded, "How much is that putt for?"
Jordan informed Barkley he had $300,000 on the line. It didn't take long for the big man to move his feet out of his peer's path to a lucrative payday.
"Let me get out of your line," Barkley told Jordan.
Both NBA legends have been involved in some wild gambling stories
Seeing Michael Jordan bet hundreds of thousands of dollars on holes of golf certainly left an impression on Charles Barkley. However, while Jordan has a well-documented history of gambling on everything from rock, paper, scissors to jumbotron games, Sir Charles has also won (and lost) plenty of money.
During a 2006 interview with ESPN, he estimated he lost $10 million in gambling.
Barkley recently found a new way to get involved in the realm of sports betting. The 58-year-old partnered with FanDuel to serve as an ambassador and spokesman for the brand during the 2020-21 NBA season. That represents just another way for the entertaining analyst to continue adding to his estimated $50 million net worth.
As for Jordan?
He can rest comfortably knowing he's worth 32 times that amount.
All statistics courtesy of Stathead.
How to get help: In the U.S., contact the National Council on Problem
Gambling helpline at 1-800-522-4700.