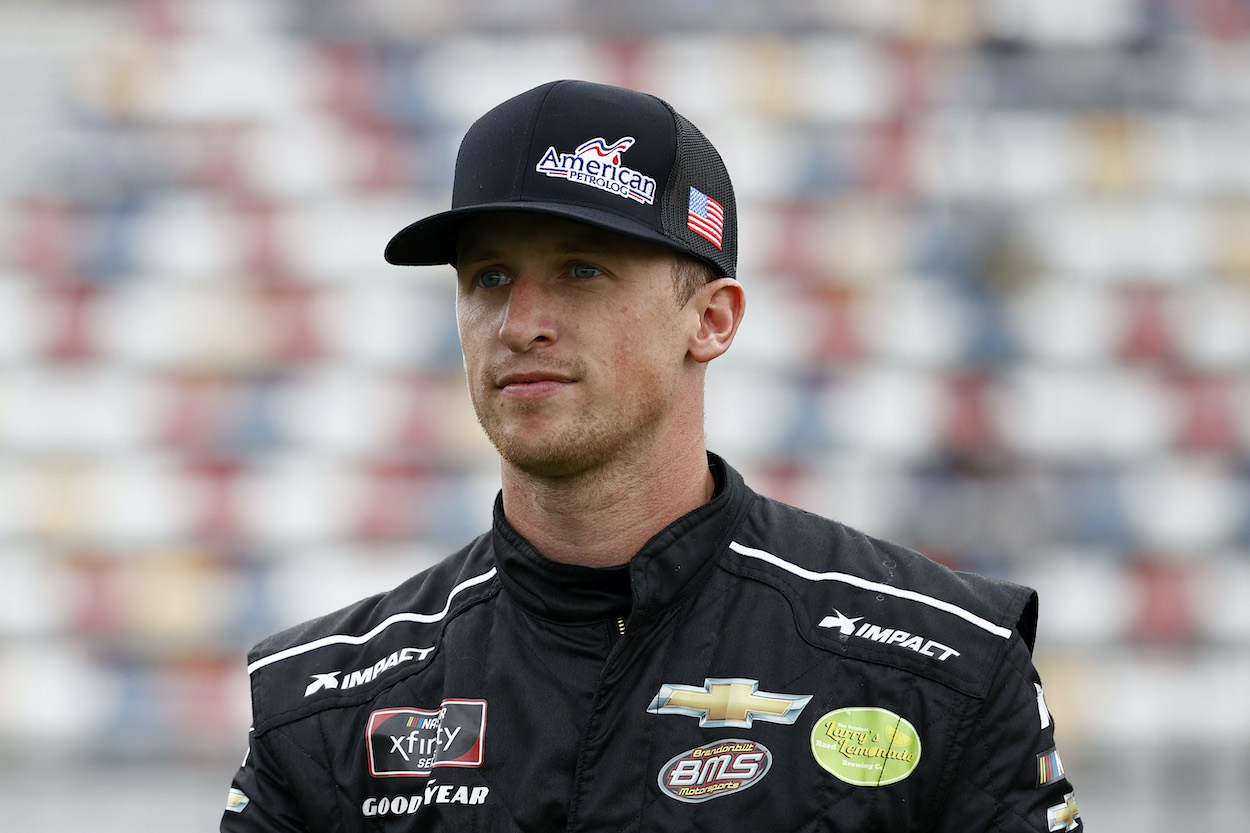 Brandon Brown Gets Last Laugh and Lands Multimillion-Dollar Deal After Primary Sponsor of Winning Car at Talladega Rejected Him
Brandon Brown continues an up-and-down offseason reportedly signing a huge multimillion-dollar personal sponsorship deal after the sponsor of his winning car at Talladega rejected him.
Brandon Brown has been on a roller coaster of a ride in recent weeks, announcing he landed a major sponsor for 2022, only to later learn that NASCAR wouldn't allow it due to its political nature. The latest in the continuing saga has again produced another high and low, with the primary sponsor of his lone Xfinity Series win at Talladega rejecting him while he's reportedly signed a huge deal worth millions.
Brandon Brown becomes center of political firestorm
Brandon Brown's first-ever Xfinity Series win at Talladega in 2021, which should have been a boon that resulted in signing new sponsors, turned out to be anything but that. When he unwittingly became a politically-based euphemism exuberantly used by critics of President Joe Biden, businesses were scared away. 
Brown closed out 2021 trying to mend some of the damage done with a mini-media blitz and suggested that he didn't want to be political. However, just weeks later, he announced that he had signed a deal with a cryptocurrency company, LGBcoin, which dubs itself as "America's Coin" and is an abbreviation for the "Let's go Brandon" phrase.  
Unfortunately for the 28-year-old driver, NASCAR announced it had not approved the sponsor and wouldn't allow it on his car in 2022. 
Talladega-winning sponsor speaks out against Brown's decision
Many suspected Brown signing with LGBcoin and effectively endorsing the phrase was a bad move and, as it had done before, would discourage businesses from partnering with him. 
Late last week those suspicions were confirmed when the winning sponsor for Brown's race at Talladega, The Original Larry's Hard Lemonade Brewing Company, announced it would not work with the driver in 2022 and specifically cited his choice of sponsorship as the reason why. 
Company co-owner and vice president Vic Reynolds recorded a video statement and didn't mince words. After noting that Brown is "an incredible human being," Reynolds talked about the sequence of events and how "the pressure may have put Brandon's race team in a position where mistakes may have been made in choosing a yearlong sponsor instead of sticking with the companies that got him to victory lane."
The executive also took a not-so-veiled shot at LGBcoin, saying how a wise man once told him "that all money is not good money." Reynolds concluded that the company would continue its long-standing relationship with NASCAR, but Brown wouldn't be a part of those plans. 
Brandon Brown signs multimillion-dollar personal sponsorship deal
While the driver's decision to work with LGBcoin adversely affected some of his existing NASCAR partnerships, Brown might not be too concerned about it from a financial perspective, according to a new report.
Brown signed a two-year personal sponsorship deal with the cryptocurrency company that is worth a reported "eight figures," and according to Fox Business, he is now a "holder" of the currency and is being paid in "both cash and coin." Although he can't promote the product in NASCAR-related functions, he will participate in events, videos, conferences, and other activities through 2023.
"I'm working to achieve my own American dream," Brown said in a press release. "I'm humbled and thankful for LGBcoin.io's reaffirmed support for my professional journey and their commitment to maintain a patriotic message."
It remains to be seen who will be the main sponsors of Brown's Xfinity car in 2022. Even if he doesn't sign on numerous companies, at a minimum, he knows he's got some money in the bank.
Like Sportscasting on Facebook. Follow us on Twitter @sportscasting19.