Is There a Case for Taking Talladega Out of the NASCAR Cup Series Playoffs?
No pun intended, but it's no accident that NASCAR starts each season on a superspeedway. A big track means a big crowd, though it also sets up the possibility of "The Big One," a wreck up front at Daytona or Talladega collecting multiple trailing cars. Social media replays the incident on a loop, and fans discuss what transpired for days.
So, do superspeedways like Talladega belong in the NASCAR Cup Series playoffs? There's a good argument against, despite the fact that the Alabama track remains on the schedule in 2022.
Constructing the NASCAR Cup Series playoff schedule is a science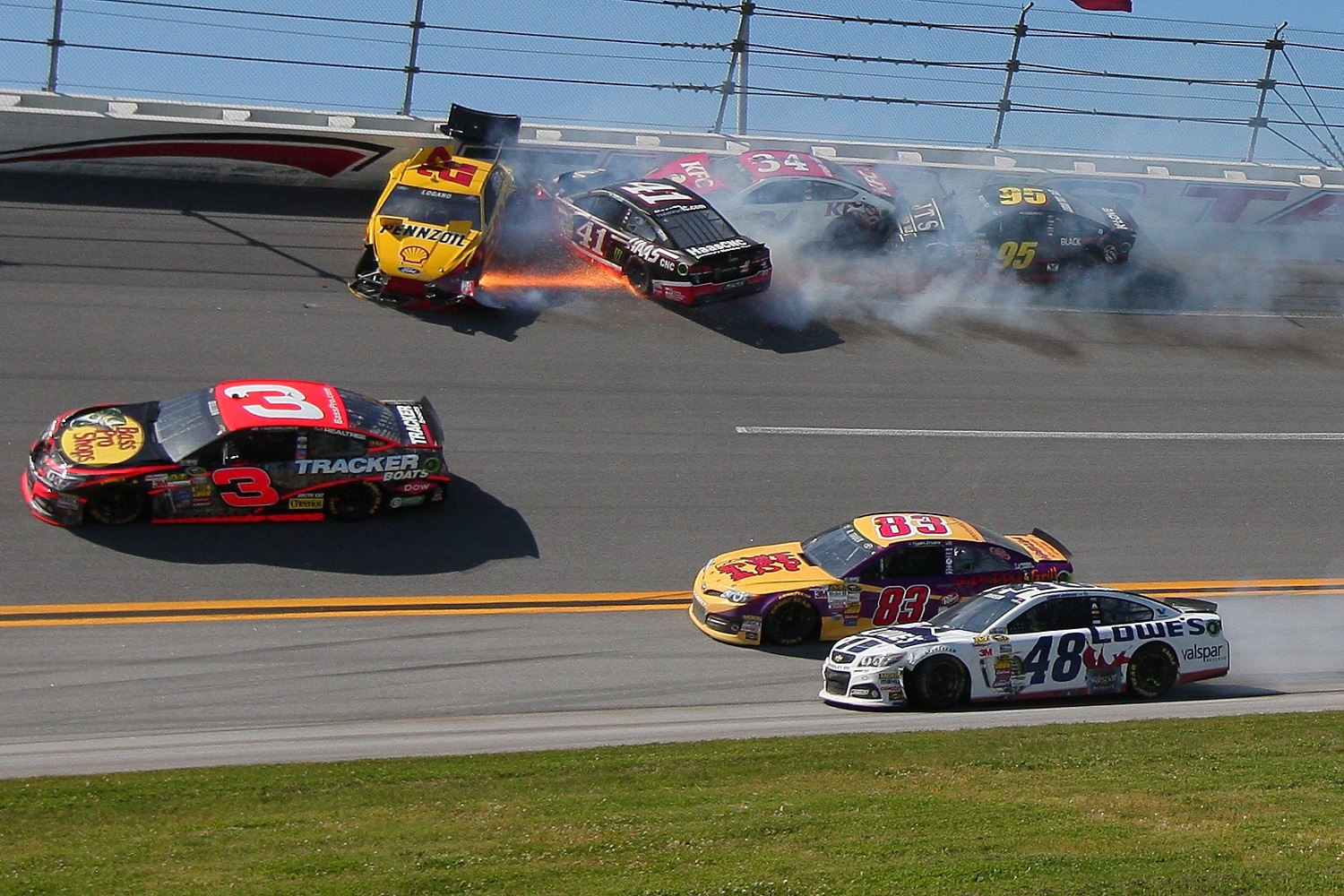 Like the golf and tennis tours, the NASCAR Cup Series schedule remains consistent from year to year. Racing executives occasionally change the order slightly and do add one track at the expense of another here and there, but the Daytona 500 always opens the points-race schedule. Additionally, the Coca-Cola 600 at Charlotte Motor Speedway anchors Memorial Day weekend, and Texas Motor Speedway, Martinsville, and Phoenix hold down dates late in the playoffs.
Piecing together the 10-race playoff schedule is a bit more of a science. Only 16 tracks have hosted since NASCAR abandoned awarding championships solely on season-long points totals in 2004, and variety has been a key objective.
In 2022, the playoff schedule contains two 500-lap events on the beloved short tracks at Bristol and Martinsville, five on 1.5-mile circuits covering 400 or 500 miles, and one-offs at Talladega Superspeedway and the Charlotte road course, a/k/a the Roval. The finale is short and sweet: 312 laps on the Phoenix Raceway mile oval.
The variety brings different engine packages, tire strategies, and stage configurations into play.
The case for taking Talladega out of the NASCAR Cup Series playoffs
Ask a dozen racing fans to design an optimal NASCAR Cup Series playoff schedule and you might get 13 answers. There's an excellent chance, however, that each would include either the Talladega or Daytona superspeedways, which is noteworthy. Daytona's second annual race is becoming anchored as the final regular-season event, and Talladega is one of the five venues used in the playoffs every year since 2004.
However, there's an issue with superspeedways, and it's "The Big One." Especially now in the era of extra restarts due to stage racing, lots of vehicles spend long stretches racing in tight packs at high speeds. When a car near the front has a tire go down or destabilizes due to draft dynamics, anyone in proximity is at risk of having the day end prematurely.
That's frustrating for any competitor but potentially devastating for playoff participants. NASCAR acknowledges as much without coming right out and saying so. Don't believe it? Just look where Talladega playoff races fall each season. For the past five years, it's been fifth, which keeps it from being an elimination race. That will be the case again in 2022.
Why does it matter? Elimination races cause drivers under the cutline to take big chances late in the day. Get sloppy doing that at Talladega, and a racer can take out a dozen cars, including others battling to transfer to the next phase of the playoffs.
The truck series captures the concerns over using Talladega in the playoffs
A Frontstretch.com story from midway through the playoffs offers food for thought about Talladega as a NASCAR Cup Series playoff venue even though the article was about the truck series. It also calls into question the wisdom of letting the second Daytona superspeedway date close out the regular season as two dozen or more drivers could be down to their last chance.
In examining the Camping World Truck Series, Frontstretch cited repeated instances of "The Big One" at Talladega in playoff races since 2016. One crash that year collected 14 trucks, and incidents involving 10 trucks took place in each of the next two seasons. Early in the 2020 race, 11 trucks came together in one big wreck.
Last month's Talladega war of attrition resulted in just 20 of 40 starters making it to the finish. On lap 58, Todd Gilliland sent Austin Hill spinning. It triggered mayhem that involved 15 more trucks and required a red flag. Some of those same drivers ended up in a wreck 18 laps later that was tame by comparison but nevertheless dinged six trucks.
Yes, cars and trucks are apples and oranges, but the Cup Series has known its share of scares at Talladega, too, including the first visit this past season when Joey Logano flipped his car and very nearly took out Bubba Wallace. In an interesting twist, Wallace came back later in the season to score career victory No. 1 on that same track.
Like Sportscasting on Facebook. Follow us on Twitter @sportscasting19.