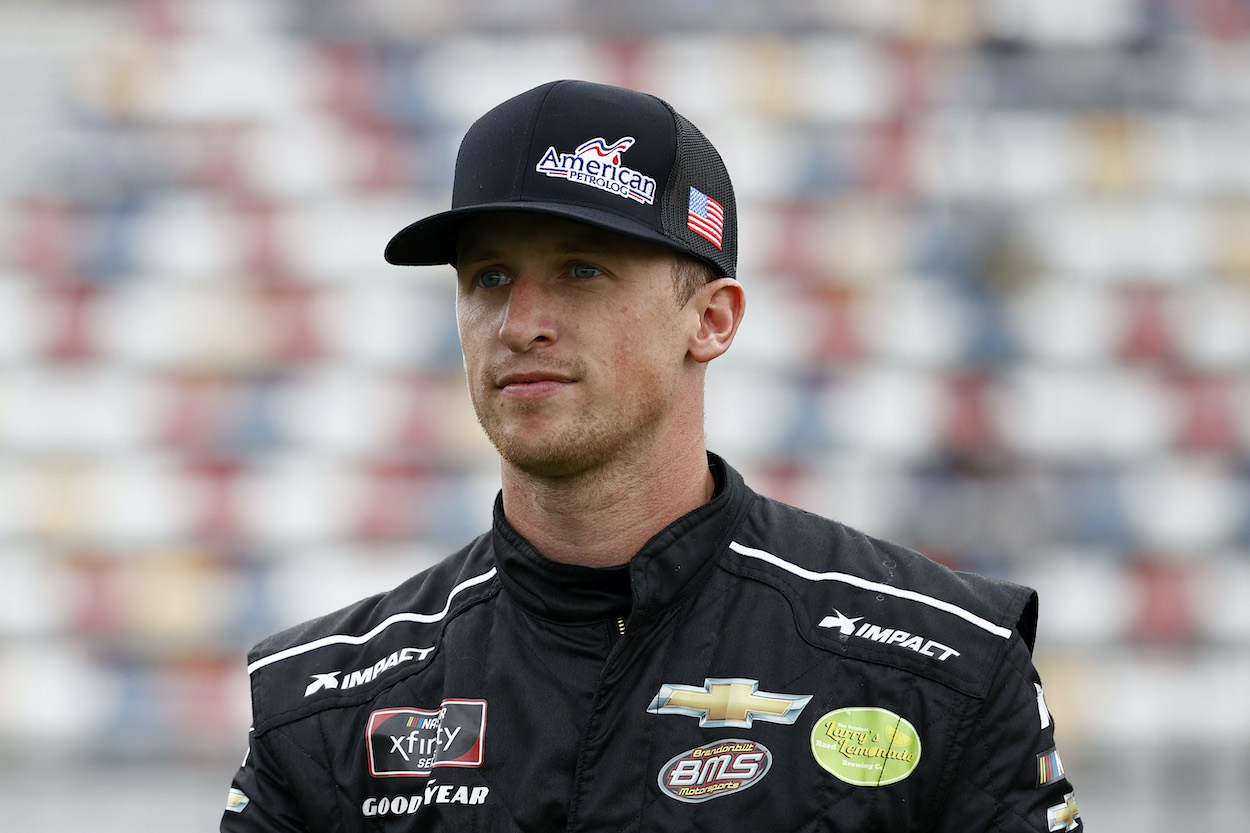 Contrite Brandon Brown Offers Heartfelt Apology for 'Inexcusable' Actions
A contrite Brandon Brown offered a sincere apology in a lengthy statement for what he described as his own "inexcusable" actions.
Brandon Brown never asked to be in this situation. He just wants to be a race car driver. But here he is. After months of being at the center of a political firestorm, including a few missteps of his own, Brown is preparing for the 2022 NASCAR Xfinity Series season.
And now, after enduring a challenging sponsorship situation this offseason, including one of his main partners publicly announcing it would not return to the No. 68 car this coming season, the driver felt it necessary to offer up a mea culpa. 
Brandon Brown becomes center of political firestorm
When Brandon Brown crossed the finish line for his first-ever Xfinity Series win at Talladega in October, it was undeniably the highlight of his racing career. Unfortunately, the postrace interview with an NBC reporter who incorrectly reported that nearby fans were chanting "Let's Go, Brandon" when they were, in fact, chanting a derogatory remark directed at President Joe Biden, changed everything. 
What should have been a dream with sponsors lining up to work with the small family-owned team hasn't turned out that way at all. Just the opposite. Businesses, who understandably want to appeal to as broad of an audience as possible, were scared away. 
In damage-control mode, Brown ended 2021 with a mini-media blitz of sorts, writing an op-ed for Newsweek and being interviewed by the New York Times, suggesting in both articles that he didn't want to be political. 
However, a few weeks later, the 28-year-old driver seemingly embraced the phrase when he announced a deal with a cryptocurrency company, LGBcoin, which dubs itself as "America's Coin" and whose name is an acronym for the phrase.  
NASCAR responded to the news and announced it had not approved the sponsor and wouldn't allow it on his car in 2022. 
Embarrassing fallout from last year's race-winning sponsor
Brown's decision to sign with LGBcoin was questionable at best. Sponsors were already wary that his name was associated with the phrase even when it wasn't his own doing. His willingness to effectively endorse the phrase was an even bigger red flag.  
That became quite evident when an official from the winning sponsor of Brown's race at Talladega, The Original Larry's Hard Lemonade Brewing Company, publicly came out and said the company had no plans to work with him in 2022, citing his choice of sponsorship. 
Company co-founder and vice president Vic Reynolds posted a video statement on social media, which has since been removed, and noted how "the pressure may have put Brandon's race team in a position where mistakes may have been made in choosing a yearlong sponsor instead of sticking with the companies that got him to victory lane."
Reynolds also called out LGBcoin, referencing how a wise man once told him "that all money is not good money." 
Brandon Brown apologizes to sponsors for 'inexcusable' actions
Since the announcement of the LGBcoin deal and NASCAR's response, Brown has laid low. That changed recently when he issued a lengthy statement and shared it on Twitter. He initially talked about "receiving an overwhelming amount of hate" and how he had taken a break from social media. 
He then discussed the sponsorship situation and how the LGBcoin deal was essentially a lifeline for the team, which came close to closing its doors early in 2021. The funds would allow him to expand the organization, better its equipment, centralize its race shop, and most importantly, relieve the stress for the team on whether they would have a job for the full season. 
After indicating that he still holds out hope to change the narrative of what LGB means and make it something constructive and not divisive, Brown addressed his sponsors with sincere remorse. 
"To all of my partners, past and present, who have supported myself and BMS, I would like to apologize and accept responsibility for the way that this off-season's transition has been handled," he said. "My neglect to properly inform each of you of our 2022 plans is inexcussable [sic]."
He concluded by thanking his sponsors for "keeping me on the race track as long as you have" and allowing him to chase his dream. 
Brandon Brown's dream turned into a nightmare in 2021. The 2022 Xfinity season, which will allow him a fresh start, can't get here soon enough. 
Like Sportscasting on Facebook. Follow us on Twitter @sportscasting19.