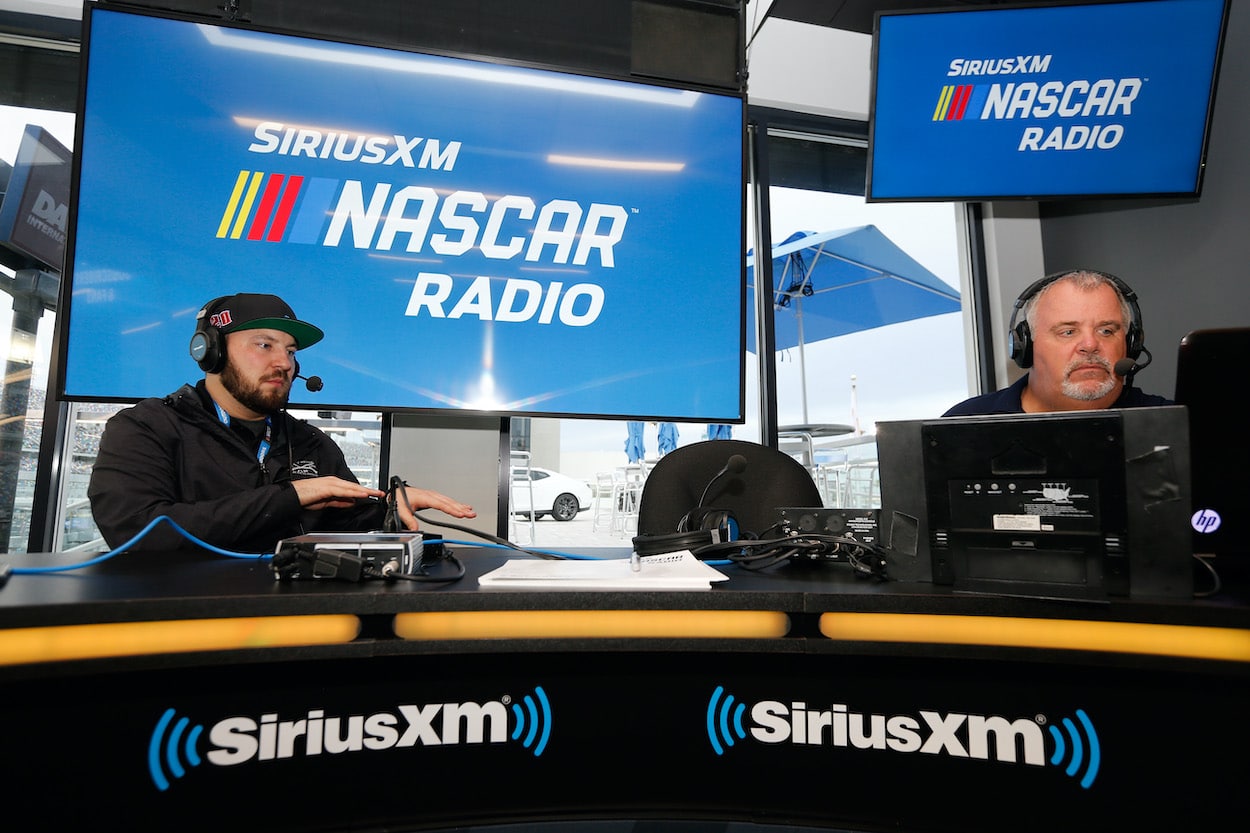 Longtime Broadcaster Says NASCAR at Beginning of 'Culture War' and Predicts Casualties in Future
A longtime NASCAR announcer said recently that the sport is in the beginning of a culture war and it's going to get uglier before it gets better.
Now halfway through its second season, the Next Gen car has been a major change in the NASCAR Cup Series. But anyone in the garage will tell you it's been very different from previous transitions to new cars in the past because it also included a new set of rules and, more importantly, a new mentality of stricter enforcement. 
Multiple teams have discovered just how stringent and paid a price. Chase Briscoe was the latest, and that infraction and penalty were both an escalation in what the teams are trying to get away with and NASCAR's corresponding punishment.
According to veteran broadcaster Dave Moody, this is just the beginning of what he describes as a "culture war," and he believes it's going to get worse in the future and could result in a lot more casualties. 
NASCAR says Next Gen car is a culture shift
Months before the Next Gen car turned its first laps inside the LA Memorial Coliseum to launch the 2022 season, NASCAR made it clear to drivers and teams that the creativity and innovation done throughout the sport's history would no longer be tolerated with the new car.
"Penalties will be ratcheted up," then-executive VP Steve O'Donnell said. "We're hopeful that we don't have to do that, but we have put everybody on notice that this is a culture shift. This is why we went to this car as well and we expect everyone to get in line. We're all going to learn together."
O'Donnell was then asked if there might be the possibility of playoff bans.
"Certainly everything is on the table in terms of playoff points," he said. "We want to make sure that the penalty matters if we have to go that route. Again, we're hopeful that we don't but we've always got to be prepared."
NASCAR escalates penalties
Looking back at the first 50 races in the new car, there has undoubtedly been a culture shift and NASCAR has absolutely been prepared. Starting early last season, NASCAR has regularly handed out penalties to teams for a variety of violations around modifications of single-sourced supplier parts.
Last week, the sanctioning body took its sanctioning game next level, handing out an L3 penalty to the No. 14 team, the biggest punishment to date for producing and using a counterfeit part. Briscoe and the organization were each docked 120 regular-season points and 25 playoff points, while crew chief John Klausmeier was fined $250,000 and suspended six races.
NASCAR senior VP of competition Elton Sawyer addressed the penalty.
"Don't mess with the single-source parts," he said. "You basically put them on your car. Go out and work on the things that's going to give you those performance gains that you're looking for — good pit stops, good strategy, good hard racing. 
"But working in areas, like, again, what we used to do with the Gen 6 car is just not going to be acceptable with this car. And as we move forward with this race season and moving on in to 2024, that's just not going to be the culture that we're going to be allowing."
Dave Moody says it's the beginning of a 'culture war'
Veteran announcer Dave Moody has covered the sport for decades. He's witnessed the changes through the years. Recently on his SiriusXM NASCAR Radio show, he explained to fans what's happening between the teams and the governing body is a battle of wills and he expects it to get uglier before it gets better.
"But I'm really convinced that this is a pivotal moment in the history of our sport. There is right now a culture war that's brewing, not brewing. At least the opening shots have been fired. And I don't envy NASCAR, because they've got a 75-year tradition/culture that, quite honestly, they played a leading role in creating that is either going to come to an end or not.
"They've drawn a line in the sand with this new car, and they have said very clearly that the old way of doing business is over. Done. Finished. And if you don't believe us — what's the old saying, F around and find out. And that's kind of what NASCAR is saying, F around and find out. And clearly there are people in this sport that do not buy it. Refuse to buy it. Believe that there's nothing wrong with the culture that says, well, you know, when the cop's back is turned it's okay to steal his wallet because you need the money.
"So there is a culture war underway in this sport, and one side or the other is going to prevail. Either we're going to keep doing business as usual, and just go, 'Ah, come on. It's NASCAR. If you ain't cheating you ain't trying.'
"I've had crew chiefs, I've had competition directors, off the record, off to the side say, 'Listen dave, anybody that's winning in this sport; nobody's got a completely legal race car. Nobody.' And it blows my mind that we're OK with that as a fan base as a sport. But this culture war is gonna go one way or another.
"And NASCAR is wildly outnumbered because all of the competitors have got their own ideas about the way they want things to stay. And a huge percentage of our fan base has their own ideas about the way they want things to stay. But NASCAR has drawn their line in the sand, and they say 75 years of this malarkey, and it ends here, and it ends now. And it's going to be fascinating to watch the battles and the skirmishes and the fatalities and the injuries that come from this culture war. And it's not, I'm afraid, going to be pretty."
A week after the Briscoe penalty, NASCAR levied an L1 penalty on the No. 43 car for modification to the greenhouse. Another shot fired.
To stay up to date on the latest happenings in NASCAR, including breaking stories you can't find anywhere else, follow Kyle on YouTube and Twitter.