Brock Lesnar Accused by Chris Jericho of Using Homophobic Slurs During Their Infamous Backstage Battle at WWE SummerSlam Over Randy Orton Bloodbath
Chris Jericho recalls his backstage fight with Brock Lesnar following the 2016 edition of WWE SummerSlam.
While there were undoubtedly better matches on the card that night, particularly the dream showdown involving John Cena and AJ Styles, the 2016 edition of WWE SummerSlam is typically best remembered for the main-event battle between Brock Lesnar and Randy Orton.
But Orton wasn't the only future WWE Hall of Famer with whom Brock squared off that night in Brooklyn, as the former UFC heavyweight champ was also involved in a real-life altercation with Chris Jericho, which stemmed from the controversial and bloody finish to the Lesnar-Orton bout.
Jericho, now a star for WWE's biggest rival, AEW, recently spoke out on the infamous altercation and has accused Lesnar of hurling homophobic slurs at him during the scuffle.
The Brock Lesnar-Randy Orton match at the 2016 edition of WWE SummerSlam ended in a bloodbath
Those who watched the Brock Lesnar-Randy Orton battle at WWE SummerSlam in 2016 know just how brutal that finish was. The first three-quarters of the bout was more of a traditional wrestling match — at least as close as you can get to one in which Lesnar's involved — with each hitting their signature maneuvers.
But the close looked much more like a UFC fight than a professional wrestling match. Or just a beatdown on a street corner. After Orton kicked out of an F-5, Lesnar took off his signature gloves and started pounding "The Viper" with legitimate shots. And we're talking massive blows here, specifically the repeated elbows that opened up Orton the hard way.
Lesnar hit elbow after elbow to the top of Orton's head, splitting it open to create a pool of blood on the canvas. The match was eventually stopped, and Brock was declared the winner via technical knockout, a rarity in WWE.
As it turns out, those watching on PPV weren't the only ones confused by the controversial finish. Backstage, Chris Jericho was looking for answers and didn't get them as quickly as he would have liked, which led to the infamous encounter between him and Lesnar.
Chris Jericho says Lesnar used 'homophobic terms' during their backstage altercation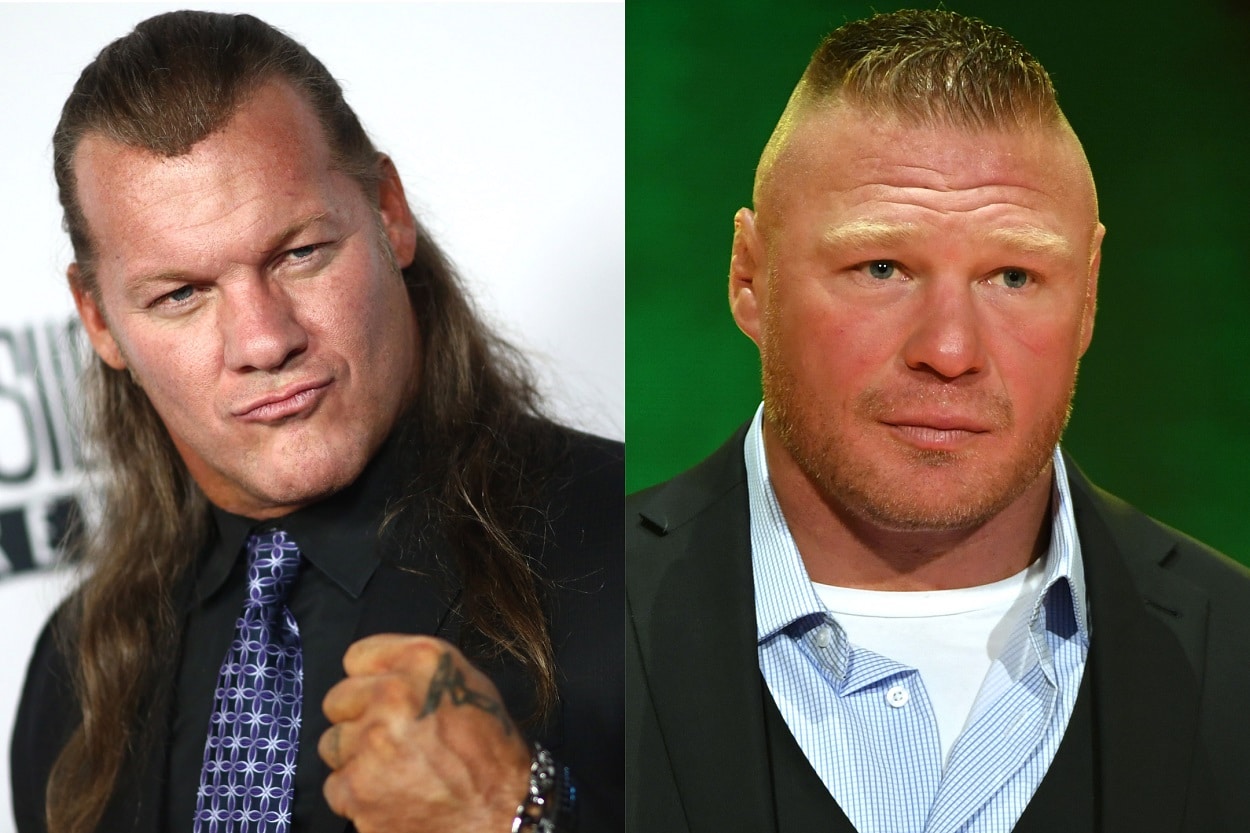 It was later reported that the Lesnar-Orton finish was indeed planned. At the time, however, some thought Brock may have gone into business for himself. Jericho wanted that answer and asked producer Michael Hayes about it, ultimately getting no response, which only infuriated him more than he already was.
So when Lesnar arrived backstage, Jericho went to get his answer from "The Beast Incarnate" himself. The two tangled and ended up against a wall before the scuffle was broken up by Triple H and Vince McMahon, who broke the news to Jericho that the finish was part of the script for the night.
Jericho recently discussed the altercation on the True Geordie Podcast and said Lesnar used highly inappropriate language toward him as they clashed.
"I was in Gorilla and I was f**king angry about it and Brock [Lesnar] came through and he saw me angry about it and decided he wanted to challenge me. And we got into a little bit of an issue, but I was like, 'F**k this guy, I don't give a s**t how big he is. I don't f**king care. It's wrong.' I will fight to the death, I will stand up to what I believe in 'til death.

"I remember being literally nose-to-nose with the guy and he was laughing – and he was actually saying things that would probably get him canceled if I said them, like homophobic terms you shouldn't be saying."

Chris Jericho on Brock Lesnar
It'll be interesting to see if anything comes of this. Lesnar, of course, is scheduled to face Roman Reigns at this year's edition of SummerSlam, and WWE certainly doesn't need any more negative press following the recent Vince McMahon bombshell. As of this writing, Lesnar has not responded to Jericho's claims.
Like Sportscasting on Facebook. Follow us on Twitter @sportscasting19 and subscribe to our YouTube channel.