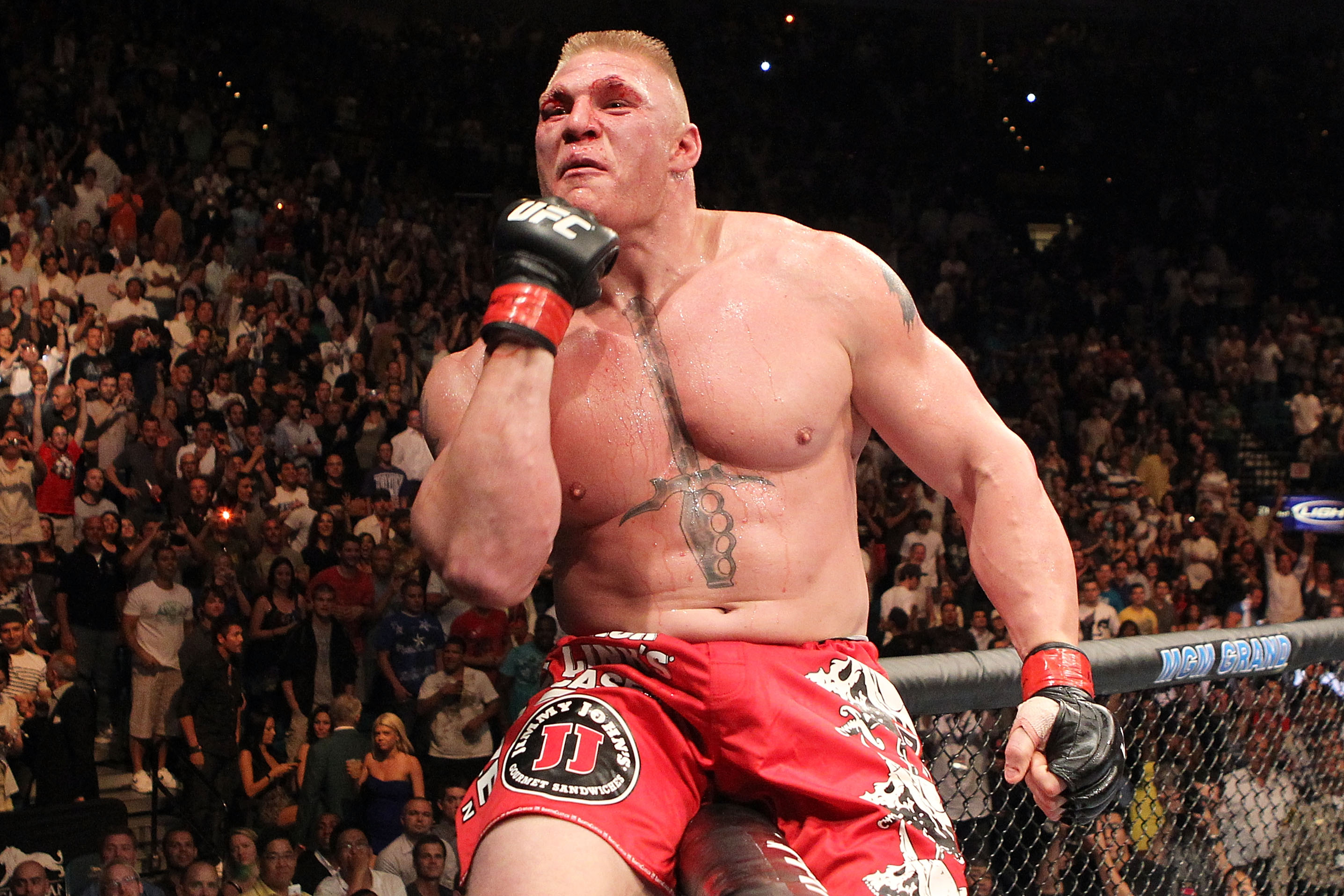 Brock Lesnar's Brief UFC Career Made Him a Ton of Money
Brock Lesnar was never a fan-favorite in the UFC. However, his brief career in the UFC earned him a nice chunk of change.
The UFC and the WWE have a long-term relationship with one another, and many fighters and wrestlers have made the jump over to the other organization. This relationship really blew up when Brock Lesnar decided to fight in MMA in 2007. He joined the UFC shortly after, and he made a lot of money really quickly.
A look at Brock Lesnar's brief UFC career
After a successful WWE career, Lesnar decided to pursue MMA, and he made his debut in 2007 in a Japanese MMA promotion. Lesnar won that fight, and shortly after, he joined the UFC.
However, his first UFC fight didn't go well, as he got submitted by Frank Mir in about 90 seconds. Despite this loss, he was still a popular fighter, and the UFC quickly gave him another fight, this time against Heath Herring. 
Lesnar dominated Herring, and a few months later, he was given a title shot against Randy Couture. UFC fans expected Couture to knock Lesnar back to the WWE, but Lesnar actually knocked Couture out and won the title. This event made the UFC a lot of money, so the UFC knew which fight needed to happen next. 
At UFC 100, Lesnar rematched with Mir, and Lesnar came out on top. This event also made a lot of money, and it further proved how big of a star Lesnar really was. In his next UFC fight, he fought Shane Carwin, who many believed would knock Lesnar out and end the rivalry between UFC and WWE fans. Lesnar instead choked Carwin out in the second round.
Lesnar's UFC career went downhill after these impressive wins, however. In 2010, he lost his title to Cain Velasquez, and then he got knocked out again in 2011 by Alistair Overeem.
After these seven fights, he left the UFC and returned to wrestling. He made a UFC comeback in 2016, but he tested positive for performance-enhancing drugs afterward, and he hasn't fought in MMA ever again.
Brock Lesnar made over $5 million in the UFC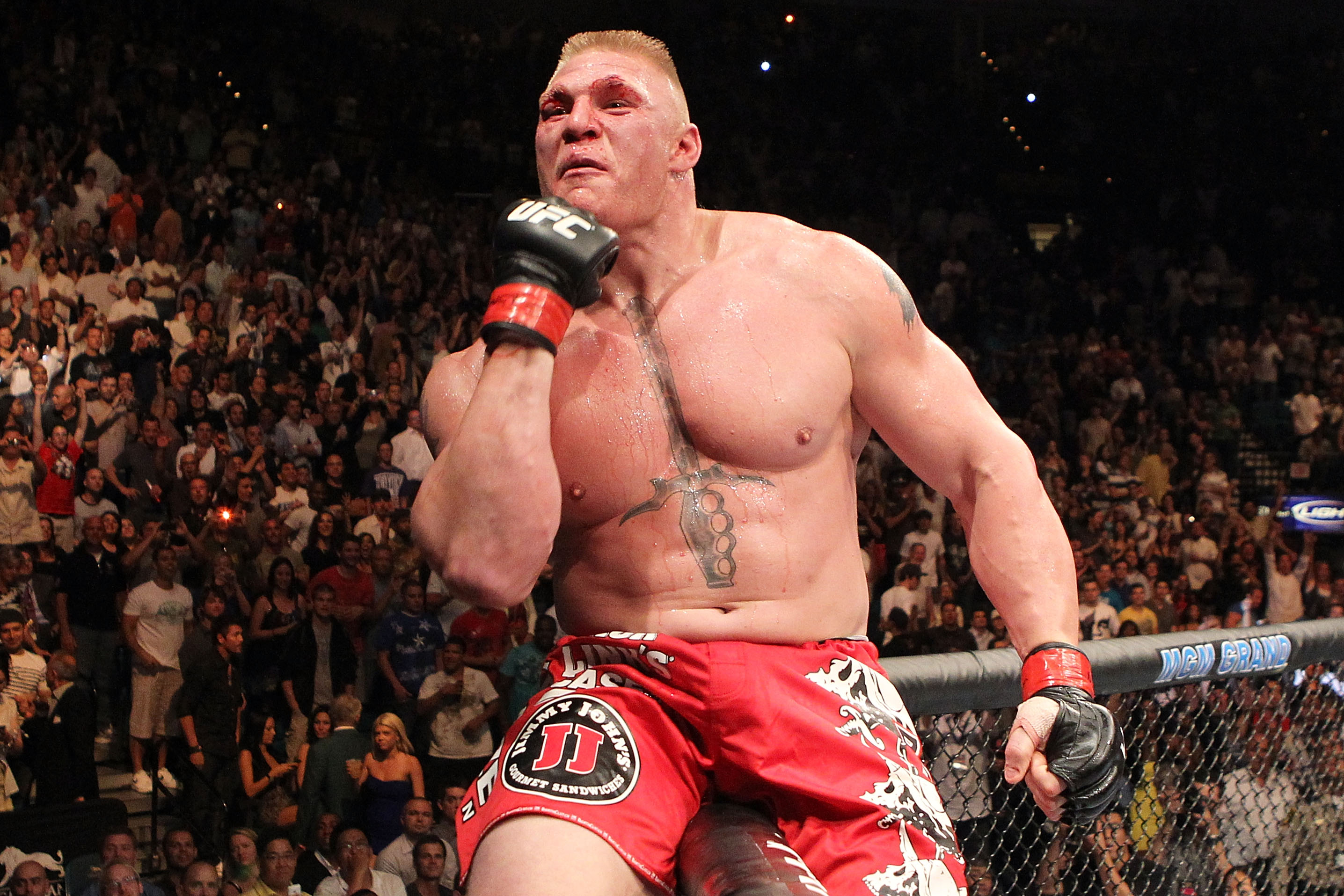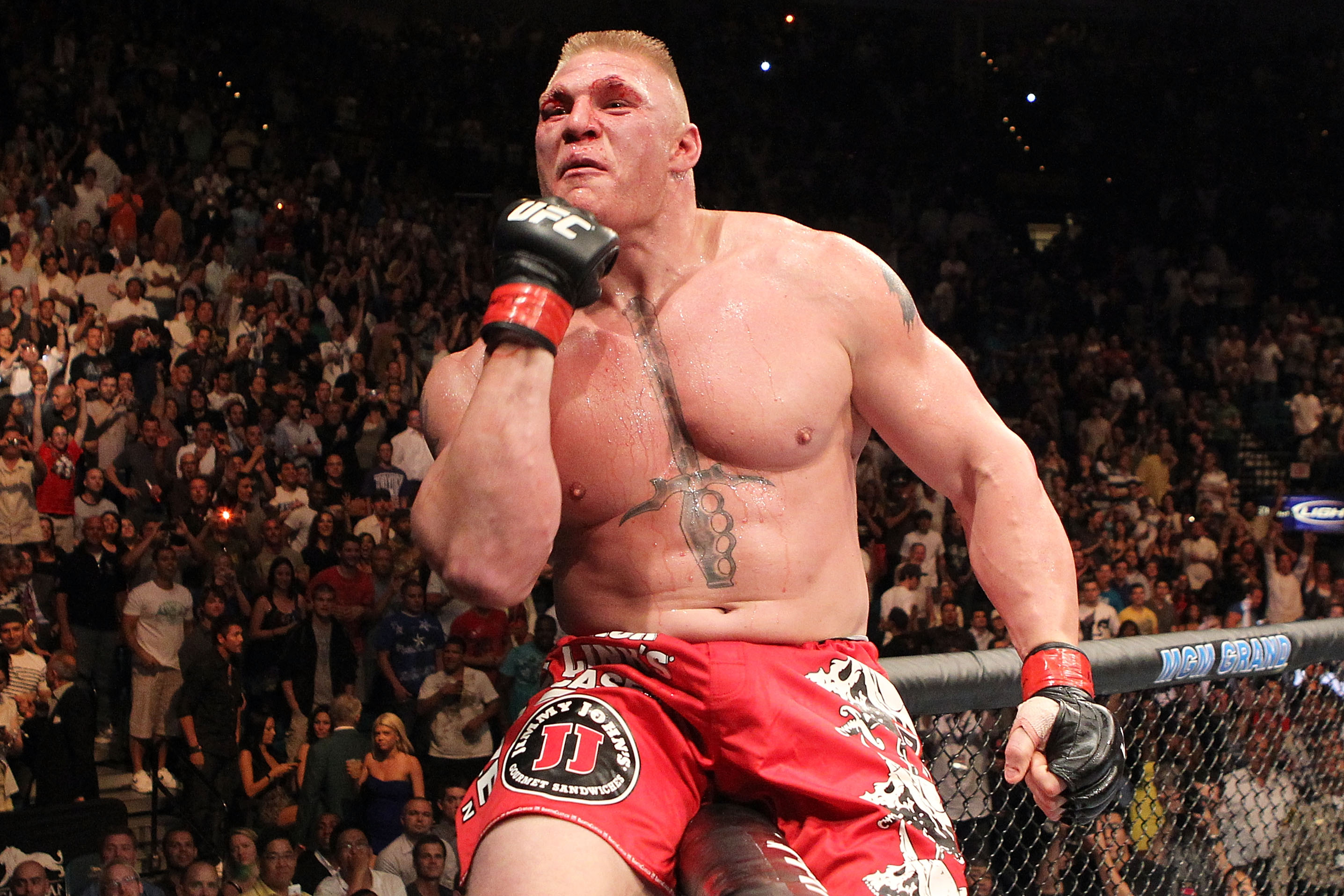 As Sport Bible wrote, Lesnar made a lot of money from fighting in the UFC. With his first fight, he proved his worth, and as a result, he was able to negotiate for more money. He earned at least $250,000 from his first UFC fight, and by the time that he fought Overeem, he was coming home with at least $400,000. 
For his comeback fight in 2016 against Mark Hunt, the UFC paid him a hefty $2.5 million just to do the gig. However, he was fined $250,000 due to his positive test. That said, these are the base salary figures.
UFC stars, like boxing stars, can also get a cut of the pay-per-view buys. It's not known how much money Lesnar made from that, but still, $5 million for 3 years in the UFC is a pretty good deal. 
legacy in the UFC
Brock Lesnar, with a professional record of 5-3-1, seems to be retired from the UFC for good. However, his legacy of building a bridge between UFC fans and WWE fans seems to be going strong. 
After Lesnar's stint in the UFC, many UFC fans have become WWE fans and vice versa. As a result, UFC champs like Ronda Rousey or even Velasquez have joined the WWE recently. Similarly, some WWE stars have made an attempt to join the UFC too.
The biggest example is CM Punk, whose UFC career hasn't been as great as Lesnar's has been. That said, WWE wrestlers such as Jack Swagger have joined other MMA organizations, and in Swagger's case, he's actually doing pretty well.