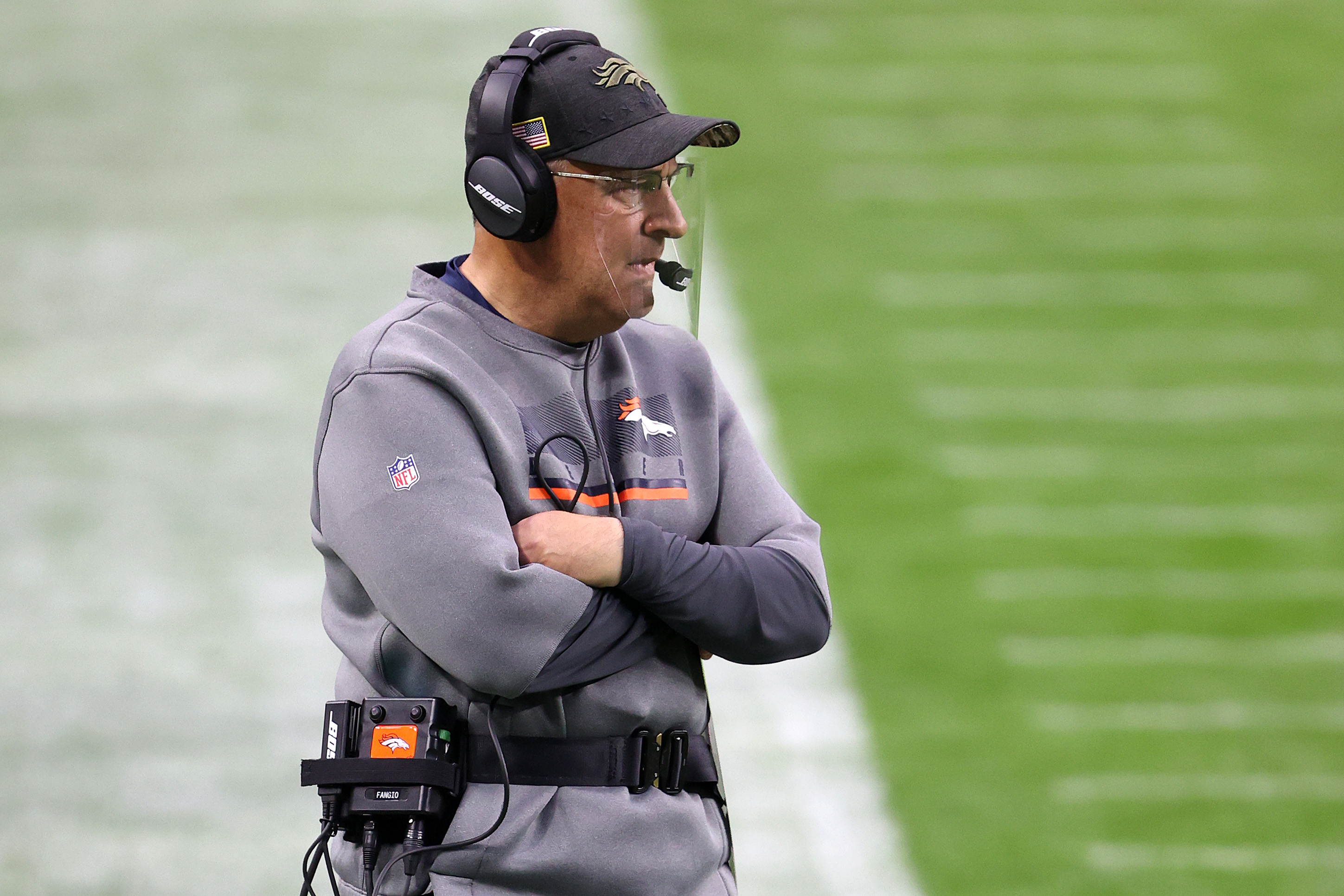 Broncos Coach Vic Fangio Calls Out His Quarterbacks After Sunday's Debacle
Denver Broncos head coach Vic Fangio called out his quarterbacks after Sunday's debacle against the New Orleans Saints.
From a football standpoint, the Denver Broncos were embarrassing Sunday. How could they not be? All four of their quarterbacks were inactive after being placed on the reserve/COVID-19 list. The NFL showed no mercy, forcing them to play their game as scheduled. After the game, Broncos head coach Vic Fangio called out, not the NFL, but his own quarterbacks.
The Broncos got some tough football news Saturday
One day before hosting the New Orleans Saints, the Denver Broncos were delivered some tough football news. They would have to play the Saints, a team riding a seven-game win streak, without a quarterback. While the Saints were without starting quarterback Drew Brees due to injury, the Broncos were without all quarterbacks due to COVID-19.
Backup quarterback Jeff Driskel had tested positive for the virus Thursday, according to ESPN's NFL Insider Adam Schefter. All three of the other Broncos quarterbacks – Drew Lock, Brett Rypien, and Blake Bortles – were in contact with Driskel during the week in workouts and team meetings. They weren't wearing masks at the time and were considered "high-risk" because they were close contacts with Driskel.
On Saturday, it was announced that none of the four would be available to play the following day against the Saints. The NFL showed no mercy and forced the Broncos to play the game without a quarterback.
Wide receiver Kendall Hinton starts at quarterback
Not only was Kendall Hinton not drafted when he came out of college, he's not even a quarterback. Yet, Hinton lined up at quarterback when the Denver Broncos were forced to play the New Orleans Saints without one. A day after learning the team's four quarterbacks were inactive due to COVID-19, Hinton filled in.
Statistically, he wasn't in the running for Player of the Week, but he took one for the team. Hinton completed one of nine passes for 13 yards. His team only put up three points in a 31-13 loss, but if there is someone who ever got thrown into an NFL fire, it was Hinton on Sunday.
Hinton began his college career as a quarterback, starting two games as a freshman. He missed his sophomore season due to injury and then was relegated to the backup role when he returned. In his senior year, he transitioned to wide receiver and has 73 receptions for 1,001 yards. He was signed to the Denver Broncos practice squad as an undrafted free agent in 2020.
Broncos coach Vic Fangio calls out his quarterbacks
If the NFL cared more about integrity than money, the league would have rescheduled Sunday's Denver Broncos vs. New Orleans Saints game. Forcing a team to play a game without a quarterback due to COVID-19 issues is ridiculous. Other games have been moved due to issues with the virus, but the league made the Broncos play.
Yes, the Broncos quarterbacks didn't wear masks while working out with a teammate who later tested positive. According to USA Today, the Broncos said Saturday that Lock, Rypien, and Bortles "have consistently tested negative for COVID-19" and weren't experiencing symptoms. Pushing the game back a day or do, as the league has done several times this year, would have given the team an opportunity to play with a quarterback. The league said no.
Broncos head coach Vic Fangio took the high road and didn't blast the NFL. Instead, he called out his quarterbacks and then laid some blame on himself. "I was disappointed on a couple levels: that our quarterbacks put us in this position, that our quarterbacks put the league in that position," Fangio said, according to ESPN. "We count on them to be the leaders of the team, the leaders of the offense, and those guys made a mistake, and that is disappointing. Obviously, I haven't done a good enough job of selling the protocols to them when they're on their own … There was a failing there, and that's disappointing."