The Brooklyn Nets Just Received an Unexpected Invitation to Shore Up Their Biggest Need by Reuniting With an Old Friend
The Brooklyn Nets don't exactly need any more help in their quest to win an NBA title in 2022. Their three-headed monster of Kevin Durant, Kyrie Irving, and James Harden is back and finally healthy at the same time. The Nets also added Patty Mills and Paul Millsap this offseason for some much-needed veteran depth, and they drafted an NBA-ready scorer in LSU's Cam Thomas.
Brooklyn already has a championship-caliber roster, but it just received an invitation to shore up their one remaining need from an unexpected source: LaMarcus Aldridge.
LaMarcus Aldridge abruptly retired last season due to a scary heart condition
Back in March, the Nets were convinced they were on their way to an NBA championship. General manager Sean Marks had recently pulled off a trade for Harden, and he was also able to add Blake Griffin and Aldridge to complete the NBA's newest superteam.
Nothing could stop this Brooklyn team from achieving its ultimate goal.
But injuries started to pile up quickly for the Nets, as both Durant and Harden missed time in April. Aldridge suddenly became the starting center, but that unfortunately didn't last very long.
In a shocking development, Aldridge announced his retirement from the NBA on April 15. The 36-year-old revealed he played his last game against the Los Angeles Lakers with an irregular heartbeat, an experience he described as "one of the scariest" of his life. Just like that, his incredible NBA career was over.
Or so he thought.
Aldridge returns to the NBA after being cleared to play again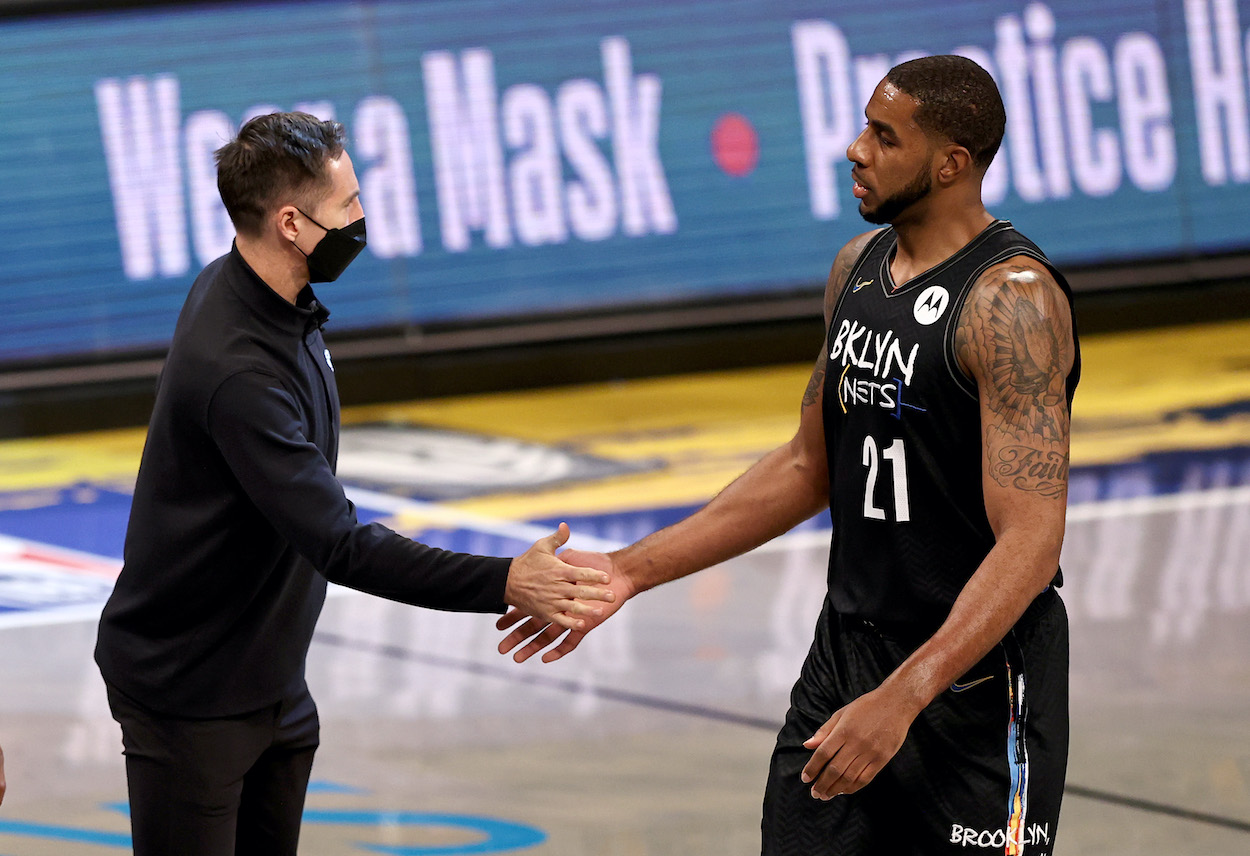 Aldridge's sudden retirement last season was a shock to the Nets and NBA fans around the country. But the latest development on the big man's health is somehow even more staggering.
On Thursday, Shams Charania of The Athletic reported in a tweet that Aldridge has been cleared to play basketball again, and he'll be coming out of retirement to rejoin the NBA this season. Charania also noted the Nets are the "leaders" to sign their old friend.
What a miraculous turnaround for Aldridge, who now gets the chance to rejoin arguably the best team in the NBA and compete for his first career championship.
An unexpected invitation to shore up the Nets' biggest need
The Nets have somehow improved their roster from last season to this one. Durant, Irving, and Harden will make up the best trio in the NBA if they can stay healthy, and Mills and Millsap are both underrated signings with plenty of postseason experience.
The only thing missing? A starting center.
DeAndre Jordan is the only true center on Brooklyn's roster right now, and he's not a starting-caliber talent at this point in his career. Aldridge, on the other hand, started five games for the Nets last season and supplied them with a capable big man who can step out and spread the floor for their three superstars.
This should be a no-brainer for Marks to bring Aldridge back.