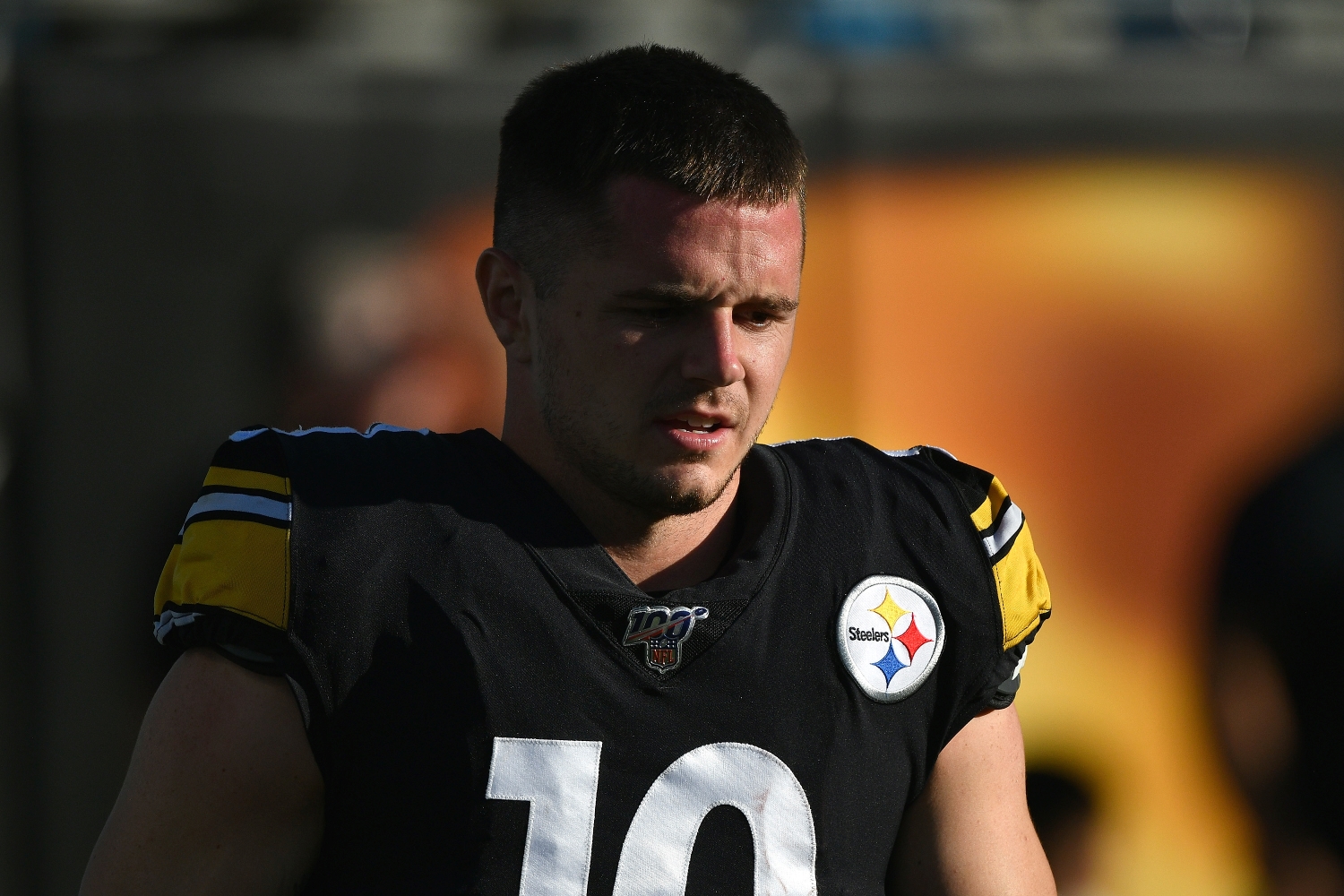 Browns WR Ryan Switzer Sends Heartbreaking Message After 9-Month-Old Son Wakes Up in Own Blood
Browns WR Ryan Switzer sent a heartbreaking message about a scary-sounding health situation with his 9-month-old son, Christian.
Ryan Switzer became a father last May.
In September, he got waived by the Pittsburgh Steelers.
On Saturday morning, the Cleveland Browns receiver experienced a scary situation when his 9-month-old son woke up in his own blood. While details remain scarce, it didn't take long for the NFL community to respond to Switzer's heartbreaking message about a situation no parent would want to go through.
Ryan Switzer made an impact on and off the field in Pittsburgh before he came to Cleveland
The Dallas Cowboys selected Ryan Switzer in the fourth round of the 2017 NFL draft. Although the University of North Carolina product only caught six passes for 41 yards, he flashed big-time skills as a kick and punt returner. Still, that didn't stop Jerry Jones from trading him to Oakland.
Just four months later, the Steelers acquired Switzer in a deal that essentially amounted to a late-round pick swap. Moving to Pittsburgh gave him a chance to finally showcase his skills as a receiver.
In his first year with the AFC North franchise, Switzer caught 36-of-44 targets for 253 yards and a touchdown. He also handled return duties.
More importantly, his production helped kids in need.
During the 2018 season, the young wideout created the "Ryan Switzer Reception Challenge" to raise money for the UPMC Children's Hospital of Pittsburgh. In November, he agreed to donate $40 for each reception he recorded for the remainder of the year, including the playoffs. Thanks to the generosity of many donors, Switzer's campaign ultimately raised more than $18,000.
Although his follow-up season only featured eight catches on a mere 81 offensive snaps, Switzer clearly made an impact off the field in Pittsburgh before his football journey took him to Cleveland.
Switzer received a surprise when he became a father in 2020
Just a few months before the Steelers waived him, Ryan Switzer received a much different surprise that had nothing to do with his NFL career.
In January 2020, Switzer posted on Instagram about his excitement about having a daughter in the near future.
But when his wife gave birth in late May, the results caught everyone by surprise. Instead of permanently adding #girldad to his vocabulary, Switzer got a chance to hold his son for the first time.
His wife took to Instagram to deliver the news to the rest of the world.
"Meet our SON, Christian Francis Switzer," Gabie Switzer wrote in her caption. "I felt so many emotions as they placed this little BOY on my chest but, we are absolutely in love!!! The sweetest surprise born May 25th, 8 lbs. 2 oz. WELCOME TO THE WORLD MY SWEET SON!!!"
The NFL wideout shared his reaction to the birth of his son on Instagram, too.
"You're perfect in every way my boy! Welcome to the world, Christian. Thank you God for a healthy mommy & baby," he wrote.
Browns WR sends heartbreaking message about his son's health situation
Browns fans may not know Ryan Switzer very well, but the city of Cleveland—along with the rest of the NFL community and beyond—will assuredly have him in their thoughts and prayers after the 26-year-old took to Twitter to deliver a heartbreaking message about his son on Saturday morning.
"I'm asking everyone that this tweet comes across to please just take a second and say a prayer for our son Christian. He's 9 months and currently in the hospital after he woke up in his blood. He's Covid positive," Switzer wrote.
While further details have yet to emerge, the Browns wideout has received plenty of responses to his tweet about his son's health situation.
Steelers linebacker T.J. Watt tweeted, "Thinking about you and your family Switz!"
Longtime NFL personnel executive Michael Lombardi also responded to Switzer's tweet with a message of support.
"My thoughts and prayers are with you and your family," he tweeted.
Like Sportscasting on Facebook. Follow us on Twitter @sportscasting19.