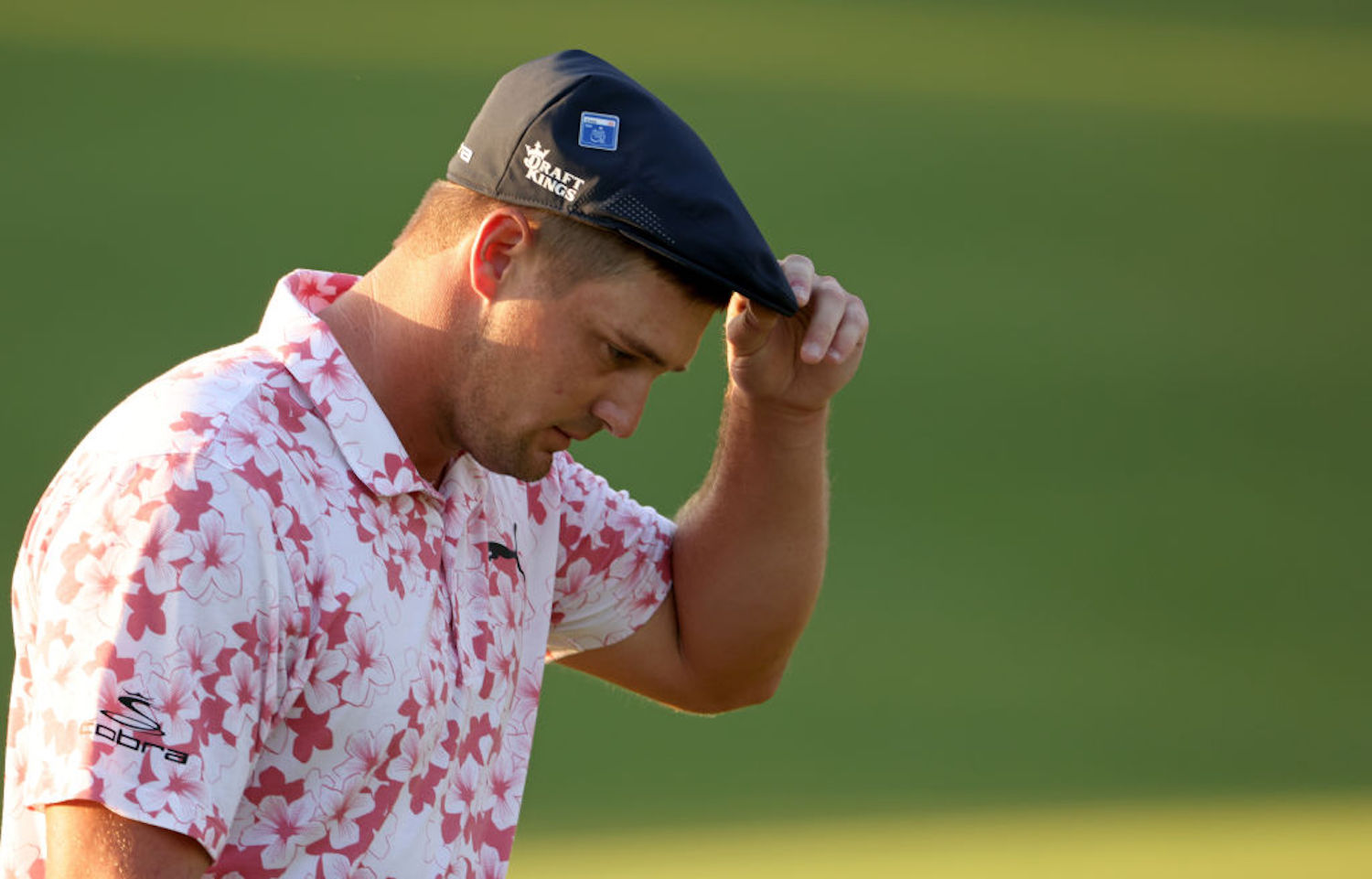 Bryson DeChambeau Barely Made the Masters Cut After Calling Augusta National a Par 67
Bryson DeChambeau had high expectations heading into the 2020 Masters, but it turns out distance isn't everything in golf.
Bryson DeChambeau entered the 2020 Masters Tournament with sky-high expectations. Many in the world of golf believed he would break an unbreakable course in Augusta National with his mammoth drives and a hot putter.
DeChambeau himself was so confident in his ability to dominate Augusta that he called the course a par 67 prior to the tournament, insinuating it was an easy track for him. Well, apparently not that easy.
Bryson DeChambeau called Augusta National a par 67
Heading into the 2020 Masters Tournament, Bryson DeChambeau was teeming with confidence. And why wouldn't he be? DeChambeau won the U.S. Open by six strokes just two months ago. He was the only player in the field to finish under par.
DeChambeau's recent success was due in large part to his increasing length off the tee. The bomber finished the 2020 PGA Tour season with an average of 322.1 yards per drive, which is the highest mark in PGA Tour history in a single season.
He's only hitting it further this season, too. DeChambeau is averaging 344.4 yards per drive over his first two events of the 2021 season. With four reachable par-5s at Augusta National, DeChambeau believed he would have an easy time with the historic course.
The 27-year-old spoke to the media before The Masters teed off on Thursday.
I'm looking at it as a par 67 for me because I can reach all the par-5s in two, no problem. If the conditions stay the way they are, that's what I feel like par is for me. That's not me being big-headed. I can hit it as far as I want to.

Bryson DeChambeau
Augusta is making Bryson eat his words
DeChambeau entered the 2020 Masters as the odds-on favorite to win his first green jacket and second major championship in two months. Experts and fans alike believed he would overpower Augusta National on his way to a historically low score this weekend. Even DeChambeau himself talked about how easy the course would be for him.
Well, Augusta National clearly heard his statement, and it doesn't appreciate getting disrespected.
DeChambeau started the tournament with a 2-under 70 in round one. The Internet got a good laugh at his expense when he hit his approach shot to the par-5 13th hole into the bushes past the green. He proceeded to hit a provisional ball in the creek and make a double-bogey seven.
He followed that round up with a 2-over 74 on Friday. DeChambeau recorded seven bogeys or worse during round two.
DeChambeau barely made the cut after calling Augusta an easy course
DeChambeau was so confident in his ability to break Augusta National that he expected himself to shoot at least 5-under in every round of the 2020 Masters. So much for that.
DeChambeau needed a little luck on Friday just to make the weekend. He made the cut at even-par on the number after rounds of 70 and 74 to start the tournament. He rebounded with a 3-under 69 on Saturday, but he won't even be close to contention come Sunday afternoon.
As it turns out, distance isn't everything in golf. If DeChambeau played to his par-67 prediction, he would be 12-over par through three rounds at the 2020 Masters. Maybe Augusta isn't so easy after all.