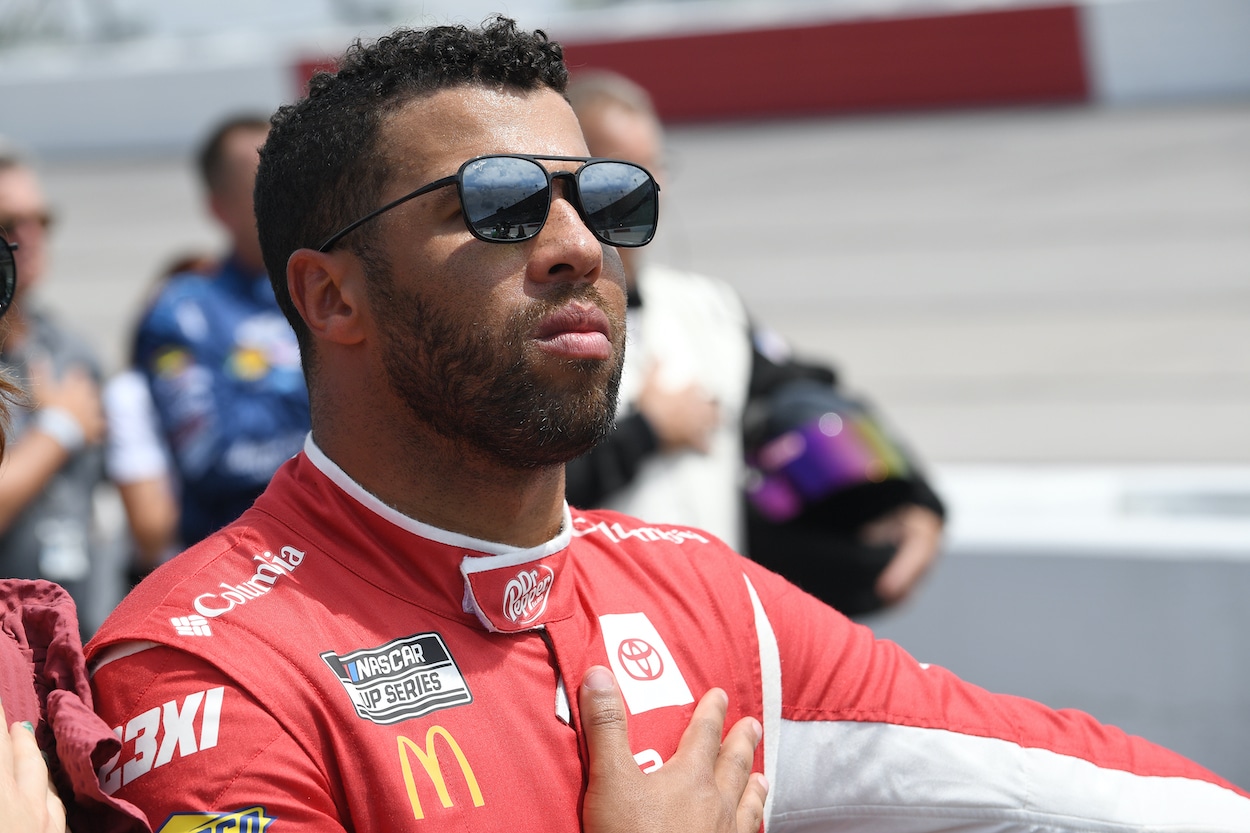 Bubba Wallace Unexpectedly Apologized to Michael Jordan Over the Team Radio at Darlington for the Fine He Expected to Receive Due to His Bad Behavior  
Bubba Wallace surprisingly apologized to 23XI Racing team co-owner Michael Jordan over the team radio during the race at Darlington for his bad behavior that he expected would be worthy of a fine.
Bubba Wallace finished fifth on Sunday at Darlington Raceway, his second fifth-place finish in as many weeks. Encouraging results at the halfway point of the regular season. 
While the 23XI Racing driver was pleased with the overall finish, he was noticeably unhappy in post-race interviews, cursing several times when talking about what happened in the race's final laps that changed the outcome and possibly even better finish for the No. 23 car. 
Interestingly, the 29-year-old driver forewarned of this intense reaction several minutes before the race ended over the team radio when he also apologized in advance to Michael Jordan.
Bubba Wallace finishes fifth at Darlington
Coming into Sunday's race at Darlington, Bubba Wallace had high hopes, but it wasn't based on his previous results at the Lady in Black, which included a single top-10 finish in nine attempts. It was all due to the confidence from his recent run of races, which included two top 10s, a 12th, and a 28th at Talladega, where he was leading on the final lap. 
The No. 23 car came out of the gates strong over the weekend in qualifying, advancing to the second round and posting what appeared to be the best time in the finals until Joe Gibbs Racing teammate Martin Truex Jr. edged him out in the second-to-last run. 
Starting the race on the front row, Wallace had a solid first stage and fell back a spot to finish third. Unfortunately, a bad pit stop dropped the 23XI Racing car back in the middle of the pack to 18th. 
In the final stage, Wallace worked his way forward and ran between 11th and 15th. He sat in 13th when a caution came out with 18 laps to go. On the next restart, the No. 23 Toyota started seventh in the outside lane when chaos broke out and numerous cars crashed in front of him. 
Wallace dropped down low on the track and passed the carnage, and appeared to be in sixth position based on all of the cars that first cleared the accident. 
Wallace apologizes in advance to Michael Jordan for what he plans on saying
A few minutes after safely navigating through the crash, Wallace received a communication from his spotter Freddie Kraft identifying his track position on the upcoming restart.
"Behind the 12. In front of the 31," his spotter told him over the radio.
Wallace sarcastically laughed. 
"Dude. Sorry Steve, MJ. I might get fined after this f****** race," the driver surprisingly admitted. 
During a sporadic conversation over the next minute, he was informed about other cars lining up in front of him that were damaged, including the Nos. 9, 6, and 12. 
"You do know why, right?" the driver asked, questioning his team if they understood why he might get fined.  
"I hope it's because you send his ass into somebody. No. It don't matter," crew chief Bootie Barker told his driver.
"All three cars you just talked about were involved in the wreck but they're in front of us," the driver said. "This is f****** mind-boggling."
"Understood brother," the crew chief replied. "Trying anything we can do to help you, but I know." 
Can't hide frustration during interview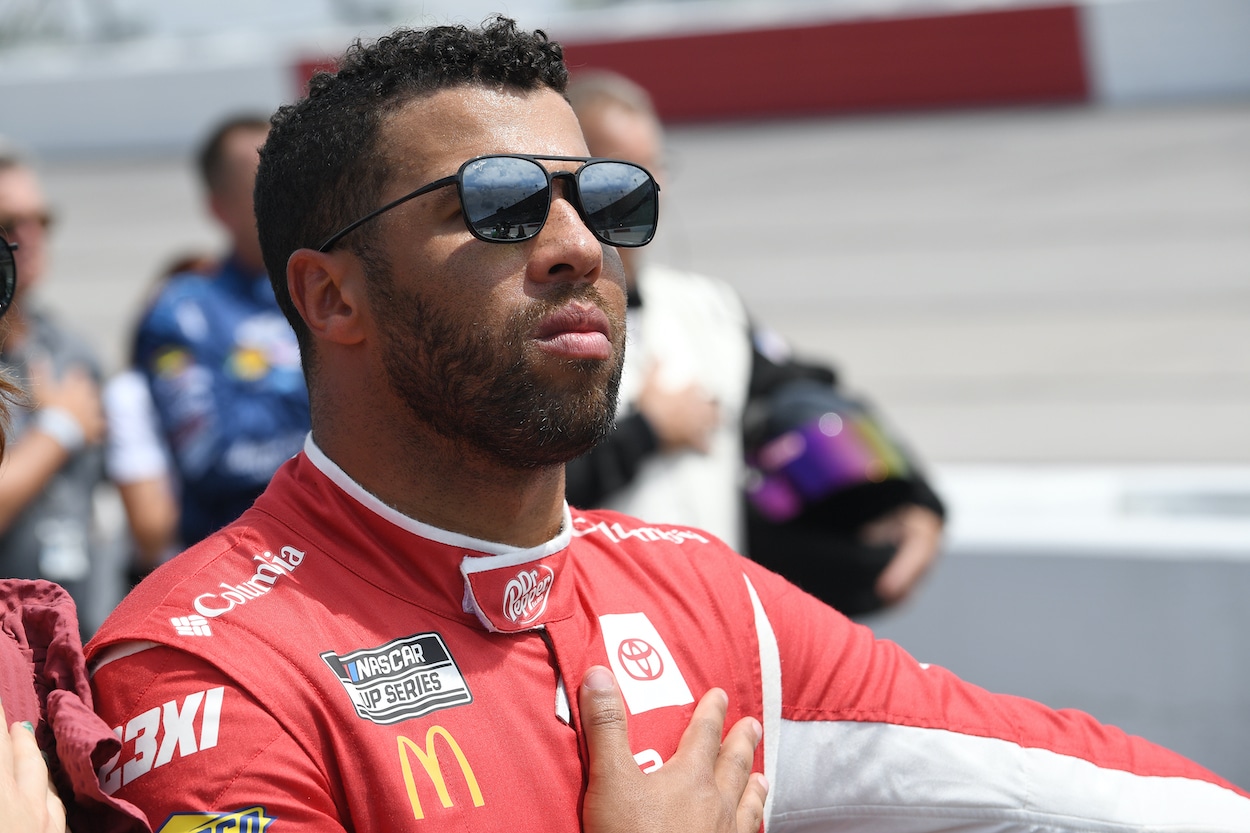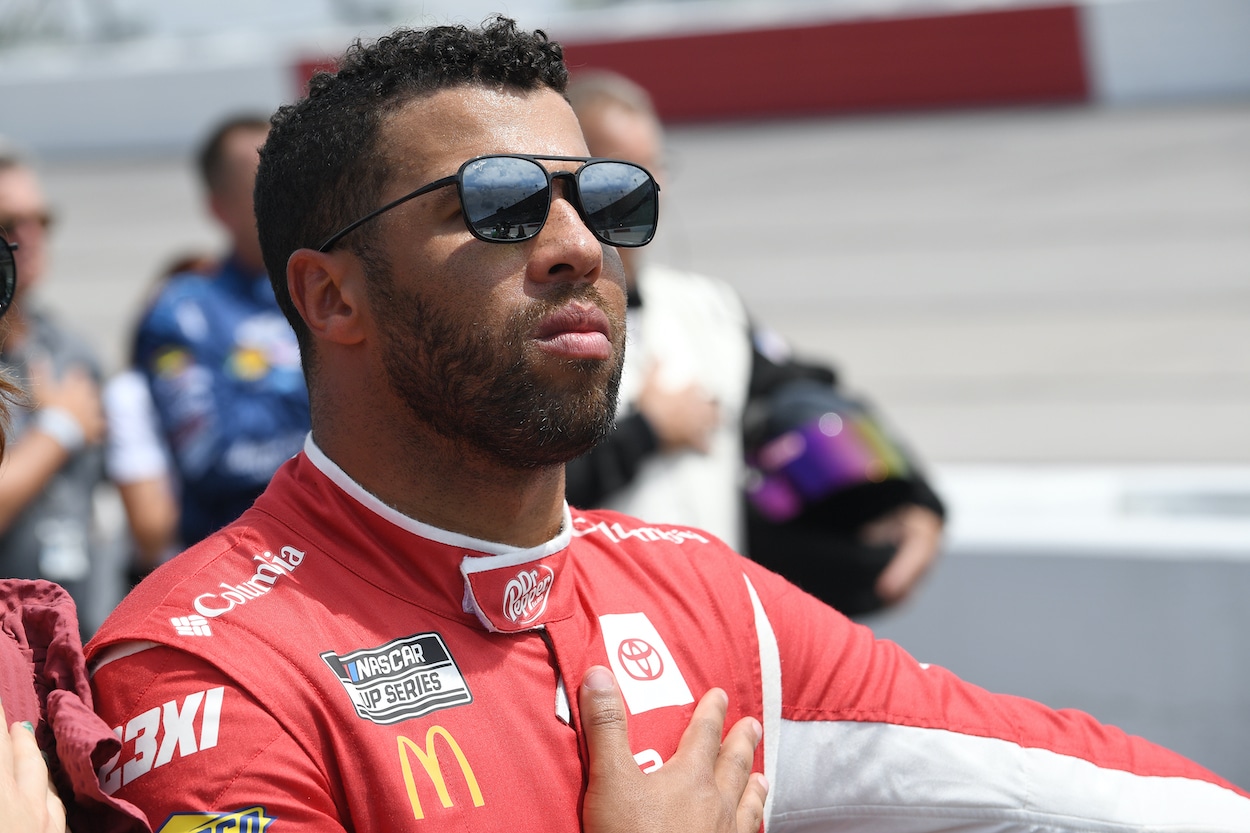 After finishing fifth, Wallace talked with MRN in his first post-race interview and didn't hold back on what he thought about the order on the restart. Interestingly, he started his remarks with another apology.
"Yeah, sorry Toyota, Dr. Pepper, but it's absolute bulls*** how — what the 6, the 9, they all finished ahead of us and were in a wreck. Just doesn't make any sense to me," Wallace said. "All in all, happy with our day. We struggled on pit road. These guys are strong so we'll bounce back next week. Just wasn't meant to be. 
"I feel like if we were thinking with our dipstick, we would have really had a good shot at winning this thing, which would have been nice. All in all a solid points day. Good to come out of here alive at Darlington. I got a couple of Darlington stripes but fun day. Funstrating day. Had to dig in to persevere. Thanks to everybody involved. Just got beat by some bulls***."
In Tuesday's penalty report, Wallace was not fined by NASCAR.
To stay up to date on the latest happenings in NASCAR, including breaking stories you can't find anywhere else, follow Kyle on YouTube and Twitter.