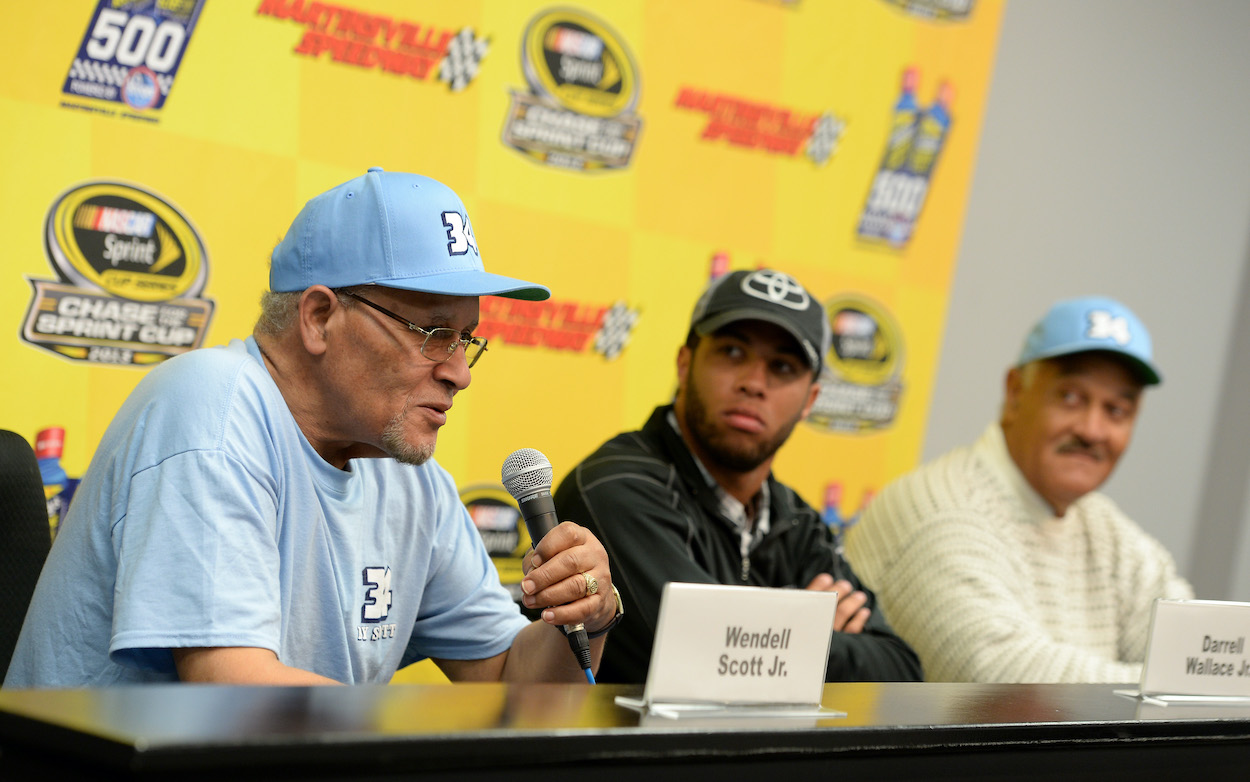 Bubba Wallace Will Begin 2022 NASCAR Cup Series Season With a Heavy Heart
Bubba Wallace starts the 2022 NASCAR Cup Series season at Daytona next week and will do so with a heavy heart.
Bubba Wallace forever linked his name with Wendell Scott Sr. at Talladega in October, when he became the second Black driver to ever win at NASCAR's top level. As had been the case throughout Wallace's NASCAR career, members of the Scott family offered congratulations to the driver.
Today, as the 28-year-old driver prepares to embark on his second season with 23XI Racing in search of that second victory, he does so with a heavy heart. Wendell Scott Jr., who has been one of Wallace's biggest supporters in his career, has died. 
Bubba Wallace linked to Wendell Scott Sr. long before Talladega win
While many made the connection between Wendell Scott Sr. and Bubba Wallace when the latter won his first Cup Series race at Talladega back in October, the two drivers have been closely linked together for years. Scott's family has been alongside the young up-and-coming driver each step of the way.
In 2013, when Bubba Wallace won his first Truck Series race, Franklin and Wendell Scott Jr. joined together with the driver after the race celebrating the momentous occasion.  
Last year, when NASCAR presented the Scott family with the trophy from Wendell's 1963 win at Jacksonville, Wallace stood on the Daytona stage with them. 
Wendell Scott Jr. dies
Just over a week from the start of the 2022 Cup Series season, Wallace shared sad news on Twitter that Wendell Scott Jr. had died. The driver didn't hide the importance of the role that Jr. had played in his life. 
"Damn gonna miss the texts after every race from the big bro!" Wallace tweeted. "Meet Jr in 2008 at Franklin County Speedway, he made a lot happen for me thru my career! May one of the best rest easy! Love you bro."
NASCAR also offered its condolences to the family. 
"From his younger days working on his father's race car, Wendell Scott Jr.'s passion for racing helped lift his father to the pinnacle of our sport," NASCAR officials said in a statement. "When his time as a competitor concluded, Wendell dedicated his life to preserving – and growing – his father's rich legacy. NASCAR is saddened to learn of his passing, and extends its deepest condolences to the entire Scott family during this difficult time."
Wallace and Scott family have special bond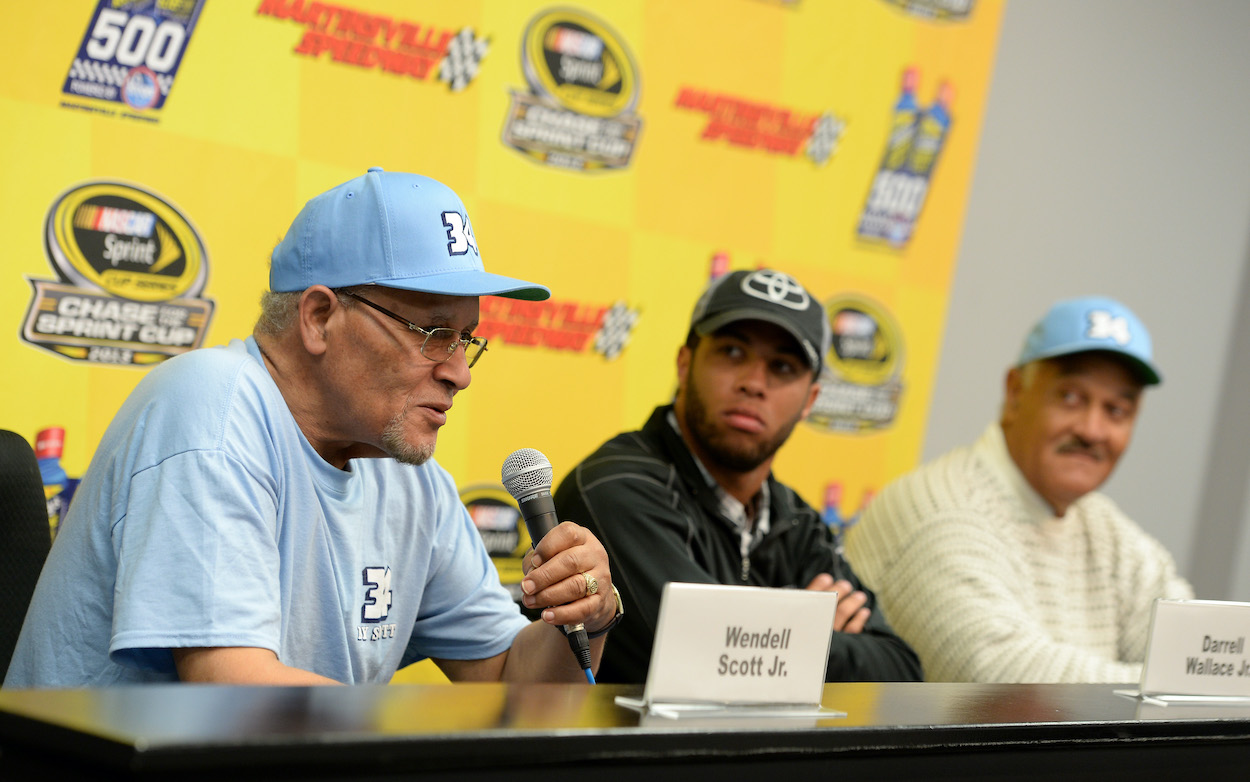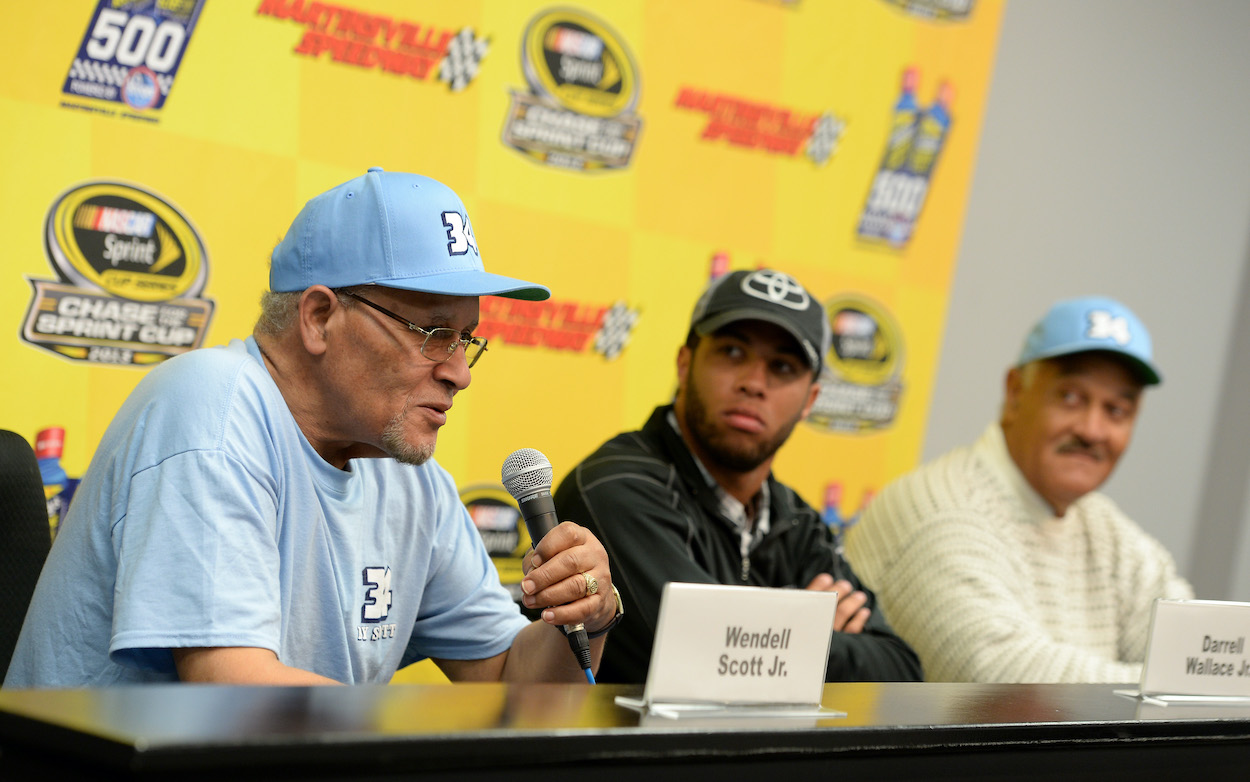 While it's natural that the Scott family and Wallace would bond through their accomplishments on the race track, it's interesting to see how it has developed into much more than that. The fact that Wendell Scott Jr. would reach out and text Wallace after each race is a remarkable gesture by itself. It shows how much he cared. 
Last year, after his win at Talladega, the 23XI Racing driver revealed how special the family was to him in a conversation with Wendell's brother, Franklin, who shared it on NASCAR Race Hub. In the discussion, Scott said Wallace had communicated with his father in heaven during the race. 
"Well, Bubba, he was talking to you," Scott told Wallace.
"He was?" the driver questioned.
"You know what he was saying?" Scott inquired.
"No. What was he saying?" Wallace asked.
"Bubba, relax, it's not going to stop raining," the son replied, which drew a laugh from Wallace.
While the news of Scott's death is sad, Wallace knows he now has an extra angel watching over him. 
Like Sportscasting on Facebook. Follow us on Twitter @sportscasting19.