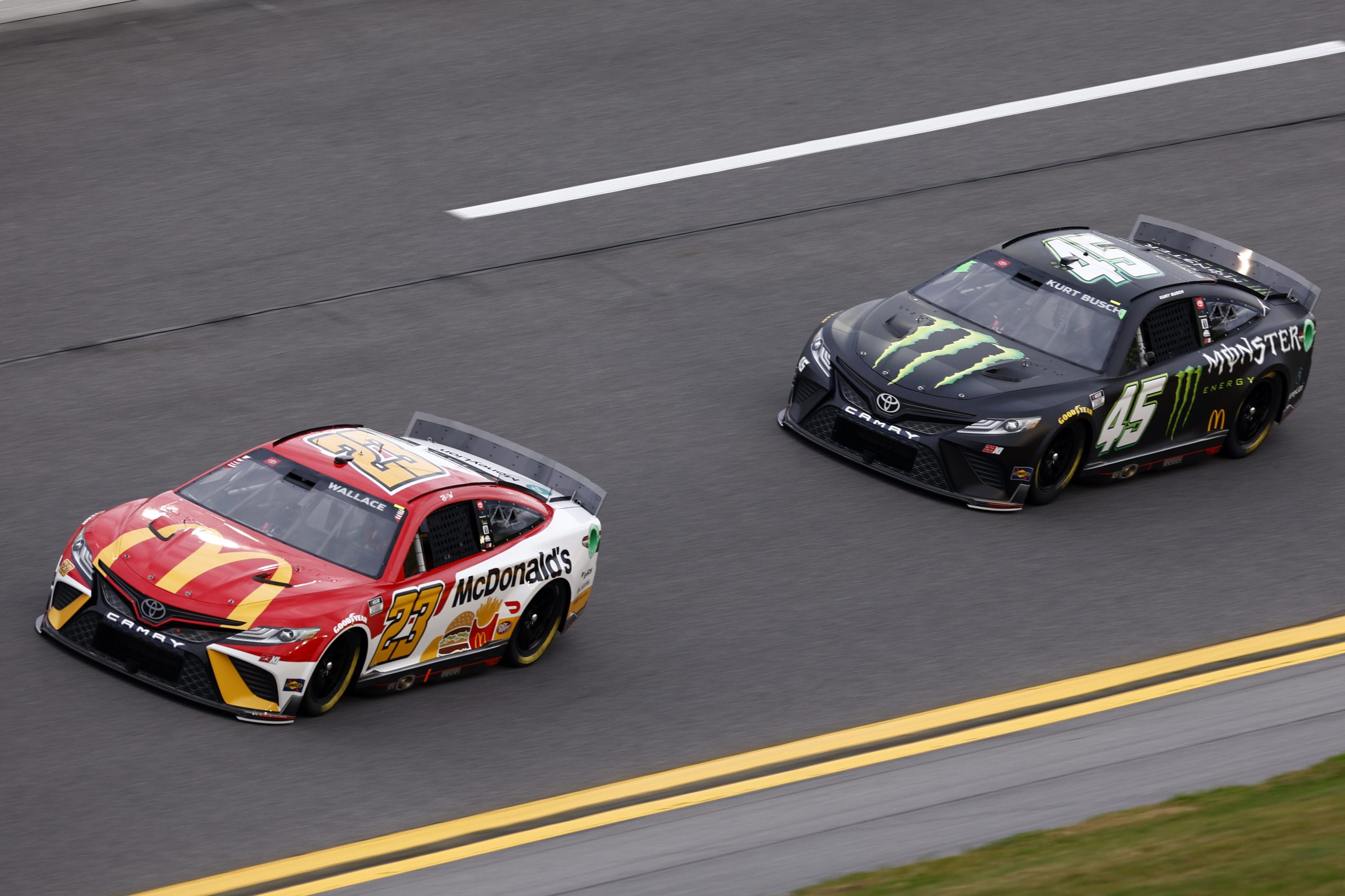 Bubba Wallace Confesses Kurt Busch Identified Lack of Preparation as 1 of His Flaws and What He's Doing About It in 2022
Bubba Wallace admitted that 23XI Racing teammate Kurt Busch is helping him become a better driver by pointing out flaws that he wasn't even aware of, like a lack of preparation.
Bubba Wallace, by all accounts, had a solid first year at 23XI Racing, winning the team and himself a first Cup Series race at Talladega in the fall. While that was undoubtedly the highlight of the season, there were several lows, including an early exit in the season finale at Phoenix.
With Kurt Busch joining the team this offseason, most pundits have predicted the 2004 Cup Series champion's experience will be a huge help to Wallace. During Daytona 500 Media Day, the 28-year-old driver visited with SiriusXM NASCAR Radio and admitted that the veteran has already pointed out one of his flaws that he wasn't even aware of during the exhibition Clash at the Coliseum. 
Bubba Wallace joined by Kurt Busch for 2022 season
Bubba Wallace won once in 2021. So did Kurt Busch. However, that was the latter's 33rd career win in the Cup Series. That's why this past offseason when 23XI Racing co-owner Denny Hamlin learned that Busch would be available in 2022, he jumped at the chance to obtain the services of the champion driver. 
"When we started this team, our vision was to grow to a multi-car organization. To be able to expand in just our second year is a huge step for us," Hamlin said in a statement during the announcement back in August. "Kurt brings a wealth of knowledge and a championship mindset to our team, and will be able to help us grow stronger and more competitive each and every week."
Fast forward several months to Next Gen testing in November at Charlotte, and Busch said what he expected in working with Wallace.
"With Bubba, we want him to jump into the program with a mindset to win and to be there at another level next year," he said.
Bubba Wallace admits Busch identified lack of preparation as one of his flaws
On Daytona 500 Media Day, Wallace visited with SiriusXM NASCAR Radio and said Busch is already pushing him to take his game to the next level, which started during the Clash at the Coliseum.
"Seeing how methodical Kurt is about everything. Just from being at the Clash two weeks ago — 'Hey, we need to get the DVR up and running in the trailer so we can go back and watch practice' — is like something I never even thought about," Wallace candidly admitted. "Just the little things. Like he wants to go back and check off every detail and to make sure that we're not leaving a stone unturned as far as driver performance and team performance. And that's like, alright, yeah, that's smart. 
"Just seeing how he is around the team, and how he's pushing everybody to be better and to think about different avenues and what he did in the past with different manufacturers. It's big to have that experience and that wealth of knowledge. I mean, hell, he's a champion for a reason. He's been around this sport for a really long time, and he's always seemed to get the job done each and every year. And so coming over in this new car, I don't know if there's anybody that's better to help digest this new car to get it to where we need it." 
What it means for 2022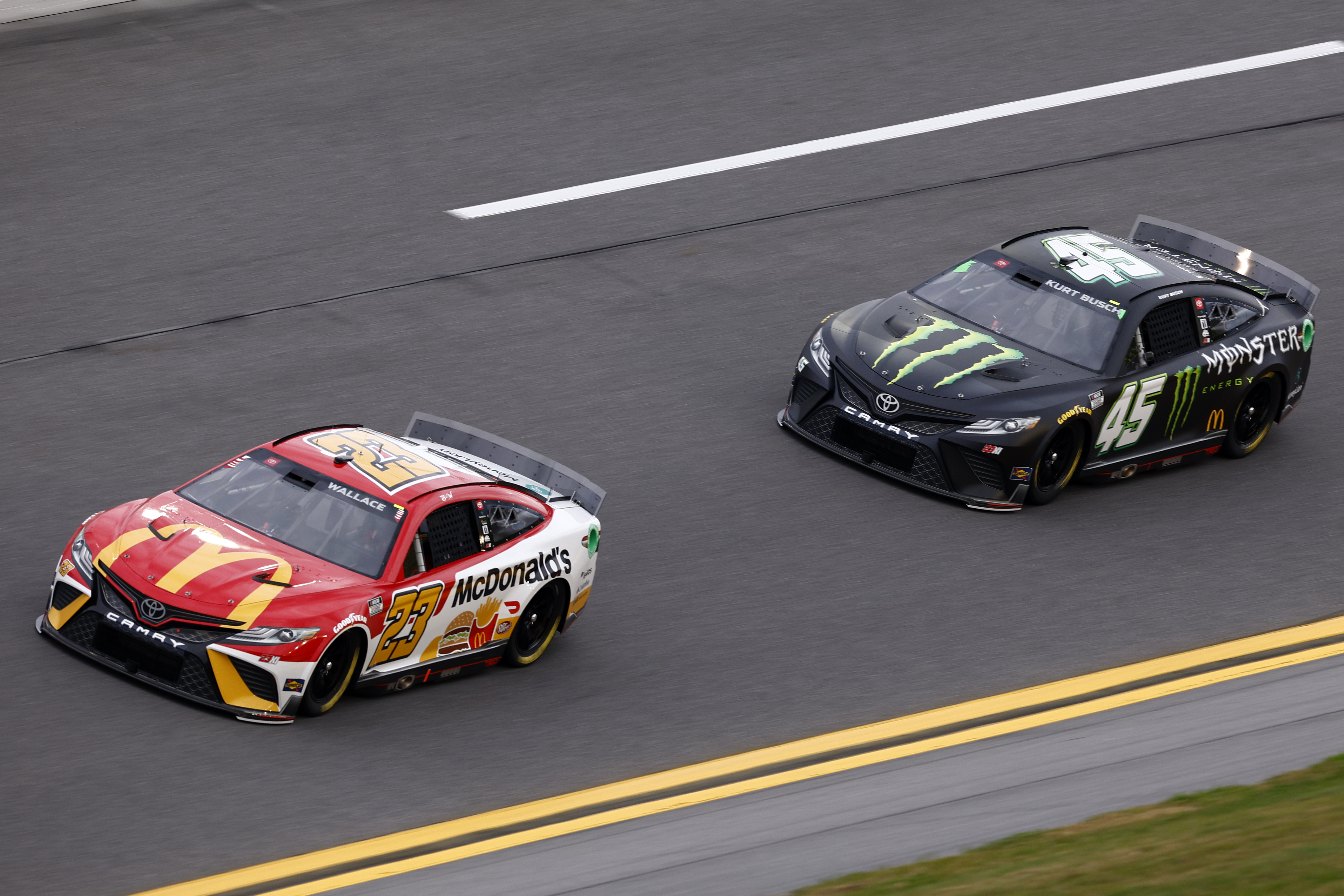 For Bubba Wallace, Busch's addition should translate into a much-improved season in 2022. A couple of wins seems more realistic with Busch's mentorship in a new car that levels the playing field than it did a year ago when the other 23XI Racing co-owner, Michael Jordan, suggested the team would win twice, and maybe more, in the inaugural season.
In addition to wins, Busch should show his new teammate how to perform more consistently throughout the entirety of a race, resulting in better finishes. Last year Busch had 14 top-10 finishes in what many would consider lesser equipment. Wallace had just three. 
As Wallace said during his radio interview, it's all in the details. If he follows Busch's lead and pays attention to the little things, like watching film of practice, it should translate into considerable improvement in 2022.
Like Sportscasting on Facebook. Follow us on Twitter @sportscasting19.