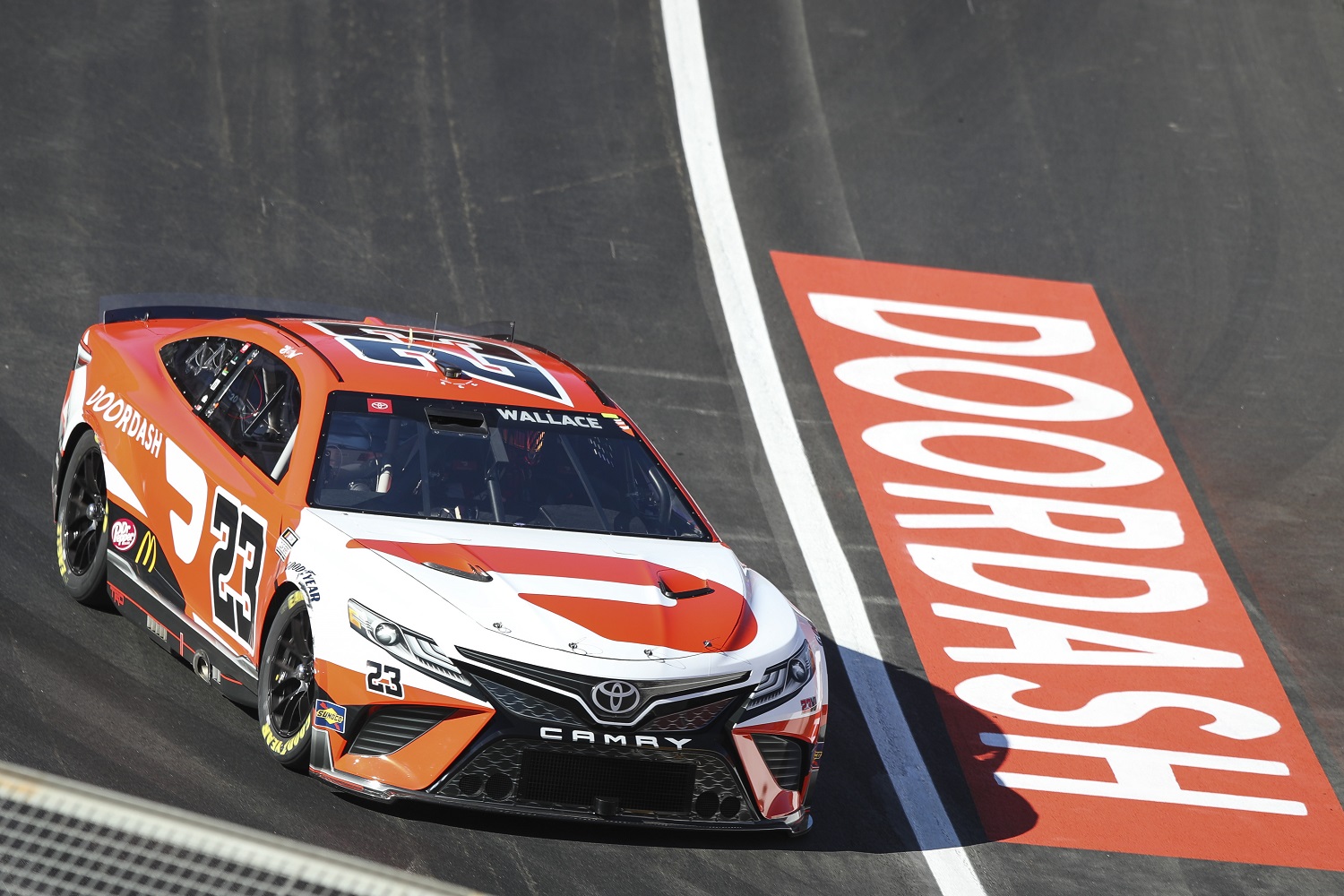 Bubba Wallace Couldn't Complete the First Practice of 2022 Without Emotions Boiling Over: 'We're Terrible. This Is a F****** Joke'
Bubba Wallace was vocal after posting the day's worst showing in practice ahead of NASCAR's Busch Light Clash at the Los Angeles Coliseum.
This is not how Bubba Wallace wanted to begin a new year after his breakthrough season in the NASCAR Cup Series. Less than 10 minutes into his day, Wallace was F-bombing away over the performance of his 23XI Racing Toyota in Saturday's practice for the much-ballyhooed Busch Light Clash.
Bubba Wallace will be up against big expectations in 2022
In a sense, it didn't matter what Bubba Wallace did after his breakthrough victory during the 2021 NASCAR Cup Series. Winning the rain-shortened Talladega race allowed him to check the key box on the to-do list in Year 1 at 23XI Racing, namely win a race. It came too late to qualify Wallace for the playoffs, but it took the pressure off after an at-times frustrating season for Michael Jordan's start-up team.
What's somewhat forgotten is that the rest of Wallace's season was uneven. Fourteenth-place finishes on the Charlotte roval and at Kansas were offset by crashes at Texas Motor Speedway and Phoenix after running a combined 43 laps. Shoulder surgery on a torn labrum followed.
The recovery and rehabilitation took Wallace out of action testing the Next Gen cars until late January in Phoenix, but that doesn't lessen the pressure. With his first Cup Series victory in the bag and the size of the team doubling with the addition of Kurt Busch, Wallace enters the 2022 season facing big expectations.
The need to win again to keep up the momentum is a given, and even his many fans will walk away disappointed if Wallace doesn't lock down his first playoff berth in his fifth full season behind the wheel. That'll be doubly true if Busch makes his annual playoff appearance.
Bubba Wallace: 'We're terrible. This is a f****** joke'
One practice does not make a season, nor even a race weekend. However, NASCAR is pulling out all the stops to turn the first Busch Light Clash conducted away from Daytona into a marque event. However, anyone putting stock in stock car racing omens should be looking at Bubba Wallace's first practice of 2022 as a bad sign.
Assigned to the first of three practice groups Saturday morning on the Los Angeles Coliseum's quarter-mile track installed for the race weekend, Wallace recorded the worst fastest lap of the 36 Cup Series drivers. His time of 14.184 seconds translated to a speed of 63.452 mph. In a sport in which margins are measured in thousandths of a second, Wallace's clocking was more than a tenth of a second behind BJ McLeod, the co-owner of newcomer Live Fast Motorsports who registered the second-worst practice time.
Chase Elliott logged the morning's best lap, covering the quarter-mile in 13.455 seconds for a speed of 66.89 mph. Kevin Harvick was next at 13.457/66.88.
Wallace fared a slightly better 34th in the practice data's measure of 10-lap runs. That was of no consolation.
"We're terrible," Wallace blurted out over the team radio, "This is a f****** joke."
Bubba Wallace might not make Sunday's Busch Light Clash field
Asked afterward what the issue was, Wallace pointed to the car's handling. It was something the 23XI Racing team couldn't address because of the tight schedule that wouldn't allow for cars to get back on time if they pitted for tweaks. That meant Wallace had to take his lumps and hope the team could figure out solutions ahead of qualifying late Saturday afternoon that will set the field for heats on Sunday to trim the race field to 23 cars.
"When you're out there getting run over, it's not fun," the driver said.
What's even less fun? The prospect of not qualifying for the feature race on Sunday, even if the Busch Light Clash is strictly an exhibition. Aside from sponsors not being happy, having to watch is demoralizing for drivers and crews, who'll have to wait two weeks to make amends at the Daytona 500.
Wallace's day did get better, however. In the qualifying session that sets the lineup for Sunday's four qualifying heats, Wallace placed 18th at 14.076 seconds and 63.939 mph. That still leaves him on the borderline for making it into the 23-car field, but the odds definitely improved.
In addition, Wallace topped the qualifying lap of teammate Kurt Busch, who was 32nd in 14.437/62.34. That was a reversal from the morning practice and made for better optics for Wallace and the No. 23 Toyota.
Like Sportscasting on Facebook. Follow us on Twitter @sportscasting19.