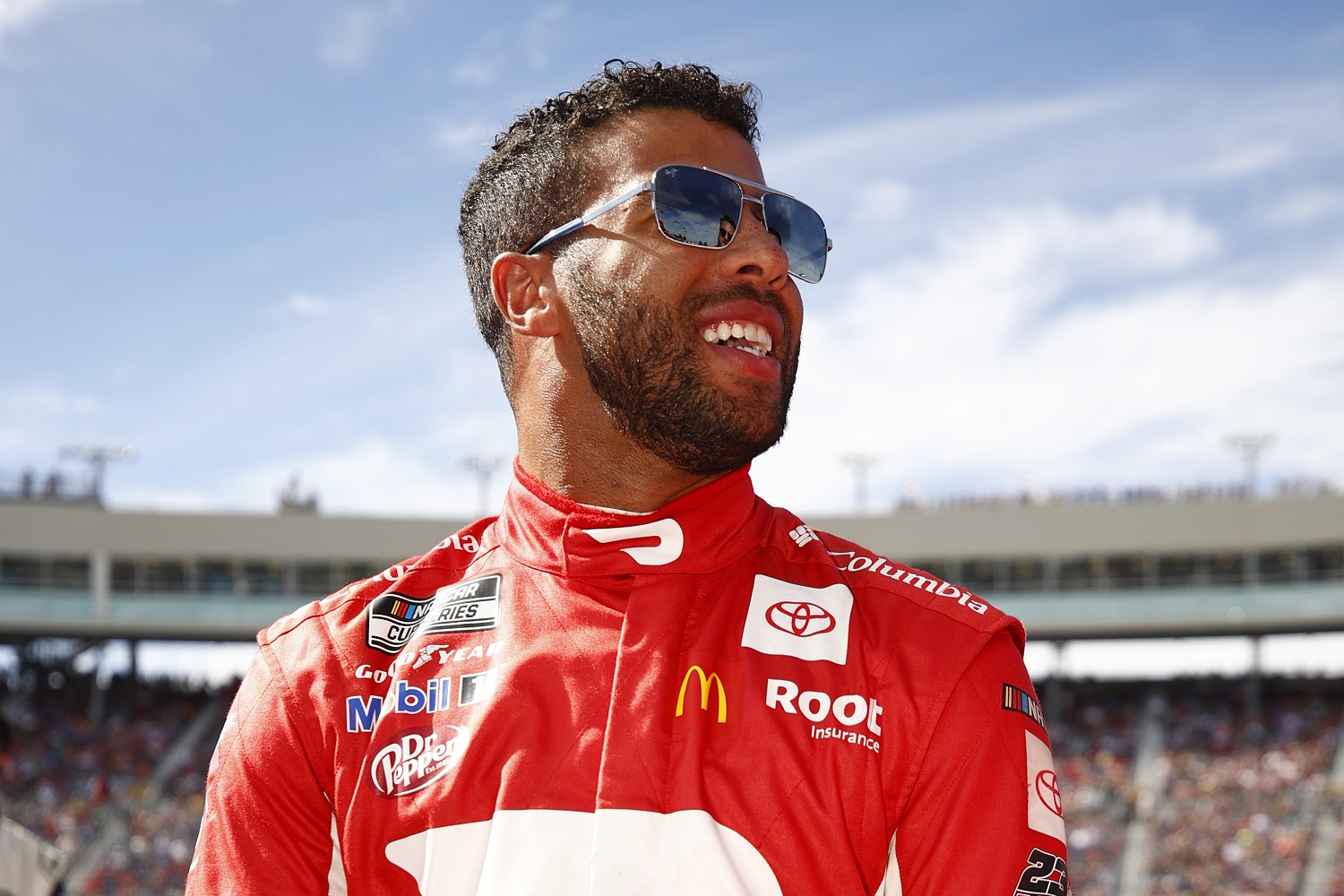 Bubba Wallace Is Over Any Michael Jordan Pressure and Faces a Different Sort of Anxiety Next NASCAR Season
Bubba Wallace cleared a big hurdle by winning his first NASCAR Cup Series race in 2021. Now, he faces the challenge of keeping up with a teammate.
Article Highlights:
Bubba Wallace scored a breakthrough win at the rain-shortened Talladega race during the NASCAR Cup Series playoffs
Wallace will drive as part of a multi-car team in 2022, a first for him in the Cup Series
Kurt Busch brings 33 victories and 22 seasons of experience to 23XI Racing
Working for Michael Jordan cannot be easy, given the high standard he maintained en route to six NBA championships and then transitioned into a successful businessman. However, Bubba Wallace certainly looked up to the challenge last season in the NASCAR Cup Series.
But Jordan wasn't always around on race day, nor did he keep hours at the 23XI Racing headquarters. So, Wallace didn't feel the 24/7 pressure of his boss. Now, though, Year 2 at 23XI brings Wallace a new challenge.
Unlike the case with Jordan, this new challenge will be staring him in the face almost every day from Daytona to the end of the season in Phoenix.
Bubba Wallace is taking some well-deserved downtime
Kyle Larson won the Championship 4 race in Phoenix to wrap up the NASCAR Cup Series championship on a day on which Bubba Wallace finished last after Corey LaJoie wiped him out on lap 25.
Larson has been on a victory tour in the five weeks since while Wallace has been on the disabled list, recovering from shoulder surgery (unrelated to the Phoenix wreck) shortly after the season. That's kept Wallace out of the 23XI Racing car during recent Next Gen tests, though the time off is deserved.
Wallace logged only three top-10 finishes as the first driver for the new 23XI team, but his fourth full-time season was successful in other ways. He registered career bests by finishing 21st in points and logging an average finish of 19.7. He also finished on the lead lap in more than half the races for the first time.
And, of course, there was his first Cup Series victory. Though rain ended the day prematurely, Wallace earned plenty of attention by capturing the playoff race at Talladega to become just the second Black driver to win a NASCAR Cup Series event.
For now, though, racing is a secondary concern. Wallace told Bob Pockrass of Fox Sports that the rehabilitation following the shoulder surgery is going well, but he does not know when he'll be able to return to the track. Next Gen testing at Daytona in the second week of January might not be in the cards.
The driver felt the weight of expectations in the 2021 NASCAR season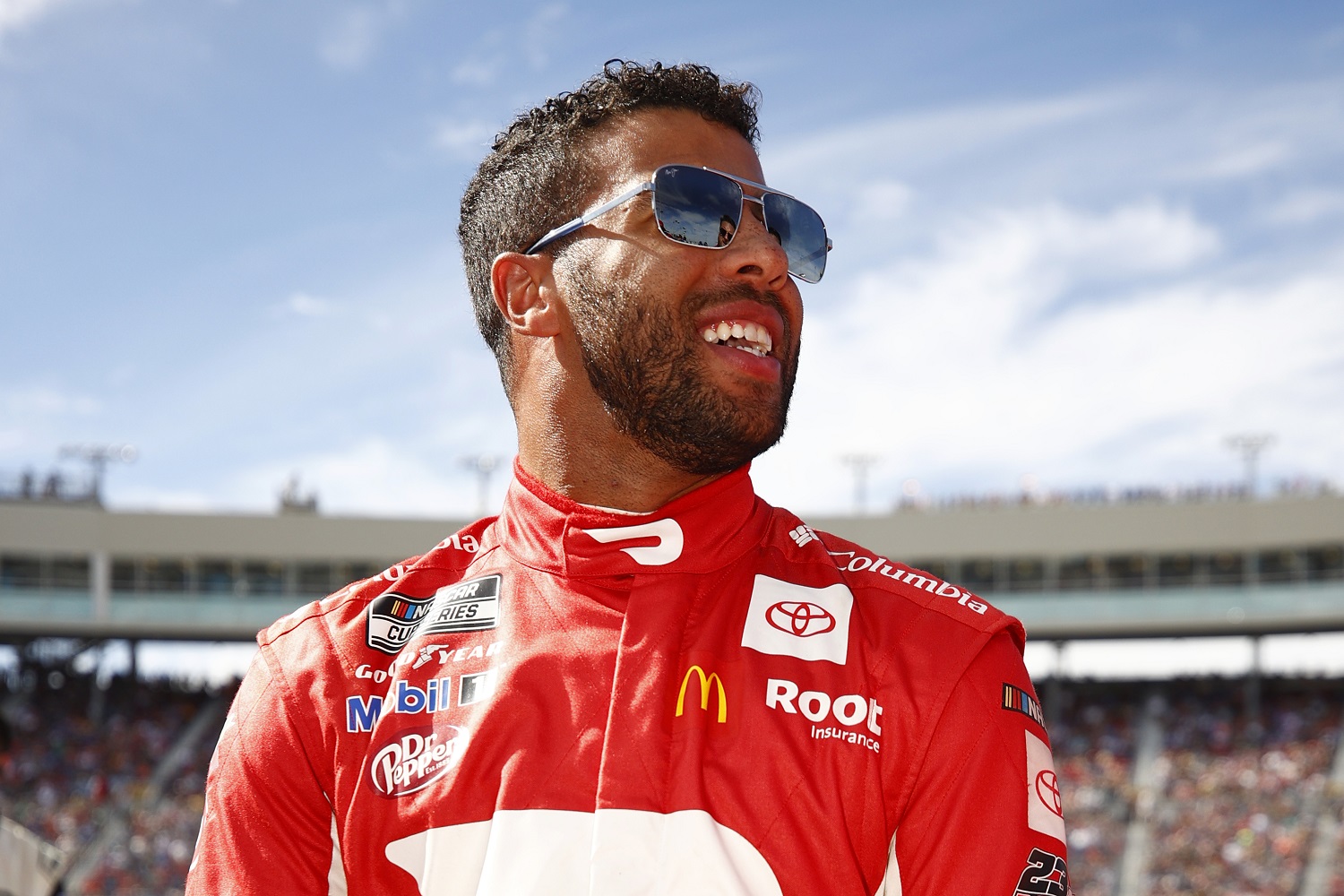 Michael Jordan's entry into the NASCAR Cup Series understandably created a stir last season. Having one of the most recognizable sports figures on the planet launch his own team put minority owner Denny Hamlin and driver Bubba Wallace in the spotlight and under scrutiny.
Winning a race in the first year of 23XI Racing shouldn't have been realistic, but it was nevertheless a goal. And there was no Kurt Busch yet, so it was all up to Wallace to rep 23XI.
Wallace spoke to Fox Sports reporter Bob Pockrass on the subject of the pressure he felt, and the driver downplayed the Jordan factor,
"All the pressure comes from within myself," Wallace said. "You know M.J. is there and I got him his first win. I told Kurt that I'm glad I got it before he came over and got that. So, we got that out of the way. That was a lot of pressure gone."
Bubba Wallace will feel a different sort of anxiety in 2022
With that first NASCAR Cup Series victory at Talladega out of the way, the next step for Bubba Wallace is to compete near the lead with more consistency. Michael Jordan's net worth, a boatload of sponsorship money, and Toyota's support mean 23XI should look like a veteran team in 2022 and show progress on the track.
But if Wallace is past the pressure of impressing Jordan, then he has new worries for 2022. For the first time since he was racing Xfinity cars for Roush Fenway Racing in 2016, Wallace is not the only driver on the team. Kurt Busch has come over from Chip Ganassi Racing, bringing with him 33 victories and 756 starts in 22 Cup series seasons.
"He's been doing this for a really long time and has had a substantial amount of success," Wallace said. "Anybody that comes in – he's definitely ahead of me – I've been able to learn from that and play catch-up as quick as I can. You know he's going to push me to be better."
If Busch is nailing down top-10 finishes and scoring a victory for the ninth straight season, Wallace risks suffering by comparison if he can't keep up. That's the way it works with multi-car teams. Still, he believes he has more to gain than to lose.
"As soon as Kurt beats me, or vice versa I beat him, we're going to be like, 'Hey, man, what was different?'" he said. "'What'd you do? What'd your team do, or what are we doing?'
"And that's how we grow together. So, it's going to be a lot of fun."
All stats courtesy of Racing Reference.