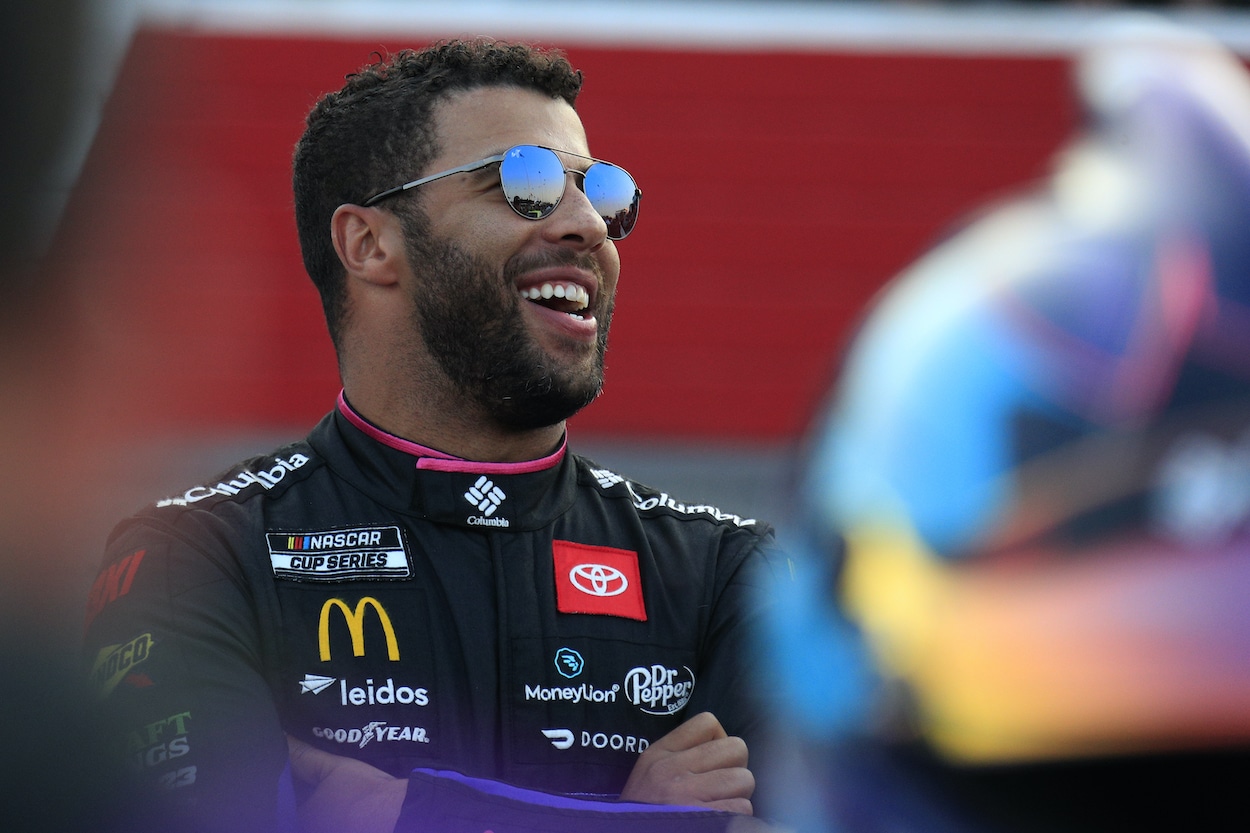 Bubba Wallace Flipping Bird on National Television Isn't an Issue, but How It's Done on Track Might Be a Concern for NASCAR Based on Another Driver's Comments
Corey LaJoie discussed Bubba Wallace flipping the bird at North Wilkesboro, talked about their own experiences with the hand gesture during races, and mentioned one incident that NASCAR officials might want to address.
Bubba Wallace had a strong outing in Sunday's All-Star Race at North Wilkesboro Speedway, finishing second behind Kyle Larson. Unfortunately, his performance wasn't what fans were talking about after the race, but the middle finger he subtly flipped in his post-race interview on national television.
This week during an appearance on SiriusXM NASCAR Radio, Corey LaJoie talked about the incident and admitted flipping the bird is not unusual for the 23XI Racing driver, offering details on how the pair regularly display the hand gesture toward each other during races, and noting one time at Michigan that might be concerning to NASCAR officials not because it's obscene, but because it's dangerous. 
Bubba Wallace flips bird at North Wilkesboro
Just a few minutes after earning his career-best finish in an All-Star Race, Bubba Wallace visited with Fox's Jamie Little on pit road, who opened the questions by asking the 29-year-old driver if it would have been possible to catch a lightning-fast Kyle Larson. 
"I don't know. I think we needed the louvers and whatever cheated up stuff they have on there," Wallace said, followed by a chuckle. "No, his capability throughout the whole run. He can attack hard and have something there at the end."
While Wallace's comments about "cheated up" parts were noteworthy, that's not what everyone was talking about after the race. Instead, the focus was on the middle finger the driver quickly flashed at the beginning of Little's first question. 
It was later reported that the driver was gesturing to a team PR person off-camera.  
Corey LaJoie addresses move and makes surprising admission
Unsurprisingly, Bubba Wallace flipping the bird has been a hot topic of discussion throughout the week on social media and radio talk shows. Corey LaJoie joined the conversation during an appearance on SiriusXM NASCAR Radio and said he and the 23XI Racing driver regularly direct the hand gesture at one another. 
"Nobody shows their emotions good or bad as often or as evident as Bubba, which that's why some people hate him. That's why some people love him," LaJoie said. "I love the guy, right? I'd take a bullet probably in like, I don't know, like, maybe the meat of like my leg for him. Maybe not the chest, but I'd take a bullet for him.
"Him and I, if we're running, if we're having a comparable day, we will throw the bird to each other no less than like four or five times. It's actually kind of a competition sometimes who can hold their middle finger out to each other the longest. He has a record of two laps with his bird out the window at Michigan so I still haven't been able to beat that amount of time with one hand on the wheel. 
"So Bubba gets out just runs second in the All Star race, right? He's feeling good. He's pumped up like you know, like Bubba, you can just like, see him lighter on his feet after a positive day. And he's like, you know, like bubbly and he's got the comments right. The first thing he said when Jamie stuck the microphone in his face like he's got the louvers or whatever. He says that as joking, but that's just Bubba man. Let him be him and being him is tossing what he probably considered an inconspicuous bird even though it's on national television. People are going to pick up on that. So you know you live and learn."
Wallace flips off other drivers regularly
Corey LaJoie's bird adventures with Bubba Wallace, while surprising, aren't anything new. Daniel Suarez has spoken of similar experiences with the 23XI Racing driver. 
"Every time I'm racing him, I give him the finger," Suarez said in a 2021 survey of Cup Series drivers when answering the question of what driver has been the most fun to race against this year. "We're good friends, and a few years ago, we had a big fight because he gave me the finger, and then it kind of became a joke after that. And every time we see each other on the race track, we give the finger for sure."
Suarez acknowledged it's just a friendly gesture toward each other. He didn't talk about any longest-bird competitions with the 23XI Racing driver. However, after LaJoie's comments, NASCAR might want to have that conversation, and at least address the matter from a safety standpoint.
To stay up to date on the latest happenings in NASCAR, including breaking stories you can't find anywhere else, follow Kyle on YouTube and Twitter.