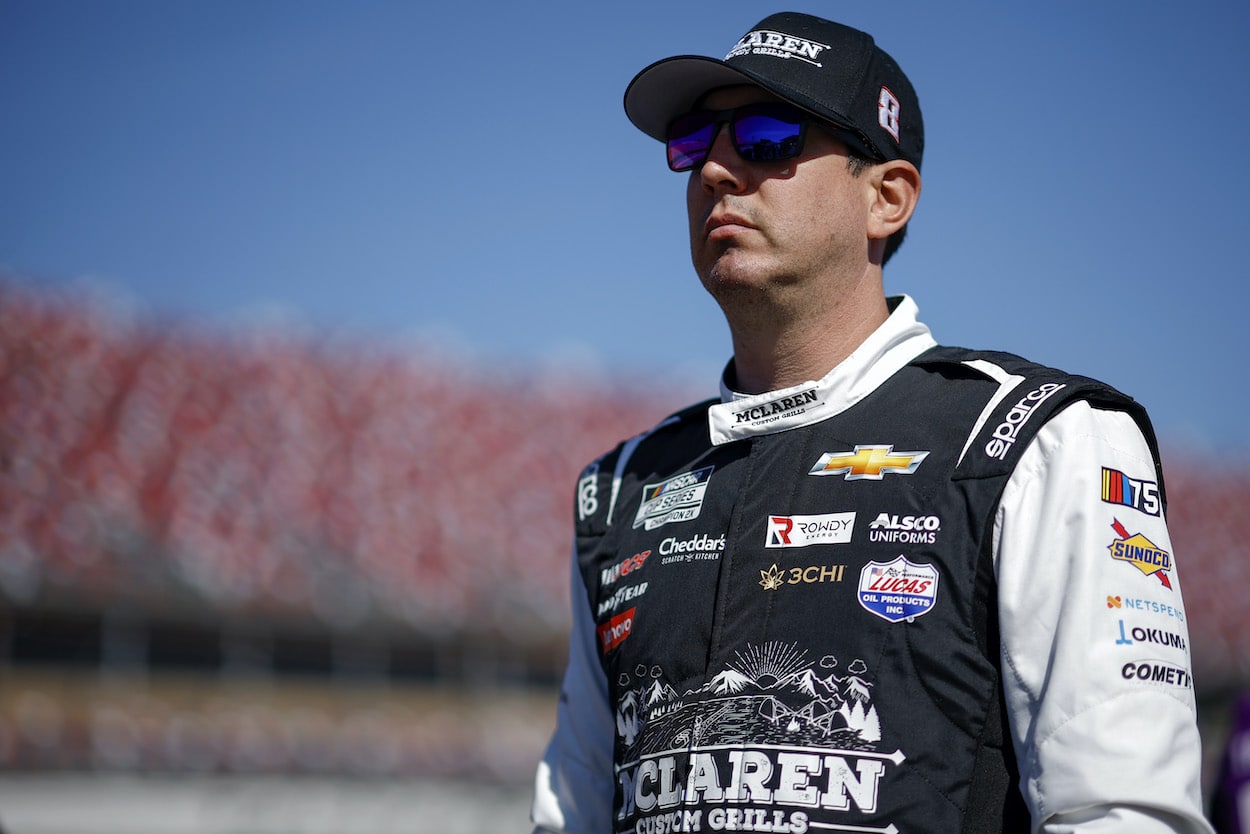 Kyle Busch Doesn't Hold Back, First Blasts Corey LaJoie, Then Takes Aim at NASCAR for Not Penalizing Spire Motorsports Driver After Comments This Week
Kyle Busch didn't mince words at Talladega, first blasting Corey LaJoie for his driving last week at Martinsville and then calling out NASCAR for not penalizing the Spire Motorsports driver for his comments.
Kyle Busch struggled last weekend at Martinsville Speedway, finishing 21st. The most notable thing about the Richard Childress Racing driver's day was the beating and banging that he did with Corey LaJoie. 
This weekend at Talladega, the two-time champion talked about last week's encounter with the Spire Motorsports driver and didn't have anything nice to say about his fellow competitor. And that wasn't all. The future Hall of Famer also called out the sanctioning body for not penalizing the driver of the No. 7 car for something he said this week.  
Kyle Busch blasts Corey LaJoie
Kyle Busch met with reporters on Saturday at Talladega — the same place a year ago he initially revealed that there were problems brewing at Joe Gibbs Racing. During this weekend's media session, there was no talk about free agency but his run-in last week at Martinsville with Corey LaJoie. The Athletic's Jordan Bianchi asked the RCR driver about the Spire driver's reputation in the garage. 
"I don't know. Ask everyone else," the 37-year-old responded. "As far as him with me, he's been a pain in the d*** to race with and pass for years — just coming up and lapping him and things like that. Every time I'm around him, it's like he tries an extra 20% harder to make sure I stay behind him. Just not fun."
Busch describes what happened at Martinsville
During that conversation, another reporter asked Busch for his version of events on what happened last week at The Paperclip.
"He was fading. I was not that great, but I was just that much better than he was, and he was running the top lane, which was my lane," Busch noted. "I tried to go to the bottom a couple of times, and my car would not run on the bottom. I could not accelerate out of the turns without getting loose, and I kept getting loose and barely nudging him and touching him a little bit, coming out of the corners. 
"And then he slammed down into me down the frontstretch and admitted it on his podcast that he wanted to crash me and create a yellow. And didn't get penalized even though Denny Hamlin did. Again, our inconsistency of consistency is — or the other way around — is impeccable."  
LaJoie admitted he wanted to wreck Busch and bring out a caution 
What Busch was referring to was earlier this week, LaJoie revisited the rough racing with the RCR driver on his Stacking Pennies podcast and admitted he was looking to get a yellow by wrecking the No. 8 car. 
"The underlying motive for everybody, and that's kind of what got my frustration with Kyle Busch when we started to door-smash each other," LaJoie said on the podcast. "You get in those positions where, if you're needing a yellow, and you're needing to pit, you're looking to wreck somebody. That's what you get because you can't afford to come down pit road and get stuck by a caution. 
"I'm bleeding. I went from like 15th to 19th, 20th. My rear tires are blown off of it. Kyle's going backwards too so he was frustrated but he drove into my left rear three different times off the corner. Boom! Like looking to cut my tire down. Maybe he wasn't but after three times. 
"Once. OK. Two, alright dude. Three. OK motherf*****. Come off Turn 4 the next time and he drove in there again. Four times. It was like over the span of six laps just driving in. So he gets to my door and I just yank a left."
Based on what Busch said, what happened at Martinsville was nothing new. It's been a regular thing in the past. Now, fans and NASCAR officials will be watching the Nos. 7 and 8 cars when they get close together because it could get interesting.
For the latest breaking news and information about NASCAR's three national series, check out @kdsportswriter on Twitter.