Corey Lajoie and Spire Motorsports Have Earned the Right to Be Taken Seriously
It's a rare day when you can point to 21st place as a great showing, but Corey LaJoie and Spire Motorsports had one of those days in the most recent summer race at the Atlanta Motor Speedway summer race.
Driver and team need more of those moments in 2023. But there's no place to go but up for either, and Spire seems to be making moves that will lead to the team being taken seriously rather than being regarded as an organization better off selling its NASCAR Cup Series charters for a profit.
Spire Motorsports is a bottom-rung two-car team for now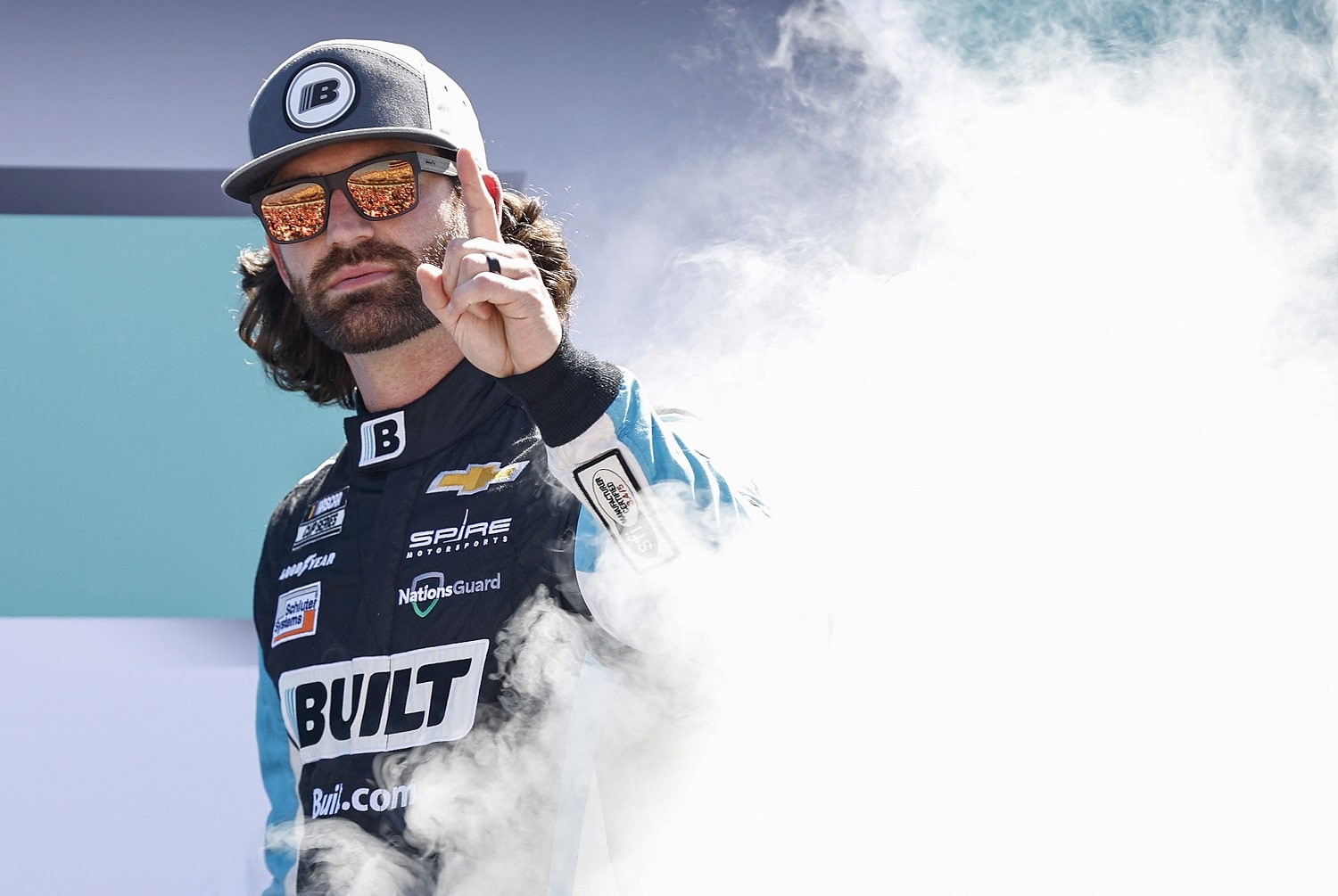 There are three tiers of two-car teams in the Cup Series heading into the second season of the Next Gen car.
At the top of the heap are Trackhouse Racing, Richard Childress Racing, and 23XI Racing. Trackhouse and RCR each put both their drivers into the 2022 playoffs, and there's no reason to think they won't do it again; Kyle Busch for Tyler Reddick at RCR is hardly a step down. And with Reddick on the move to 23XI, there's no reason that organization can't produce two winners in 26 tries.
The second tier consists of Roush Fenway Keselowski Racing, Kaulig Racing, Front Row Motorsports, and Petty GMS. The common characteristic is that all can reasonably expect to improve in 2023. RFK and Petty are rebuilding after years of neglect. Kaulig just completed its first season as a full-time Cup outfit. FRM is hamstrung by not having the resources of the others but is otherwise on terra firma.
And then there's the third tier: Spire Motorsports and Rick Ware Racing. Both have mostly been running a primary car plus one frequently handed over to drivers who bring sponsor backing. It's not a sound plan from a competitive point of view, and neither RWR Ford cracked the all-important top 33 in owners' points.
Spire Motorsports has given Corey LaJoie a teammate
Corey LaJoie finished next-to-last in points among full-time Cup Series drivers in 2022, which doesn't sound encouraging. However, that's not to say he didn't have his moments. The 31-year-old from Concord, North Carolina, finished fifth in the first Atlanta race and was in the hunt at the end of the second race there.
Chase Elliott snatched the lead back from LaJoie with two laps to go, then cut off his last-ditch move for the win. LaJoie wiped out and finished 21st, but he was much better than the 21st-best driver that day. Generally speaking, however, the No. 7 Chevy didn't hold up well anywhere other than the superspeedways.
Petty GMS decided over the summer that it would not bring Ty Dillon back for a second season, and Spire's owners announced in October that Richard Childress' grandson would become the full-time driver of the No. 77 Chevy next season.
Dillon replaces Josh Bilicki and Landon Cassill, who combined for 33 starts. He's not an upgrade over either, but Dillon offers two opportunities for team improvement. First, there's the potential for technical assistance from RCR. Second, two full-time drivers giving each other and their crew chiefs feedback each week is bound to help.
Neither adds up to much in the grand scheme of things, but the message that owners Jeff Dickerson and T.J. Puchyr send by employing full-time drivers matters. They're budgeting for two cars of their own and trying to act like a real team rather than one just sitting on two charters until it's time to sell.
Justin Haley owns the team's most memorable result
Born in December 2018 through the purchase of a charter from Furniture Row Racing, Spire Motorsports doesn't get much love from NASCAR Cup Series fans and likely won't until it can start placing drivers inside the top 25 in points.
Even the team's one moment in the proverbial sun came in the rain. On July 7, 2019, Daytona hosted the Coke Zero Sugar 400, with Spire's Justin Haley qualifying 35th. On Lap 119 of the scheduled 160, Clint Bowyer and Austin Dillon triggered a 17-car wreck. Kurt Busch pitted on the restart, ceding the lead to Haley.
That was followed almost instantly by lightning in the area, sending the field onto pit lane to wait it out. Officials made two attempts at restarts only to have lighting and rain foil the attempts. After determining a timely restart wasn't possible, NASCAR called the race and awarded Haley the victory.
Early in the 2021 season, Kaulig Racing acquired one of its two charters for its 2022 debut from Spire and signed Haley to drive its No. 31 Chevy.
Got a question or observation about racing? Sportscasting's John Moriello does a mailbag column each Friday. Write to him at [email protected]