Kyle Busch Already Receiving Special Treatment at Richard Childress, and Tyler Reddick Admits It Makes Him Jealous 
Kyle Busch has been with Richard Childress Racing just weeks but he is already receiving special treatment and perks that Tyler Reddick bluntly admits make him jealous.
Kyle Busch has an awkward connection to Tyler Reddick that happened early in the 2022 Cup Series season on the Bristol dirt. That's when the Richard Childress Racing driver was destined for victory and just feet from the finish line when the Joe Gibbs Racing driver, courtesy of Chase Briscoe dumping the No. 8, swooped in from third place and took away the win. It was a precursor of things to come.
Fast forward to the present. Busch is now the pilot of the No. 8 team, and has effectively taken over Reddick's team, including crew chief, Randall Burnett, who guided the diminutive driver to his first three Cup wins in 2022. This week during an appearance on the Door Bumper Clear podcast, the 26-year-old was a guest host and talked about Busch and what he expects of him at RCR, and candidly admitted how he's jealous of the two-time champion for the special treatment he's been receiving from Reddick's former employer.   
Kyle Busch and Tyler Reddick forever linked in 2022 season
When Kyle Busch fans look back on the 2022 season, they'll see a struggle of a year in which he won a single race, and, if they're being honest, they know that it should never have happened. The JGR driver, who ironically complained in March about Alex Bowman "backing" into a win at Las Vegas, did just that at Bristol, with the Stewart-Haas Racing No. 14 car of Briscoe spinning Reddick and himself on the final lap, allowing the No. 18 car to back into the victory. 
Little did anyone know then, but that wasn't remotely close to how the pair would be linked together by the end of the season. It started with Busch announcing an uncertain future at JGR at Talladega in April, followed by Reddick declaring his intentions in July to leave RCR for 23XI Racing in 2024. 
What happened behind the scenes isn't exactly clear and might not ever be known, but the end result is Reddick's jump to 23XI moved up to 2023 and Busch, in a shocking development, ended his 15-year run with JGR and will sit in the No. 8 seat next year. 
 Reddick admits being jealous of Busch
Kyle Busch was at Circuit of the Americas recently for a World Racing League event, with most of his No. 8 team working on a car he was jointly driving with Austin Dillon and Sheldon Creed. The future NASCAR Hall of Famer talked about the first racing effort with his new team. 
"I'm working with pretty much the No. 8 guys here," Busch said. "Randall, my lead engineer, my second engineer, all of those guys I'm going to be working with next year are here working with us on this one. Just kind of as a little group bonding deal."
While it's understandably hard to see another driver work with the crew that has helped bring you so much success, Reddick knows that's just business. However, this week during an appearance on the special edition Christmas episode of the DBC podcast, where he was a guest host, the driver talked about one piece of the business, where it appears Busch is being given options that Reddick never even knew were available to him. 
"Kyle certainly is a driver that hasn't gone over the hump yet. He's still in his prime," Reddick said. "I was a part of RCR's journey for a number of years and trying to go in the right direction, and certainly, I feel like I left RCR better than I found it. I feel like him and all my guys that were my guys for three, or four years are going to have a great opportunity in front of themselves to further their own story but Kyle's as well.
"When you look at it, I guess the only thing that I think is kind of funny is I saw that they changed the font of the eight. I never really asked for it, but I didn't think it was on the table when I was there. I'm kind of jealous of it."
Expectations high for both in 2023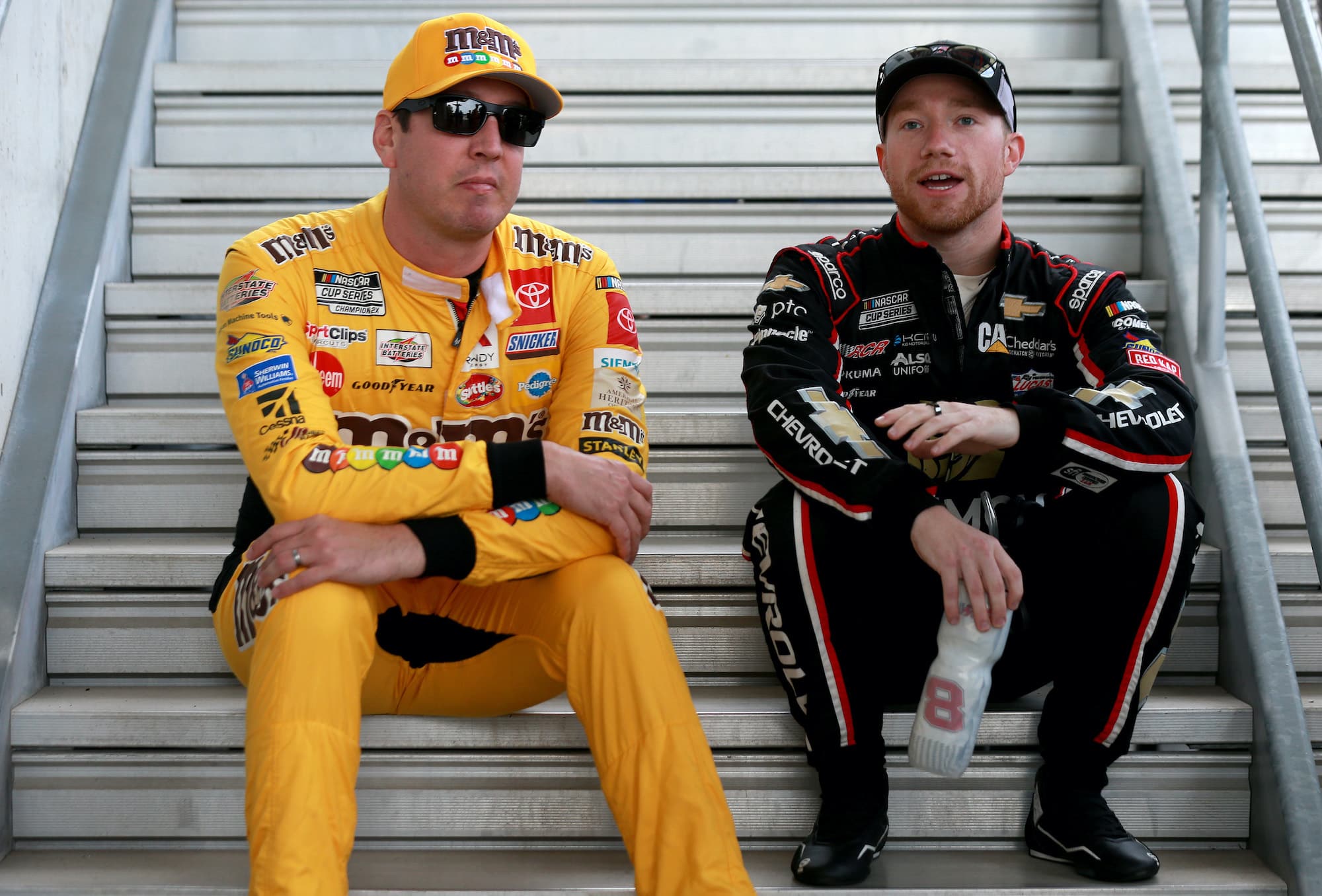 The 2023 Cup season should be an interesting one, especially the storylines of Busch and Reddick and the first seasons with their new teams. The former has something to prove. It feels like JGR had given up on him. That, coupled with the fact that Busch has struggled, winning four times in the past three seasons, should serve as motivation for the two-time champion.
Reddick oddly has more pressure on him. He willingly walked away from an organization that provided him with three race-winning Cup cars in 2022. His new home at 23XI Racing should provide him with the same top-level equipment that puts him in a position to win. He showed this past season that he knows how to close the deal — except for that one time at Bristol.
Whatever happens, you know the drivers and their fans will look back on the 2023 season and they will compare the two performances. And then the debate will begin on who fared better.