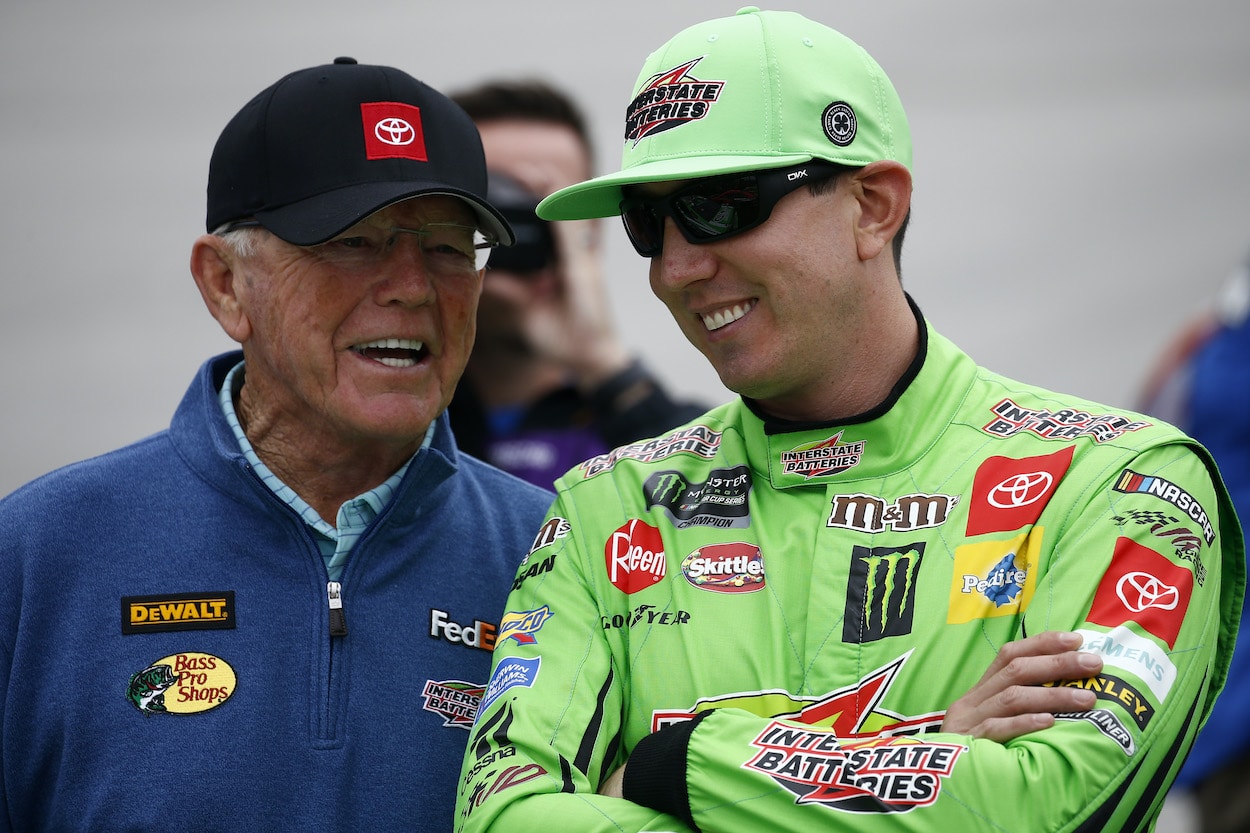 Kyle Busch's Future at Joe Gibbs Racing Could Be in Serious Jeopardy Based on Latest Comments by Team Owner
Kyle Busch's future at Joe Gibbs Racing sounds like it might be in serious jeopardy based on the team owner's latest remarks.
Joe Gibbs was ecstatic Sunday evening in New Hampshire after watching Christopher Bell earn his first Cup Series win in 2022. He was also disappointed that Martin Truex Jr. had the dominant car but came up short following a questionable pit strategy call. 
The veteran owner discussed both stories following the race and also addressed the elephant in the room — Kyle Busch's return to the team in 2023. When the 81-year-old finished his remarks, the future of the two-time Cup Series champion at JGR sounded like it could be in serious jeopardy.  
Joe Gibbs and team officials have expressed optimism about Kyle Busch returning in 2023
Since Kyle Busch bluntly admitted his future with JGR was uncertain back in April at Talladega, team officials have repeatedly insisted they were working hard and expected a deal to get done. 
"We're really confident that we're going to have that (No. 18) car squared away, sponsorship-wise, and we're trying to work on our deal right now with Kyle," Gibbs told the Charlotte Observer in April. "So I think we feel good about it."
Fast forward to earlier this month when JGR President Dave Alpern provided an update that sounded familiar. 
"We've been pretty consistent since the end of last season, which is we want Kyle to be in the (No.) 18 car and that's our plan," Alpern said. "We're still working on sponsorship, and as much interest as there is in our sport, these take a long time. And admittedly, this one's taking a little longer than we thought. It's not for lack of interest. It's just trying to get everything put together. So those will probably happen in parallel. And, again, we're hoping to get something decided here in the very near future."  
Joe Gibbs admits to surprise that deal hasn't been done
Gibbs was in attendance this weekend at New Hampshire, and participated in the winning team's postrace press conference. Unsurprisingly, one reporter brought up Busch's future with the organization and asked the three-time Super Bowl-winning coach if he was surprised that the situation hadn't been resolved.
"Yeah, I am, in a way," Gibbs acknowledged. "It's been hard. We're working really hard to try and get things done, and it is hard, though. You've got to put a lot in place to make things work out, and we're working as hard as we can. We're going after it a number of different directions. So yeah, I'm surprised at this point that we haven't been able to get that finished."
Latest comments align with what Busch has said recently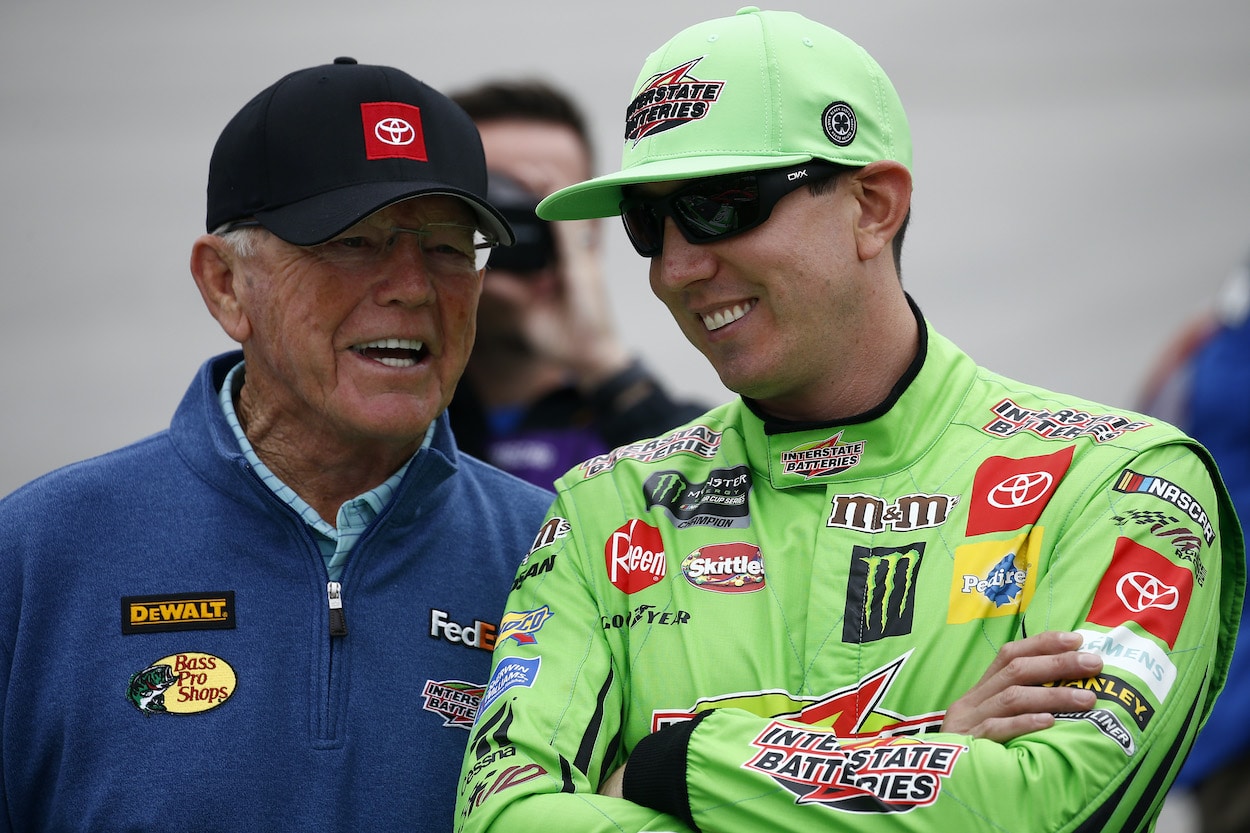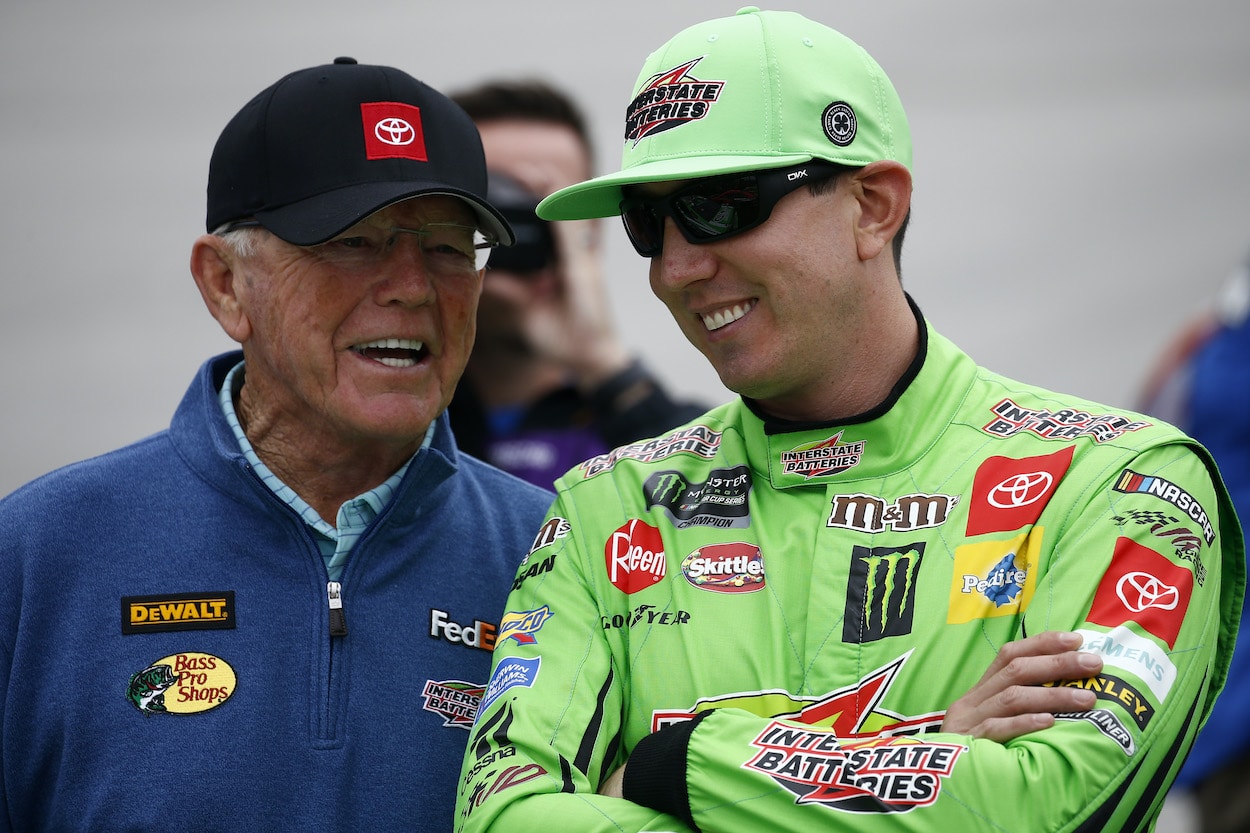 Gibbs' comments took on a different tone than his previous remarks in April. Instead of feeling "confident," he noted how "hard" it is on four occasions. His surprise is also an admission that the team has failed to meet its own expectations. 
Interestingly, the former coach's latest remarks align more with what the driver has been publicly saying lately. In an NBC report aired before last week's race at Atlanta, announcer Marty Snider said: "Kyle Busch said yesterday nothing is close to being signed."
Over the weekend in New Hampshire, Busch added another layer of intrigue with his answer when asked if he'd had conversations with other teams.    
"The short answer is yes," Busch told reporters. "But, yeah, anything is possible, obviously. There's all different kinds of things that can play out. It's just a matter of what does."
Looking at the totality of the remarks made by all parties recently, including what the coach said on Sunday — the organization is working hard, finding sponsorship is hard, they don't have anything yet, and aren't even close.
Will there be a deal? Potentially. But with each passing day and, more importantly, each revealing remark, it is sounding more and more like what most thought was improbable is now possible, and Busch might be racing for another team in 2023.  
Like Sportscasting on Facebook. Follow us on Twitter @sportscasting19 and subscribe to our YouTube channel.