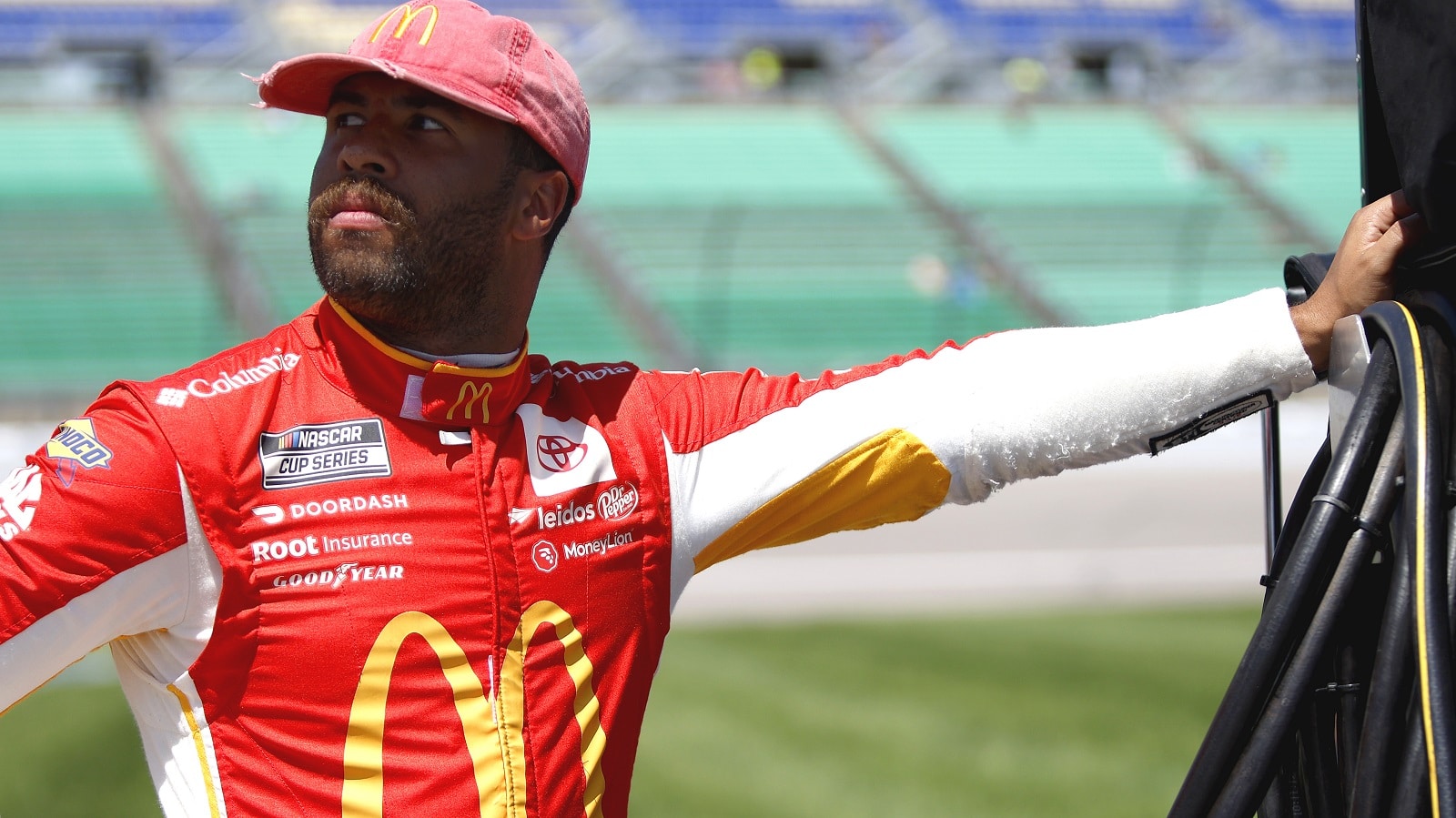 Bubba Wallace Hits a Ground-Rule Double Pinch-Hitting in the NASCAR Truck Series
Bubba Wallace was a last-minute substitute in qualifying for the NASCAR Camping World Truck Series and did the team proud.
Go ahead and criticize Bubba Wallace for something this weekend. (C'mon, you know you want to.) But you cannot fault the man for the job he did as a substitute Saturday at Kansas Speedway. With the No. 52 Toyota's driver delayed in transit, Wallace stepped in to qualify fifth for the NASCAR Camping World Truck Series race later in the day.
Say what you will about him, but Wallace still knows his way around trucks.
Bubba Wallace steps in for Stewart Friesen at Kansas Speedway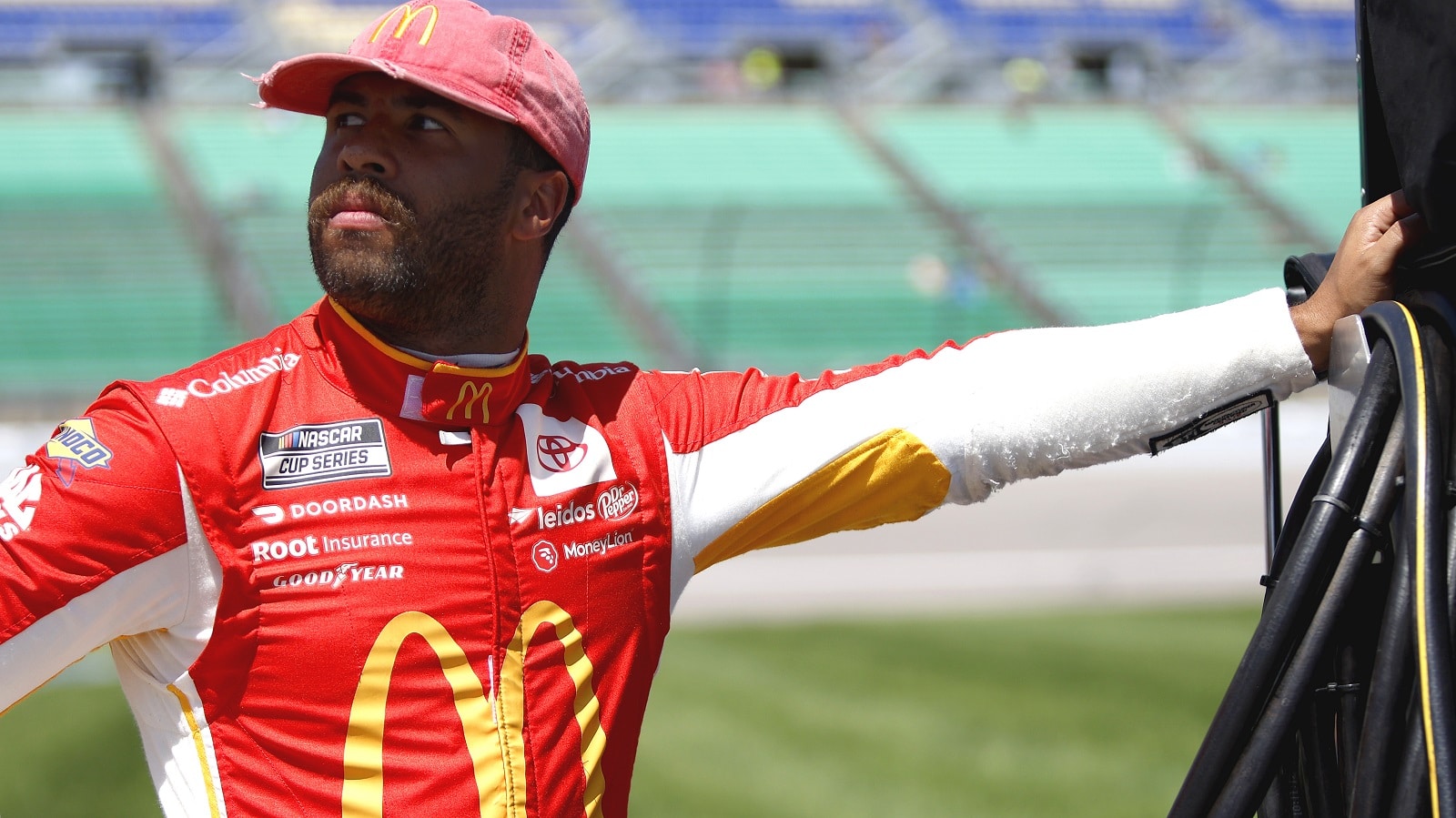 Bubba Wallace showed up in town on Friday expecting the normal weekend: hang out with the team while prepping the No. 23 Toyota for Saturday's tech check at Kansas Speedway, do meet-and-greets with VIPs, and talk NBA playoffs or contract gossip with fellow drivers.
The Halmar Friesen Racing team had different ideas, however. Driver Stewart Friesen was supposed to arrive at the track Friday, but a string of flight delays and cancellations left him stranded in Chicago as of Saturday morning.
With Friesen having no way of arriving for practice and then noon qualifying, the team and Toyota reps lined up Wallace to qualify the No. 52 truck. Wallace was a logical choice, especially given NASCAR's scheduling. The Kansas weekend is one of just three during which the Xfinity Series is on hiatus, meaning multiple drivers who've run the truck series more recently than Wallace weren't in town.
So, how did he do?
At about the same time that Friesen landed at the airport, Wallace qualified the truck fifth for the Heart of America 200, scheduled for later on Saturday. He turned his lap at 174.95 mph, not far off pole winner John Hunter Nemechek's 176.644.
Friesen, fifth on the season points list, will handle the race, so the change sends the No. 52 truck to the back of the field. Still, Wallace's 17 somewhat cautious practice laps gave the team a baseline, and then fifth place in qualifying earned the crew a preferred stall on pit row.
Bubba Wallace was successful in the truck series on his way up
We often forget about how drivers fared in the truck series or while driving Xfinity cars on their way up to the NASCAR Cup Series, but it usually takes some chops at those levels to keep moving up.
Bubba Wallace fits the description. In 2014, his second full season in the Camping World Truck Series, he won four races, placed in the top 10 in 14, and finished the year third in points. He moved up to the Xfinity Series after that, so Wallace has made just five starts in trucks since.
Still, he has six victories in 49 career appearances, so he didn't need to be asked twice when the Halmar Friesen Racing team asked for help in a pinch.
"As soon as I landed (it was), 'Hey, we need somebody to drive the '52' truck in practice and qualifying,' Wallace said in an interview tweeted by Fox Sports reporter Bob Pockrass. "And I'm like, 'Hell, yeah.'"
Wallace added that it required rescheduling some obligations, but they got everything worked out. Best of all, the team didn't have to do anything special to the truck to accommodate Wallace, who is shorter and a bit more stocky than Stewart Friesen.
"I was actually surprised how close the seat was," he said. "Didn't even have to move the pedals or the wheel. He's way taller than me. The way the truck cockpit is, I bet he's crammed in there, while I feel relaxed."
Aric Almirola and Denny Hamlin teamed up back in 2007
With so many Cup Series and Xfinity teams flying private planes, travel snafus like what truck series driver Stewart Friesen experienced this weekend are rare. One of the most famous instances of a pinch-hit appearance by a current driver involved Aric Almirola and Denny Hamlin at the Milwaukee Mile in 2007.
Almirola started the Xfinity Series race in the No. 20 Chevy because the helicopter transporting Hamlin after he flew in from the site of the Cup Series race at Sonoma couldn't get clearance to land nearby. Hamlin replaced Almirola during a pit stop and drove to victory, something that hadn't happened in the series since Harry Gant relieved Jack Ingram in a race 22 years earlier.
"He did all the hard work," Hamlin conceded, according to The Associated Press.
All stats courtesy of Racing Reference.