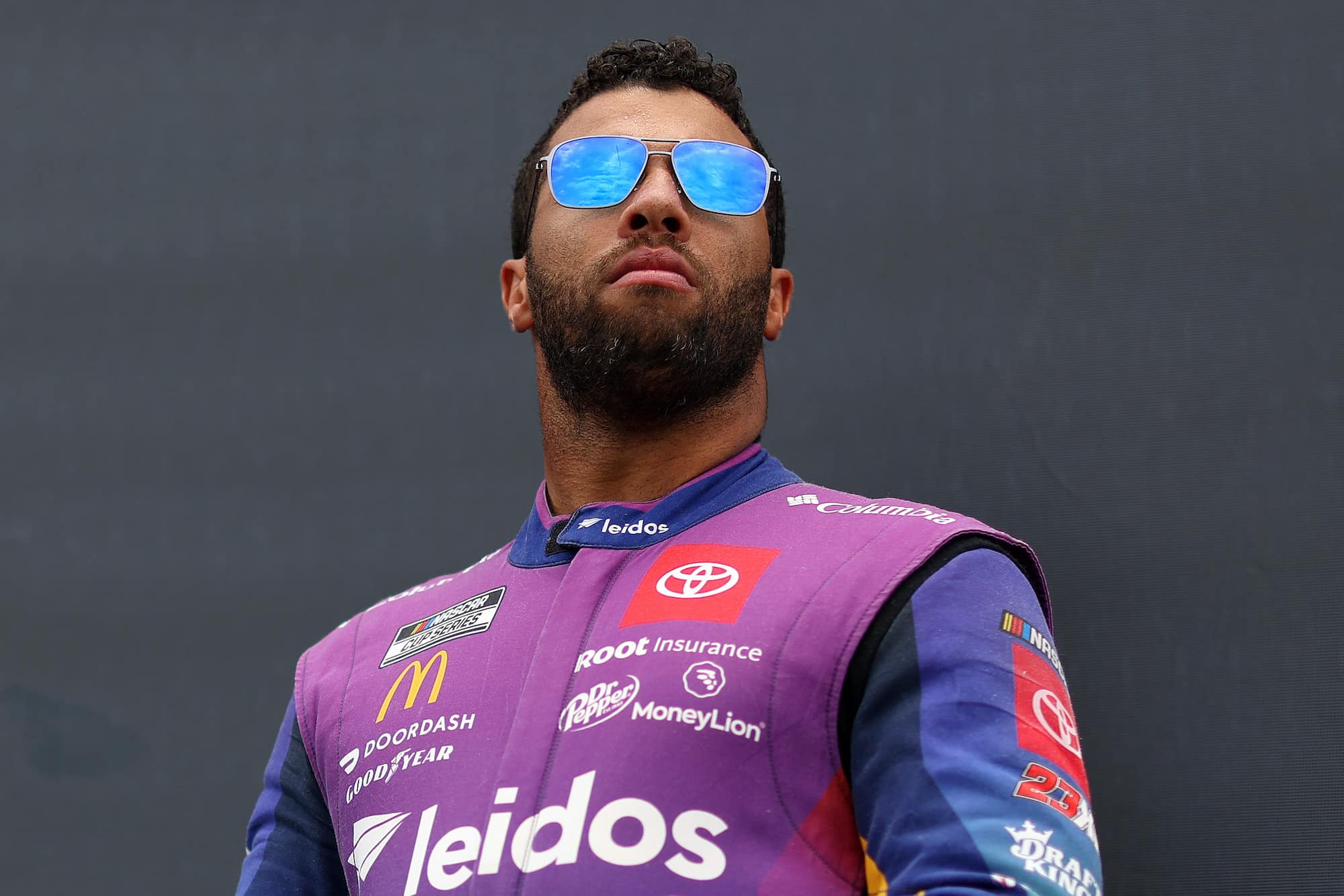 Bubba Wallace's Longtime Spotter Freddie Kraft to Miss Richmond Following Tragic Death of Father   
Bubba Wallace will be without longtime spotter Freddie Kraft this weekend at Richmond because his father tragically died Saturday morning.
Bubba Wallace is well-known in NASCAR as the driver of the No. 23 23XI Racing car. His longtime spotter Freddie Kraft has also become a personality of his own as a co-host of the popular weekly Door Bumper Clear podcast.
Sadly, the pair won't be working together this weekend at Richmond Raceway after Kraft shared the news on social media that his father, who suffered a heart attack on Monday, tragically died Saturday morning.  
Bubba Wallace and Freddie Kraft have worked together for a dozen years
For Bubba Wallace, Freddie Kraft has been there alongside him for much of his racing career, dating back to his teenage years more than a dozen years ago. Unsurprisingly, their relationship is stronger than most in the Cup Series garage. 
"I don't know, it's just a comfort level for him especially," Kraft said on the Racing Writer's Podcast in 2021. "But yeah, if you listen on our radio, you can tell we've been together for long. There's been a couple of times where either non-companion race when he was in Truck or Xfinity where I couldn't be there, or even there's a year where he had another spotter.
"And he just said he wasn't comfortable, it's a trust factor. Like he kind of knows what I'm getting ready to say before I say it. I kind of know what he's ready to do before he does it."
Kraft announces death of father
This weekend at Richmond will be another rare time when Wallace and Kraft won't be teaming together. That's because the veteran spotter announced on Facebook that his father, Tom, died on Saturday morning. 
Kraft revealed earlier in the week that his dad, who was a multi-time champion at Riverhead Raceway in New York and a member of the track's Wall of Fame, suffered a heart attack on Monday.
"As some of you may have heard by now, my dad TK Kraft had a heart attack Monday morning," he wrote. "While prepping him for the catheterization Monday afternoon he suffered some respiratory distress and had to be intubated and sedated and moved to the CCU."
Kraft provided updates throughout the week, including how his father had been moved to a different hospital. On Saturday, he delivered the tragic news.
"It's with great sadness that we have to share our dad Tom Kraft passed away this morning," Kraft wrote. "We know everyone would like to help any way they can. At this time we just need some time to wrap our heads around this heartbreaking news. We are thankful for all of your support throughout this long week. We will share the arrangements when they are made."
To stay up to date on the latest happenings in NASCAR, including breaking stories you can't find anywhere else, follow Kyle on YouTube and Twitter.