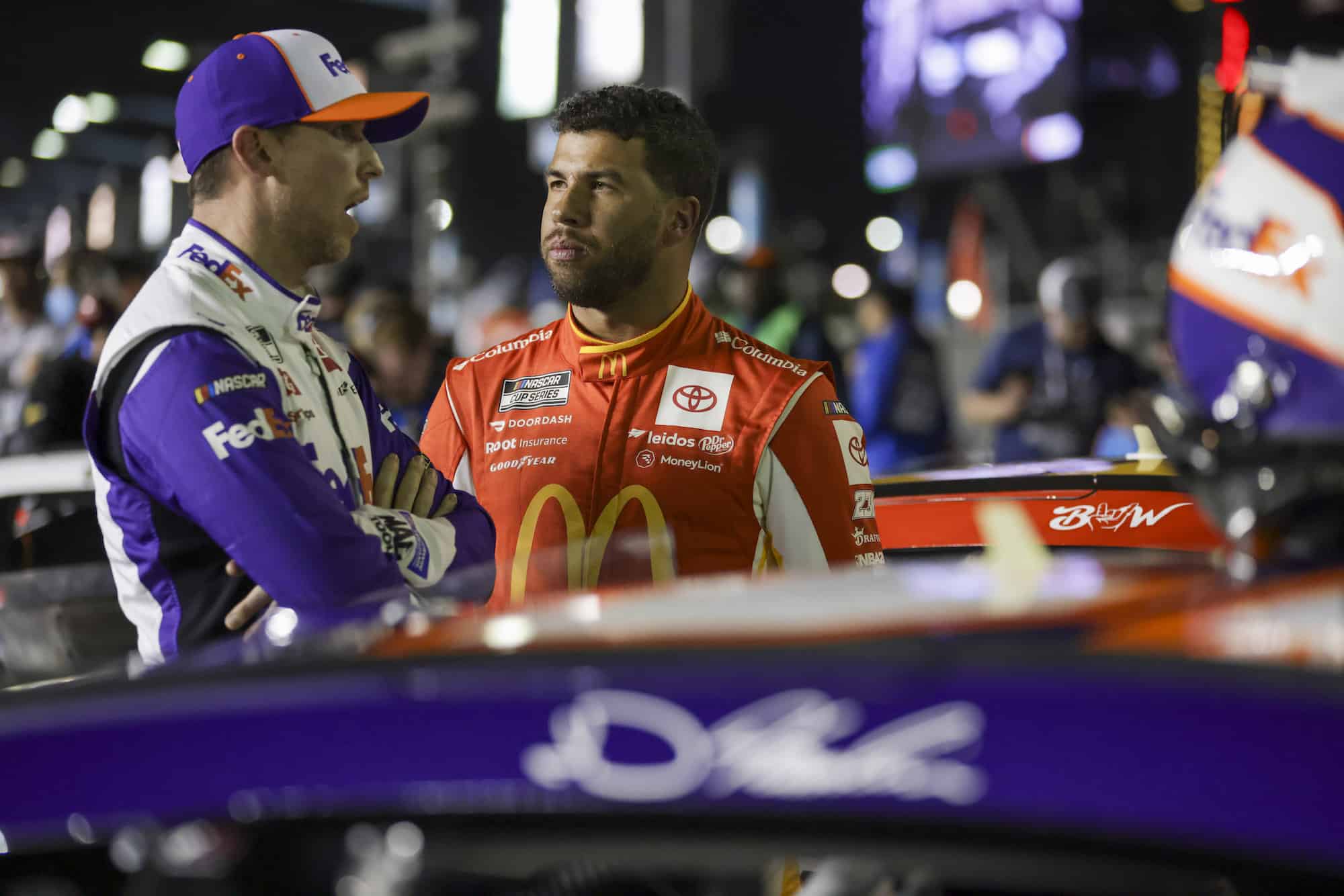 Denny Hamlin Surprisingly Lowers Expectations on Bubba Wallace Achieving Success in 2023
Denny Hamlin was confident before the 2023 season that Bubba Wallace would make the playoffs. Now he's not so sure.
Bubba Wallace has recorded a win in each of his first two seasons with 23XI Racing but failed to make the playoffs. Before the start of the 2023 NASCAR Cup Series season, both driver and team co-owner Denny Hamlin were confident, with the latter admitting he expected his driver to make the postseason in his third year with the organization.
In June, following the best stretch of Wallace's career, Toyota TRD president David Wilson echoed those same thoughts about the No. 23 making the playoffs. This past week on his podcast, Hamlin discussed the fast-approaching playoffs and who he expected to make it. His driver didn't make the cut. 
Denny Hamlin predicts Bubba Wallace will make 2023 playoffs
Last year, Bubba Wallace demonstrated on an almost-weekly basis in the back half of the season that he was capable of contending for wins. In the final 16 races, the 29-year-old recorded eight top-10 finishes, four of them inside the top five, including his win at Kansas. 
Before the start of the 2023 season, Denny Hamlin said on his Actions Detrimental podcast that he expected the No. 23 driver to elevate his game and join new teammate Tyler Reddick in the postseason.  
"I mean, certainly we expect him to make the playoffs," Hamlin said. "You know, Bubba did such a great job. I mean, he finished top 10 in points for us racing in the playoffs. Not many people know that. That 45 car with Bubba driving it, finished 10th in points last year in that playoff run so he did a great job.
"I believe that you know finishing in the top 10 once again in points will still be a jump for Tyler. I think that he at times struggles with race management and that's what I hope I can help him with is managing the race because he's got speed. Certainly at my age now, I know that I win way more races with my head than I do with my talent. So how can we mix those two? And that's when you're really going to get a potent combination.
"And then Bubba, just what he's done over the last half of the year. He's exceeded my expectations of his talent level. Like he started to perform where I thought he was and then he started exceeding it. I'm like, 'Wow, he's really really doing well.' So I expect both of our guys to make the playoffs and I expect both of them to be top 12 in points." 
David Wilson expects Wallace to make postseason
Wallace has had a rollercoaster first half of the season, including starting with a pair of DNFs at Daytona and California before putting together a solid run and earning a fourth-place finish at Las Vegas. 
That inconsistency continued through March and April, but in May, the No. 23 car got hot, including four top-five finishes, one of them a runner-up result in the All-Star Race at North Wilkesboro. He shot up the points standings to get inside the postseason cutoff line. 
Last month during an appearance on SiriusXM NASCAR Radio, Toyota Racing Development President David Wilson talked about Wallace's 2023 campaign and what he expected for the rest of the year. 
"Now our target at the beginning of the year was five into the top 16 for the playoffs," Wilson said. "We still got one to go, and I really do believe that the way Bubba is running — he's not a big road course guy, OK, and he'll admit that himself. But otherwise, you know, intermediates, he's one of the top cars. So I think I really expect Bubba to win at least once this year and again claim our fifth position in the playoffs."
Hamlin changes mind
Since Wilson's remarks, Wallace has struggled to the tune of two finishes inside the top 20. As a result, he's fallen in the points standings. After last week's 25th-place finish at Atlanta the No. 23 dropped below the playoff cutoff line for the first time in weeks.
Hamlin revisited the Georgia race on his podcast and, with seven races to go in the regular season, broke down the playoff picture and who he thought would make it. Interestingly, his driver was notably absent.
"We had this debate before we turned the mics on," Hamlin said to his co-host, Jared Allen. "And I said, well Elliott's a lock. You said he's like 60 back. And? He scores stage points. These other guys don't consistently score stage points. They might finish well, because, you know, of different reasons, or they just run well, but they're not up front every week contenders.
"Elliott's in. I don't care how you mix this thing up. With seven to go, racing against these guys, he's faster. He's got better results and he's gonna get more stage points. So I'm gonna put Elliott in. That leaves one spot between McDowell, Suarez Gibbs, Bowman, Bubba, and Allmendinger. 
"On performance. You look at what has performed over the entire season. Suarez's team is the top. It is just the top and he's not at a deficit. And he runs fifth to 12 most weeks. Just performance wise, that jumps off the page. I mean, pit crew, he's got the edge. Points. He's got the edge. Elliott and Suarez get the final two spots."
Hamlin didn't completely rule out Wallace making the postseason, suggesting he could, like any of the others, win and get in. However, making the playoffs on points alone, the 23XI boss doesn't believe now that his driver can do it.   
Does Hamlin truly believe that or is he using reverse psychology? It wouldn't be all that surprising if it's the latter, especially considering how the other 23XI co-owner, Michael Jordan, was notorious for using unique ways to motivate himself throughout his Hall of Fame basketball career. 
To stay up to date on the latest happenings in NASCAR, including breaking stories you can't find anywhere else, follow Kyle on YouTube and Twitter.