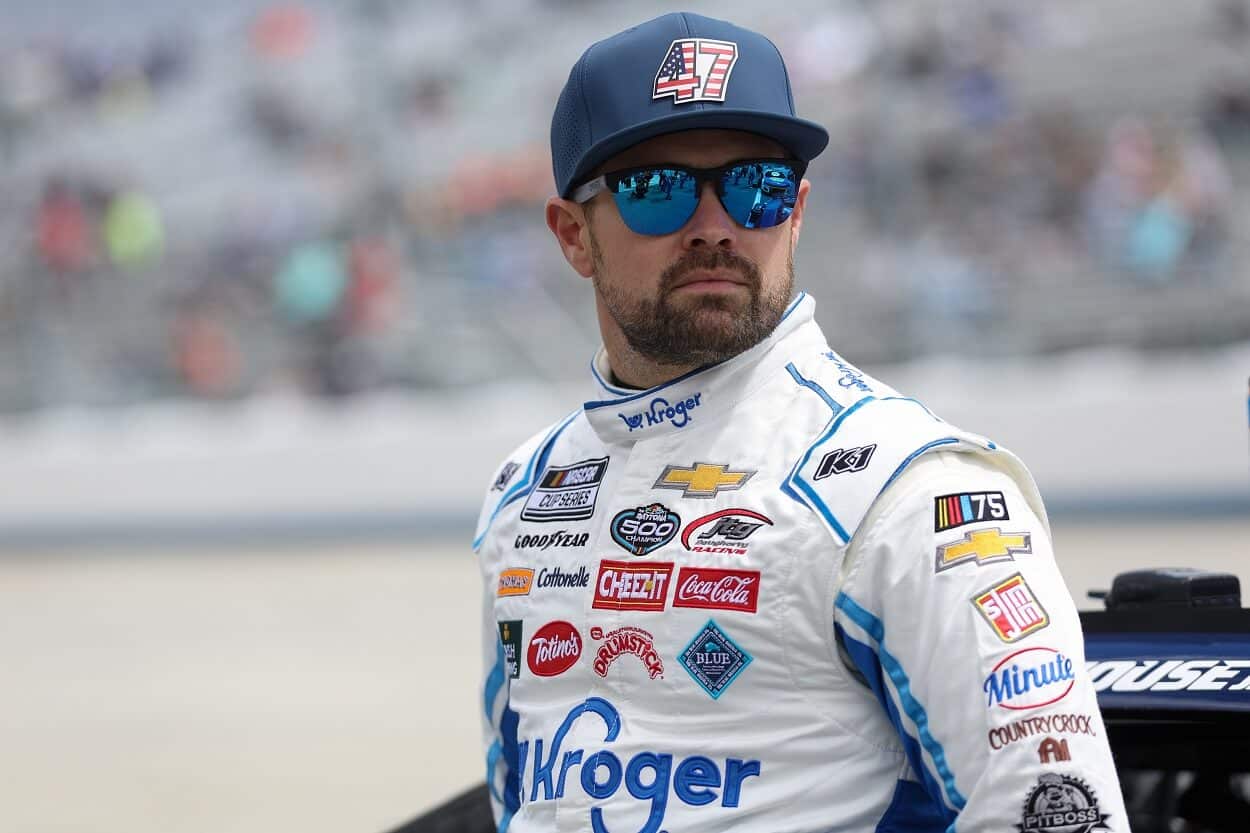 Ricky Stenhouse Jr. Has Been the Only True Positive Surprise During the 2023 NASCAR Cup Series Season
Ricky Stenhouse Jr. has been the only real surprise of the 2023 NASCAR Cup Series season thus far.
The 2023 NASCAR Cup Series season began with a surprise that suggested the record levels of parity from last season would continue. But Ricky Stenhouse Jr.'s Daytona 500 victory remains the lone upset of the year as the series heads into its first and only off week of the season.
Stenhouse grabbed his first Cup Series win in nearly six years in the season-opening race at Daytona International Speedway to become the third straight winner of the Great American Race to have three or fewer career victories at the sport's top level.
After Michael McDowell scored his first career win in the 2021 Daytona 500, Austin Cindric made the 2022 Daytona 500 his first career victory in the first points-paying race with the Next Gen car model.
NASCAR developed the Next Gen car as a spec car and required all teams to purchase parts from a single supplier. The sanctioning body hoped to reduce costs for teams since they would not have to manufacture all of their parts in-house and promote parity with a more level playing field for smaller teams that do not have massive research and development departments.
The cost to run a Cup Series team remains extremely high, but the debut season of the Next Gen car did provide a wider variety of drivers and teams in Victory Lane throughout the year. A record-tying 16 different drivers won regular-season races, and 19 different drivers among nine organizations celebrated at least one points-paying victory in 2022.
The NASCAR Next Gen car has not produced parity in its second season
That trend has not carried over to the 2023 NASCAR Cup Series season. Ten different drivers have won at least one of the first 16 points races this year, but they have all come from only five different organizations. Tyler Reddick's victory in March at the Circuit of the Americas was his fourth career win, but every other driver aside from Stenhouse has at least seven career victories on their record.
The entire 16-driver playoff field is devoid of underdogs as currently constructed. Chris Buescher and Brad Keselowski from RFK Racing are 11th and 12th, respectively, but that organization has made steady progress ever since Keselowski bought into the ownership group before the 2022 season. Buescher also won the night race at Bristol Motor Speedway a year ago.
Bubba Wallace is in a similar situation for 23XI Racing. He won the 2022 race at Kansas Speedway, and the organization has slowly but steadily risen through the ranks since co-founders Denny Hamlin and Michael Jordan started the team in 2021.
Wallace currently sits 15th in the points standings, although he does not have a win yet this season, with teammate Reddick in 13th after his offseason move from Richard Childress Racing.
Otherwise, a relatively clear line exists between drivers inside the NASCAR postseason field and those on the outside. Trackhouse Racing's Daniel Suarez is only three points behind Hendrick Motorsports' Alex Bowman for the final playoff spot, but Bowman would be far ahead of Suarez in the points standings if not for extenuating circumstances. 
Bowman missed three races because of a back injury he suffered on April 25 in a sprint car crash and lost 60 points from a penalty his team incurred after the April 2 race when officials found illegal modifications to the greenhouse section of the HMS cars for Bowman and William Byron.
Just about every driver outside of the playoffs would need a surprise win to reach the postseason
Joe Gibbs Racing rookie Ty Gibbs is 11 points behind Bowman in 18th, and it would be a fair surprise if he either won one of the final 10 regular-season races or raced his way up into a playoff position on points. 
The trio of drivers behind Gibbs will likely need a road-course or superspeedway victory to earn a spot in the 10-race postseason. Michael McDowell, AJ Allmendinger, and Austin Cindric are all good road-course and superspeedway drivers, and those tracks typically allow for a wider range of drivers to compete for wins since more factors than engineering and aerodynamics often affect the outcome of events at those facilities.
Many drivers, on the other hand, have had massively disappointing seasons thus far. Aric Almirola is 26th in the standings, Chase Elliott is 27th, Austin Dillon sits 28th, and Chase Briscoe is 31st.
Elliott has missed seven races because of an injury and suspension, while Briscoe incurred a 120-point penalty for a counterfeit part on his car during the Coca-Cola 600 on May 29 at Charlotte Motor Speedway.
Any of those drivers could sneak up and grab a victory before the playoffs begin. But drivers inside the top five in points, such as Ross Chastain and Kevin Harvick, also have yet to win this season and will surely be strong contenders to win at least one race before the playoffs begin.
The unpredictable parity from the first year of the Next Gen car has been absent so far this season. The sport could probably benefit from at least a partial return of that intrigue as the final playoff push begins.